Austrian Empress Elisabeth of the Habsburg Empire was originally young Sissi, Duchess of Bavaria, a carefree royal who enjoyed a rather unstructured life. Courtly protocol was often abandoned in her preferred countryside. It was her elder sister Hélène who was chosen by their Aunt Sophie to marry her son, first cousin Emperor Franz Joseph. But the 23-year old emperor took one look at the 15-year old Elisabeth and would have no one else. Her beauty was already remarkable and, for one of the only times in his life, he defied his mother's wishes. Sissi's life, as she knew it, was over. The shy girl was now the Empress and subjected to the formal, stifling rules of the Austrian court; but worse, there was her mother-in-law to contend with. She was definitely ill-equipped. Stripped of her first two children by Princess Sophie who considered Elisabeth too frivolous and ill equipped to manage motherhood, the young empress was marginalized further. The birth of a son, one who would become famous in his own right for the murder of his mistress and his suicide at Mayerling Castle, finally allowed her some autonomy.
"Corsage," a speculative imagination of Elisabeth's life,  takes up the saga as she's about to turn forty. One of the renowned beauties of the Western world, she was inordinately self-focused on maintaining her beauty and physical fitness. Like Scarlet O'Hara, she starts her day being tightened into a corset, trying to maintain the wasp waist of her youth. Afterwards there are the myriad creams and potions to soften her skin and assuage the ravages of time. Helping her maintain that girlish figure is extreme fasting and rigorous exercise. Elisabeth may actually have been one of the first and most famous bulimics of her era.
Daily rides occupied much of the rest of her time when she was not visiting her adopted homeland of Hungary. A freer society and one that revered her, she found more and more comfort there, leaving Vienna for months at a time.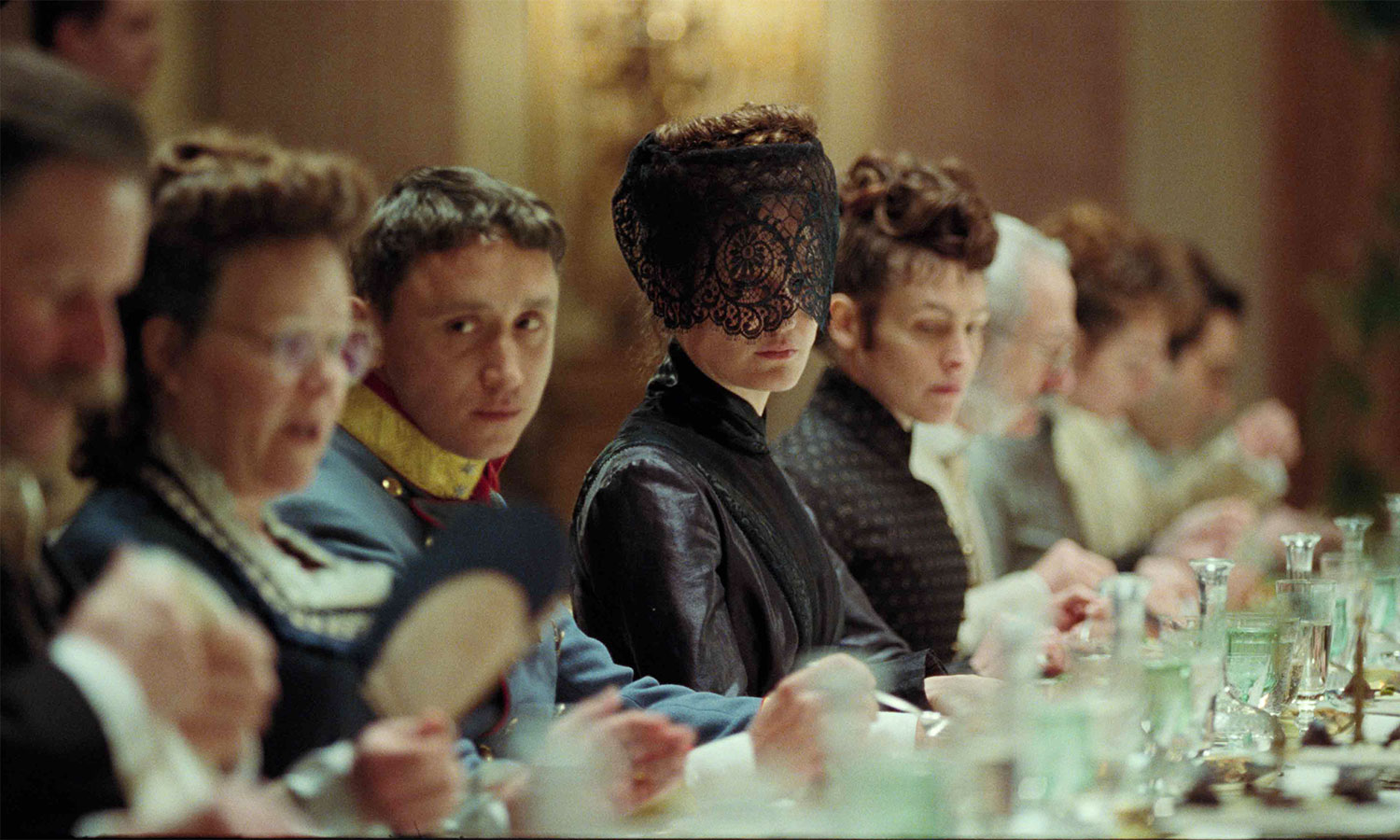 Elisabeth was a fashion icon and dressing was extremely important to her image. Director Marie Kreutzer viewed the Empress as one of the first foremost influencers of her day. An accomplished horsewoman, fluent in many languages, she traveled extensively. In this all important year entering "middle-age" she chooses to go where she is most comfortable, visiting England and Hungary, places she is rumored to have lovers. The Emperor, knowing how unhappy she is and unable to provide solace, gives her the freedom to abandon her royal duties.
In real life, Franz Josef was and remained madly in love with his Empress, a love that was never reciprocated. Unable to overcome his mother's domination, it clearly affected Elisabeth's feelings about Josef and Austria. Her boredom with formal ceremony showed through in a reluctance to attend events with her husband, remarked on by all within the court's sphere.
Like many women (and men, too) her birthday party, meant to cheer her up, is nothing to celebrate. It is one more reminder of her uselessness. Even her interest in the mentally ill is triggered by self-interest.
Cracks begin to show in her husband's devotion resulting in yet more travels on the part of Elisabeth, first leaving for England where a rumored lover lives. Returning to court, she offers herself to her husband but finds an unwilling partner.
I believe Kreutzer has attempted to make Elisabeth a tragic heroine, an early Princess Diana, a woman who, unhappy with a life at court where she has no substantive duties, becomes increasingly frivolous and marginal. She comes alive only when defying society's norms, whether making conquests, trying to discuss politics with her husband, controlling what she eats and how, or smoking. Dissatisfaction was satisfying. Lamenting her own place in society, she did not hesitate to marginalize the women around her.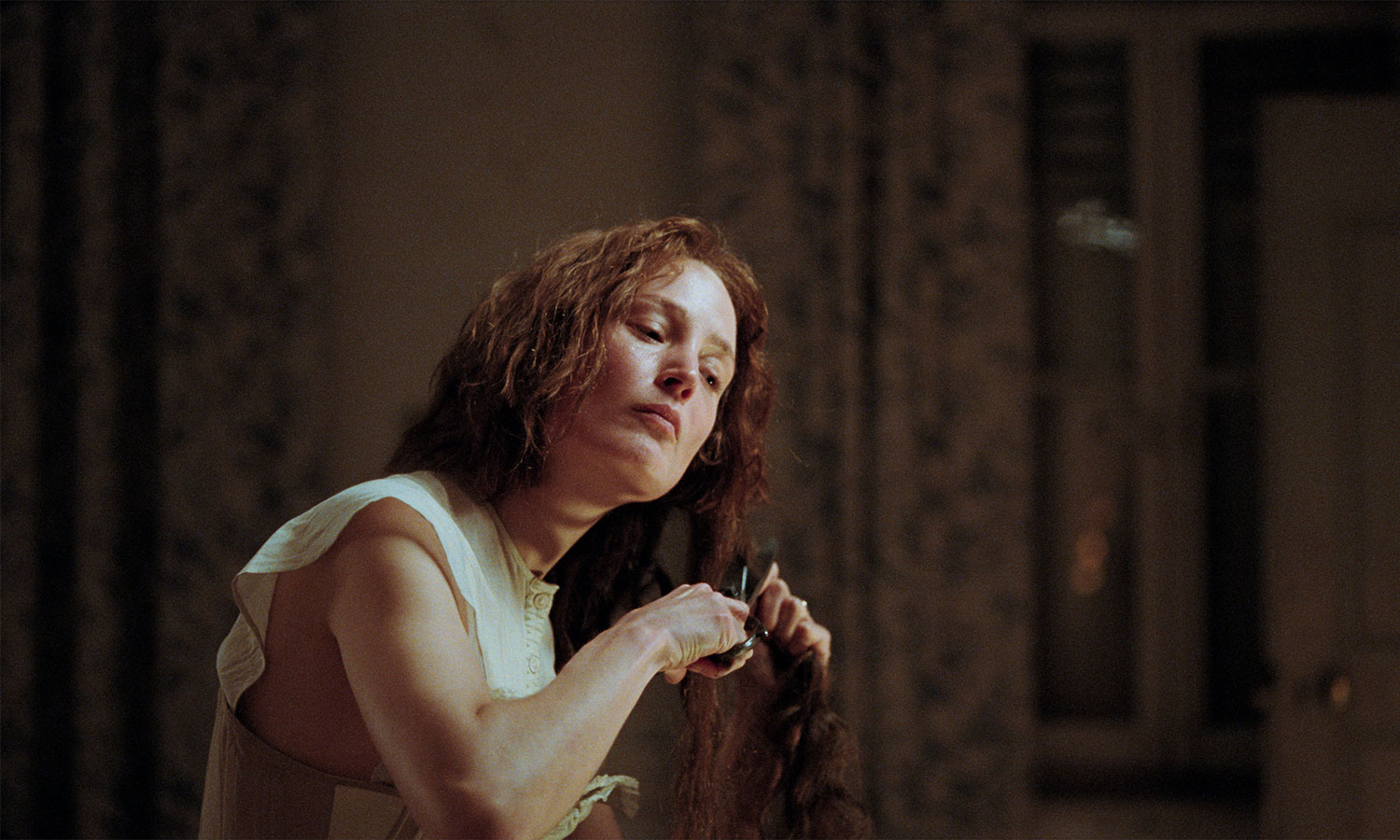 Kreuzer has built in anachronisms that jar the viewer. It is probable that she used them to juxtapose Elisabeth with modernity, but the use of the songs "Help Me Make it Through the Night" and "As Tears Go by" don't seem to work to underscore her mood. Instead, they take you out of the moment. That Elisabeth figuratively gives the finger to the court reduces rather than elevates her. A scene intended to show her rare joy, cavorting for the new motion picture camera, is pure fantasy. It's not that these things couldn't have worked, it's just that Kreuzer didn't go all in. Had she taken the example of Baz Luhrman in "Moulin Rouge," which took liberties with a historical period and some real people, and then shook it to the rafters with a modern soundtrack of rock songs, dance, and a plausible period plot, she might have better made her point on the hopelessness felt by Elisabeth.
Her reading of the history between Franz Josef and Elisabeth is more speculation than truth. Yes, she was a woman and as such was marginalized. Yes, he was the Emperor and his word on all things, whether military or domestic, was final. But there is no historical record of her trying to invest in domestic and Empire politics, outside her love for her adopted Hungary, as the film would have you believe.
Telling the story of an unhappy royal, Kreuzer would have done better to tell it historically or, like Luhrman, she should have followed the adage "go big or go home." She did neither.
That I'm not an enthusiast of this sumptuously photographed film is probably evident. Judith Kaufmann, the cinematographer, successfully emphasizes the emotion of each scene with a color palette enhanced by imaginative lighting.
But I am a major fan of Vicky Krieps who plays Elisabeth. Krieps gives the Empress more depth than the script infers. Her silence speaks louder and more eloquently than words. Not a great physical beauty, which is not to say that she is not beautiful, she, nevertheless, conveys the ethereal allure that enhances the character. Her small gestures and the subtle movement of her eyes reveal who Elisabeth is, as well as who she would like to be.
Although I found much of the film tedious and repetitious, I was always enraptured by Krieps. There is very little that this native from Luxembourg can't do as shown by her recent starring roles: "Bergman Island" in English, "Hold Me Tight," in French, and now "Corsage," in German.
In German, French, and English with English subtitles.
Opening December 30 at the Laemmle Royal.
Neely Swanson spent most of her professional career in the television industry, almost all of it working for David E. Kelley. In her last full-time position as Executive Vice President of Development, she reviewed writer submissions and targeted content for adaptation. As she has often said, she did book reports for a living. For several years she was a freelance writer for "Written By," the magazine of the WGA West, and was adjunct faculty at USC in the writing division of the School of Cinematic Arts. Neely has been writing film and television reviews for the "Easy Reader" for more than ten years. Her past reviews can be read on Rotten Tomatoes where she is a tomato-approved critic.