The climate-activist group Third Act led a rally of seniors and other environmental organizations on March 21 in Beverly Hills "to pressure the major banks to stop financing the expansion of the fossil fuel industry." Nearly 100 participants took part in the national day of action. The group met at Beverly Gardens Park and marched through the rainy city visiting Bank of America, Chase, Citibank and Wells Fargo bank branches.
The marchers chanted, carried signs and giant credit cards with scissors to highlight cutting ties with these banks. Signs noted the participation of Third Act, Elders Climate Action and Extinction Rebellion environmental groups in the protest. Extinction Rebellion LA's historian, Amy Woodson Boulton, closed out the event by acknowledging the protestors and their efforts.
This rally was one of the more than 100 events which took place in over half the US states, involving art installations with activists cutting up their credit cards in protest of the billions of dollars in lending and underwriting that banks provide to fossil fuels companies and projects. These projects are responsible for harmful emissions that scientists have linked to extreme weather events which have caused death and destruction in the US and across the world.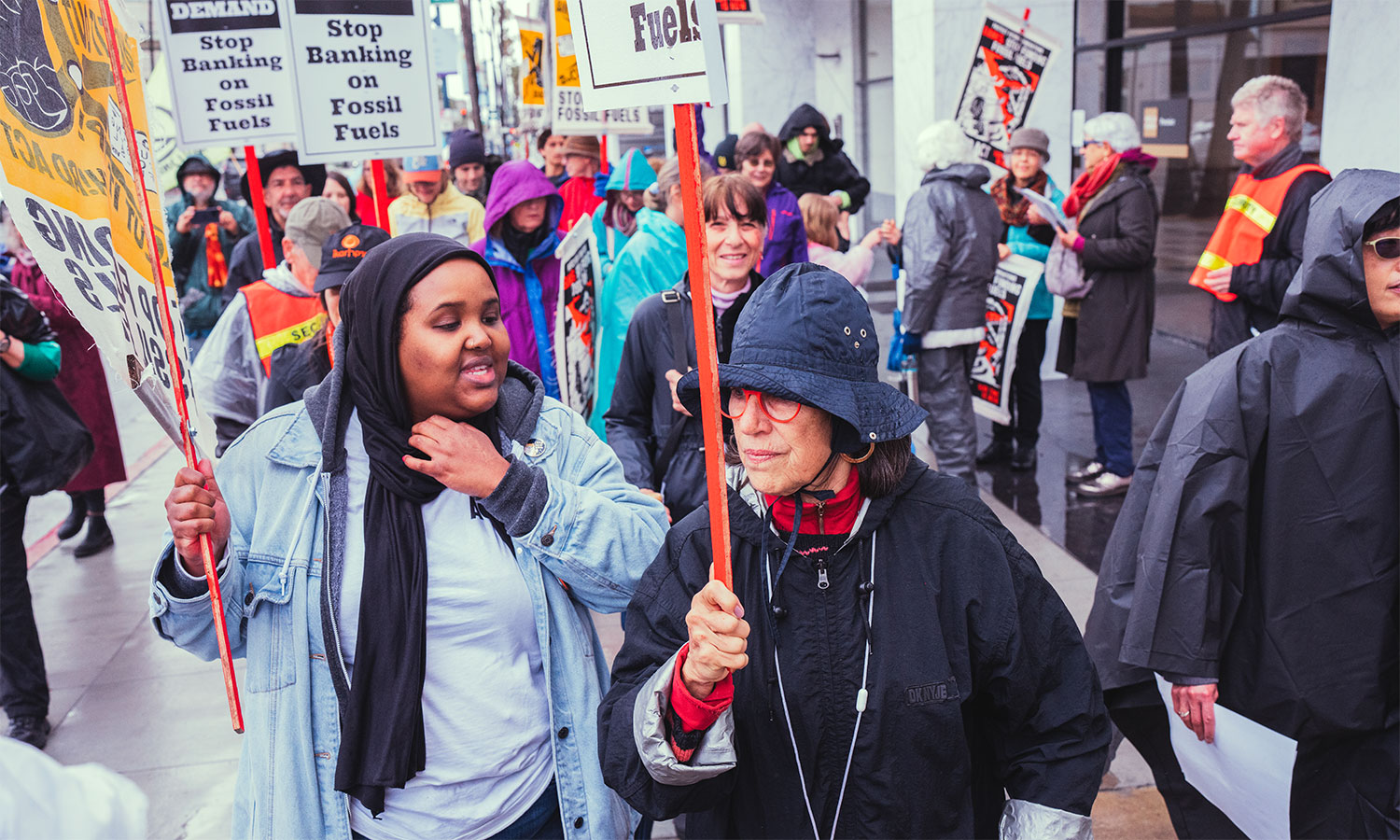 The rally in Beverly Hills was held as California has been inundated with historic atmospheric rivers while simultaneously experiencing the biggest drought in a millennium, growing water shortages, a sharp increase in the intensity of forest fires across the state and growing instances of toxic air due to fossil fuel activities.
The day was organized by Third Act, a group for climate activists over 60 years of age, co-founded by Bill McKibben. In total, more than 50 partner organizations supported the day of action, including Elders Climate Action, Extinction Rebellion, the Sierra Club, GreenFaith, the Hip Hop Caucus, Union of Concerned Scientists, SoCal 350 Climate Action, Local 721 SEIU, Interfaith Power and Light, Dayenu and People's Action.
Protestors noted that while US banks have verbally committed to help reach the global target of Net Zero emissions by 2050, none have published a credible transition plan or ruled out fossil fuel financing for expanding projects.
By contrast some European banks are making these commitments. In December HSBC, Europe's largest bank, announced it would no longer finance new oil and gas projects. Danske Bank this year said it would stop financing oil and gas projects and corporate financing.
Over 17,000 customers have signed a pledge to move their money out of these banks if the banks don't move their investments out of fossil fuel expansion, and these pledges were delivered to the banks' CEOs.