As a world-class travel destination, Beverly Hills is home to more five-star luxury hotels per square mile than any other city in the country. While people flock from far and wide to visit our famous city and stay in these top-notch accommodations, residents enjoy the benefits of having such opulent establishments in their backyards. They get pampered in the hotels' cutting-edge spas and indulge in their fine dining restaurants. But many may not be aware of another perk right under their noses—the museum-level artwork by some of the world's most prominent and influential artists just inside.  
You don't need to book a room to peruse the collections; the most impressive works are displayed in public spaces, dining rooms, waiting areas, corridors and lobbies.
We've included the highlights from each hotel's art collection, including information about the works, the artists and where to find each piece. Consider this your self-guided tour of the art world gems that have been hiding in plain sight.
Peninsula Beverly Hills
The lion's share of the Peninsula Beverly Hills' art collection is housed in The Belvedere restaurant, where the works of internationally acclaimed contemporary artists across a wide swath of disciplines from Abstract to Impressionist line its walls.
Two evocative pieces by French painter Fabienne Verdier hang on both sides of the restaurant's entryway. The artist studied at the Sichuan Fine Arts Institute in Chongqing, China, where she trained with the last great Chinese painters who survived the Cultural Revolution under Mao Zedong's regime and honed her brushstroke and calligraphy techniques. In 2014, Verdier began to explore the connections between music and painting, carrying out extensive research in a studio laboratory at the preeminent music and drama conservatory Juilliard, where she was an artist-in-residence. Her research was the subject of the 2016
documentary "The Juilliard Experiment," which showed the artist painting spontaneous works while faculty and students performed music live. The two pieces "Linescape I" and "Linescape II" commissioned by the hotel marry Verdier's classic Chinese training and her pursuit of music visually interpreted as art. Created with a brush made of 35 horse tails, the works appear to be both representations of a jagged mountainous landscape and sound waves at the same time.
In "Anniversary," by American figurative artist Alex Katz, a man and woman sit huddled affectionately together before an enveloping blue-gray expanse suggestive of a rippling water's edge. It's indicative of the cinematic-type moments Katz often conveys in his oil paintings, which have been featured in exhibitions at highly regarded art institutions such as the Whitney Museum and the Metropolitan Museum of Art.
If the thick horizontal blue and green stripes of "Landline Burke" by Irish American artist Sean Scully call to mind the sea, you wouldn't be wrong. The painting is part of the Dublin-born artist's critically acclaimed "Landline" series in which he examines the concept of horizons, specifically, the just-out-of-reach space where the sea meets the sky and the "sublime interactions" that take place there. 
Japanese artist Yayoi Kusama has built a decades-long career interpreting polka dots. Inspired by the hallucinations and visions that plagued her as a child, Kusama imagined and reimagined a world dominated by dots. In the hotel's piece, "Dots Obsession," part of the artist's 1998 series of the same name, they take on the look of magnified organic material as if on a slide under a microscope. In 2018, her "Infinity Mirrors" exhibit at The Broad sold out for its duration, due in part to its highly Instagrammable, trippy installations.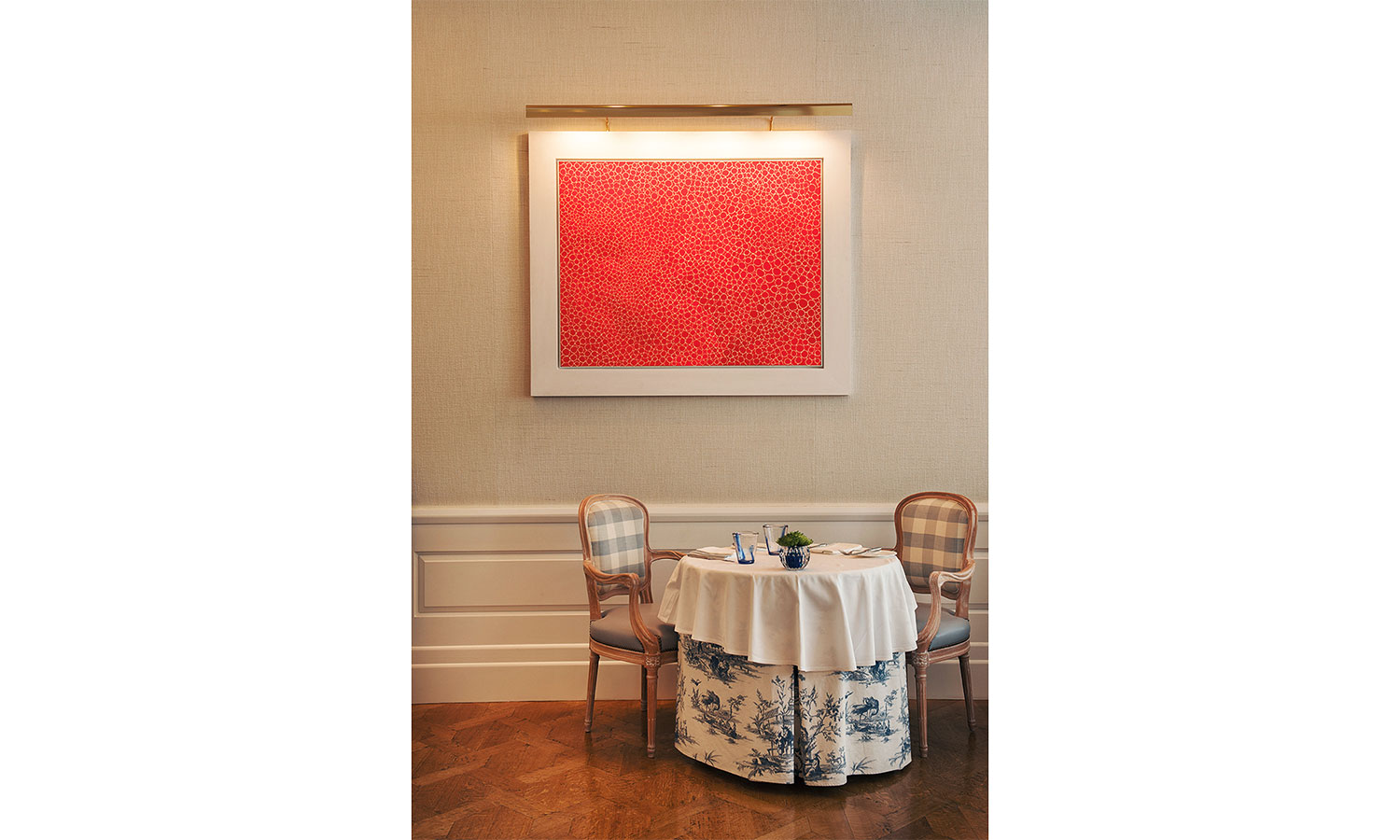 Pop artist Robert Indiana is best known for his iconic "LOVE" image, in which the uppercase letters of the word are confined to a square and stacked on one another. The image first appeared on Christmas cards for the Museum of Modern Art in 1965, before it was reinterpreted in other mediums, including sculptures, even an enormously popular U.S. postage stamp in the '70s. In The Belvedere dining room, Indiana's "Decade: Autoportrait 1963" (1972) references the assassination of John F. Kennedy and the 10 stages of a man's life. It is one of four pieces of the same name, part of Indiana's "Numbers" portfolio, considered to be some of the artist's most important work. They are largely autobiographical while offering a coded commentary on issues including the civil rights movement, nuclear disarmament and the dissolution of the American Dream. And in the outdoor dining area, one of Indiana's "LOVE" sculptures sits proudly in the center.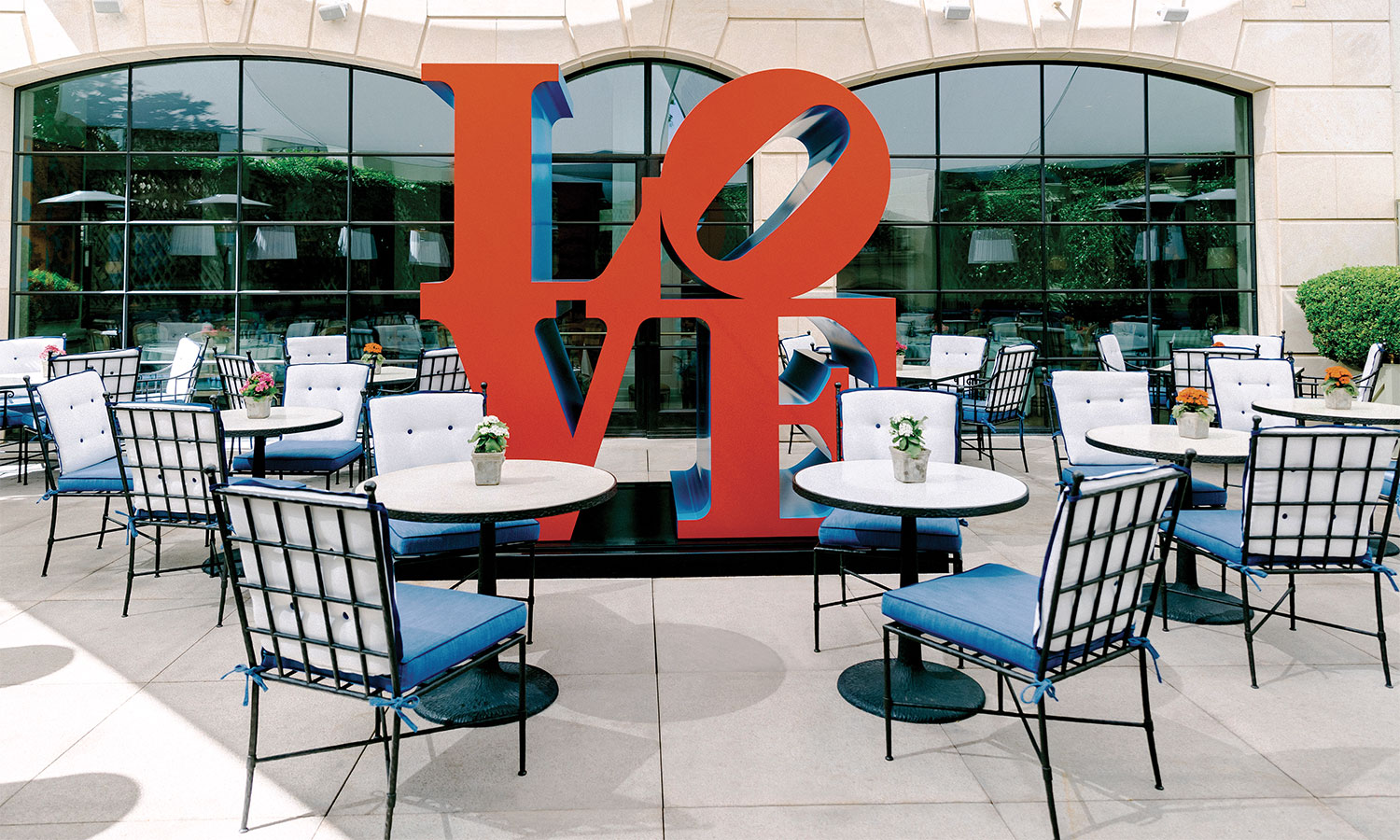 Beverly Hilton
The Beverly Hilton opened to great fanfare in 1955 with a gala celebration replete with herald trumpeters and sequined bathing suit-clad women riding pink-painted elephants. And in the 68 years since, it has become a hub during awards season, its grandeur and opulence the backdrop for the Golden Globes and countless celeb-studded, post-award show parties. It's undergone the occasional nip and tucks with various renovations and upgrades over the decades, but it has always stuck to its roots as a true Beverly Hills icon. And among the hotel's standout art pieces are the ones that pay homage to its illustrious past. 
In the lobby, a 57-panel, burnished gold, mother-of-pearl mural, "The Study of Water" by Nancy Lorenz could very easily pass as an original part of the hotel's design. It was, however, commissioned during a remodel in 2005. And despite a major $35 million renovation in 2020, which included a lobby overhaul, Lorenz's work remained untouched. 
In the hotel's Oasis Courtyard, added in 2020 to capture classic California indoor/outdoor living, a remnant of the hotel's past is proudly on display. Originally mounted in 1955 over the lobby's grand staircase, the "Starburst" sculpture by famed artist Bernard Rosenthal (best known for his giant spinning "Astor Cube" sculpture in New York City's Astor Place) spanned 15 feet and weighed 500 pounds. A portion of it now adorns the courtyard walls.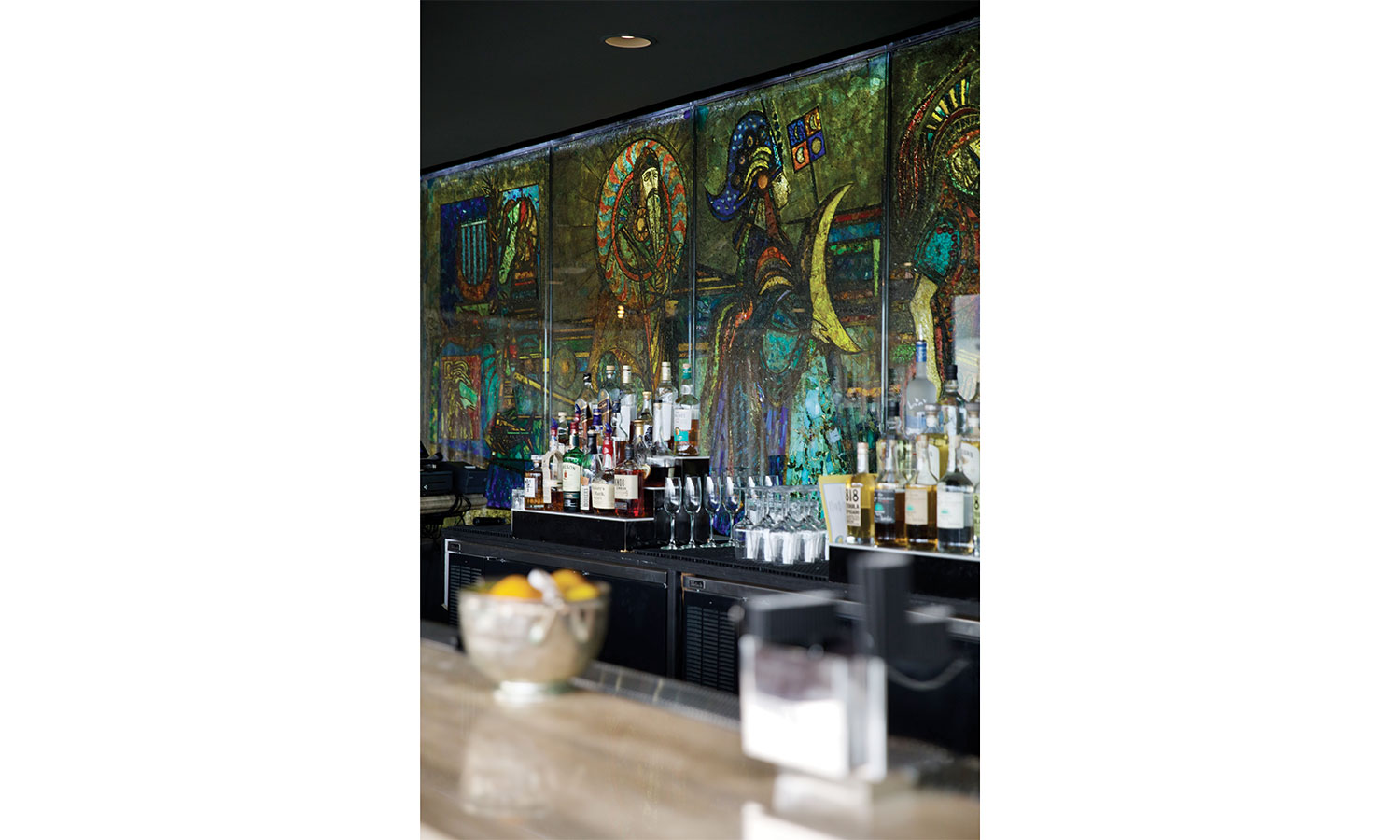 Located behind the bar at the rooftop restaurant Sant'olina, is the recently unearthed "Mallory Mural" by muralists Dale Owen and Robert Mallory. For two decades, the seven-panel mural sat without anyone knowing of its existence behind layers of drywall and wallpaper. It was covered up after the former French eatery L'Escoffier shuttered in 1994 and was forgotten. The jaw-dropping piece was rediscovered during a 2020 renovation of Sant'olina. The hotel traced its origins and found it was installed back in 1955, and the stained-glass mosaic, depicting figures from Classical Greek mythology such as Mars and Jupiter, is now the centerpiece of the space.
Beverly Wilshire, A Four Seasons Hotel
Last year, the Beverly Wilshire, A Four Seasons Hotel underwent a multimillion-dollar renovation of its guest rooms, suites and corridors. The refresh included the addition of new artwork, which included pieces sourced from the international collective Art Squared, line drawings by David Cantu, and abstract paintings by Alison Cooley, among others. But you don't have to book a Presidential Suite to peruse the crown jewels of the hotel's collection.
As soon as you walk into the lobby, you're greeted by two mesmerizing, oversized panels—one a glowing amber and the other smoldering crimson—by Jason Young. The Canadian artist attended the USC Roski School of Arts and Design before completing his classical training at the prestigious Sorbonne in France and various apprenticeships with internationally recognized Masters. For the pieces commissioned by the hotel, he used mirrors, hundreds of thin layers of resin and highly reflective auto-body lacquer to create their mercurial effect. The panels, each weighing 400 pounds, showcase Young's high-tech, minimalist trompe l'oeil technique that has made his work so highly desirable to collectors around the world.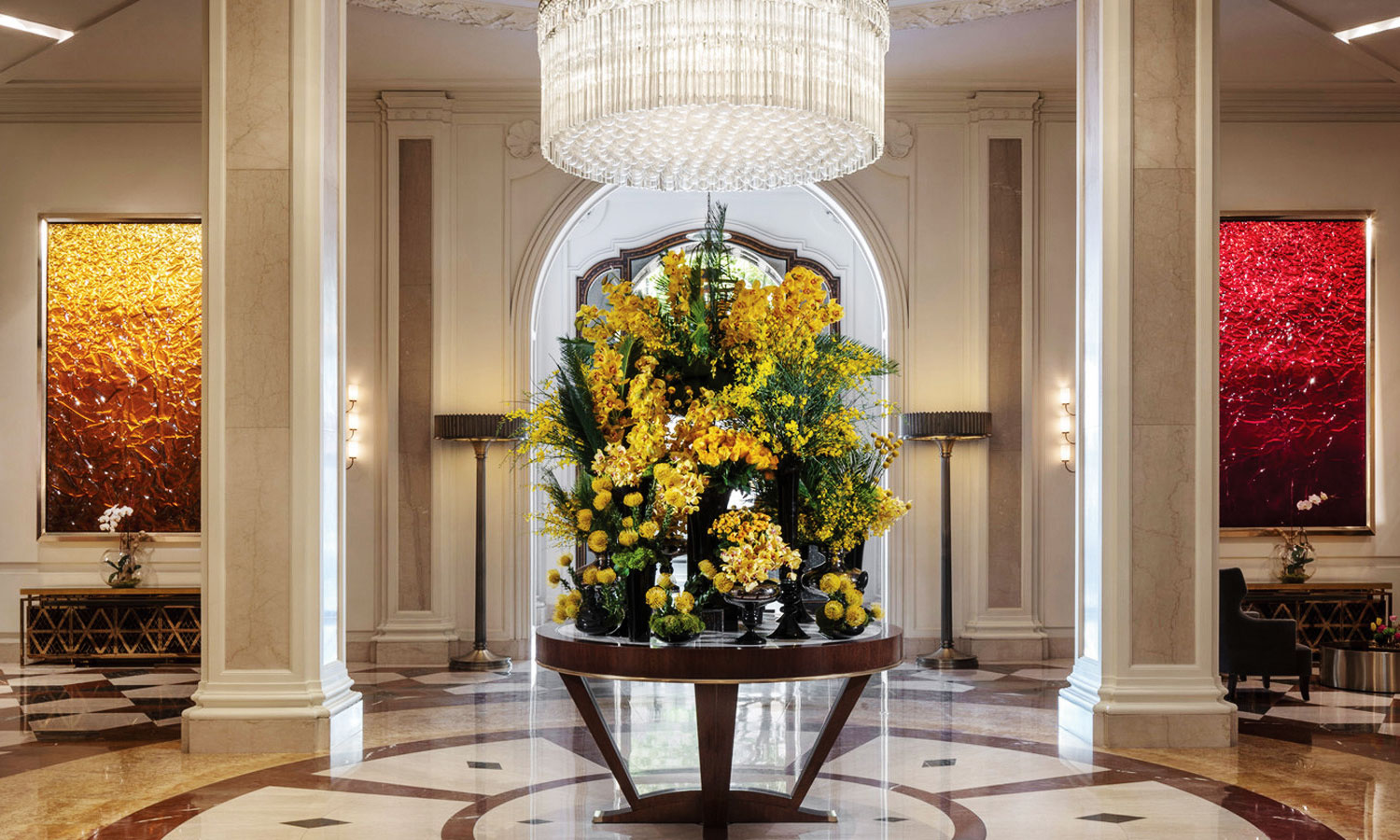 Inside Wolfgang Puck's Michelin-starred CUT restaurant, five pieces from the "W/Studio 54" series by the seminal California artist John Baldessari are prominently displayed. For the series, Baldessari used vintage photos taken at the legendary New York nightclub Studio 54 and obscured faces and clothing with vibrant shades of paint. Baldessari's work often features this redacting of photographs—from painted-over Old Hollywood stills to his dot-covered faces in found photos—they force the viewer to consider the context of the image rather than get bogged down in the details of the subjects themselves. Baldessari explained why he often revisited this concept, "It's a cat and mouse game where I give them clues," he said gleefully in 2012. "It's like a great detective story where the writer leads you to think you've got it all figured out, then, 'Ah hah! No, you haven't.'" According to Hotel Manager Melissa Sims, "These are such iconic pieces, and our guests who know the series are always really impressed. Plus, it brings such a beautiful and welcomed pop of color to that space."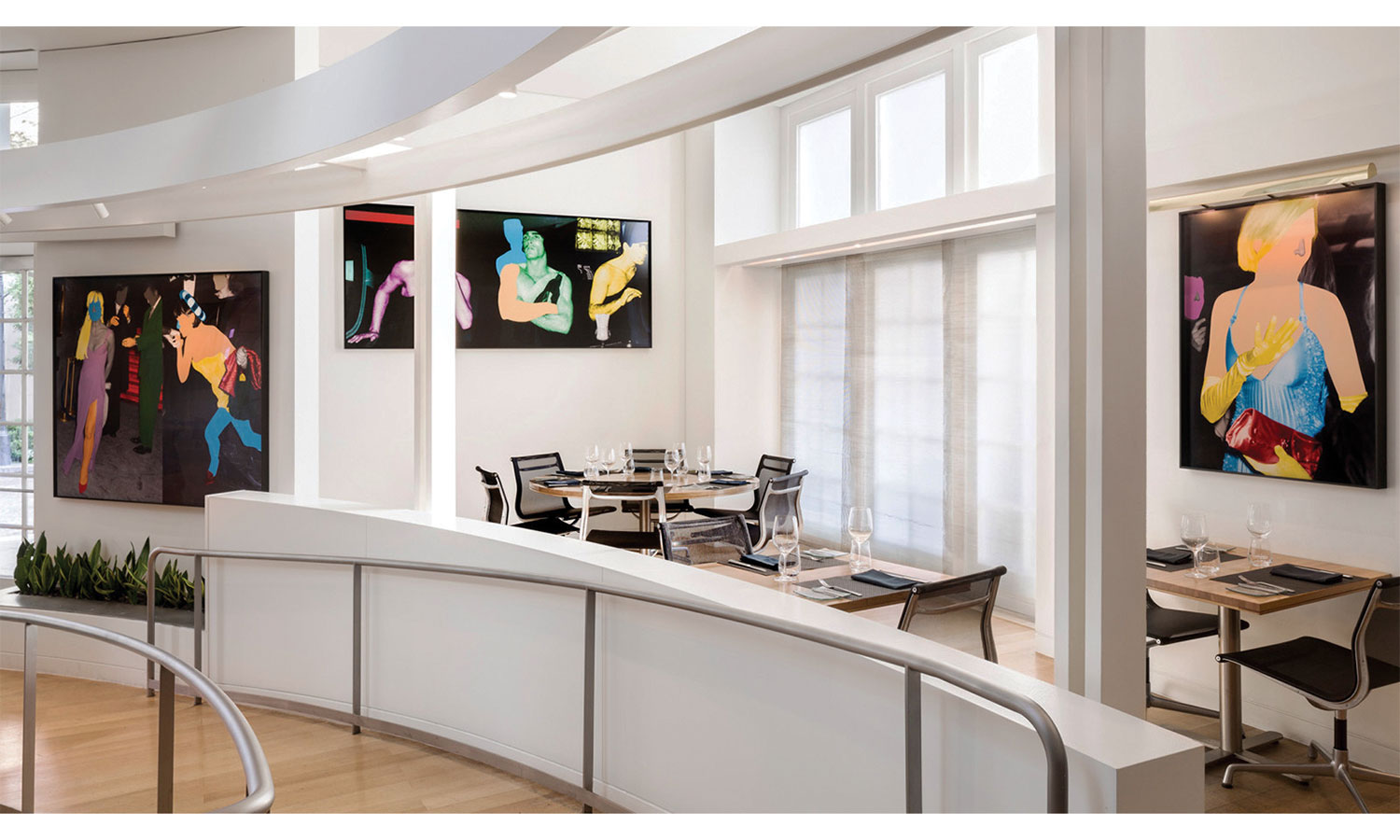 In the adjacent CUT Lounge, you'll find the work of another groundbreaking California artist, Ed Ruscha. His use of images combined with words, and later phrases, taken from everyday language made him a trailblazer of conceptual art. His works communicated a particular urban experience, where the mundane is exalted. "He Wears an Anodized Uranium Business Suit," made of acrylic and pencil on canvas, is a classic example of the artful use of text that put Ruscha on the map.
Also on display are two pieces by Robert Rauschenberg, a pioneer in the Pop Art movement. While the mixed media artist is best known for blurring the line between painting and sculpture, beginning in the mid-1980s he focused on silk-screening imagery onto a variety of differently treated metals, such as steel and mirrored aluminum. He created many series of these so-called "metal paintings," and this period in the influential artist's career is perfectly encapsulated in the pieces "Wall Safe Glut," made from aluminum and stainless steel, and "Palm Sunning (Phantom Series)," acrylic on mirrored aluminum.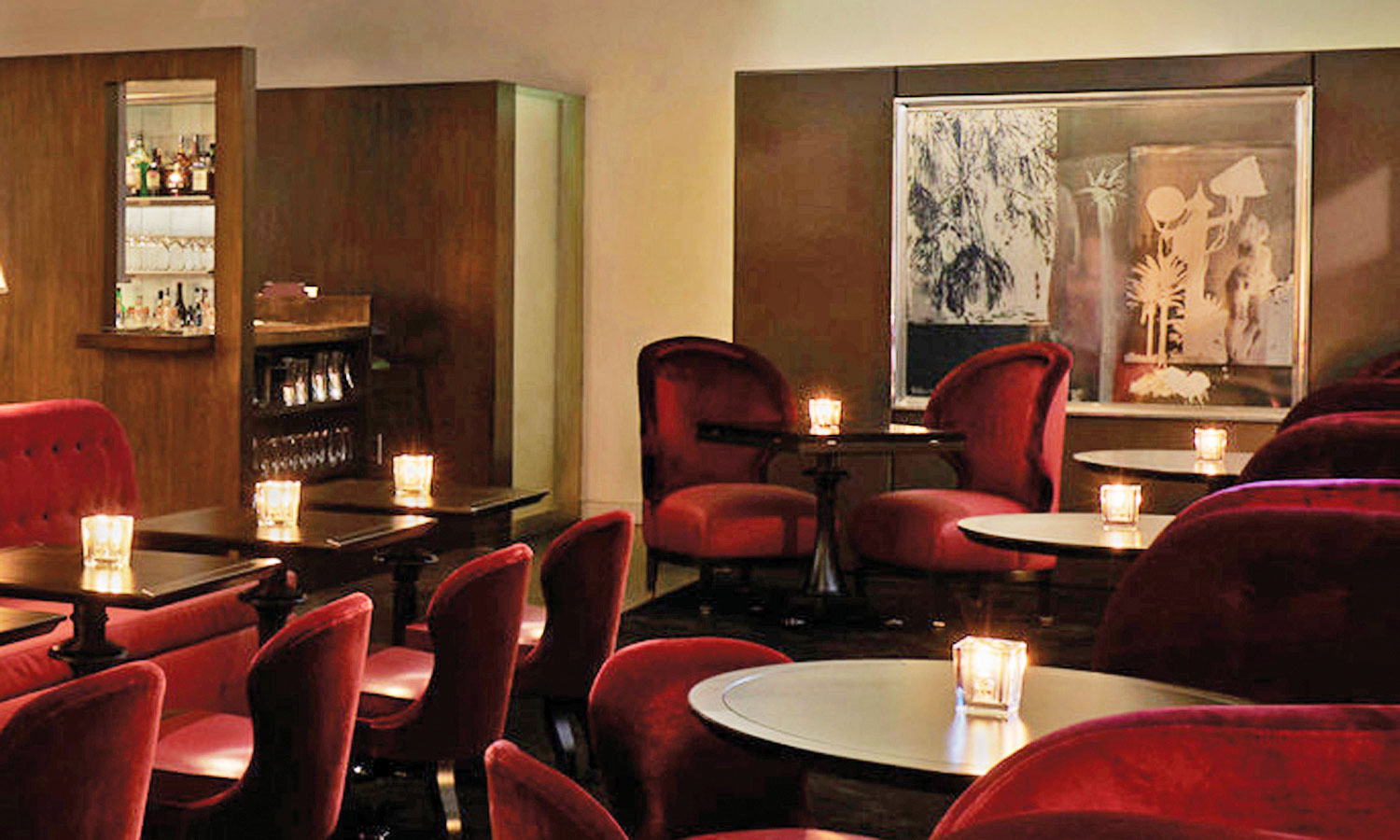 If you get the chance to peek into Petit CUT, the restaurant's private dining room, check out the series of celebrity portraits by Martin Schoeller. The German photographer, with his signature extreme-close-up style of shooting subjects—from the lesser known, like Death Row exonerees, homeless citizens and female bodybuilders to the uber-famous—has been lauded for his raw and honest portraits, which exude a sense of dignity, no matter who is sitting before his lens. Among the portraits of A-listers decorating the walls at Petit CUT are Brad Pitt, Denzel Washington, Anne Hathaway, Lionel Messi and Cate Blanchett. (Schoeller's 2009 portrait of Puck greeted you at the entrance of the restaurant.) "The portraits have a certain allure to them," said Sims. "They provide a sense of place, especially in CUT where you never know whom you might see on any given night and because we are of course in the epicenter of where the rich and famous love to play, stay and dine."
Waldorf Astoria Beverly Hills
According to the Waldorf Astoria Beverly Hills, its art collection explores the synergy between the hotel and city of Beverly Hills itself as symbols of luxury and sophistication. The goal was to curate works that would feel right at home in the personal collections of its guests while adhering to a sense of place in the overarching themes—the hotel's Art Deco decor, classical Hollywood glamour and the natural beauty of California landscapes. The result is a culmination of emerging and established international artists that speak to these themes through an expanse of mediums: porcelain, glass, paper, stone, video, photography, installation and painting.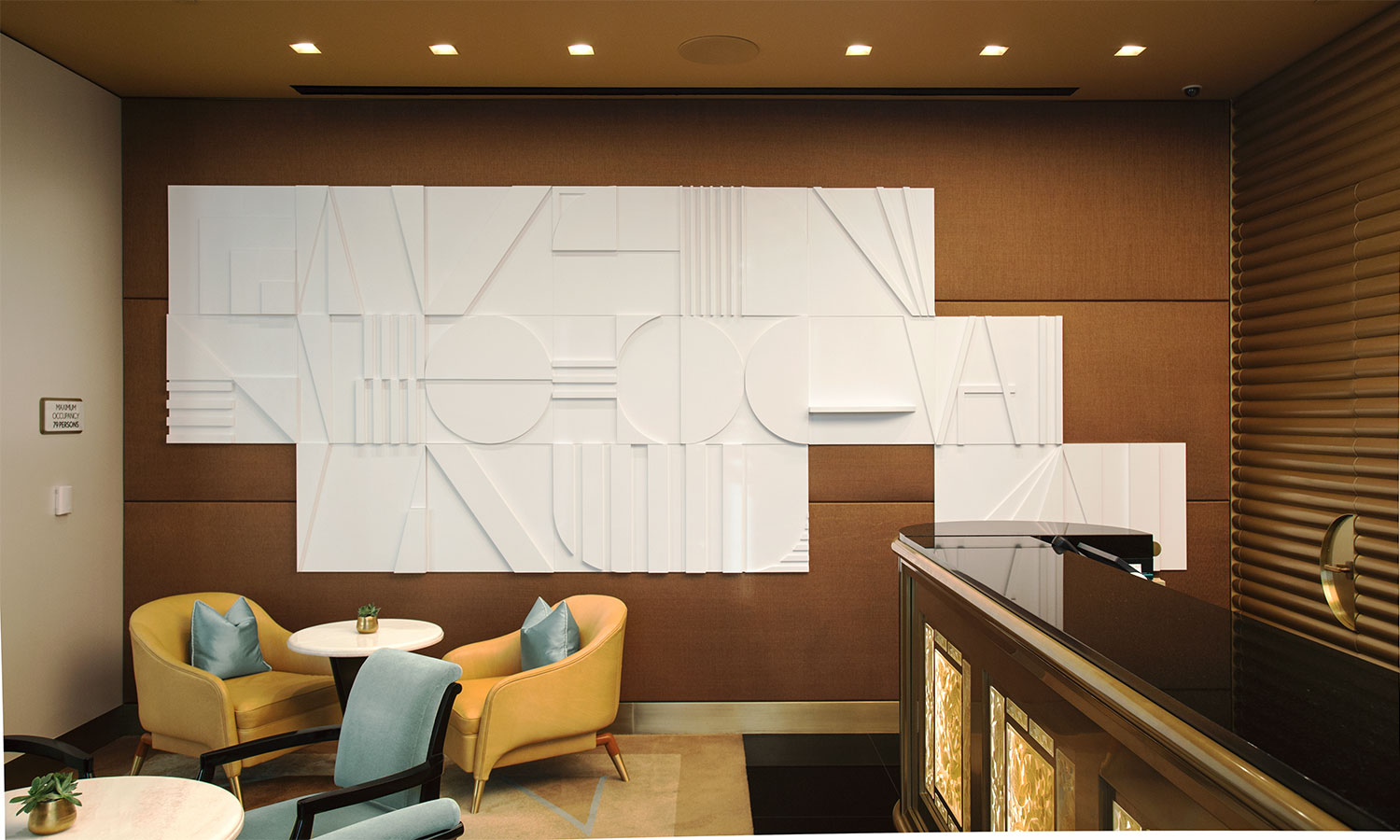 Beginning at the reception desk, an elegant and dramatic mural by Chicago-based tile artist Jason Messinger immediately sets the tone. The glossy black ceramic tiles, each hand-carved with curvilinear lines filled with gold luster (which is made from real gold), reference L.A.'s Art Deco architecture, native plants and natural elements. Although the mural is composed of 24 individual tiles, when viewed together, they create a mosaic effect that ultimately reveals a striking abstract Los Angeles landscape. 
The reception waiting area showcases a hypnotic video installation by Michael Shainblum. Featuring an array of pulsating kaleidoscopic moving images of Los Angeles, it takes viewers on a surreal, energetic journey through the city. Born and raised in California, Shainblum is known for his time-lapse and nature photography, which has garnered commissions from major corporations such as Disney, Nike, Apple and Google.
Down the adjoining main corridor, you'll see what at first appears to be three enlarged, black-and-white movie stills from a long-forgotten film but on closer inspection are revealed to be masterful charcoal drawings by San Francisco-based artist Oleander Wlasenko. The series, inspired by various scenes from 1960s French cinema, is thoughtfully presented in a row of black frames creating the effect of old filmstrips. Directly across the hall, in colorful contrast, is a piece by Canadian photographer Robert Canali. His signature use of photographs and pigment creates an otherworldly effect, as witnessed in the gradation of diffused hues he employed for "In Dust," which calls to mind a burnished California sunset.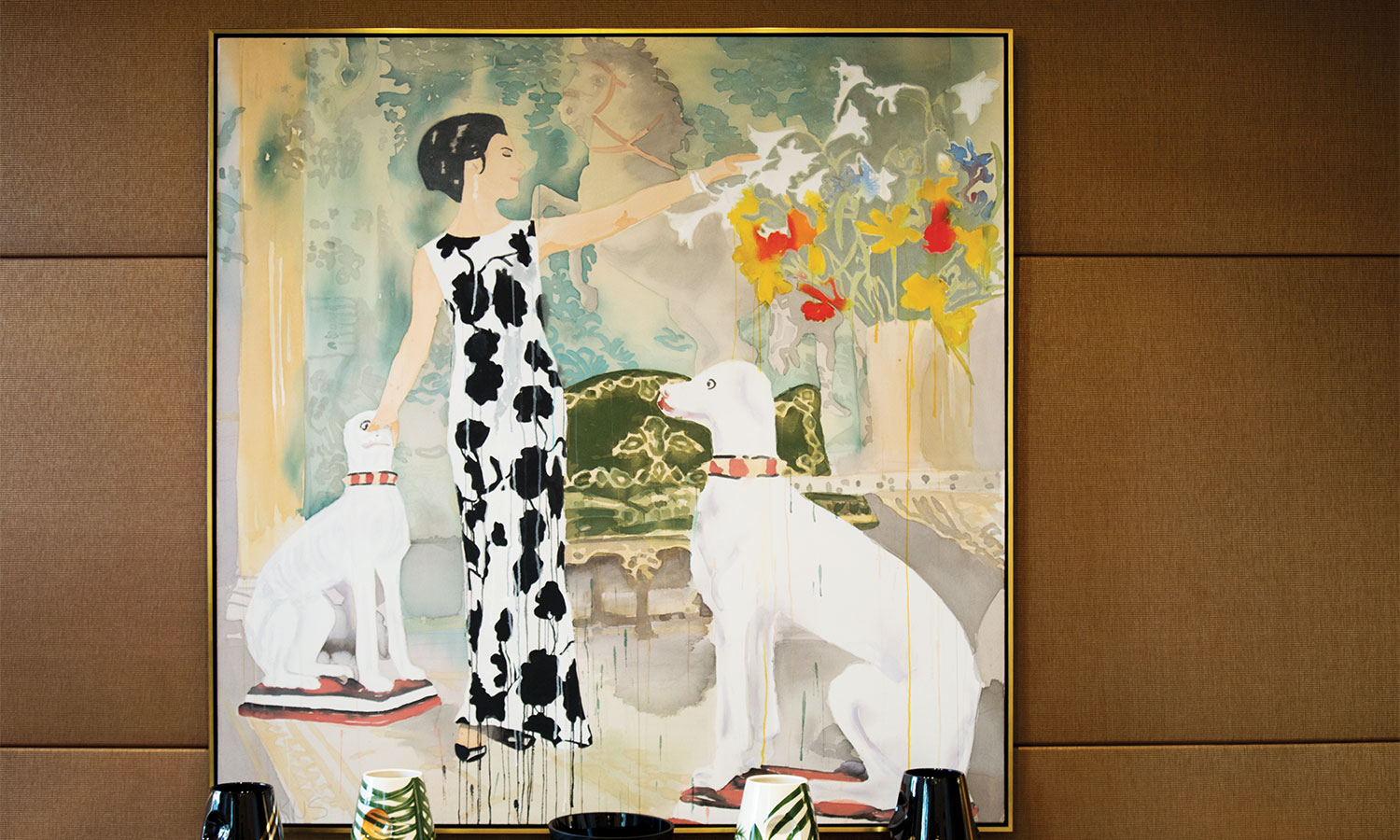 Over in the Lobby Lounge, a 16-foot wooden wall relief by Israeli artist Ofra Lapid becomes a focal point, further enhancing the overall Art Deco themes of the hotel. For the piece, commissioned in stark white and custom built for the space, Lapid explores the interplay of light and shadow using a dynamic composition with strong architectural references. Holding court in a side room is an oversized portrait of socialite Consuelo Crespi, an American-born Italian Countess, by New York-based painter Liz Markus. Part of the artist's "Town & Country" series celebrating American female style icons, the piece illustrates Markus' playful technique of combining paint and pencil on unprimed canvas with carefully controlled drips and washes.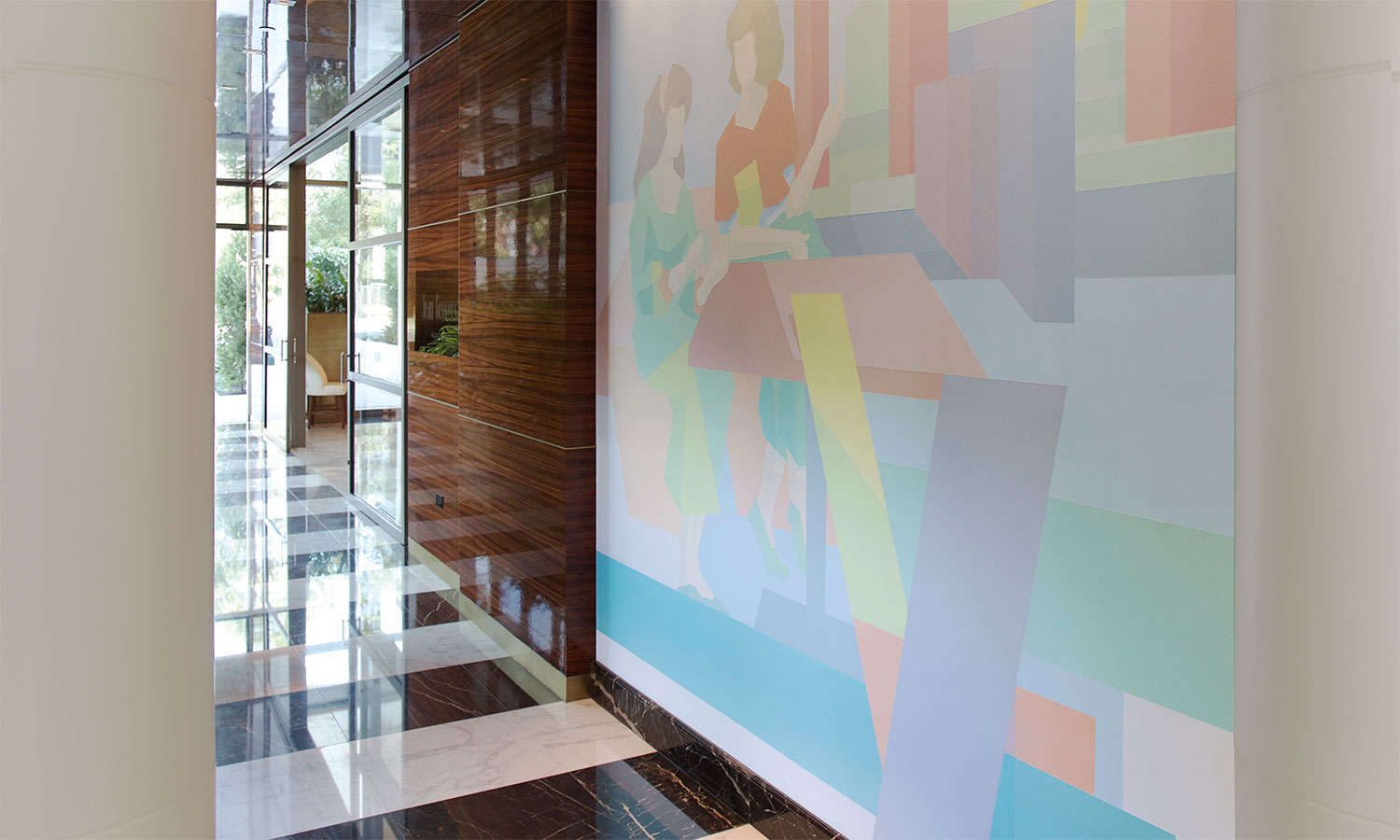 As you approach the entrance to the Espelette Beverly Hills restaurant, you're welcomed by a soft-focused pastel mural by Chicago-based artist Trek Matthews. The hotel commissioned the work asking for a piece that would speak specifically to Beverly Hills, and the result is an intimate moment of a shared lunch between two women, imagined Beverly Hills residents. Matthews is known for his strict adherence to a limited color palette using just four colors (along with white) and a style that is inspired by the precision and order of the Japanese public transit system.
The Maybourne Beverly Hills
Part of the yearslong renovations to update The Maybourne Beverly Hills after it was purchased in 2020 included the acquisition of new artwork befitting the stature of a world-class luxury hotel, as well as the city of Beverly Hills as a beacon of culture and the arts. "We are very proud of the collection we have and are closely connected in some way or other to all the artists," said the hotel's General Manager Eugene Leonard. "Art is central to the design of our updated aesthetic for the property and hopefully provides a point of inspiration." To that end, guests and restaurant and bar patrons are encouraged to stroll the hotel's public spaces and take in the collection for themselves.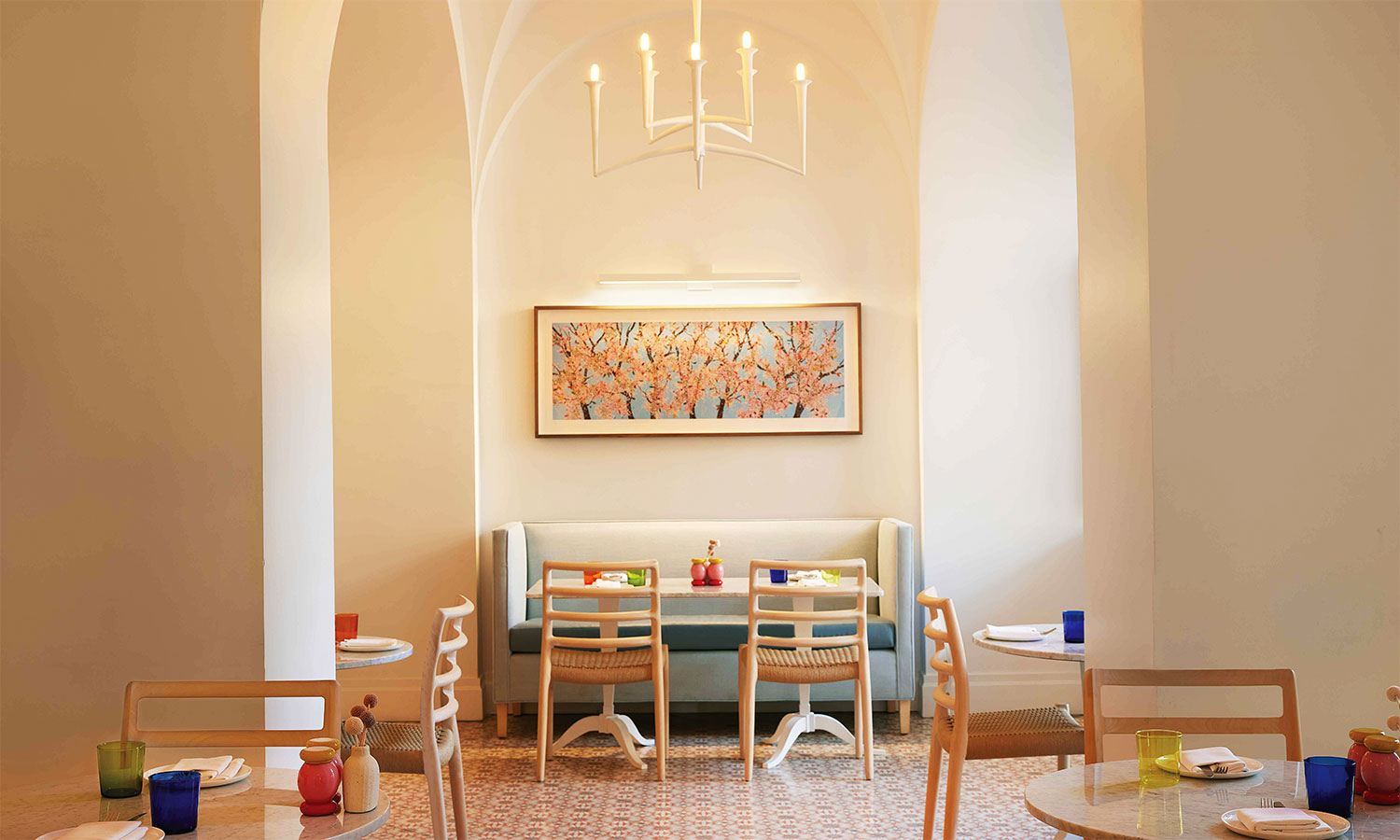 If you've ever grabbed a coffee or a sandwich to go at the Maybourne Café, you might not have realized that you just breezed past an original work by Damien Hirst. The next time you enter the café, take a moment, and look above the banquette to your right, and you'll see a painting from Hirst's "Cherry Blossoms" series. The cheery robin's-egg blue sky and salmon-pink blooms seem quite a departure from the British artist's usually dark and moody works. After all, Hirst made a name for himself with sculptures featuring dead and dissected animals preserved in formaldehyde. In the 1990s, he became one of the most sought-after conceptual artists in the world. In the early 2000s, he began to unveil his paintings. And though he has vacillated between sculpture and painting in the intervening years, he returned again to canvas in 2021, debuting his series "Cherry Blossoms" at the Fondation Cartier in Paris. The 30 paintings exhibited (which included the titular piece hanging in the café) revealed a softer side of the artist. But if you scratch just below the surface, "Cherry Blossoms" reveals its connection to the central themes of Hirst's work. He explained, "The 'Cherry Blossoms' are about beauty and life and death. They're about desire and how we process the things around us and what we turn them into, but also about the insane visual transience of beauty—a tree in full crazy blossom against a clear sky."
Hanging on the columns of the arches at the café entrance are two watercolors from the "Vespers" series by Brian Clarke. A world-renowned, large-scale, stained-glass artist, Clarke has been lauded for his achievements and innovations in that medium. In the 2000s, nature became a central theme in his work, and the British artist branched out with a series of botanical oil paintings and watercolors. In 2021, he debuted "Vespers," a series of watercolors depicting poppies, at Phillips gallery in London. "Poppies are the most fragile, the most delicate and vulnerable of flowers," said Clarke. "The petal is so thin that it transmits light. Light doesn't fall on it and bangs off in a reflective nature like it does with most flowers; it passes through it. And, of course, that makes it in my mind, very like stained glass."
Inside The Terrace, you can't miss the giant mural along the back wall with its lively shapes and squiggles in bright primary colors by L.A.-based artist Jessalyn Brooks. Drawing inspiration from the geometric lines and blocks of the Cubism movement led by Pablo Picasso and Georges Braque, Brooks' work focuses on abstract depictions of full-bodied female forms, which offer contemplation on beauty ideals and gender.
Take a detour through the lobby to discover more. Behind the reception desk, a painting from the "Twitchy Collection" by Harmony Korine is on display. Korine might be best known for his gritty screenplays including the '90s cult classic "Kids," directed by Larry Clarke and "Spring Breakers" (starring James Franco and Selena Gomez), which he directed. But Korine, who has been painting since he was a teenager, is also a bona fide fine artist in his own right. His technique starts with photos taken on his iPhone, digitally altering them, and later reproducing the images using household objects such as pieces of duct tape and steak knives in lieu of brushes to apply oil paint to canvas. Dubbing his style "mistakism," Korine's work has been celebrated for its raw, rough-hewn qualities, much like his films.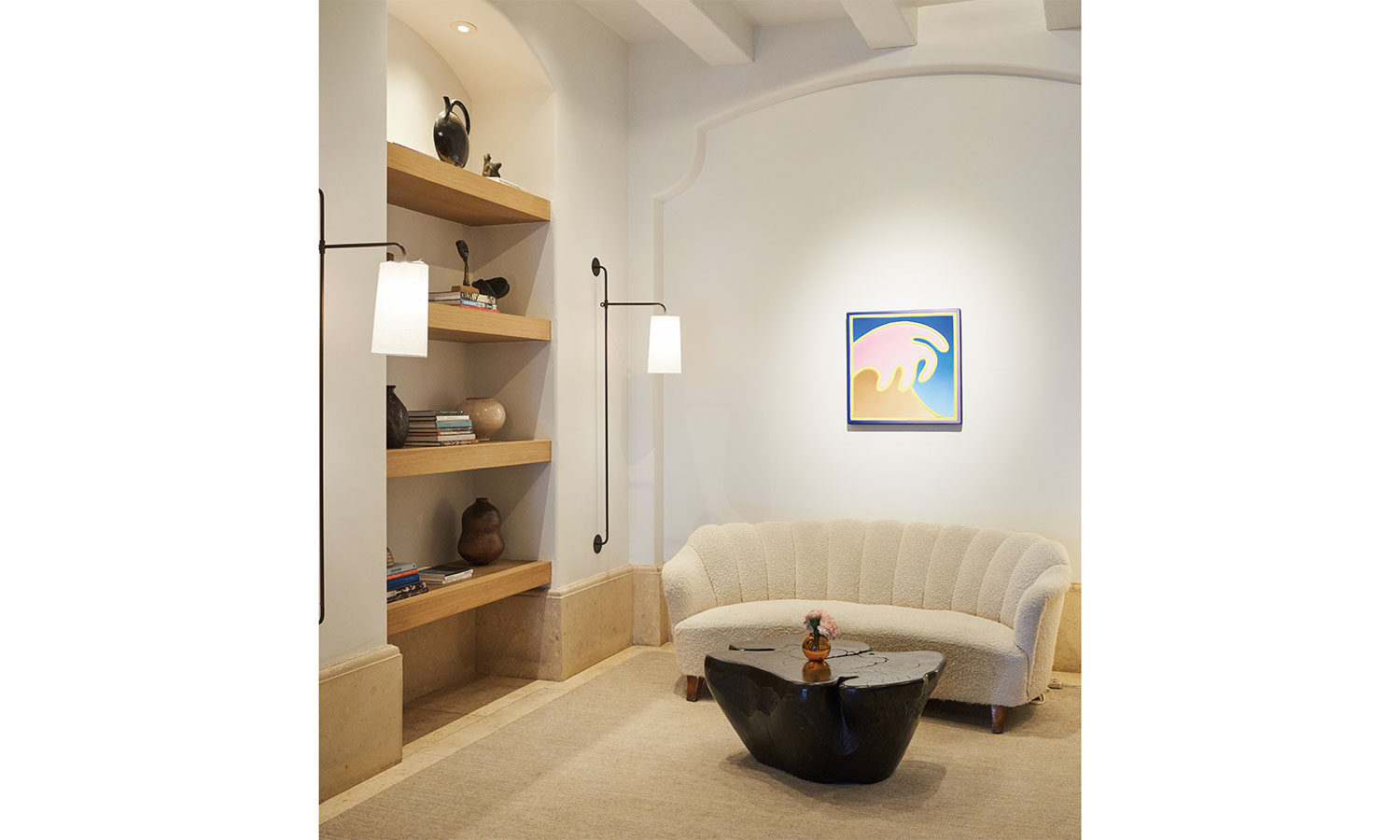 Nearby, "The Wave" by Alex Israel occupies a quiet nook. The L.A. native creates multimedia pieces that often reference his hometown, taking in elements from the film industry and surf culture. "The Wave" is an homage to Japanese Edo period artist Hokusai and a nod to kitschy surf brand logos. Made from acrylic stretched over fiberglass, its construction references the act of pulling on a wetsuit.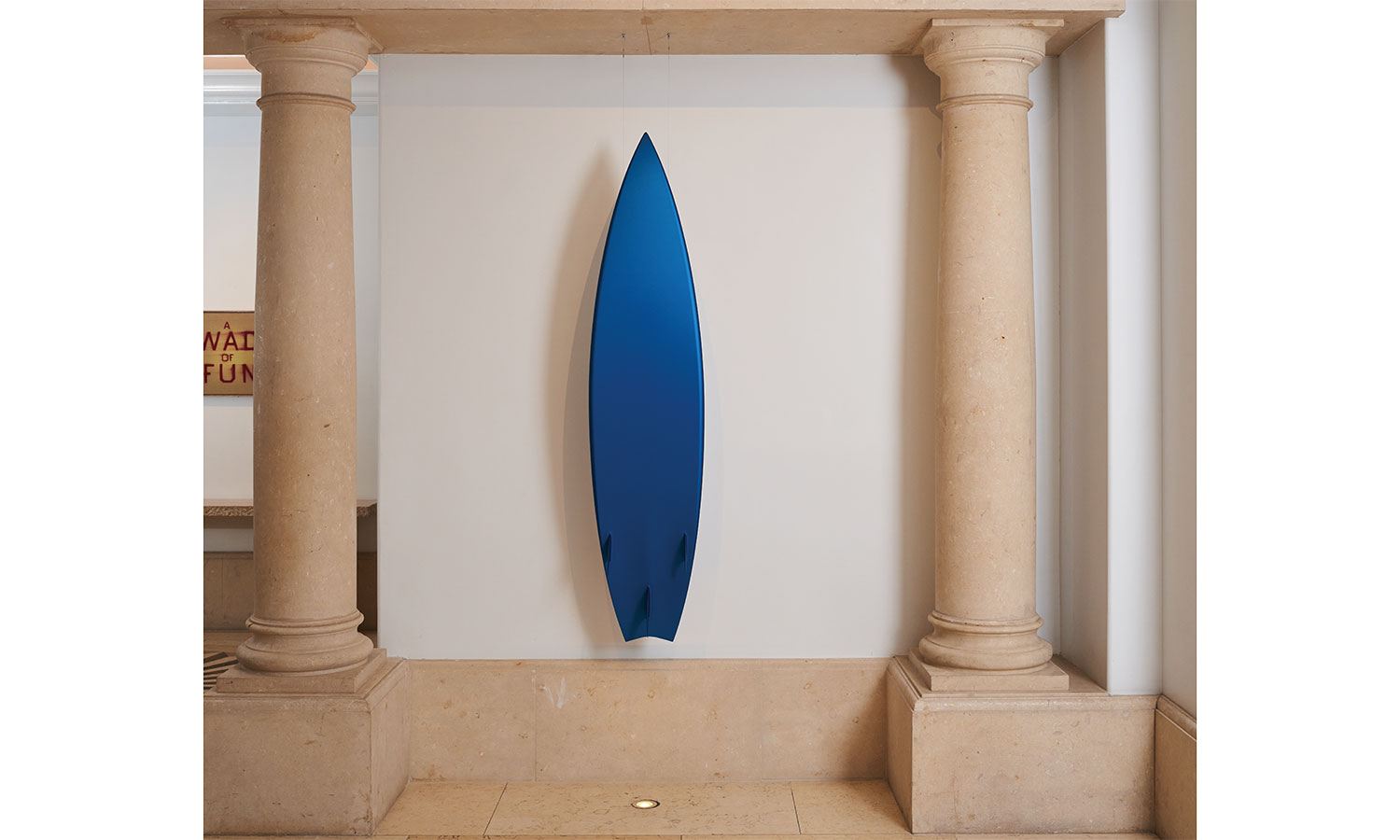 An electric-blue, aluminum surfboard by Australian artist and influential designer Marc Newson is the latest addition to the hotel's collection. For Leonard, the bold piece is among his favorites. "I admire the audacity of the piece, to create a surfboard out of metal," he said. "And to then ask Garrett McNamara (the founder of big wave surfing) to test it on some of the world's largest waves, conjures up the real sense of danger that exists with surfing huge waves and the natural sense of place surf culture has long had in California."
The cobalt blue circle emblazoned with the word "California" spiraling toward its center is a piece the hotel commissioned from artist Aaron Young. It's meant to mimic a traditional motorcycle club patch and represent the collective kindred spirit of the hotel, inviting guests to join its "club." 
On a marble pedestal sits a sculpture of stacked colored balls by multidisciplinary artist Annie Morris. Titled "Stack 8," it's part of the British artist's critically acclaimed "Stack" series, in which she examined her grief for her stillborn child.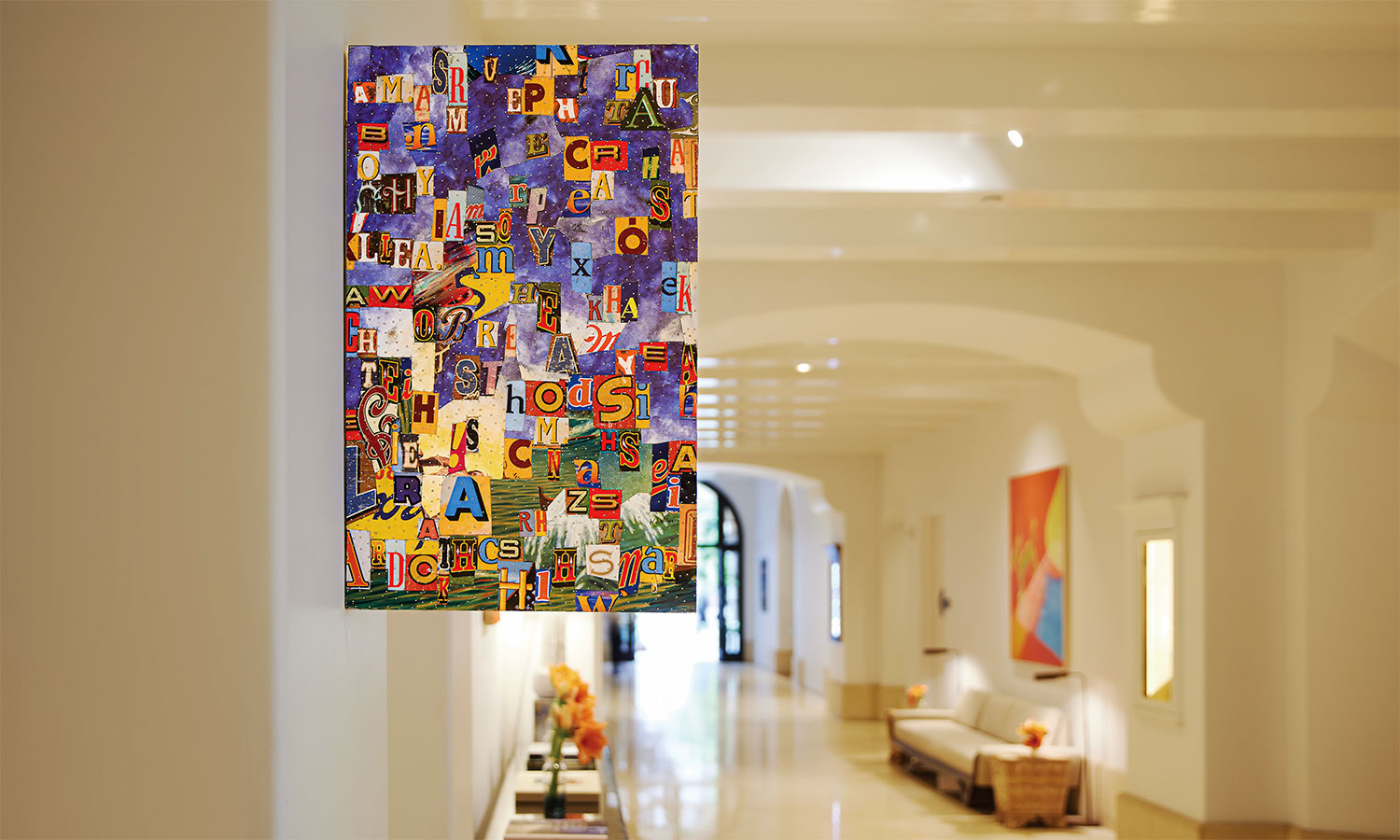 In the lobby corridor, an enigmatic sculptural collage, "Helen and Sunnyside," by Tony Berlant seems to float above the space. The Santa Monica-based artist was an integral part of the West Coast Pop Art movement in the 1960s. His paradoxically flat-yet-relief-like works, created by laboriously printing images (many of which he took himself) onto metal, which is then cut into pieces and reassembled and affixed with nails onto various found objects, earned him a place in the permanent collections of the Los Angeles County Museum of Art and the Art Institute of Chicago.
Head down the hallway back toward the café, and you'll come upon a charcoal and oil painting by celebrated Johannesburg artist Nelson Makamo. His portrayals of rural South African youth have recast the way African children have long been depicted as disenfranchised and impoverished. And this piece, "Appreciate Beauty," radiates the central tenet of his work, optimism. In 2019, Makamo's work was chosen to illustrate the cover of Time magazine's "The Art of Optimism" issue, guest edited by powerhouse filmmaker Ava DuVernay.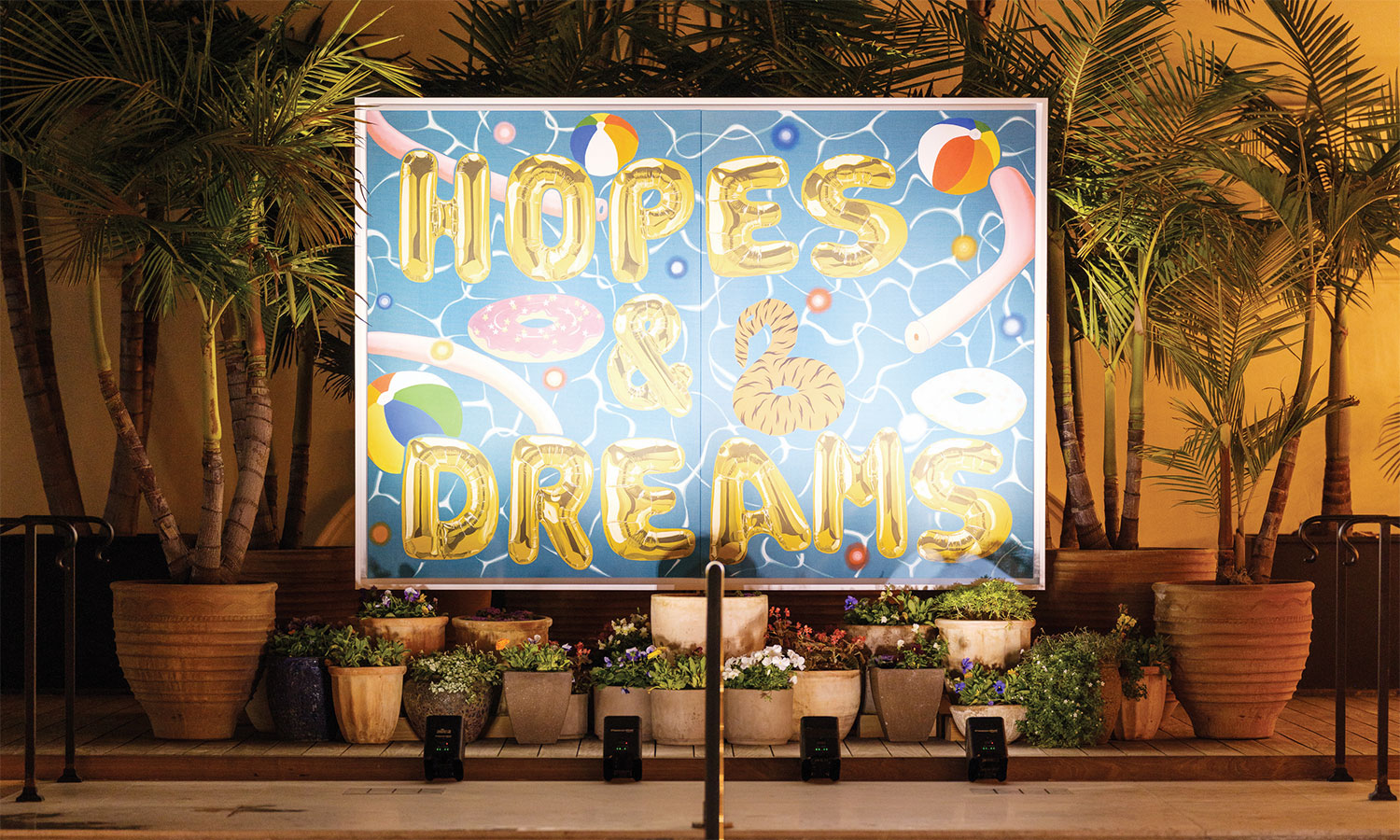 Up on the rooftop, check out the inspirational piece by L.A.-based artist Joel Mesler in the recently opened restaurant Dante Beverly Hills. The former art dealer quickly drew a following when he began painting in 2015. His whimsical works, drawn from childhood memories, often center around words or phrases and feature flora and fauna motifs. For the piece, "Hopes & Dreams" for the hotel, Mesler imagined gold Mylar balloon letters spelling out the title's words suspended over a sun-dappled pool filled with colorful floaties and beach balls. "We commissioned the piece to reflect our new restaurant atop our stunning rooftop overlooking the hills and iconic Hollywood sign," said Leonard. "'Hopes & Dreams' felt like a natural fit for the space, in the middle of the world of entertainment."