Porsches and Ferraris and Corvettes, oh my! On June 18, more than 44,000 people flocked to the city's much-beloved, annual Father's Day event, Rodeo Drive Concours
d'Elegance.
A Beverly Hills tradition since 1993, the city's 28th annual family-friendly auto show featured more than 100 vehicles elegantly displayed on Beverly Hills' most iconic shop- ping street, closed off throughout the day to vehicle traffic.
"There's probably no place in the world where you can have cars like this and put them on a street like this and have the com- munity come together like this," Mayor Dr.Julian Gold said.
The program was held from 10 a.m.-4 p.m. At noon, an awards program, held on a stage at Brighton Way and Rodeo Drive, recognized the show's outstanding vehicles and collectors in 12 categories. Known as much for his enthusiasm for cars as for the laughs he once generated on late-night television, performer Jay Leno emceed.
"It's a great show," Leno told the Courier a few minutes before the awards ceremony, adding he lived just two miles away and that a Bentley from his collection was being exhibited.
Joining the former "The Tonight Show" host to hand out awards were all five members of Beverly Hills City Council—Mayor Gold, Vice Mayor Lester Friedman and Councilmembers Lili Bosse, John Mirisch and Sharona Nazarian—along with the event's founding chairman, Bruce Meyer, as well as Kathy Gohari, president of the Rodeo Drive Committee.
"Today was all about the dads, and a free, world-class car show is the perfect way to celebrate," Meyer said. "We try to bring new and incredible cars to this show each year, and the generous support of both local owners and our amazing sponsors made that possible. It's fun seeing the community get to enjoy them."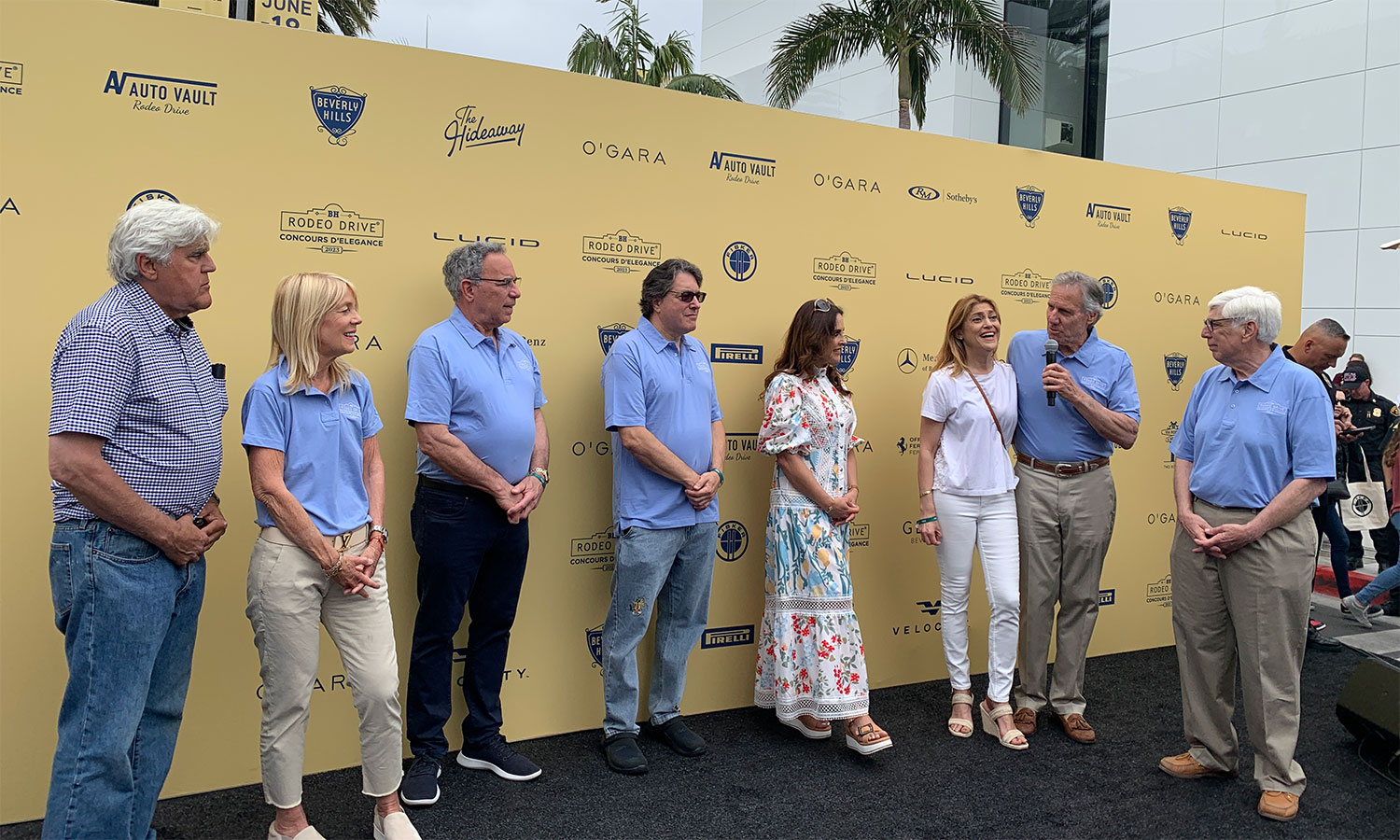 Leno, Meyer said, has been an active supporter of the city.
"Jay has been so supportive of our community," Meyer said. "He's done shows for the police and the fire [departments], and he continues to show his gratitude in so many ways."
Before the awards ceremony began, Bosse was seen boogying to tunes playing overhead, including Weezer's "Beverly Hills" and the Beatles' "Drive My Car." Standing beside Gold, the councilwoman took the mayor's hands, and lively dancing ensued.
The show's vehicles included a maroon 1935 Duesenberg convertible coupe by Rollston, lent to the show by the Singleton Collection; a silver 1972 Porsche 911 Targa, its topless design and gleaming hood epitomizing European luxury; a vintage Ferrari once owned by actor Steve McQueen, its estimated value between $5 and $7 million; and a built-for-California-summers 1959 Fiat Jolly.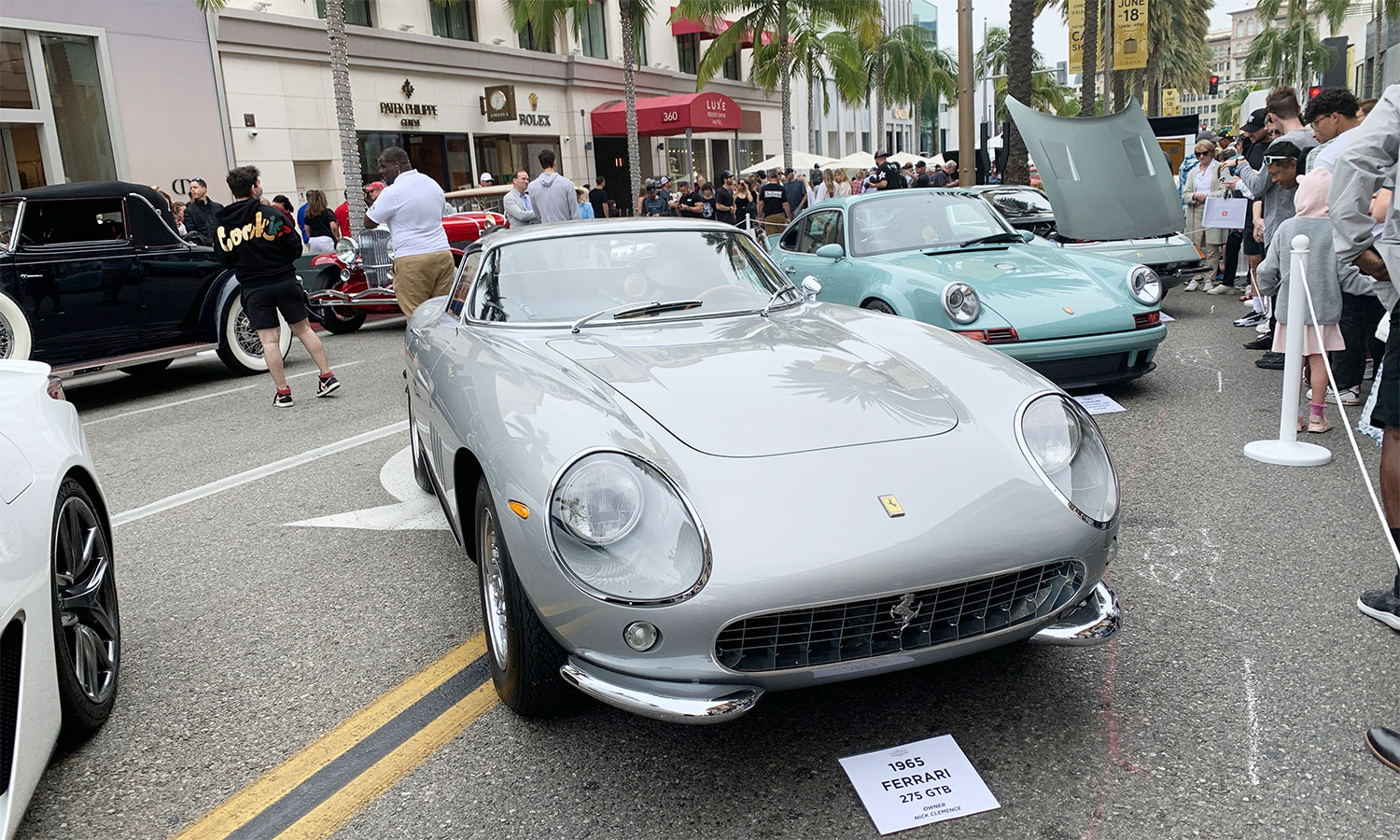 The Jolly's owner, Jonathan Burrows, said the car belonged to his late father. Now it was his.
What could be more appropriate than sharing it with the community on Father's Day, he said?
Matt Goist, curator and collection manager at the Newport-based Singleton Collection, accepted the Chairman's Award for the 1935 Duesenberg. In an interview, he described the Duesenberg as an enjoyable, occasionally challenging driving experience.
"It's powerful, responsive for a car from the 1930s and not easy to parallel park," Goist told the Courier.
Cradling a crystal trophy—which Leno had earlier joked resembled a cereal bowl—Goist said the Singleton Collection was grateful for the opportunity to showcase one of its own at the Beverly Hills function.
"We're very supportive of the cause, and Bruce [Meyer] is a friend of ours," he said. "It's a great show. I love it. It's always a great mix. I've come before as a spectator, and it brings out a lot of people."
Along with recognizing the program's outstanding cars, the event raised funds directly benefitting the community. Meyer and Gold presented the Beverly Hills Firefighters Association and the Beverly Hills Police Officers Association, respectively, with $5,000 checks. The two nonprofits support the city's first responders and their families.
The event, supported by the city of Beverly Hills, the Rodeo Drive Committee and O'Gara Coach, among others, returns next year on June 16.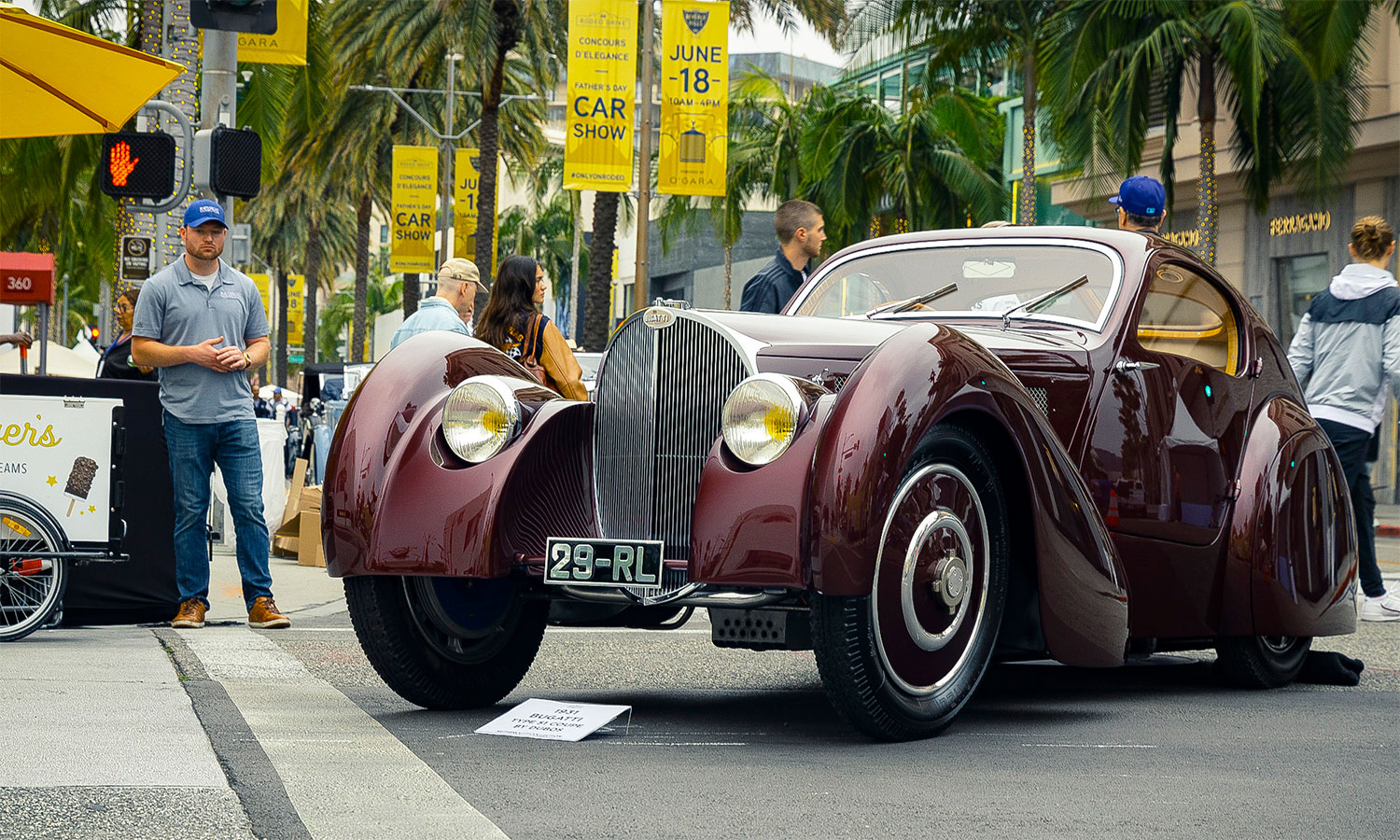 The full list of award winners:
• Best of Show: Nethercutt Collection, 1931 Bugatti Type 51 Coupe by Dubos;
• Mayor's Award: Most Elegant: Todd Blue, 1956 Mercedes-Benz 300SC Cabriolet;
• Chairman's Award: 1935 Duesenberg Model J LWB Convertible Couple by Rollston;
• Icon Award: Timeless Classic: Peter Brotman, 1968 Lamborghini Miura;
• Rodeo Drive Award: Most Stylist: Matt Katz, 1953 Fiat V8 by Vignale;
• Police Chief's Award: Life in the Fast Lane: Tommy Drissi, 1970 Chevrolet Camaro Chaparral Trans-Am Racer;
• Rodeo Drive Award: Most Unique: Hiram Bond, 1980 Chevrolet Corvette/Cadillac Custom;
• Rodeo Drive Award: Most Fashionable: Maurice Moore, 1956 Cadillac Eldorado Biarritz;
• Carroll Shelby Award: Most Sporting: Mike Regalia, 1972 Ferrari 365GTB/4;
• Steve McQueen Award: Classic Sports Car: Nick Clemence, 1965 Ferrari 275GTB;
• Most Outrageous: Hunter Kim, 1961 Volkswagen FB County Micro Bus;
• Most Passionate Enthusiast: Philip Sarofim.