Randall Park, the hilarious star of "Fresh Off the Boat," makes his feature film directing debut with "Shortcomings," an astute character study that takes an unflinching eye to the "not coming of age" saga of a young Asian American man. We are so used to the "coming of age" story where the immature protagonist undergoes a life -changing event that makes him realize that there is a better path to follow. Instead, this is the humorous story of a young man who's lost his way and doesn't recognize that he's fallen into a morass of his own making, one that has him stuck in the quicksand of "I'm too good for that."
Ben and Miko, live-in lovers who are both aspiring filmmakers, attend the new Asian American Film Festival in Berkeley. Miko is thrilled with the entry of one of their friends featuring Asian American protagonists triumphing over the petty prejudices of mainstream society. That's a lofty explanation for something about a very rich Asian couple who have been denied residence in the penthouse apartment of a luxury condo. As the couple recovers from the rejection, the husband makes a call; the two smile at the result. The wife returns to the supercilious manager to announce that they have just bought the building and he should go to the curb and pick up the trash. The crowd cheers the end of the movie, starring Ronny Chieng ("Crazy Rich Asians") and Stephanie Hsu ("Everything Everywhere All at Once")  and the after-party begins.
Miko is effusive in her praise; Ben is less than polite in expressing how unimpressed he was, privately decrying to Miko that it pandered to fans of rom-coms and the ending was unrealistic. That ending, by the way, was "borrowed" from the real life story of Merle Norman, the cosmetics queen. Richer than Croesus at the time, she desired the penthouse apartment of a "restricted" building. Jewish, she was denied ownership, so she bought the building and fired the management. But realistic ending or not, Ben carries his film snobbism everywhere he goes.
A so-called classicist, Ben holds out for the values of the New Wave. Eric Roehmer knew how to tell a story and these wannabes don't. He is gradually wearing down Mika's positive attitude toward life. She, too, lives for film but in her view, a positive step is a forward step. Ben's self image as an intellectual hewing to higher standards is unmoved. There is a friction developing between the two of them caused by his so-called purism. The unacknowledged elephant in the room is that he tried making a film once and failed, retreating to a place where he could be the smartest person in the room—the manager of a broken-down revival movie theater in Berkeley.
The glitch in his high standards and quest for Asian authenticity is his secret love of blonde, white girls. Mika, non-judgmental, tolerates his negative personality and his proclivity towards blondes as rooted in a childhood where he was the only brown face in a sea of white. In her eyes, he's smart, handsome and hides his insecurities by building a wall of criticism. Mika is secure, beautiful and comfortable with who she is. That she comes from money is another source of Ben's insecurity. She is, however, happy that he has a close friend in whom he can confide.
Alice, a lesbian grad student who's never met a woman she didn't want to love and leave, dines frequently with Ben, both of them feeding off each other's lack of passion and goal fulfillment. She, struggling with her absence of interest in her thesis project, and he, admitting that he may not have what it takes to be a filmmaker. Still, even between these two, there is a lack of depth to their analyses and honesty with others. Alice has never come out to her Evangelical parents who punctuate each conversation with "Jesus loves you." She uses Ben as a beard when she needs a plus one, introducing him as her Korean boyfriend. This, she explains, is necessary because in the list of acceptability, Japanese is at the bottom. Judging by his evil eye, her grandfather is not fooled by this ruse. (As an ironic aside, Justin Min, the actor playing the Japanese American Ben is actually Korean American).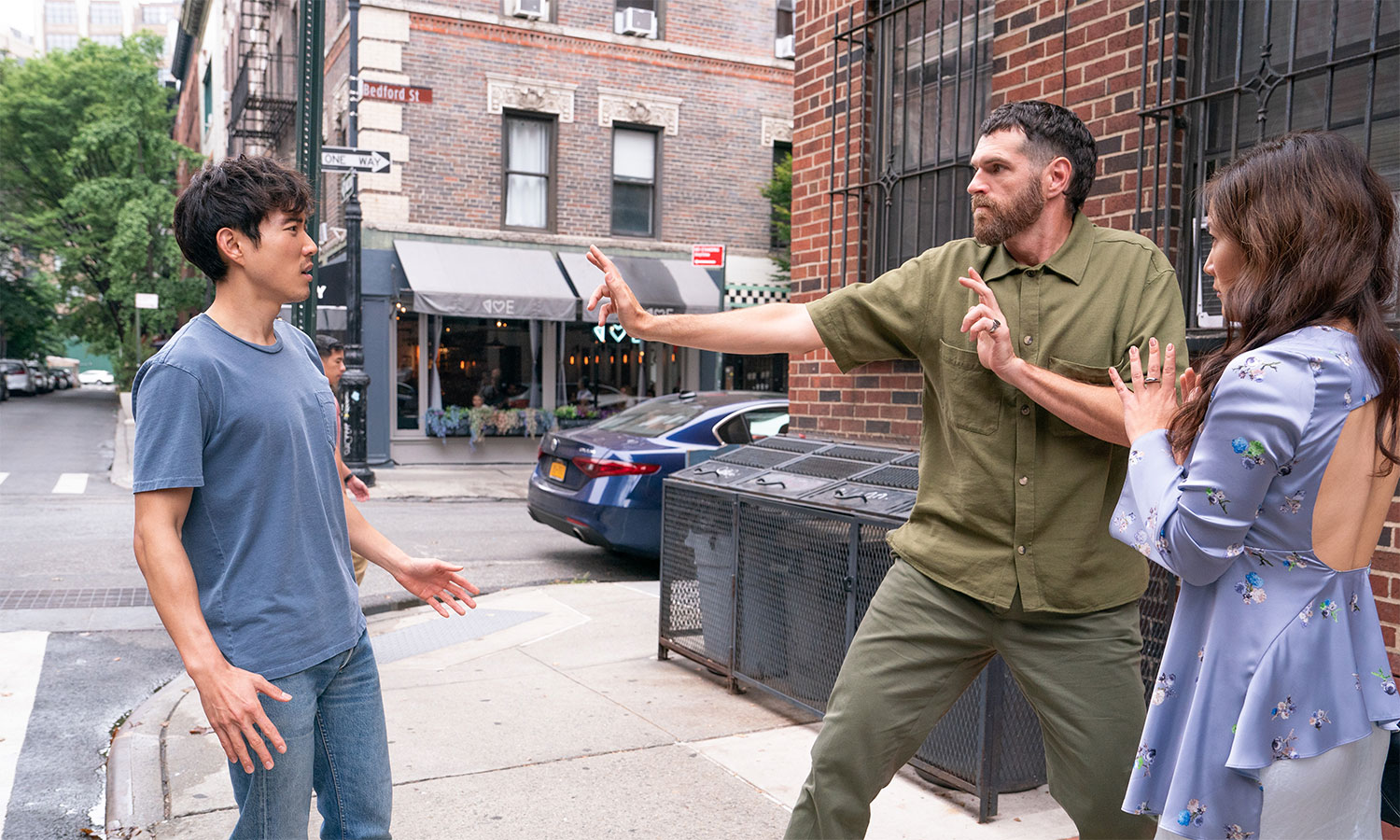 When Mika announces that she is leaving for a three-month film internship in New York, Ben is confused by what is expected of him. Left to his own devices, which includes not one but two blondes, he is no happier than before. Flailing on his own, he is completely upended when Alice, suspended from school, announces that she, too, is leaving for New York. Ben tries to get his footing without the two women who anchored him, but this earthquake of loss is too disorienting. He decides to try to recoup what he thinks he has lost by going to New York. What he will discover is what he has been avoiding. He will be confronted by the harsh reality of his shortcomings and the difficult decision of facing them with honesty.
Ben is truly a negative personality, one that all of us have encountered in the past. He's handsome, something that buys him time and indulgence, and very smart. None of his criticisms or comparisons are incorrect but they are often made without accounting for the mitigating context or offering possible solutions. His refusal to confront his own proclivities while denouncing those in others results in a very amusing hypocrisy. He is that proverbial smartest person in the room who can't take the temperature of his surroundings or acknowledge other viewpoints. Amazingly, Ben is an almost entirely unsympathetic character, but you never hate him. He elicits an amusing amount of pity because his superiority is based on so little. He's close to rock bottom and he doesn't know it, but you do. You want to be there when it hits because it is then that he'll grow. This is about growth and lack thereof. He has not yet come of age, although he's well into his 30s.
"Shortcomings" succeeds on many levels beyond being the story of a young man who's lost his way and doesn't recognize it. It's a quietly universal film that has the added benefit of focusing on an underrepresented group whose problems are those of their generation with the cherry on top being their ethnicity. Park is telling a "coming of age" story where the protagonist has yet to realize that intellectual ability is not a sign of maturity. Alice, herself, suffers from that same lack of maturity, but her growth is more apparent. This isn't your typical story about a slacker who sees the light. Ben isn't really a slacker; he's just someone who has disguised the terror of admitted failure by making himself the judge of the society around him. To borrow from "The X-Files," "the truth is out there," he's just not ready to see it. There are many laugh-out-loud moments in Ben's cringe-worthy actions, and anyone with adult children (or even teenagers) will recognize the deliberate counterproductive rebellion for rebellion's sake.
But there is another character in this story that is introduced lovingly by the director and writer: Asian American neighborhoods in the East Bay of San Francisco. For people like Ben, denied a community when growing up, his new home is a security blanket where he feels he can be himself. What he doesn't acknowledge is that he has not yet found that authentic self. What he has found is a comfort zone and we see and experience it from the standpoint of everyone inhabiting those streets. Ben, Miko and Alice's Berkeley and East Bay are not necessarily Asian neighborhoods, but they are places where they don't feel their minority existence as much as they would in other places. For Miko, New York is a new place to experience; for Alice, it is a challenge to meet and overcome; for Ben, it's downright terrifying.
The cast is uniformly terrific. Ally Maki, Miko, generates warmth, patience and confidence. Her Miko is driven by empathy, which may be one of the reasons she stays with Ben. Maki's beauty is almost beside the point but it underscores the fact that Ben has no idea what he's missing until he does.
Sherry Cola, Alice, a well-known stand-up comic, has the impeccable timing to keep this film moving. Snarky, she is still able to maintain the sympathetic edge that drives so much of the action (well, maybe not action but at least story). Whenever she is on screen, it's difficult to watch anyone else.
In a very small role at the end of the film is Timothy Simons, Leon, playing a love interest for Miko. Simons, who played someone called "the stupidest man on the face of the earth" in "Veep," is no less compellingly funny here, but a lot more empathetic, not to mention smarter.
Justin Min, playing the Japanese American Ben, has real star quality. Handsome with an insouciant manner that disguises his real insecurities, he displays enough vulnerability that the audience never quite hates his character. That's not to say Ben is likable, because he's not, but his negativity is underscored by his ability to imply weakness of character. If there is justice in the world, all three of these actors should become major stars in mainstream films, movies that see beyond color and ethnicity.
Like many filmmakers in racial minority communities, one of Park's goals was to give Asian Americans a chance to see themselves on screen. Written by Adrain Tomine, based on his graphic novel of the same name, Toumine displays amazing strength in describing complex characters and dissecting relationships. The outstanding recent French film "Paris, 13th District" was based on a trio of his graphic novels ("Paris, 13th District"). A fourth-generation Japanese American, he understands his characters implicitly. There is a depth to his writing that is embedded in the development of each person in the film.
At a fast-paced 90 minutes, you'll never be bored and often amused. You might even recognize some of the traits portrayed on screen in yourself or those you know.
Now playing at the Laemmle Monica Film Center. 
Neely Swanson spent most of her professional career in the television industry, almost all of it working for David E. Kelley. In her last full-time position as Executive Vice President of Development, she reviewed writer submissions and targeted content for adaptation. As she has often said, she did book reports for a living. For several years, she was a freelance writer for "Written By," the magazine of the WGA West, and was adjunct faculty at USC in the writing division of the School of Cinematic Arts. Neely has been writing film and television reviews for the "Easy Reader" for more than 10 years. Her past reviews can be read on Rotten Tomatoes where she is a tomato-approved critic.