I was never a fan of Barbie. I didn't much play with dolls and I was astute enough at a young age to recognize that the image portrayed by Barbie, her long tresses, endless legs, tiny waist and ginormous boobs was an ideal that chubby little me would never meet. Did anyone really dress like that? I imagined that the popular girls, the ones wearing Villager sweater sets, chosen as cheerleaders, hair that never drooped in the humidity were Barbies. I wasn't even a Skipper. 
Never fear. Greta Gerwig, director and co-writer with partner Noah Baumbach, has her saber-sharp wit on full display in "Barbie," a pink-saturated world where girls rule. Opening on a rocky primordial beach with little girls playing with their baby dolls, portentously narrated by Helen Mirren, we witness their awe as the quintessential Barbie in a striped-bathing suit, legs a million miles long and breasts of disproportionate size rises out of the ether to the sounds of Wagner's "Also Sprach Zarathustra." Little girls and baby dolls will never be the same. It's hard to top a scene like that, so Gerwig doesn't even try. Put this down to one of the best movie openings ever, even if you've never seen "2001: A Space Odyssey" to grasp the homage and tongue-in-cheek humor that will follow.
After the title sequence we are transported to Barbie Land, home to Barbies of every size, shape, color and orientation, all representing the diaspora of professions. Skipper, her younger sister, also lives there along with the short-lived Midge, the long-forgotten pregnant doll (what on earth were they thinking?). The entire power structure is girls, girls, girls from the Supreme Court, the President, and the leader of the pack, Stereotypical Barbie, she of the striped bathing suit opening. Oh, and lest we forget the totally forgettable Ken, or in this case Kens because these multiples represent the diversity, without the purposeful professions, exhibited with the Barbies. It is definitely Barbies' world and the Kens just live in it, a cause of some inexplicable concern to the intellectually challenged Beach Ken, Barbie's platonic squeeze.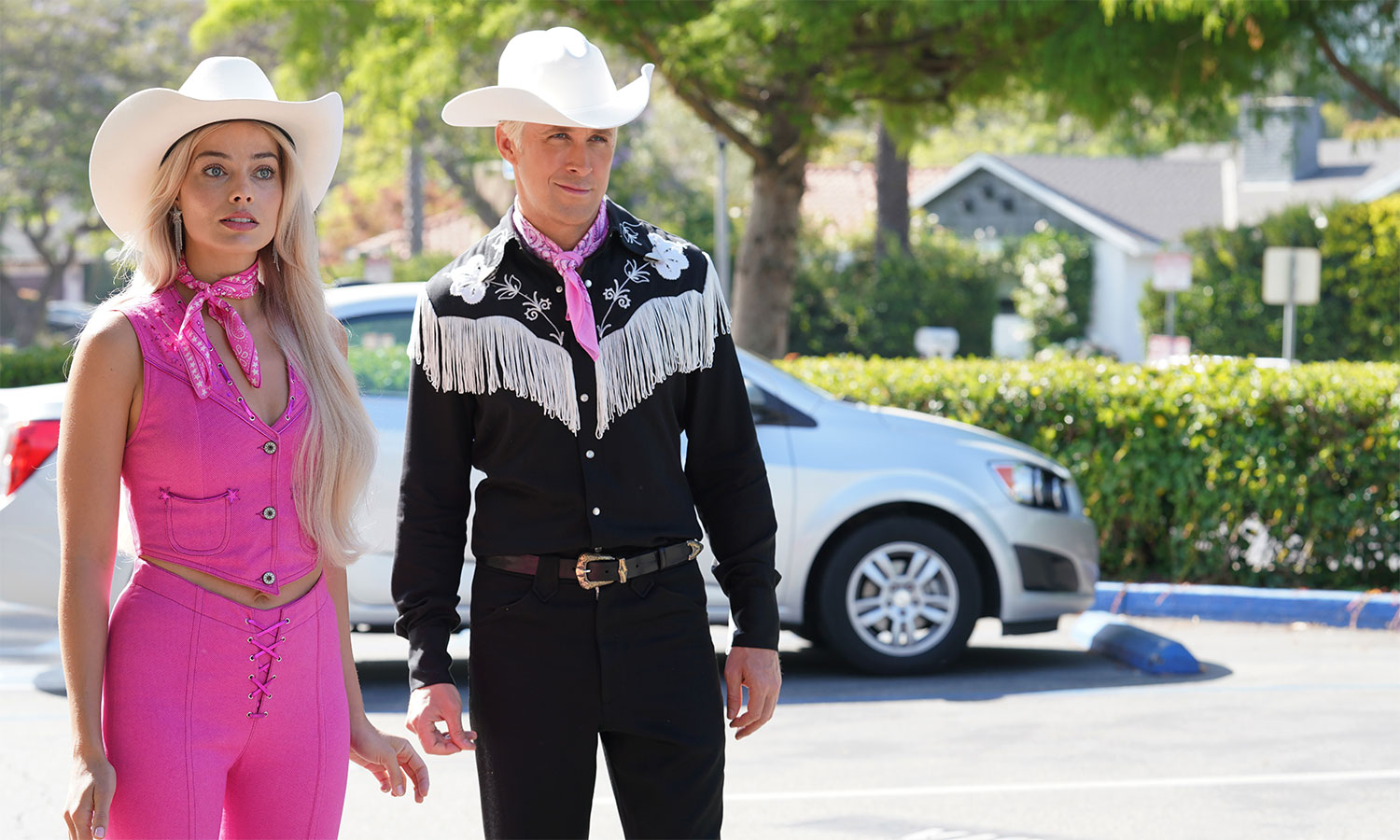 There is very little strife in Barbie Land; none if you don't count the emasculated machismo that occasionally rears its head between the Kens. Our blond Stereotypical Ken longs for a connection with Stereotypical Barbie and is confused by his place in Barbie Land. Oh, no! Could he be having an existential crisis trying to assert a purposeful authentic self in a plastic world? And what about Stereotypical Barbie with the perfect life, pink convertible and fully furnished Dreamhouse? In her land of sunny days some clouds are starting to appear with questions of mortality —ironic, no? for an inanimate object. And then, the coup de grace. Stepping out of her high-heeled Marabou slippers, her feet flatten and a spot of cellulite appears on her heretofore perfect thigh! This is a case for Weird Barbie, the doll whose owners abused her mercilessly, cutting her locks, scrawling on her face and ripping apart her limbs. Hey, it happens. What can I say? I've done it myself.
Weird Barbie has a diagnosis. Stereotypical Barbie is being sabotaged in the real world by a non-believer and she must turn her abuser into a supporter. Instructions on teleporting (so to speak) to  Los Angeles are given and Barbie, accompanied by her Ken, are off for an otherworldly, or rather, real-worldly adventure that begins in Venice Beach. Barbie sends Ken off on his own to explore as she deciphers the clues to locating the troublesome girl, Sasha, at a nearby middle school. Ken, left to his own devices, is wide-eyed at the possibilities laid at his feet. His first act is to buy them his and hers cowboy outfits. Hers, of course, is pink and sparkly; his makes him look like Joe Buck in "Midnight Cowboy" with all of the unintended implications. The real world is a patriarchy and it dawns on him that that's what he is—part of the patriarchal power structure. He may not have skills, education or experience, but as a man, he rules in this world. Barbie herself slowly recognizes that things are amiss in this culture lacking a significant dose of feminine know-how and power. She's not on Venice Beach for more than 5 minutes before she comes face to face with toxic masculinity.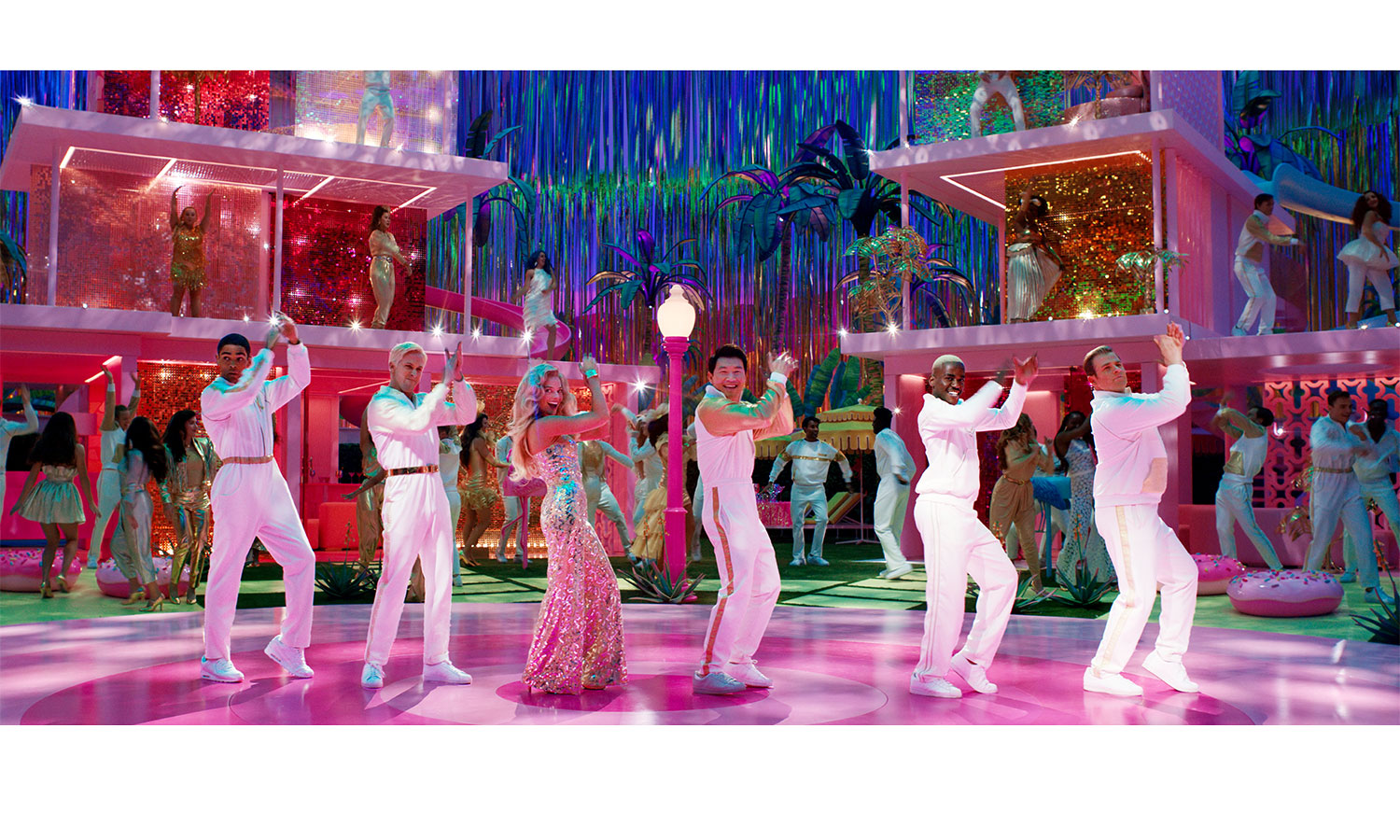 Barbie and Ken's existence in Los Angeles has caused a ripple in the fabric of the universe felt by the Mattel Corporation hierarchy. They must capture Ken and Barbie and send them back to Barbie Land posthaste. Meeting the all male Board for the first time, Barbie asks where the women executives are. "We had one a few years ago," replies the CEO. And so the chase begins, one that involves enlisting Sasha's mother Gloria, an assistant at Mattel with higher ambitions, to convert Sasha and help Barbie regain Barbie Land. Ken, as usual, is an afterthought but one of dangerous leanings now that he's tasted freedom and power. Preceding Barbie and her pursuers to Barbie Land, he upends everything and takes what he's learned and converts paradise into a Kendom complete with macho trucks and mini fridges filled with beer (at least two or three bottles because, as Ken points out, they're really small and no freezer to speak of). Will Barbie escape? Will she regain her high instep? What about that cellulite? What more does this plastic fantastic world have to offer? Be assured, there's more to this Barbie than meets the eye. 
Besides a script chock full of clever dialogue and subtext, "Barbie" was beautifully filmed by Rodrigo Prieto using an ultra bright color palette that highlighted the pink tone to everything Barbie. Contributing to the surreal look of Barbie Land is the artificial lighting, all staged and calibrated to maximum effect. Natural lighting does not come into play until Barbie and Ken arrive in Los Angeles, and even then, it's the natural light of the beach in Venice that shines down on the roller-blading duo in their neon green skates.
Costume designer Jacqueline Durran found a way to make Barbie outfits her own, styling each Barbie in clothes that you might have found at the Mattel store, although I'm not sure that Chanel manufactured Barbie purses and belts. Special praise should go to choreographer Jennifer White whose inspired dance numbers were hilariously reminiscent of "Saturday Night Fever" meets Busby Berkeley, all executed with flair and precision.  
The cast is pitch perfect, always in on the joke and playing it straight. The secondary Kens are a talented group including Kingsley Ben-Adir ("The OA") and Ncuti Gatwa ("Sex Education"). Watch for a hilarious John Cena ("The Suicide Squad")  toward the end as a Ken, biceps glistening, erupting from the sea. A special mention should go to Simu Liu ("Shang-Chi and the Legend of the Ten Rings") as primary Ken's closest friend and rival, sometimes overshadowing him, especially in that final dance scene. In a small, rather insignificant role is Michael Cera as Allan, Ken's erstwhile best friend who was married to Midge until they were both discontinued.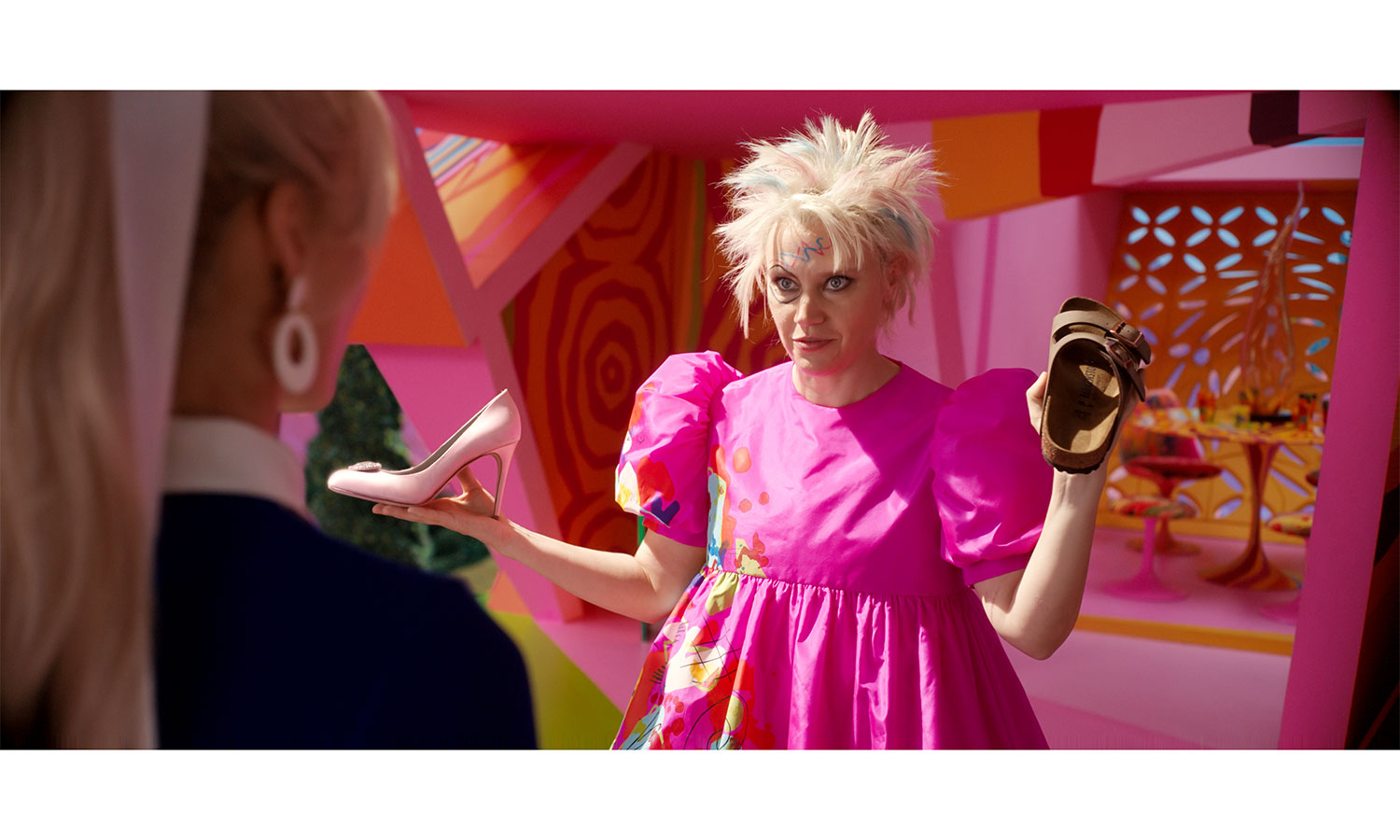 The various Barbies are equally engaging with Issa Rae ("Insecure") as the President, Alexandra Shipp ("X-Men") a demure Barbie, Hari Nef ("Transparent") a more assertive Barbie, and Emma Mackey ("Sex Education"), the malleable doll who easily falls under the spell of the machismo Kens. There are other Barbies, not the least of whom is Dua Lipa, who sings one of the songs on the soundtrack. Emerald Fennell ("Promising Young Woman") is seen but not heard as Midge. Hats off to Kate McKinnon ("Saturday Night Live") who wears Weird Barbie like a bad-fitting polyester suit and steals her every scene. 
In the real world, Will Ferrell plays the Mattel CEO with his usual clueless flair, hilarious in demeanor, eyes wide and fluidly stumbling both in word and movement. He delivers his lines straight, something that only serves to highlight the irony behind the dialogue. Sasha, the girl who triggered Barbie's visit, is played by Ariana Greenblatt loaded up on teen resentment and cynicism. The empathetic America Ferrara is Gloria, Sasha's mother and the true cause of Barbie's feelings of mortality. 
Front and center as the primary Ken, Ryan Gosling plays this airhead with a sense of loss and longing punctuated by his clueless eagerness. A tongue-in-cheek portrayal that is played straight to even bigger effect. The pre-Los Angeles Ken is a sweet dullard who is transformed, subtly into a more assertive, if still rather clueless, man who grew a pair (literally, not figuratively), never losing his softer edges. He is a Ken who, at the beginning, we laugh at until, by the end, we're laughing and sympathizing with. Not easy to do, but his timing is impeccable and his likeability index is off the scale.
Last and certainly not least is Margot Robbie as Stereotypical Barbie. Robbie, with an ethereal movie star beauty, understands her character and sells every nuance of self-confidence as she embraces all around her. She is Barbie come to life, inclusive of everyone. It would have been beyond my imagination that Barbie might represent something other than big breasts and high heels, but Robbie's Barbie does. Even if she's the Bimbo Barbie (my description not theirs), she embodies the belief that girls can be anything and should follow their dreams.
There's something for the whole family here from the Barbie-loving grade schooler to their grandmas (who were around when Barbie was born). The film may skew towards girls but there's more than enough story, laughs and pratfalls for boys and their dads to embrace. After all, this is about the universality of choice and achievement.
Now playing at AMC theaters in Century City, Santa Monica and Marina del Rey as well as the Cinemark in Playa Vista, Culver Theater and the Laemmle Monica, among many others. 
Neely Swanson spent most of her professional career in the television industry, almost all of it working for David E. Kelley. In her last full-time position as Executive Vice President of Development, she reviewed writer submissions and targeted content for adaptation. As she has often said, she did book reports for a living. For several years she was a freelance writer for "Written By," the magazine of the WGA West and was adjunct faculty at USC in the writing division of the School of Cinematic Arts. Neely has been writing film and television reviews for the "Easy Reader" for more than 10 years. Her past reviews can be read on Rotten Tomatoes where she is a tomato-approved critic.