A recent roundtable featured 25 young Iranian American activists in an intimate conversation with Crown Prince of Iran Reza Pahlavi, who, as the founder and leader of the self-styled National Council of Iran, an exiled opposition group, is widely viewed as a proponent of a secular and democratic Iran.
The discussion, held Aug. 25 at Beverly Hills City Hall, was organized by Washington D.C.-based advocacy group National Union for Democracy in Iran (NUFDI). It took place as the Iranian American community prepares to commemorate one year since the death of Mahsa Amini, a 22-year-old Iranian woman who died last September after she was detained by Iran's morality police for improperly wearing a hijab.
Her death prompted widespread protests in Iran while galvanizing members of Iran's diaspora community, including in Beverly Hills, to stage demonstrations in solidarity with those seeking dramatic reforms in the Islamist country.
During the roundtable, Pahlavi—the eldest son of the last Shah of Iran, who was ousted from rule during the Iranian Revolution of 1979—spoke with the attendees, including college students and young professionals, about the work they've done the past year to raise awareness about Iranian human rights abuses. Pahlavi, whose stop in Beverly Hills was one of several he made during a recent trip to Los Angeles—he currently lives in Great Falls, Virginia—appeared at the City Hall discussion along with his wife, Princess Yasmine Pahlavi.
For the past year, Beverly Hills resident Camyar Meshkaty, 31, has worked hard to spread knowledge about what happened to Amini and about events unfolding in the Middle East country. This has included organizing the rally, "Solidarity with the Heroic People of Iran," in Nov. 2022 with the support of his mother, Nooshin.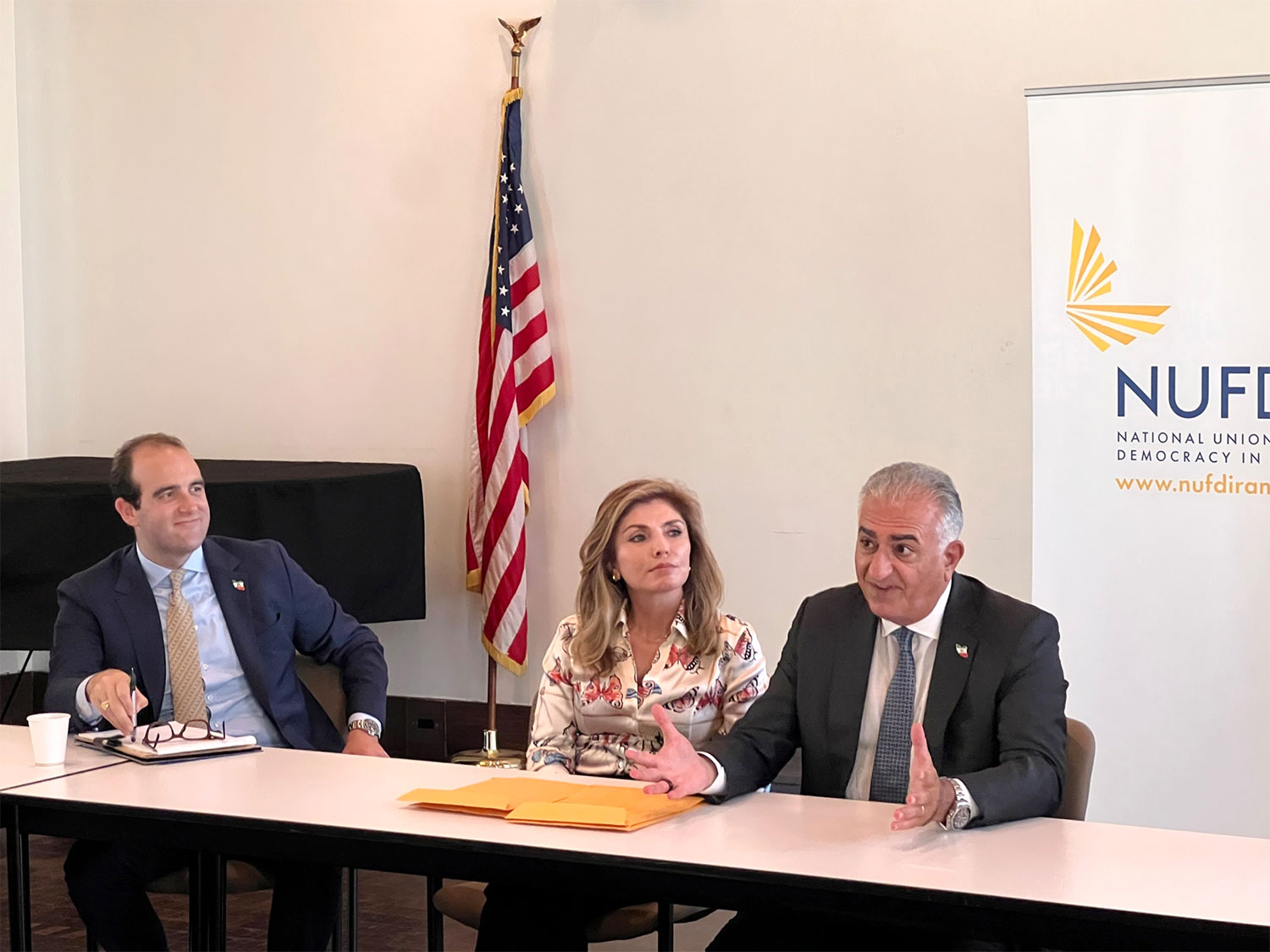 In advance of the recent roundtable with the crown prince, Meshkaty connected NUFDI's leadership with Beverly Hills officials so the event could be held here in the city.
"The amount of noise surrounding this and everything else going on—it's never been at this level before," Meshkaty, whose parents were born in Iran and who was raised attending Beverly Hills public schools, told the Courier about the protest movement. "I think that's where the hopefulness comes in."
NUFDI Vice President Cameron Khansarinia moderated the recent discussion with the crown prince. While he declined to provide specific details about what was shared during the off-the-record event, he said it included lively exchanges between Pahlavi and attendees about what their hopes for the country they all love and care for are going forward.
"I thought it was very productive," Khansarinia told the Courier in a phone interview. "I thought it was good for young people to hear from the prince, who people consider to be the most important voice and advocate for a secular democracy in Iran, and it was important for the prince to hear from young people born after the 1979 Revolution, who've maybe never been to Iran, about how they feel attached to Iran. The current revolution in Iran is being led by young people, and to have a roundtable of young people here was particularly powerful."
Marking the one-year anniversary of Amini's death, on Sept. 16 a large rally is taking place in downtown Los Angeles, spotlighting continued human rights abuses in Iran while connecting those committed to seeing change. Sept. 16 has been dubbed "Mahsa Day," and the rally in Los Angeles is coinciding with similar demonstrations in cities across the world. The event begins at 2 p.m. and takes place at Los Angeles City Hall.
The aim of the forthcoming rally is "to help spread awareness and capture the public's attention about the ongoing state of affairs in Iran," Meshkaty said. "The objective is to get people together and unite them around a common goal."