A handful of participants in yoga pants and tennis shoes pumped out pushups and crunches on a shaded patch of grass as George Spitzer arrived at Roxbury Park on Aug. 10. The 77-year-old joined their high-intensity interval training session without skipping a beat. 
"I feel great," the Beverly Hills resident said after about 20 minutes' worth of sets of lunges, planks and other calisthenic exercises. 
The workout was but one of dozens of sample-sized experiences available at Beverly Hills' first Day of Wellness. The city's Recreation and Parks Commission as well as the Human Relations and Health and Safety Commissions organized the free event designed to enrich body, mind and spirit. 
Over 40 organizations and practitioners specializing in numerous aspects of wellness participated in the event. They included experts on fitness, meditation, stress management, family counseling, self-defense and a wide variety of other fields.
"What we wanted to do is design a day where everyone could nibble," Recreation and Parks Commission Chair Myra Lurie said. "It's almost like a tasting. So maybe take a tasting of the music. Take a tasting of hypnotherapy, perhaps. Take a tasting of yoga. Just try things."
Many of the groups involved in the event were local to Beverly Hills, Lurie said. Some of the services and activities they promoted are part of existing programs available for the community.
The Treble Makers, for example, are a band that was co-founded by Lurie five years ago that now meets at Roxbury Park every Tuesday. They are a chapter of Music Mends Minds, a nonprofit that helps people with conditions like Alzheimer's or dementia regain cognitive function by inviting them to play music and sing together.
"We always have elderly people, but we have young people, we have babies, we have dogs," Lurie said. "They don't have to register. They can just come in as they please."
The Treble Makers hosted a shortened version of one of their regular sessions during the Day of Wellness event. Band co-founder Steven Weinglass guided the melody on piano, drawing toddlers, teens, parents, seniors and caregivers to the multipurpose room of the community center at the park. Many wore beaming smiles as they shook tambourines and followed along to the lyrics of "All of Me," a jazz standard once popularized by Frank Sinatra.
Down the hall, members of the Beverly Hills Teen Advisory Committee were engaged in quieter therapeutic activities. They spent the day helping attendees build dreamcatchers and vision boards.
Beverly Hills High School Senior Edward Park, 17, has been involved with the committee for six years and was among those lending a hand at the Day of Wellness. With steady hands and a brow wrinkled with focus, he used a needle to weave blue thread in and out of a small metal ring to create a web-like pattern.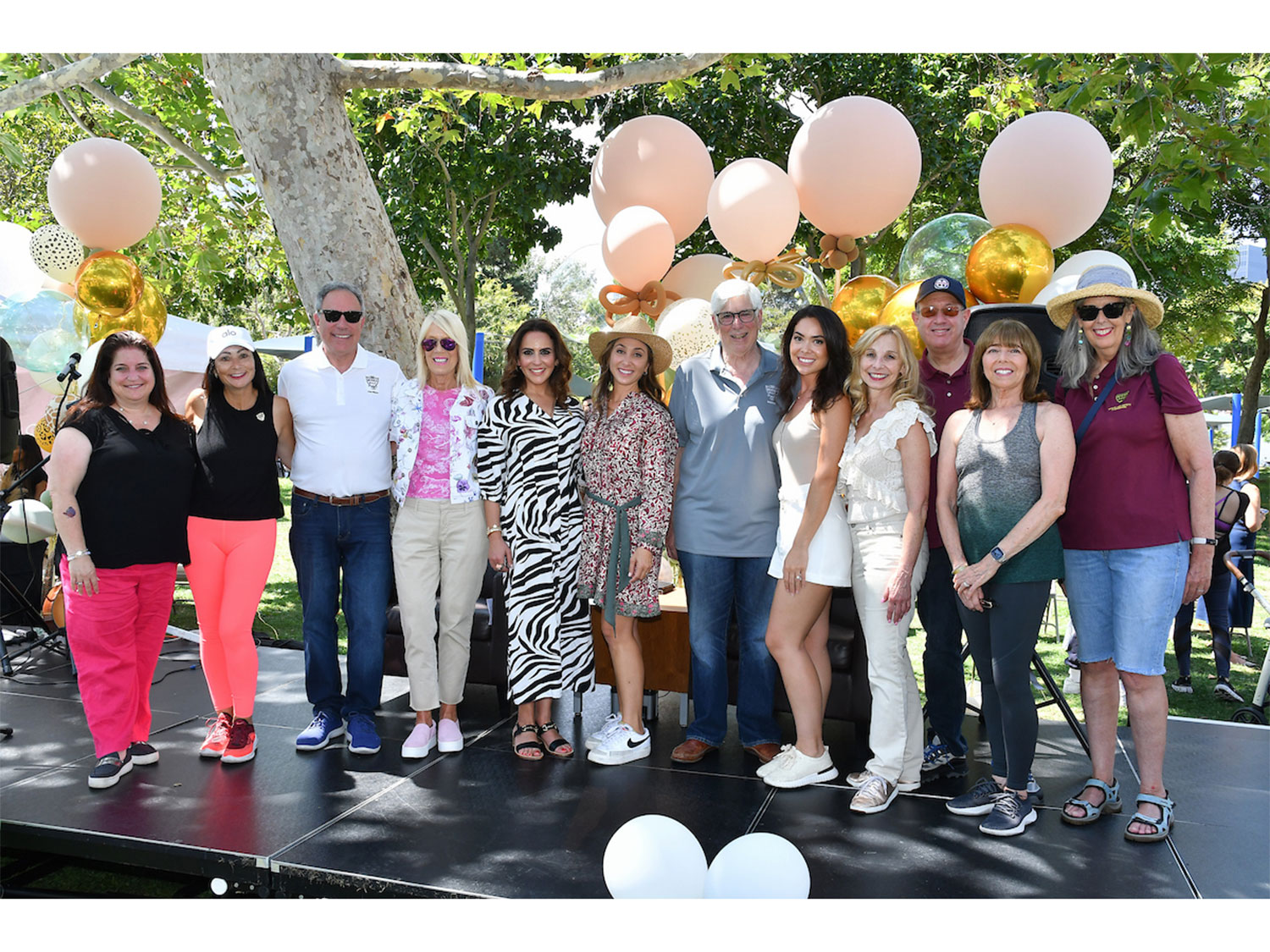 "With this team, the Teen Advisory Committee, I'm surrounding myself with people who want to make a contribution to the city," Park said. "I think that energy has radiated into my character, making me feel more active. It has definitely contributed to my wellness."
There were even more activities to sample outside, with dozens of booths arranged around a small main stage and workout area on the lawn. Children were invited to create symbols of affirmation by placing messages of encouragement and vivid designs on small stones at one stall set up by counselors for Beverly Vista Middle School.
Until recently, their wellness program had been running out of several separate offices broken up around the school, Beverly Vista Wellness Counselor Kristen Hartley said. That slightly complicated the process of accessing their services.
But they've been gearing up for the opening of the Bulldog Wellness Center, which should be up and running soon. The new building will be a centralized hub on campus where students can find out about a wide array of support options.
"This is going to allow us to come together and be one comprehensive wellness program where kids can come in and take advantage of the wellness center while also being able to receive short-term mental health counseling in the same building. So, it will make us more of a comprehensive safe space, like a one-stop shop for mental wellness."
Counselors also hope the new center can become a space where they can invite partners from outside of the school to aid in promoting students' mental health, Hartley said. Taking part in the Day of Wellness introduced her and other school wellness staff to new ideas and groups they might collaborate with in the future.
The Organization for Social Media Safety was another Day of Wellness participant focused on issues related to young people. The group's CEO, Mark Berkman, gave a presentation touching on how our online interactions can affect young people's self-esteem and the way they treat their friends and loved ones.
One of the last presenters of the day was author and Beverly Hills native Oshri Hakak. He has been partnering with the West Los Angeles chapter of the National Alliance on Mental Illness to share his latest book, "When Their Bodies Leave Them," at readings throughout the community. It's a collaboration with Danish writer Cecilia Vinkel.
The story was written in poetic language and was the result of long chats the two writers had in the wake of the deaths of her mother and his elder brother. Hakak said he hoped it might help people overcome apprehensions surrounding the topic of death and encourage them to keep their loved ones' memories alive.
"It's touching a nerve that most people go into a discussion on," Hakak said. "It's about grief and loss, but it's also about connecting and finding ways to actually connect with people who are not alive anymore."