Richie Adams wrote and directed "The Road Dance," adapting it from the sensitive novel by John MacKay about a slice of village life during World War I in the Outer Hebrides, an archipelago off the northern coast of Scotland. Several things make this exceptional including the stunning landscape and outstanding acting, but most of all it is the assured hand of this inexperienced director known primarily as a title designer. It's not that being the person who creates titles and openings of features and television shows is unrelated to the task at hand, it's just that going from filmicly synopsizing other people's films to making one of your own is a major step, one fraught with peril. Adams has passed with flying colors because he has given us a film of depth, beauty and substance in telling the story of the inhabitants of a small, rugged island without promise for the young and barely enough sustenance for the old. It's not as accomplished as "The Banshees of Inisherin," but it explores some of the same territory of insular village life on an isolated island where everyone is quick to judge based on not enough information.
The Macleod family, led by mother Mairi, has lived a hardscrabble existence on this unforgiving landscape since her husband, a fisherman, died and left her alone to raise their two daughters, Kirsty and Annie. Their income is as limited as their prospects, with only the church and Evangelical Minister Maciver to provide the guidance of a vengeful Lord. Carrying the Bible with her at all times to avoid the unforgiving glances of neighbors who don't hide their disapproval of reading material that isn't about Jesus, Kirsty has the larger dreams of the adventures contained in the books she secretly explores. Kirsty sees beyond the limits of her island and dreams big in this village of small ideas. A beauty, she is sought after and resented by the young men who pursue her unsuccessfully. The notable exception is Murdo Macaulay, a handsome youth who shares her dreams. Murdo, an aspiring poet, introduces Kirsty to the works of Robert Frost, sent to him by his uncle in New York. We are allowed to glimpse at the page he shows her from "The Road Not Taken." Someday, he tells her, they should leave Scotland for the United States and expand their horizons and possibilities; they'll take that road "less traveled by" together.
But sometimes dreams are cut short and abandoned for right and wrong reasons. It is 1916 and World War I is still raging, necessitating universal conscription. All the young men of the village are called up. But before they report, Murdo and Kirsty express their undying love and hopes for their future. The town sponsors a Road Dance to commemorate the departure of the boys, because they are little more than that, and the act that will upend and come close to destroying Kirsty's life occurs. Everything that happens on this fateful night will have a shattering effect on Kirsty's life as Murdo disappears into the Western Front. "The Road Dance" is Kirsty's story of sorrow, perseverance and growth with the solid support of her family. It would be unfair to reveal any more.
Moving deliberately, Adams paints his characters in the muted colors of the harsh landscape. They have been trapped voluntarily on this isle for generations, fisherman and subsistence farmers, eking out a living far from the noise of the mainland. As mistrustful of one another as they are supportive, most of them see no farther than the next winter. Kirsty and Murdo are different; they dream of other lands, lands that have been seen by the town doctor, Dr. Maclean, who landed there from London.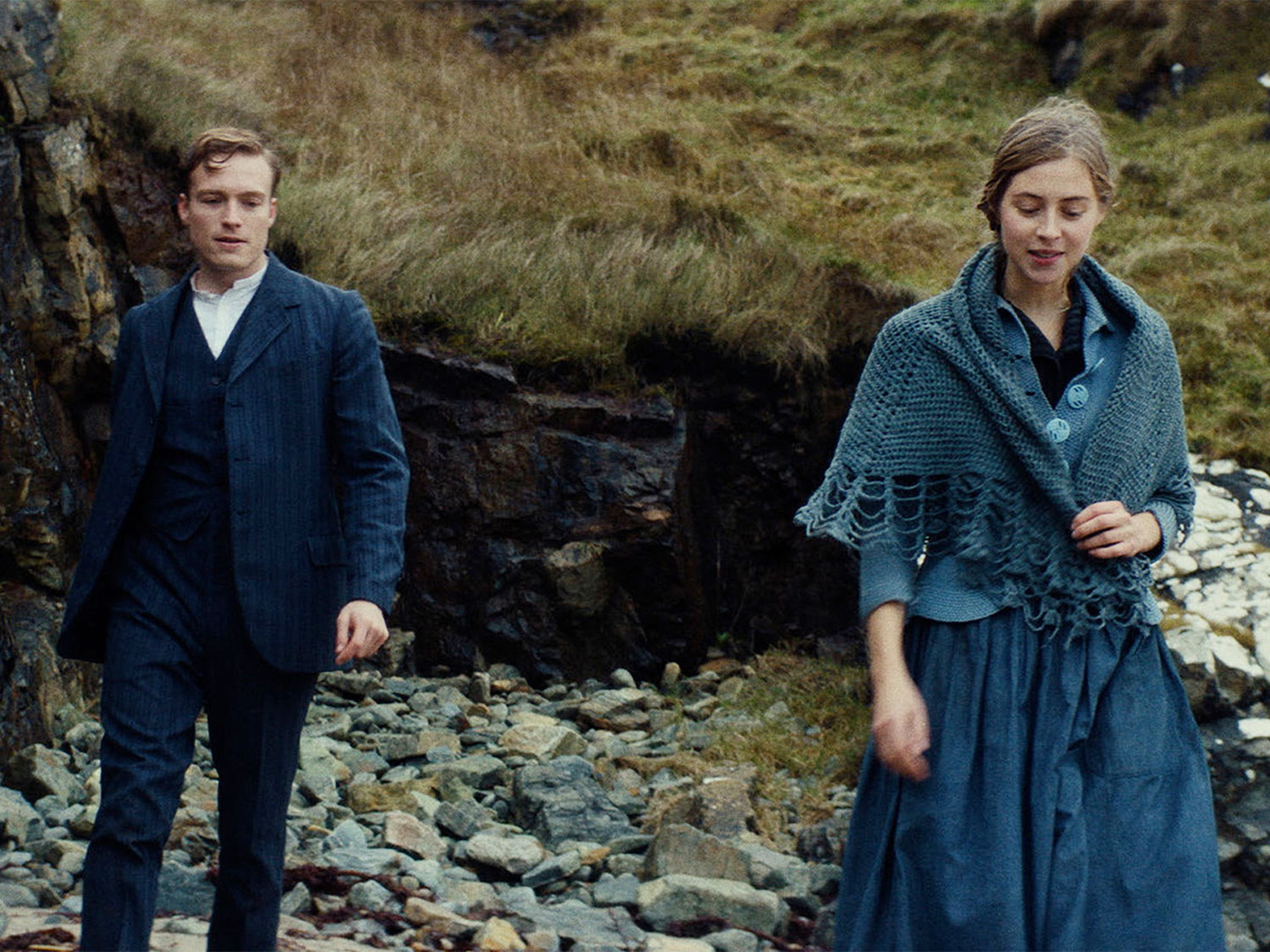 As much a character as the people themselves, cinematographer Petra Komer has painted the wind-swept hills, rocky landscape and rough waters, much like the scenes in the gothic tale of "Wuthering Heights," to help tell this story. The choppiness of the gray waves hitting the black cliffs serves to underscore the dangers of fishing in these waters where so many have perished. Struggling against the wind, the difficulty of living in the poorly heated sod roofed cabins is clear. Dialogue is unnecessary to enhance the dangers and highlight the simple joys of village life. The brighter colors of the road dance are offset by the ochres of the adjacent countryside, each symbolic. The occasional glimpses of life on the front in Europe serve to illustrate that life on the island is, despite its limited offerings, a safe haven from the difficulties faced abroad, including the mainland of Scotland. But as distant as the war is, it will have an outsized impact on Kirsty and all the others who remained at home.
The day-to-day lives of Kirsty and those around her begin slowly but build, not to a fever pitch, but to an absorbing resignation and understanding of the status quo. Kirsty, previously curious, has acquiesced to her surroundings. The secrets she carries have weighed her down and all but extinguished her previous dreams. You feel the weight of this seclusion as Kirsty trudges down the paths delivering eggs and baked goods to her neighbors. Still, there are glimpses of sunshine in the heavy weather and you go with Kirsty toward an as yet unseen rainbow after the storm.
The casting is pitch perfect, filled with people who are more well known as supporting players in independent movies and British television series. Perhaps the best-known actor in the movie is Mark Gatiss, a well-respected theater actor who is recognizable from "Sherlock," a series he created. Gatiss brings warmth and a bit of mystery to the character of Doctor Maclean. His apparently small supporting role is anything but. Morven Christie (Mairi) has had important roles in a number of British television series, most prominently as the love interest in "Grantchester." As Mairi, Kirsty's mother, she embraces all the emotions of a widow who must nurture a daughter she doesn't entirely understand.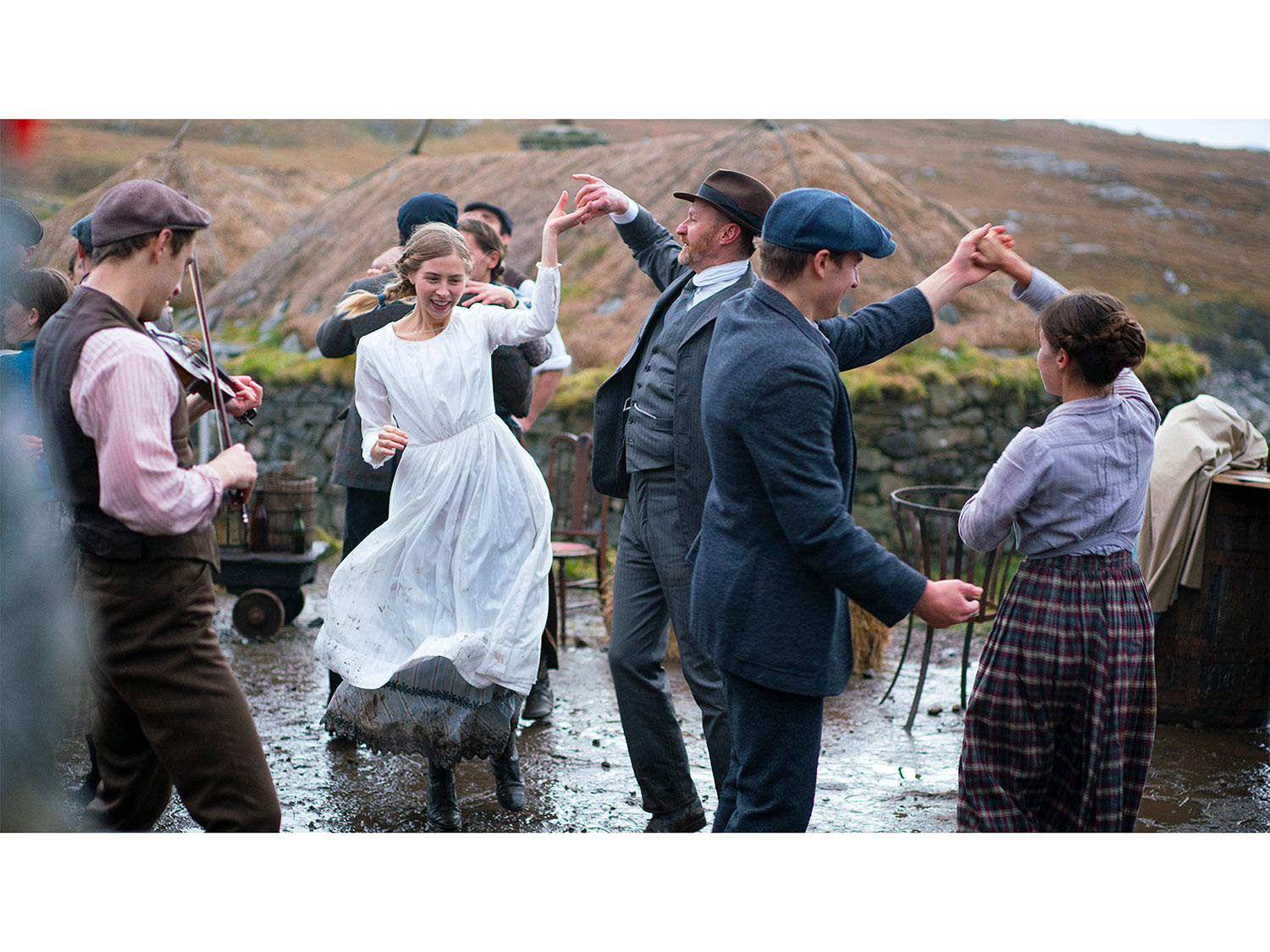 Will Fletcher, in his very first feature role, plays Murdo with a 19th-century romantic understanding of what the world is capable of being, especially if he can have the love of his life, Kirsty, an equal at his side. Dreamy-eyed without ever being saccharine or sentimental, he is able to embrace a larger world than the one he has and instill that feeling into his love.
Finally, there is Hermione Corfield as Kirsty, upon whose shoulders the entire film rests; she does not disappoint. Her pretty, slightly asymmetric face and large eyes are filled with warmth and intelligence. She is as adept at playing tragedy as she is at displaying hope. She makes you care for her and her outcome, despite the boulders strewn in her path. This film should help establish her as an actress who belongs closer to the top of the credits than she has been in the past.
"The Road Dance" is well worth a turn on the dance floor, delivering nicely on the time you invest in these characters and their situation.
Opening Oct. 13 at the Laemmle Royal. 
Neely Swanson spent most of her professional career in the television industry, almost all of it working for David E. Kelley. In her last full-time position as Executive Vice President of Development, she reviewed writer submissions and targeted content for adaptation. As she has often said, she did book reports for a living. For several years, she was a freelance writer for "Written By," the magazine of the WGA West, and was adjunct faculty at USC in the writing division of the School of Cinematic Arts. Neely has been writing film and television reviews for the "Easy Reader" for more than 10 years. Her past reviews can be read on Rotten Tomatoes where she is a tomato-approved critic.