Melissa Hillis was 21 the first time she met a female firefighter. Up until that point, she didn't even realize it was possible for her to enter that field.
"I clearly remembered thinking, 'Oh my gosh, I can do that?'" Hillis said. "It had not occurred to me that I was even allowed to pursue that profession."
Her experience breaking into an overwhelmingly male-dominated profession inspired a desire to clear a path for future generations of young women. That's why, as a member of the Beverly Hills Fire Department, she spent almost four years developing the Beverly Hills Fire Department Empowerment Camp.
The two-day event debuted in 2022 and returned this year with about 30 young women and two boys registered to participate. It's modeled after similar programs held by departments throughout the state and connects campers with role models in the fire service who share lessons they've learned and guide them through grueling physical challenges.
Over the course of the weekend on Oct. 14 and 15, campers donned oxygen tanks to drag instructors out of rooms filled with simulated smoke, learned how to use fire hoses, chainsaws and the jaws of life and rappelled from the balcony of Beverly Hills Fire Station 1. The program leaves campers "with a full working knowledge of what a firefighter does for a living," Hillis said.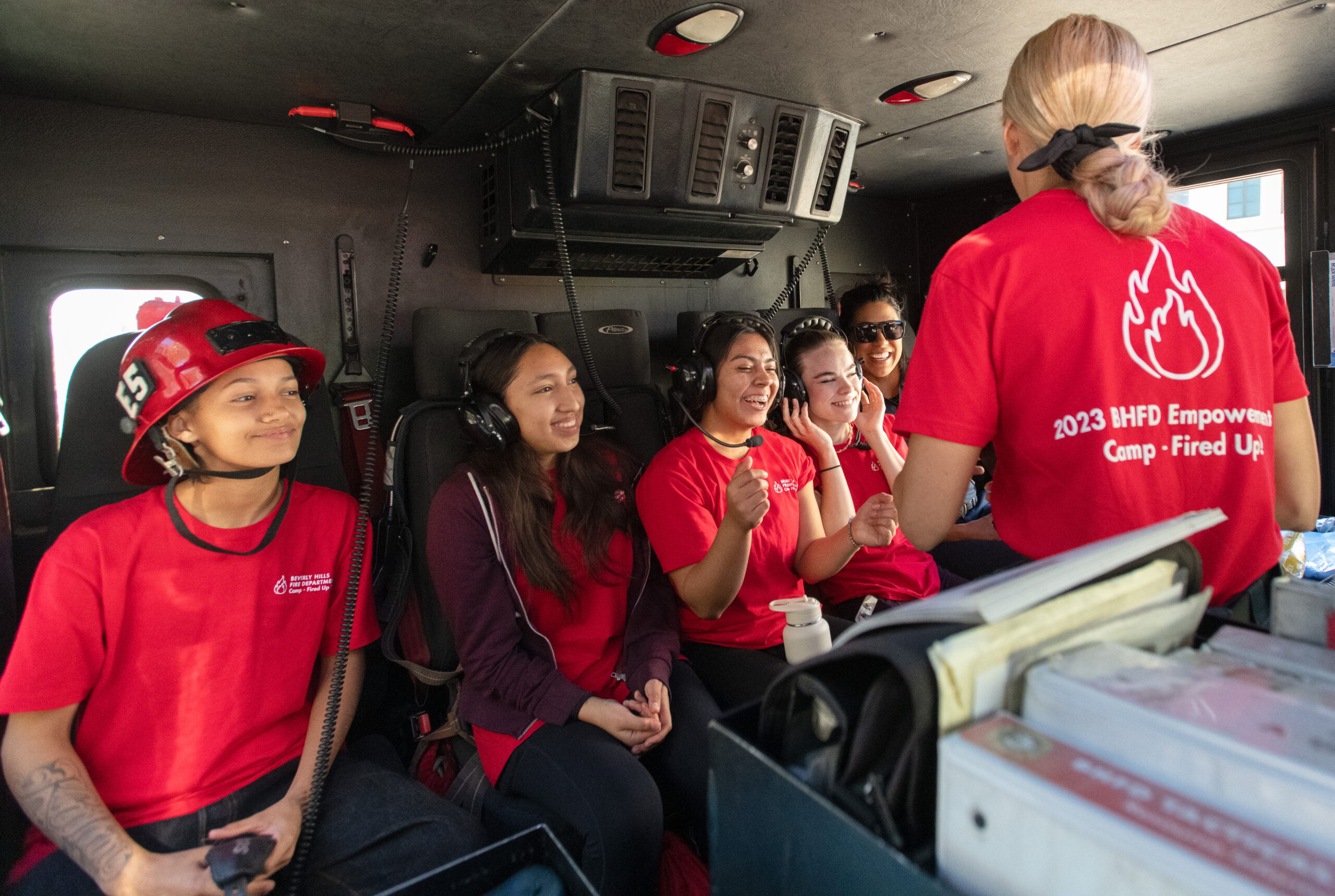 "The fact that you get to take a group of girls and teach them all that in two days is just crazy," camper and explorer with the Ventura County Fire Department Kenna Bayer said.
Although the camp is open to both girls and boys between 9th and 12th grade, one of its primary goals is to help young women find and connect with female role models working in the fire service, Hillis said. To accomplish this, BHFD partnered with the nonprofit Women's Fire Alliance and departments throughout Southern California.
"When we don't have that many women in these positions at smaller departments specifically, they really rely on outside cadre, which is what we all are," San Bernardino County Fire Capt. Andrea Binley, one of the weekend's instructors, said. "For that support, we have our male allies that help and they teach alongside us, and we love that. But we also want these girls to see it being taught by women who are there and actually doing it on a day-to-day basis."
Young women who discover a calling to become firefighters after graduating from high school face even more hurdles than younger girls who have spent more time learning about and building connections in the profession, Hillis said. That's why the BHFD camp welcomes adult participants, many of whom have experience as volunteer or part-time firefighters, to take part in the program as mentors for other campers.
Nationwide, about 5% of all career firefighters are female, according to reports updated by the U.S. Fire Administration as recently as May. Hillis is only the second of three women who have ever served as members of the Beverly Hills Fire Department.
Programs like the BHFD Empowerment Camp and the efforts of groups like the Women's Fire Alliance are beginning to have a real impact on those figures, Binley said.
"I did recruitment this last year, and our numbers went up for female applicants," She said. "And I think it's purely because we're getting the word out there. And young girls and women are seeing women do this job so now they know it's a viable option for them."