Be careful what you wish for; it might come true. Never was this adage more fitting than in the slow-burning tale Sofia Coppola tells of Priscilla Presley and her life with the King. Coppola, writer and director of this grim fairy tale, has chosen to explore the distaff side of Elvis, guided by Priscilla Presley's autobiography, "Elvis and Me" and her role as Executive Producer. As they say, it's complicated. Priscilla's rise as Elvis's child muse was well-documented in the press at the time (and repeatedly many years after) but there was definitely a dark lining to that silver cloud.
Elvis, riding high as the newly crowned King of Rock 'n' Roll, was drafted into the army in 1958. Given the opportunity to enlist in Special Services and entertain the troops, he was instead advised by his manager, Col. Tom Parker, to go the regular soldier route. There was method to his madness because by doing this, Elvis gained respect both from fellow soldiers but also from the generation back home who viewed him as a threat to society. Also, Parker would have had to relinquish control of Elvis's performances and recordings while he worked for the Army. 
The regular Army was a lonely road for Elvis, especially when he was shipped to West Germany where he knew no one and couldn't speak the language. His beloved mother had recently passed and he was, simply put, homesick. Concurrently, young Priscilla Beaulieu (14) arrived at the same outpost when her stepfather, a career Army Captain, was assigned to the base, and she was miserable. A high school freshman, smart but unfocused, she couldn't relate to anyone. Spotted at the base soda fountain by an Army friend of Elvis, he wondered if she might like to go to one of his parties. This was an opportunity that the introverted girl, daughter of very conservative parents, would fight for, and she did. She and Elvis bonded and Priscilla's thoughts ever after would be about him and him alone.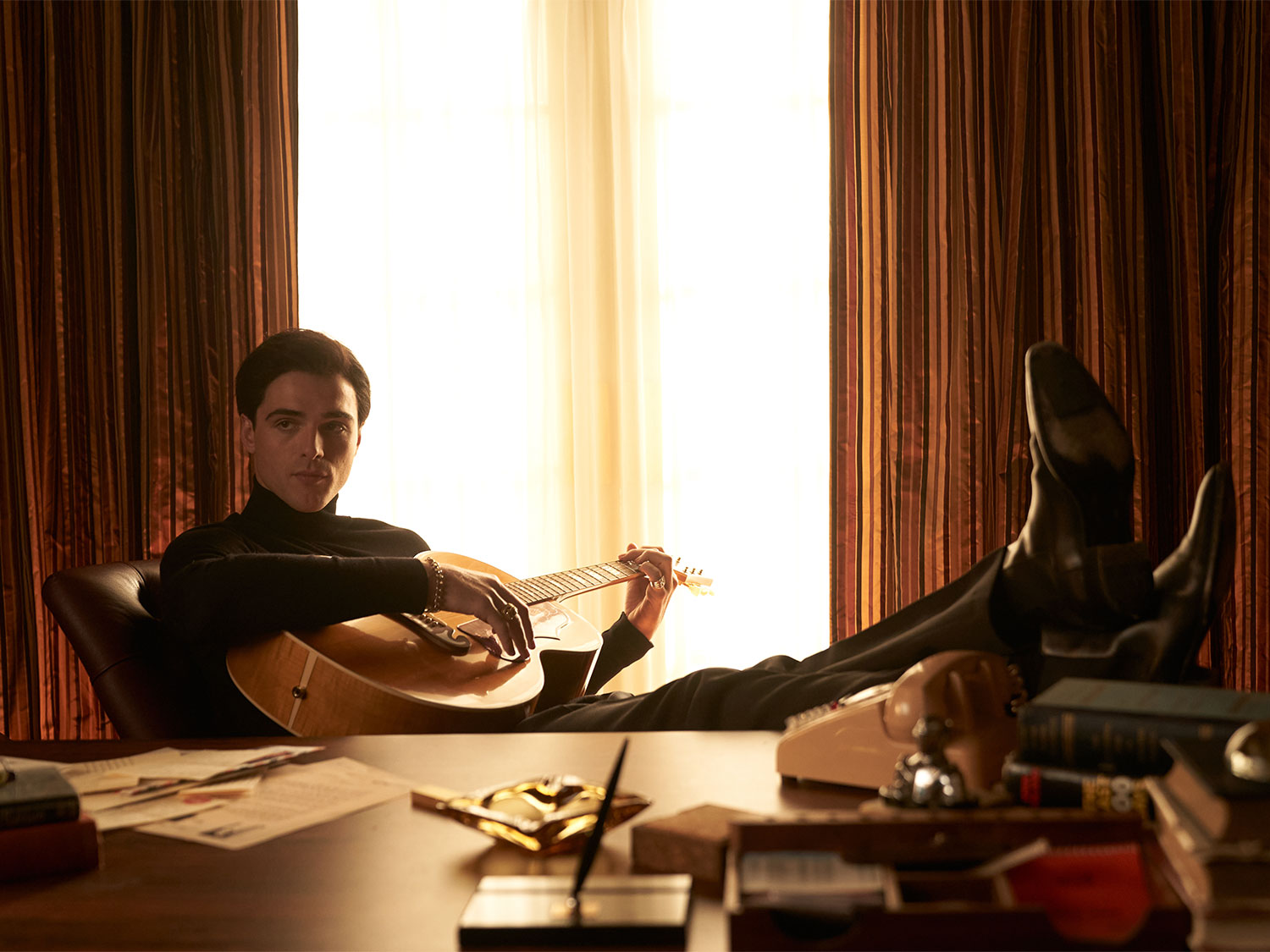 Defying credulity, Priscilla and Elvis convinced her parents to allow her to complete her senior year of high school in Memphis, carefully supervised and living at Graceland. Elvis's hit, "Can't Help Falling in Love" from his recent movie "Blue Hawaii," offers a window into describing his relationship with Priscilla. Listen to the lyrics and you'll hear "Wise men say 'only fools rush in.' But I can't help falling in love with you…Like a river flows, surely to the sea, Darling, so it goes. Some things are meant to be."
It was Elvis who kept the relationship chaste as he molded his young sweetheart into his ideal of womanhood. It didn't hurt that she was always in her Catholic school uniform. It is unclear how long it took Priscilla to realize that she was a bird in a gilded cage, but eventually she awakened slightly to the downside of being the property of one of the most famous men on the planet.
While she was confined to luxury quarters, Elvis left, often for extended periods, as he made movies and recordings that kept him in the spotlight. The rumors of his liaisons with his co-stars, most famously Ann Margaret, were well-founded although often denied by him. The irony of his sexual adventures away from home and his refusal to take the next step with the chaste teenager were not lost on Priscilla. He continued to lavish her with presents and advise on hair and makeup; stores came to her so she wouldn't face the outside world. Unable to invite school friends, if she had any, to the house, she was surrounded by Elvis's band of rowdy musicians, his surly father, and the women who worked at Graceland. It surely didn't escape her notice that even when he was home, Elvis reverted to adolescence with his bandmates, his closest friends. They had nothing in common with the teenager, nor she with them.
Priscilla, lost, could not help but note that he, too, was searching for something with his forays into the occult, spiritualism, Eastern religion and quasi Bible studies where he searched for meaning in the "woman at the well." Controlling, sometimes violent, always unpredictable, she was caught in his web never wanting to be free. Until she did. But let's leave some of her story on the screen.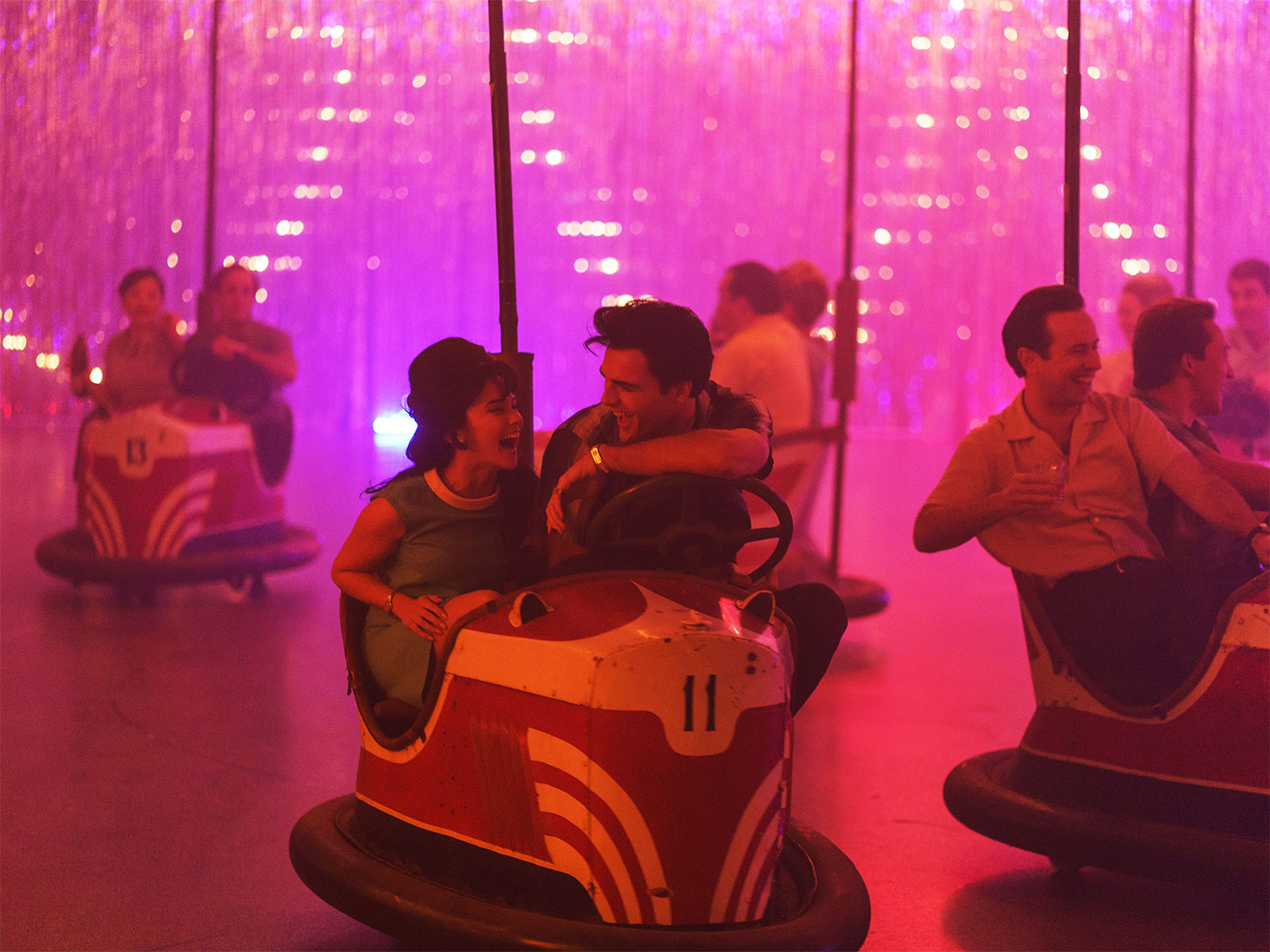 There must have been something magnetic about the quiet teenager that made Elvis's friend engage her in the first place. She was surely not the only attractive American teenager on the base. And therein lies one of the flaws in Coppola's film. Cailee Spaeny plays Priscilla without personality or passion. She is deadpan through most of the movie, always with the same wide-eyed expression. Her Priscilla is definitely not a scholar and seems to be without any curiosity, intellectual or otherwise. She's pretty but, like a deer in the headlights, her expression rarely changes from situation to situation. It's certainly understandable that an inexperienced young girl, living with her idol, would give up any sense of self to continue floating in his backdraft. Coppola, no doubt, was interested in the portrayal of spousal abuse both on the giving and receiving ends. Priscilla, always holding out for the ring she eventually got, is portrayed as a classic recipient of abuse where the husband and/or lover acts out and then profusely apologizes, setting off a course of "I'll never do that again" repetition. The main problem here is that Spaeny's Priscilla has virtually no personality and it's hard to be invested in her. The questions that continually arise are "What did/does he see in her?" Spaeny's look of wide-eyed innocence begins to wear on the viewer and you are as relieved as she was when she decided to leave (that's not a spoiler unless you don't live on this planet).
The story of Elvis Presley, his rise, his life, his death, has been told endlessly and Coppola's intention to tell the Elvis/Priscilla story from Priscilla's standpoint was a great idea. Unfortunately, despite her best efforts to focus on Priscilla, the Elvis of this tale, played by Jacob Elordi, is far more interesting and grabs the spotlight even when it's not shining on him. His portrayal is compelling and electric, emphasizing that there was no there there with Priscilla. For every one of his actions we rarely see a reaction on her part. Certainly, part of Coppola's point is about the disparity of power, and that is on full display. But it is hard to sympathize with a young woman, left by herself so often, who didn't find something to occupy her time. You never see her with a book in her hand; the television, when on, is tuned into "Petticoat Junction" or "The Beverly Hillbillies," underscoring a stereotypic view of her world. (On the other hand, we all watched those inane shows; they were fun, not societal statements.) This Elvis, the supporting character in the film, is dynamic; eyes flashing, his very act of walking or lying still is riveting. It's probably an unfair criticism to compare performances because, as written, either by Coppola or Presley herself, Priscilla is a cypher to which no one seems to have the algorithm.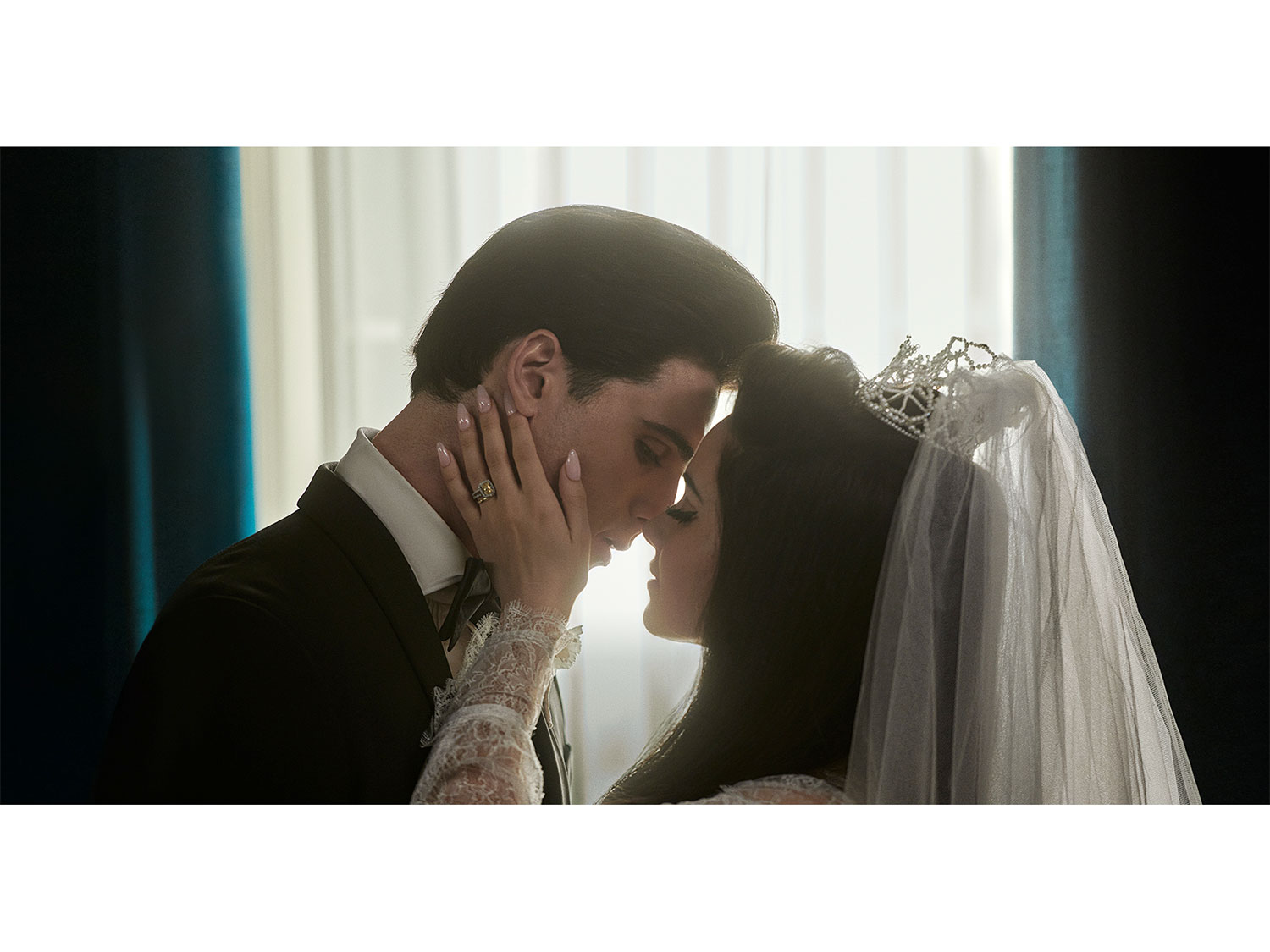 The movie flows at a steady pace and Coppola establishes the conflict between idolatry and reality. Although I was unappreciative of Spaeny's performance, clearly Coppola was more interested in the aftermath of the wrong dream than the "why her'' aspects of the story. But no matter how hard you try, Elvis is always a focus because this Priscilla has been given little or no character development.
The rest of the cast is fine, if not well developed. Lynne Griffin as Grandma "Dodger" brings compassion and warmth to the Presley household. Dagmara Dominczyk as Priscilla's mother Ann Beaulieu, shows the right amount of worry for her daughter but is inexplicably absent after her daughter moves to Memphis. Did Priscilla's parents entirely abandon her? The boys in the band, too numerous to mention, bring vitality and controlled chaos to a film that is too often static.
Production Designer Tamara Deverell has captured the era and has recreated Graceland at its shiny best. Costume Designer Stacey Battat has the time period down pat. Cinematography by Philippe Le Sourd is rather unremarkable but wide expansive shots are not characteristic of biopics. A big disappointment is the music. Curiously there is very little rock 'n' roll from the era, and the music that is used is distinctly non-distinct.
The pacing of the film is good and you won't be checking your watch, but overall, this is a bland story about a marriage that was anything but bland. If you are going to make a film about a character's awakening, you need, at the very least, to have them wake up.
Opening wide on November 3 at AMC theaters throughout LA. 
Neely Swanson spent most of her professional career in the television industry, almost all of it working for David E. Kelley. In her last full-time position as Executive Vice President of Development, she reviewed writer submissions and targeted content for adaptation. As she has often said, she did book reports for a living. For several years she was a freelance writer for "Written By," the magazine of the WGA West, and was adjunct faculty at USC in the writing division of the School of Cinematic Arts. Neely has been writing film and television reviews for the "Easy Reader" for more than 10 years. Her past reviews can be read on Rotten Tomatoes where she is a tomato-approved critic.