Survivors of Israel's Oct. 7 terrorist attack by Hamas and family members of those currently held hostage by the militant group, took center stage Nov. 7 at the Saban Theatre in Beverly Hills. Residents from all parts of the Los Angeles area joined with public officials and community leaders in a show of support one month after the country's deadliest attack since its founding in 1948.
Hosted by the Israeli American Council (IAC) of Los Angeles, the sold-out event drew a crowd of over 1,800 people. The program, entitled "Stronger Together," was one of many the IAC and its partners have held nationwide in the wake of the attack.
Though the energy inside the theater was high, it also felt somber. Many attendees wore black. Dozens of tall white candles lined the front of the stage. Blue lights illuminated the lectern. A tall screen played videos and displayed photos of victims and those currently held hostage. As Sigal Erez, a 54-year-old Marina Del Rey resident sat in the packed theater waiting for the event to begin, she said she had been feeling increasingly more helpless. She wished she was in Israel. "The Oct. 7 attacks shocked every part of me. It changed the landscape for Jewish people all over the world," she told the Courier. "We have to remember though that this isn't the end. We will bring the hostages home." 
The event kicked off at around 8 p.m. with a slew of special remarks from speakers who encouraged attendees to remain strong and continue speaking out against a cease-fire until all the hostages are released. "We must never stay silent. We must defeat Hamas and bring our hostages home. It is either us or them," Israel's Ambassador to the United Nations Gilad Eran,  told the crowd. "We must fight for the legitimacy of our soldiers and show them support." 
The event also featured a musical performance by Israeli singer Harel Skaat. Other notable speakers included Elan Carr, the Israeli American Council's CEO; Andrea Sasse, Germany's Consul General to Los Angeles and Noa Tishby, an Israeli actress who previously served as Israel's envoy for combating antisemitism, among others. Later, attendees heard moving testimony from several survivors and family members of those currently held hostage.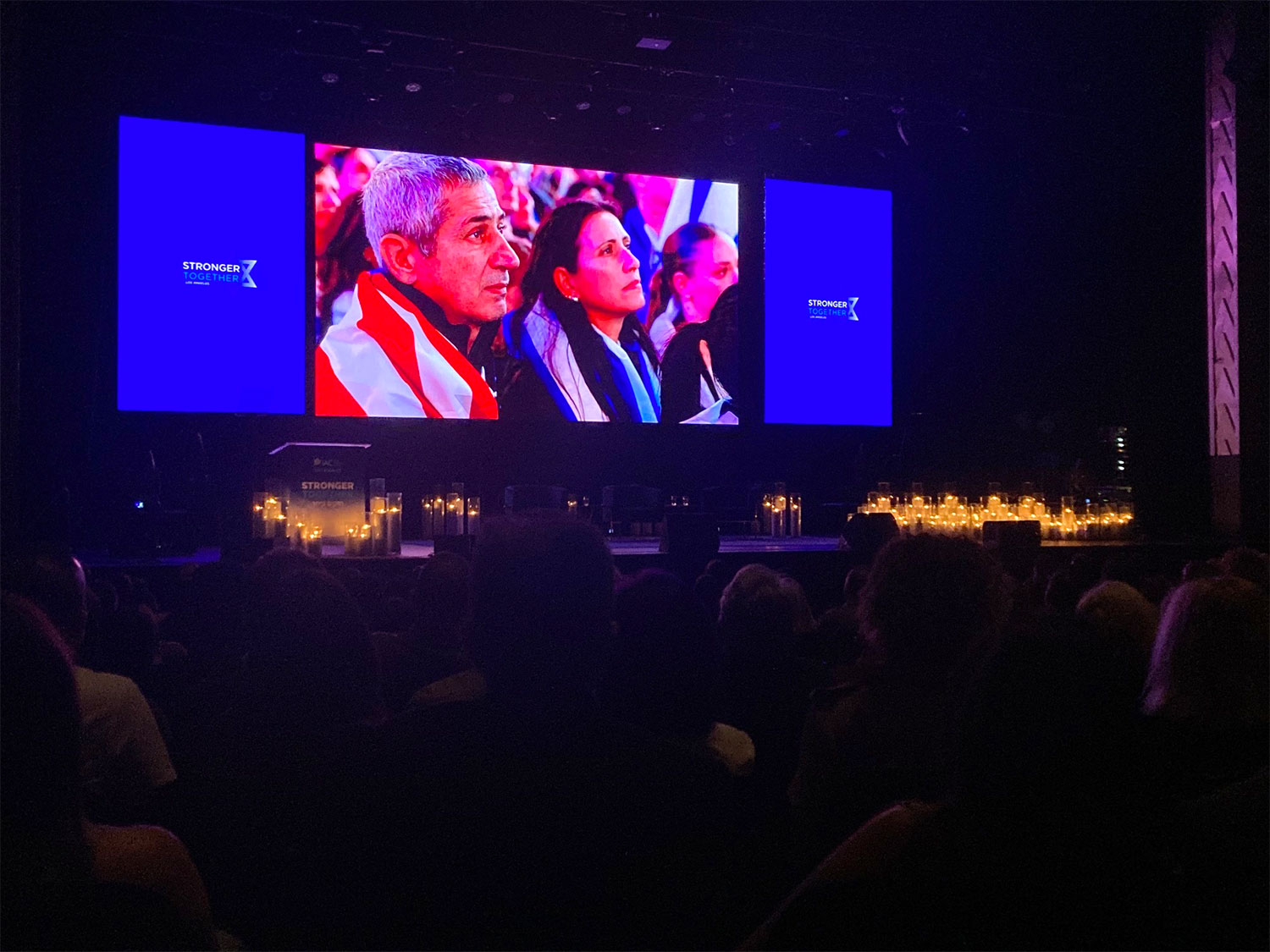 The two-hour program was earnest and showed resilience, which largely matched the mood of the crowd. Some attendees said they felt compelled to come to the event to demonstrate unity and resolve amid rising tensions on college campuses and growing antisemitic incidents in neighborhoods across the nation. Other attendees came out because they were eager to show support for Israel in a safe space rather than at local rallies where they feared it could devolve into violence or chaos. They pointed to the death of an elderly Jewish man this week who was killed at a pro-Palestinian demonstration in Thousand Oaks after he had fallen backward and struck his head on the ground. 
The crowd inside the theater fell silent when Oct. 7 attack survivors Danielle Sasi and her husband took the stage to detail their harrowing experience. Sasi told attendees that she was at a music festival with family when they heard gunfire. They squeezed themselves into a shelter with a group of 40 other people. One of the bullets struck Sasi's leg. She called out to her father for help, but there was no answer. He had been killed. Sasi told the crowd she survived because her husband covered her with blood from the bodies around them so that she could remain hidden. 
After the event, Sasi told the Courier this was only the second time she had shared her story with a large crowd. She felt motivated to do so as a way to honor her father. "I find strength by thinking of my dad," she told the Courier. "I want people who came here tonight to know that together we are one."  
Ariel Ein-Gal, a 26-year-old Israeli citizen who also survived the Oct. 7 attack, flew to Los Angeles to share his story at the event. Ein-Gal told the audience that what started out as a fun day with friends at a beach near the Gaza border soon turned into a nightmare with gunfire erupting around them. When he spotted a boat heading toward him near the shore, he thought it was a rescue crew. He soon realized they were Hamas militants. Ein-Gal and his friends ran to their cars and started driving. Later, he learned that his best friend was shot and killed while trying to escape. "I didn't even realize what was happening until they started firing at us," he told the crowd. "We must turn our grief into action and educate people. We need to stop anti-Jewish hate." 
Later, families with loved ones currently being held hostage by Hamas shared their stories and pain of being separated from relatives. Eitan Gonen, a father whose 23-year-old daughter, Romi Gonen, has been missing, said it is agonizing not knowing whether his daughter is safe or alive.   
As the evening drew to a close, 35-year-old Farnaz Cohen, an attendee, took some time to reflect on the event. As she waited for her parents to exit the theater, she said she drew inspiration from survivors. She also expressed admiration for the resiliency of loved ones who have family held hostage in Gaza.  "The event was beautiful," Cohen told the Courier. "It felt melancholy at times, but I'm leaving feeling hopeful."