If you want to spark instant joy with your girlfriend, wife, sister or mother (you get the idea), just place a colorful cardboard subscription box from FabFitFun in their path and watch the immediate squeal of delight as they rip open the package to see the goodies inside ranging from a new make-up palette to fuzzy slippers or a cocktail shaker. 
Sounds like a simple plan for retail success, but the marketing genius behind this premier gift box was the brainchild of former freelance writer and Co-Founder Katie Rosen Kitchens, along with Co-CEOs Daniel and Michael Broukhim, back in 2010 that started with, of all things, an online magazine. 
Cut to over a million subscribers, 600 plus employees and a community that is thriving online and off. The company has evolved from a female-focused media company to a true lifestyle brand reaching women ages 13-85 and is one of the most successful start-ups in the past 10 years, valued at over $1B. But what exactly is behind this magical box that sells four times a year for less than $50, and how are they keeping audiences engaged almost a decade later? We decided to visit the vast FabFitFun headquarters in L.A. and speak with Kitchens to find out. 
Beverly Hills Courier: How did you first embark on your business model that combines your trifecta of content, commerce, and community? 
Katie Rosen Kitchens: We actually started about 10 years ago as a magazine. I was a freelance writer for magazines and newspapers before starting FFF with Mike and Dan. At the time media was ruled by glossy magazines who very much [dictated] what you were supposed to look like and as a Jewish-Puerto Rican girl from the valley, who didn't necessarily fit that stereotype, we wanted to create something that was more like your best friend giving you tips and tricks for living your best life. 
We remained as a media brand for about 3 years but at the time media was having a rough go of it. There were newsletters and magazines that were shutting down every other day and we knew we wanted another revenue source. We really liked the idea of a subscription but at the time there were a few others in the sample space that were really popular. As an editor, I loved trying new things and getting packages in the mail, but I'm also incredibly cheap and didn't want to pay for samples when you get them for free at a department store. It was also incredibly niche – a make-up, food or fashion box but nothing that was looking at women holistically. I truly believe that women are multi-faceted, smart beings with diverse interests and we were already a lifestyle media brand, so it made sense. 
Did you ever think that FFF would reach such a wide and diverse audience so quickly? 
We launched the boxes in the spring of 2013 and that was the birth of the business and a test but we sold out in 24 hours. That was a really good indication that women really responded to. 
I honestly thought we'd only sell a few and then move on down the list as we tried different things. We had established ourselves as an authority in beauty, fashion and fitness, so it wasn't weird when we decided not to just write about them, but put them in your hands. It was a natural transgression from where we started and the key of the success is it's always been more than just a box. My intention or passion was never just sending people stuff but bringing these stories to life. We are story tellers at heart and the experiences come after that. We do know [after tons of research] that trying new things is a direct correlation to happiness. Whether you're trying a new lipstick that just makes you feel fabulous, or getting a DIY cooking kit within your box, these are hings for living a better, happier life. 
Since you launched FFF there have been other subscription boxes that have come into the marketplace. What still sets you apart as the premiere must-have product box? 
Imitation is the sincerest form of flattery. There are many other boxes but we see that women really get addicted to this model of subscription and they stay on with the ones that provide the most value overall. Hands down FFF drives the most value overall. 
The box is the premiere part of the membership but only one of the layers. When members sign-up they get a box each season but also a link to FFF TV: a video service free to all members with hundreds of videos on demand from working out, cooking content, make-up tutorials, etc. Brands are talking about community on our social media channels but we have built our own community behind a paywall. Like Reddit for women who are forming friendships. 
There are 8 annual flash sales per year, some in conjunction with the four seasonal boxes. Members can shop between 300 to 600 SKUs of inventory with amazing brands all priced better than anywhere online. 
What goes into the planning before a box launch and how do you pick the products? 
That has been an evolution from picking products as we never wanted to claim that we were customizing when we really weren't. It's quite a feat. We start with 2,000 products at the beginning of the season that the merchandising team has gone out and collected and from there we will start and whittle it down and start testing, marketing, editorial, and operations – do these products look good on different body types and skin types of women and are they as effective as we had hoped? 
From there it goes to the consumer inside team who will get a use for every potential brand. It's a combination of awareness and likeability, as well as a forecasted rating for every single product. With that data, it goes back to the merchandising team to start creating a whole collection. It's gone from the same 8 products that everybody gets but now there are about 25 different potential items that you can get in the box. 
Has there ever been a product that people keep asking to come back? 
100 percent. There are definitely those brands yet we always want to surprise and delight our members so that they are finding out about new items. We will bring back a past member favorite like Kate Somerville, paired with new up and coming niche brands that bring the surprise and delight at the same time. 
What about the men, do you have a box for them? 
FFF for men started about a year ago. We curated a box twice a year but it's not a subscription and you must be a member to buy for your husband, father, brother, boyfriend, etc. It's the same price point as the other box ($49.00 with a value of over 
$200.) It's a fun way to tap into another audience and eventually, we believe this can be its own subscription. We wanted to see how our members would react but every box so far has sold out. 
The reality is that every piece of research shows that men are investing more and more into their own self-care. My own husband is the least metrosexual man from Georgia who barely knew what moisturizer was before we met but now knows what the good stuff is and slathers it all over his whole body. He realized that these things actually make you look good and feel better. 
How are you bringing "the box to life" for your customers? 
They have built their own community. There are in-person meet-ups and [people] are doing this all on their own. They go to lunch and trade products or take a box and have a cake made out of it. I love social media and it's a really interesting connector of the world, but it's also not the most realistic or authentic way of connecting. Because we are behind a paywall, and they have a shared bond of being members, they are really able to open up and engage. It gets harder to make friends when you get older but we are seeing that because they are sharing this bond, they are really able to make connections in the community and then see them through in real life.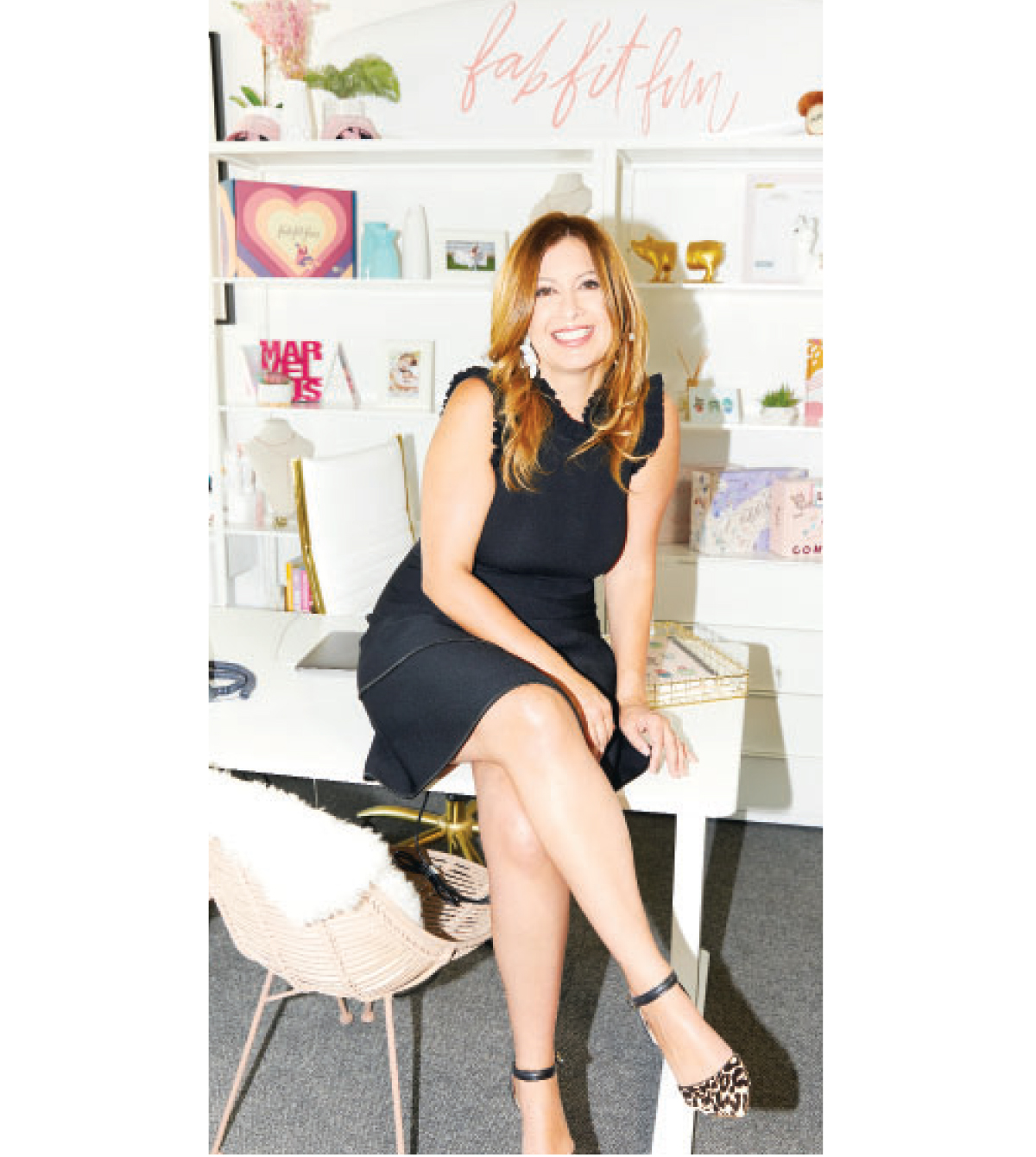 How are you identifying those groups? 
We identify those groups through customization. You can choose different products in your boxes like an eye shadow palette or an oversized scarf or you can be surprised, like the original [concept] our wonderful team of data scientists will choose for you based on your data profile. We are not just picking great products but We are not just picking great products but the location, age, and interests. What a sixteen-year-old in San Diego wants is not the same product that a sixty-five-year-old in Kansas City and we have both of them in our membership. 
At the heart of the company, we are a data science-driven company. We obviously have a great marketing team who do a ton of trend forecasting, but that marries with a wonderful consumer insight team who is constantly serving our members on what brands they like and want to try. That information is really merged with the merchandising tastes so that we have the best collection of products. 
Can you share any upcoming events or new activations? What about the FFF bus tours that recently took influencers and press to the Dry Bar and other select partners? 
We have our big annual winter event and seasonal launch parties. Our holiday party is always a big hit. We really believe in the experiential aspect so we will do our Summer House every June. We have influencer days, spa days and different treatments and showcase the box. Last year we did a wellness camp where you could build a box, have 
cocktails by the pool. We have boxing to photography classes. We are looking more at travel or experiential activations in the works and the FFF bus [that went on a tour of local partners] was certainly perfect for the press but could involve members in the future. 
A recent representative mentioned that "It's all about experiential shopping now and people no longer want to just shop." How are you reaching your subscribers outside the box? 
FabFitFun outside the box launched one and a half years ago. That was in addition to the glossy magazine which is a good place to highlight our founders and has a higher circulation than Vogue, just saying. Online we go into more in-depth stories and get more granular like how to use and wear the products. How to style, or go deep into ingredient stories, we know that is something that members really care about. That encourages who we are from the very beginning. 
Every season we release a fresh set of new videos across all of our categories. 
We wanted to delve further into our member's interests so we launched our first Cooking Club last month. It has links back to cooking videos and our members are doing a 
ton of user-generated content to create their own videos with recipes. You will continue to see more clubs launch throughout next year. 
Marketimg strategies have gone from print to online to social media for reaching consumers. From online shopping to back in the stores. What do you think the next wave will be? 
It's always going to be that combination of content, commerce, and community. When you have that trifecta, the results become really special. Connect to your membership or audience in order to continue to be a favorite – content is what they are coming back for, that and loyalty.