Food & Wine | Lifestyle
Exclusive: Nerano Opens BG Speakeasy Restaurant Upstairs
BY Carole Dixon January 24, 2020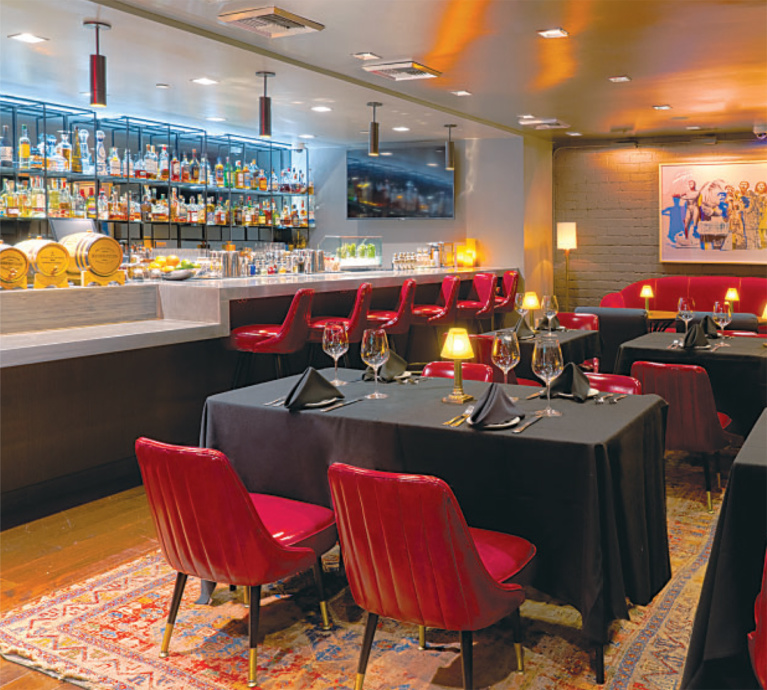 Reading Time:
4
minutes
Little Santa Monica Boulevard's Amalfi Coast restaurant Nerano is an exceptional spot in Beverly Hills where you can find branzino flown in three times per week from Naples and rare wines from the Campania region of Italy. Even the tomato pallets are shipped from the Southern boot. It's no wonder that the Michelin Guide gave them a Bib Gourmand nod in 2019. 
Owners Andy and Carlo Brandon-Gordon (who also own long-standing industry staple Toscana in Brentwood), are not resting on those accolades. Opened on Jan. 23, the duo has added a semi-private restaurant upstairs in the former bar-lounge area. The intimate space features revolving contemporary art from Marc Selwyn Gallery across the street, but is otherwise, pure old-school Italian. 
Even the entrance has a "Good Fellas" sensibility. Past the red neon "cocktails" sign with an arrow, visible from the street. Head back along the side of Nerano's outdoor lounge area to a red-illuminated gate. Marc Rios advised on the rear landscaping camouflaging the alley as you follow the black-carpet walkway to the canopied stairway. A looming bodyguard stands watch as you ring the doorbell and enter behind a curtain. The drama hints of a private club out of a Scorsese film but it's actually open to the public for those "in the know." 
Once inside, red leather chairs line the bar and tables set for 30 people. Tim Clarke designed the furnishings which encompass golden cocktail tables and custom red dining chairs with two banquettes flanking the east and west walls of the room. The designer gathered inspiration for the interiors from sexy and extravagant cars produced in the 50s and 60s such as Lamborghini, Maserati and Ferrari red with saddle leather. 
According to Clarke, "In the 50s and 60s, Italy became the mecca for the new generation of international designers. Serving as the trendsetter, Italy produced the likes of Gio Ponti, Franco Albini, Achille Castiglioni, Ettore Sottsass and Carlo Mollina. It was the work of Mollina at the nightclub 'Lutario' in Torino that first inspired the interiors at BG. While a highly competent engineer, he designed race cars and planes to feed his own speed-demon ways, Mollina's work ripples with biomorphic sensual energy. This energy is reflected at BG with curvy sofas, and sculptural bar seats that sit on narrow tapered legs." 
As for the food, Executive Chef Michele Lisi is flipping the switch on his light, fish-forward Mediterranean fare and going with a hearty Italian-American "red-sauce" based menu. Think chicken parmigiana, fettuccini alfredo, spaghetti with meatballs and arancini as part of the comforting offerings. "I have a good meatball recipe from my Grandma," chef Lisi who hails from Puglia, told the Courier. "I like to use fresh ingredients, seafood and work with healthy, simple, modern Italian cuisine." Now the wood-burning oven downstairs will be used for heavier food, including steaks and pizza. For dessert, expect fresh gelato and a New York cheesecake supplied by Doan's Bakery. 
The menu is paired with wines by BG Sommelier, Davide Matarazzo, who zeros in on indigenous grapes and blends from volcanic, ashy Mount Vesuvius to inky varietals from Old World regions such as Trimonte, which only yields about 10 producers.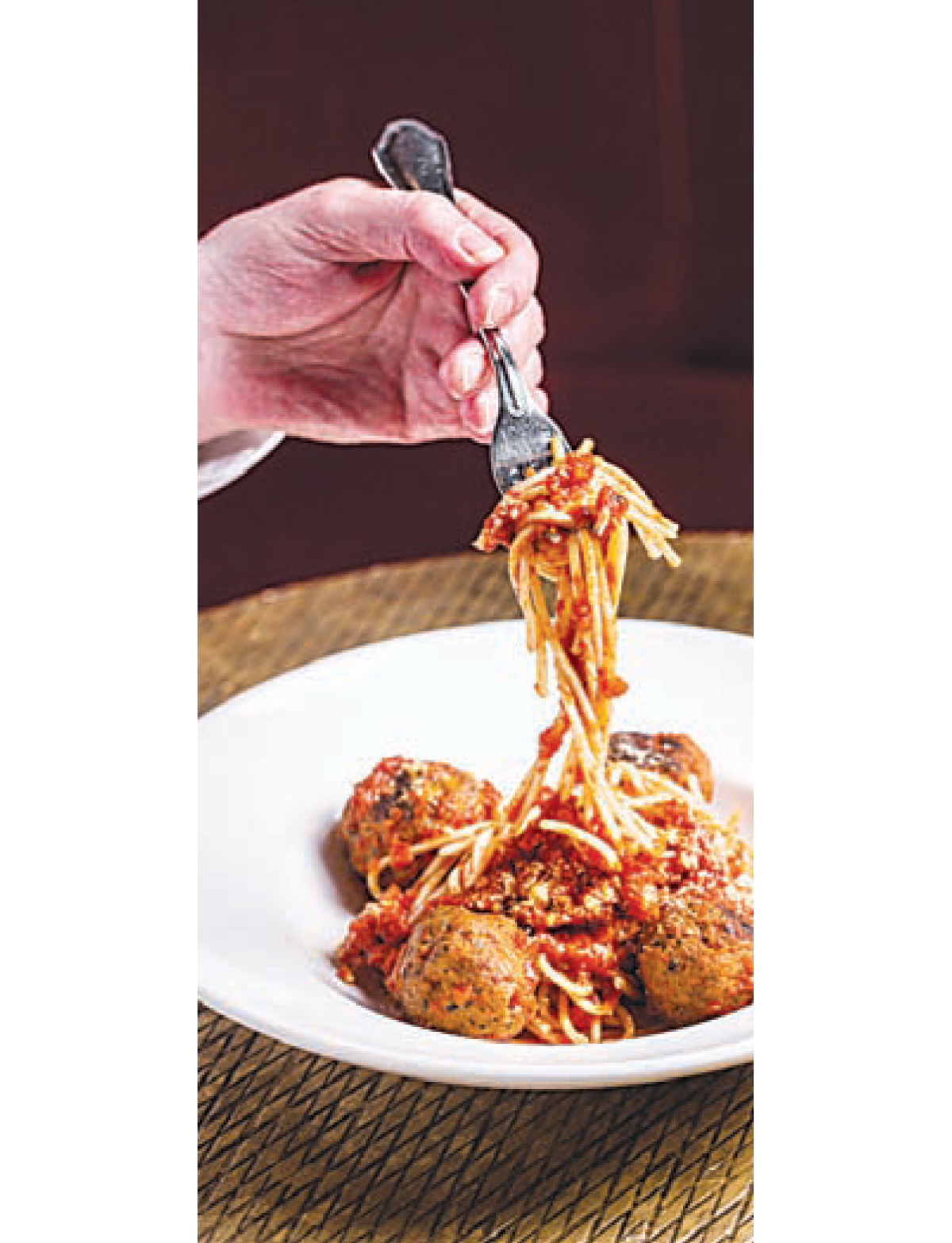 Perfect for late night, the concept is also more commercial and less expensive. "A lot of people request this kind of Italian food but we don't do it downstairs," general manager Giovanni Marazzi told the Courier. "We want to give our customers what they want." This also includes a younger audience which they are hoping to attract for the after-hours when they will play 70s soul music. 
According to co-owner Carlo, "I found that when Andy and I have been traveling for work in places like New York or San Francisco, we often times end up in "red sauce" Italian restaurants. This is where friends are taking us, to these Mom-and-Pop family-run kind of places. There seems to be one or two in almost every town." 
"I was always saying to our chef 'I want chicken parm,' but he would not make it," co-owner Andy told the Courier. "Think Old Hollywood if you were to do Dan Tana's in Beverly Hills today, what you would do?" 
In addition to the table tops, the space holds seven bar seats, and in the spirit of giving back to the community, Sunday's are dedicated to "industry nights" where other professionals in the hospitality industry can take advance of 50 percent off all food and drink from 7 p.m. to 2 a.m. 
"If you can get industry people to fall in love with your spot, the rest will follow," said mixologist Dorian De Tappan, who helped instill this special night. 
De Tappan who is not a typical "star-tender" hails from Philadelphia and also worked with the Palihotel in Culver City. "I'm all about love and generosity not about making you or the staff suffer." 
"It's an Italian spot so it would be a betrayal to the space to not have Italian influences in everything," De Tappan told the Courier. "Every cocktail will have that along with an interactive or transformative nature like fun presentations with fire." 
For the roll-out meu, there is a picture-perfect version of a Spanish gin and tonic served with a clear ice sphere made from a liquid with cold-brew tea, thyme and pink peppercorn. Mandoline-sliced cucumbers line the base of the glass and the gin goes into the drink, but the sage and tonic are served on the side. The Woodinville Bourbon based "Spaghetti Western" is served with a cinnamon stick "cigar" that is lit. "I like the theatre of drink making." 
One of the most theatrical – and surely set to be the most Instagramable, is the Copa d'Oro. Fire blistered yellow bell pepper are caramelized to make a puree with red pepper flake, black pepper and honey. Served with a mezcal or tequila along with a dehydrated celery and black volcanic salt rim. For the finale, dehydrated lemons in extract are set in flames to float atop the drink. 
De Tappan actually gathers inspiration for his dramatic concoctions from a cookbook: "The Flavor Matrix." "I like unusual or uncommon pairings that just work. Somewhat familiar and recognizable but with a curve-ball."