Michelin-starred Chef Arika Back has quietly opened ABSteak on the ground floor of the Beverly Center. The sleek, high-tech space combines elements of a classic American steakhouse with a modern Korean Barbeque. 
As the latest upscale culinary opening at the reimaged space, this brings more options for meat lovers and Westside residents who don't want to trek to Koreatown for an authentic experience. 
"It was time for me to open in L.A. it's been my dream for a long time," said Back who owns 14 restaurants located from Asia to Dubai, Toronto, Dallas, San Francisco, San Diego and Las Vegas. 
Two drawbacks of most Korean BBQ eateries are that your clothes tend to smell like smoke afterwards and dining companions are distracted by cooking their own food. Both issues are resolved seamlessly with prime cuts of beef cooked by a server on a smokeless grill, right at your table.
Back's Operations Manager, Yoshikawa Tsuyoshi, has worked with the chef for more than 12 years. He has relocated to L.A. to run the restaurant and "Top Chef" star Brian Huskey is holding down the kitchen while Back is on the road splitting his time between the Far East and Sin City. "I met him a long time ago and told him when I'm ready for L.A. I will contact you," Back told the Courier. "He's a badass."
Even though a dry-aging room is featured, "ABSteak is more than just meat," Back confirmed. "I wanted to have fun and give a vegan lover a steak, so the watermelon was perfect with Bulgogi sauce."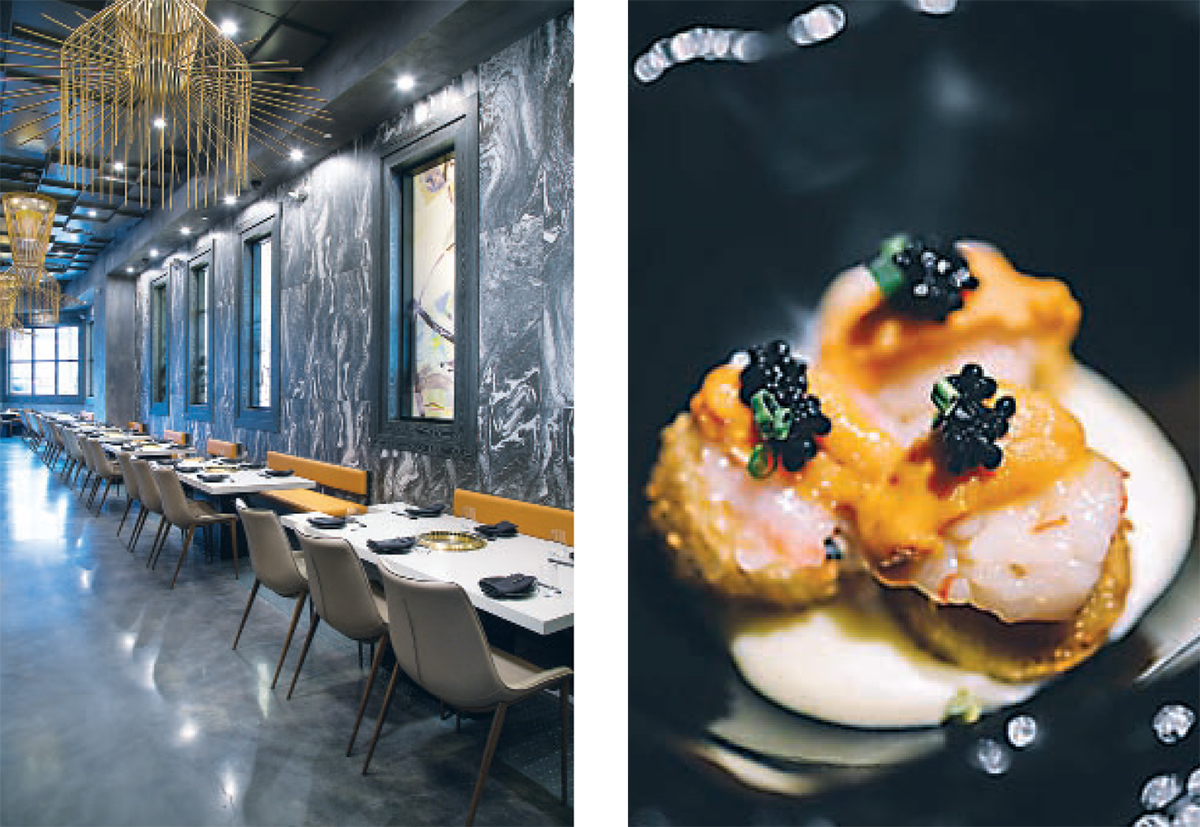 Chef Huskey also wanted to give local vegan and vegetarian eaters more than just a salad as a meat alternative but this is not just a melon thrown on the grill either. "First, I brine [the watermelon] then vacuum pack it and let it sit for six hours to infuse the brine into it," Huskey told the Courier. "Then I dehydrate it overnight at 180 degrees for about 12 hours. I vacuum pack it again, so it doesn't dry out, then I brush it with simple syrup and let it sit in the walk-in cooler before it gets cooked." 
If you do want something meaty, the menu has many different options from Black Angus and New York to Wagyu from Tasmania with amazing marbling. You can splurge on a 60-day whiskey aged prime bone-in ribeye for $160 or keep it low-key with a $23 Flannery Holstein ribeye. 
As for the veggies, the eggplant cubes are seared off with potato starch to provide crispiness, with miso for a savory-sweet flavor profile, then finished with pickled Fresno and chives and served with mini- rice crackers. 
Other standouts on the menu include pressed spinach with a creamy sesame chili oil dressing, house-fried Kimchi rice and a trio of mushrooms with Yuja soy butter. 
More Sizzle on the Steakhouse Horizon in 90210 
A new 14,000 square foot, high-end steak and seafood restaurant is currently in development at Wilshire and Roxbury by brothers and former Mastro's owners, Jeff and Mike Mastro. 
Eater Houston and other publications report that Tilman Fertitta – who owns the Houston Rockets, is looking to expand his steakhouse portfolio that already includes Mastro's, Morton's and Del Frisco's – among others, by acquiring The Palm steakhouse business. 
Lastly, the Courier will have more news to share soon on a popular sushi staple that is also planning to open a steakhouse in the area.