Valentine's Day and the holiday season prior are traditionally the most popular times to pop-the-question. With the average wedding planning time taking up three months to a year of your time, it's never too soon to start that checklist rolling for a newly engaged couple. 
For couples ready to take that nuptial step, the Waldorf Astoria Beverly Hills offers a beautiful setting, personalized service and cuisine by world-renowned Chef Jean-Georges Vongerichten. To elevate the bespoke options, the hotel has recently entered into a collaboration with international star wedding and events planner Colin Cowie. 
Cowie has been in the business for three decades on both coasts and services clients all over the world. While his team plans and produces events of all scales, they will now be bringing their expertise to the Beverly Hills property, to design and execute your dream wedding. Cowie's clients include Jennifer Lopez, Oprah Winfrey, Jennifer Aniston, Tom Cruise, Ryan Seacrest and Kim Kardashian among others. "Partnering with Waldorf Astoria Beverly Hills on its Wedding Program was an automatic fit for Colin Cowie Lifestyle," Cowie told the Courier. "Our brands align in so many ways – from how we offer world-class experiential luxury and design to our commitment to excellence down to the smallest details." 
"The Waldorf Astoria Beverly Hills is such an iconic venue for lavish and luxurious events, it seemed like a natural match for a company like ours, with 25 years of experience in the creation of such events, to partner," said Cowie. "We have also worked with Jean-Georges Vongerichten countless times over the years, and are thrilled that he is also a partner in this endeavor. Overall, it is a meeting of the minds when it comes to luxury, service, and 'hospitainment' – where hospitality meets entertainment." 
"Located in the heart of Beverly Hills, we have seen some of the most lavish weddings take place at our property, and we are thrilled to collaborate with Colin Cowie to now offer the world's premier wedding services," said Vanessa Williams, General Manager at Waldorf Astoria Beverly Hills. "We pride ourselves on offering the very best to our guests and hope that those planning their special day at Waldorf Astoria Beverly Hills will enjoy this exclusive new collaboration and see the wedding of their dreams come to life." 
But 'lavish' is not always on the agenda. According to "The Knot" magazine, the top wedding trends of 2020 include: green sustainable weddings by committing to zero waste, recycling flowers, sourcing locally grown food and even resetting an old family ring; micro-weddings with less than 40 guests; magical mysticism (yes, we mean crystals and burning sage); and inclusive menus that have your vegans covered. 
Cowie and his team have been experiencing other trends, especially with the menu planning. "We are loving the idea of non-traditional "dinner service" at weddings," he told the Courier. "We no longer have to serve a fully coursed dinner or an enormous buffet with more food than anyone could ever want. There are other options! We love the concept of curated food stations, that can even reveal themselves throughout the cocktail pairings to go along with each one. This can be executed as a glamorous cocktail party, where a full dinner is served in small bites through exploration." 
"We don't believe in décor "trends" when it comes to rustic vs. elegant or garden vs. formal," confirmed Cowie. "We derive the look and feel of every event from individual clients' DNA. What is the couple all about? What will showcase their style best? What works beautifully in their venue and expresses who they are? We believe that "your DNA is your trend" and in that way, we avoid following the current trends, favoring looks that will be classic for a lifetime," said Cowie.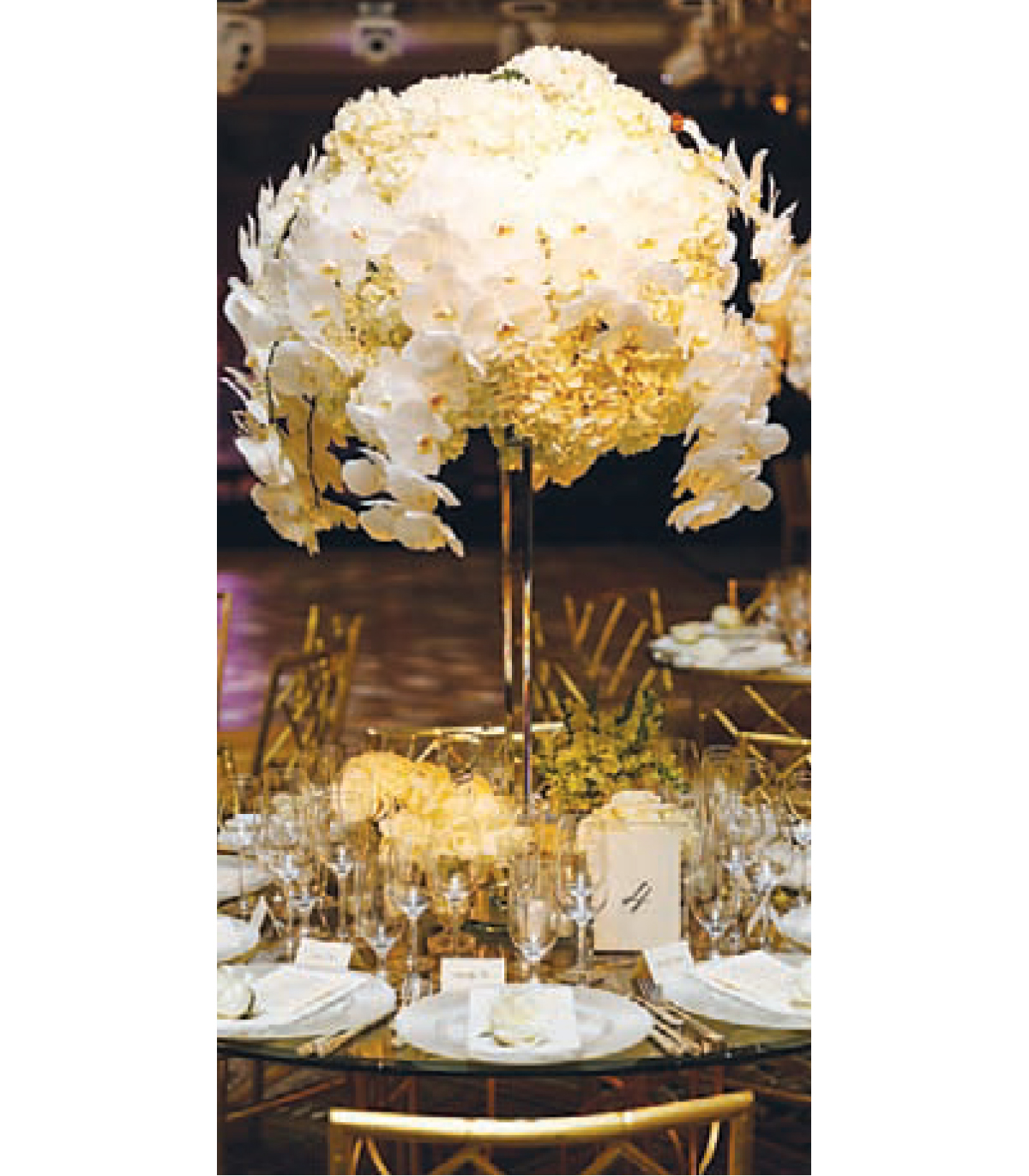 What the Beverly Hills location offers is over 4,053 sq. feet of event space to flex your "DNA" at the Waldorf Astoria and the award-winning events team will make your vision come to life with a high level of personal service and unexpected touches in intimate to grand settings. 
The Colin Cowie Lifestyle customizable options range from a complete planning package, which includes invitation design and delivery, room décor, floral elements, specialty linens and lighting to hair and makeup, photography, videography and entertainment, to a more limited set of specific choices. 
Individual pricing options are based on added services; the Waldorf Astoria wedding consultants are on hand to personally assist couples with determining which Colin Cowie Lifestyle services will help make theirs a wedding for the ages and their budgets.