From Compton to Couture. From learning in sweat shops to presenting on the biggest Fashion Week runways around the world, Johana Hernandez is a Latinx millennial sensation. Creator and owner of GLAUDI, known for her wedding gown, special occasion, red carpet haute couture designs, Ms. Hernandez, is launching her first men's collection. Due to the pandemic, instead of launching her collection in late September at the Ritz during Paris Fashion Week as she usually does for 2020, Johana has pivoted. As a new member of our business community, she has brought Paris to Beverly Hills by premiering, in this Beverly Hills Courier world exclusive, her "first men's and women's bespoke suits" campaign.
Johana Hernandez's meteoric rise began at her parents' knees. The two El Salvadorian immigrants shepherded their daughter to their jobs in the factories producing garments for global brands, including Calvin Klein and Tommy Hilfiger. As a young girl, with familial generations of humble garment makers before her, Johana learned clothing construction and manufacturing processes. In her early teens, she began designing as a hobby with her mother. Attending FIDM, she was plucked by Bebina Jeans and quickly became a head designer. At 19, she was featured in the Wall Street Journal for her designs, which included casual sportswear. Leaping to international brands, she landed at Seven7 Jeans for several years as a knits and jeans designer as well as a designer for plus size retailer Lane Bryant.
In 2011, at age 24, without financial backing, she founded the family business "GLAUDI," named after her mother Gladis. Driven by her early childhood experiences, and her devout Christian faith, Johana built a company where she implemented a culture for her employees to be compensated fairly and treated with respect. She also insisted her company be guided with the purpose to help others. It's no wonder the moment California was mandated to shut down earlier this year, Johana turned her factory of design into making masks. Thousands of GLAUDI masks were donated to hospitals for frontline workers, the LAPD, and security officers and their medical teams at L.A. County prisons.
GLAUDI's flagship stores are in Beverly Hills and Downey, with additional ateliers in Downey, Chicago and Istanbul, Turkey.
Johana also addresses the needs of the underserved from Compton to El Salvador, having funded the construction and supplies for a school in El Salvador. Her thinking, "If your goal is to just become rich and famous, it's super empty. But if your goal is to give work to people, to build schools, to give back to the community, that's leaving a legacy. And that's my dream for our brand."
After fifteen years of hard work, vision and innovation, Johana shines as a confident, energetic, phenomenally creative young woman who credits her faith for her success. As a hopeless romantic, she oozes positivity and passion in everything she does. She goes as far as blessing each dress, if her clients welcome her to do so, and she signs each GLAUDI wedding dress sketch with "What God has joined together, let no one separate." Mark 10:9.
Mentored by Nichole Richie and John Varvatos, she was featured on NBC's "Fashion Star." In 2013 she was nominated to be part of People Magazine Espanol's one of the 25 most powerful Latinas. In Latina Magazines' 30 Favorite stars under 30, she joined Demi Lovato and Selena Gomez. As a judge on "The Fashion Hero" airing worldwide and on Amazon Prime, Johana searched for everyday models of all shapes and sizes to become GLAUDI ambassadors, focusing on taking the rejected to be respected.
Besides adorning some of the world's most beautiful women, a multitude of Latina superstars, and international celebrities, she has been featured on CNN, Fox News, Spectrum 1, ABC 7, Telemundo, Univision and in the New York Times, Vogue, Elle, Cosmopolitan, and Harper's Bazaar. On Sept. 19, the host of the Creative Arts Emmy's, Nicole Byer, Netflix's series host of "Nailed it," chose to wear Johana's creation to present the awards on the international telecast.
Johana's goal is to inspire, "I came a long way from Compton to Beverly Hills. If I can do it, you can do it, too!"
September is Hispanic Heritage month, and we are living in unprecedented times. Let's refresh the conversation. Please join us as we celebrate a young, accomplished fashion designer in our community, who, with an uplifting voice, helps us celebrate the happiest moments in our lives.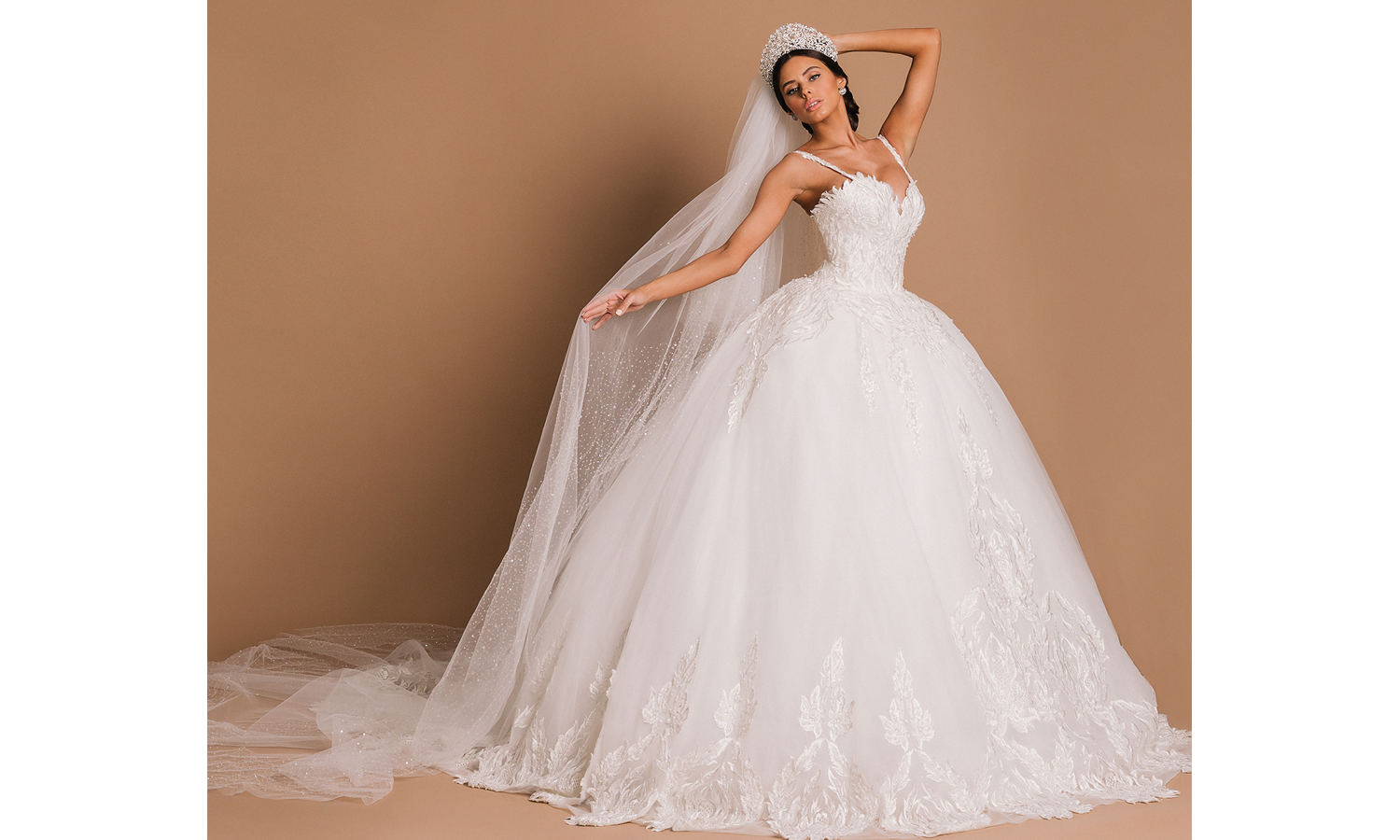 Lisa Bloch: Our world is filled with uncertainties. Is this the right time for wedding celebrations? How has your business been affected?
Johana Hernandez: It's true about our world, but 'love is not cancelled.' It never is. Weddings are being done. They're just smaller. Or they're doing virtual ceremonies and the bride wants, more than ever, to look beautiful on her special day. Or they're planning small, out of town weddings and we make dresses that fit the location. They're still booking me because it takes about six months to a year for custom dresses, and three to six months for our collection dresses. I just don't know how we're going to handle next year when I have so many weddings all at the same time.
Why did you choose to open your boutique in Beverly Hills?
It's the capital of fashion. I'm the youngest designer business owner in Beverly Hills of Salvadorian descent. I'm the first Salvadorian-American to do Fashion Week, six seasons already, at the Ritz in Paris. I like to do things that are different and to bring something new for everyone to love.
Known for your exquisite bridal collections, why have you decided to design a men's collection?
I've always wanted to launch a men's line, but it was never the right time. My dad died two months ago. His short name was "Rey." In Spanish it means king. I want to respect and honor men like my father. So, I felt it was the perfect time after losing him and feeling how important men are in our lives. As women, we need to love them. As a female designer, I can help to empower men, as I appreciate them and honor them. It's time to get back to business. I want to empower men through the men's suits, the same way I do women with women's suits and gowns.
Please tell us about your power suits.
GLAUDI's suits are custom and comfortable. They are made to fit every shape and size. All of us have different shapes. Fit is so important. I embrace all body types. For guys too. Men come in every shape and size. Every suit is made to measure.
You know when you are wearing a suit that doesn't feel right. At GLAUDI we believe that if you are not comfortable, you won't be able to achieve what you're trying to do through presentations or to enjoy your event. Choosing the right fabric and making it fit right is the only way to go. I have stretch in some of my fabrics. They are soft and fresh and breathable, so you don't feel hot in them. They fit correctly so that when you sit down, nothing is bulging. It makes you feel good about your body. It makes you feel confident and bold so you can focus on what is at hand.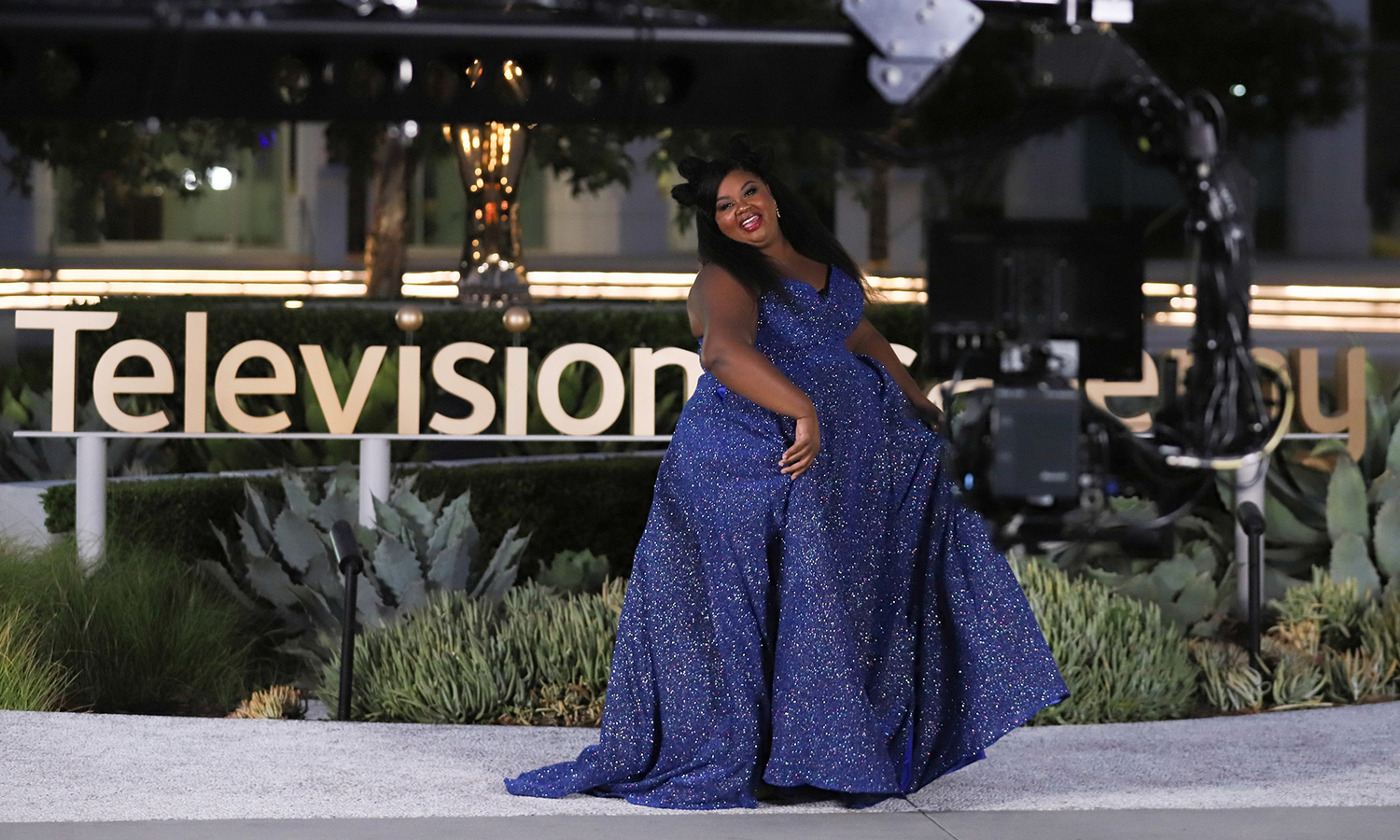 Women can be strong and successful, and at the same time, beautiful and feminine in a GLAUDI suit. A man is strong and successful and gentle in a GLAUDI suit. It all shows in how the suit fits. That is why we spend time customizing each suit for each client. We have tons of patterns, but my goal is to make suits that are comfortable to wear, are flattering, and reflect a bold, confident person. I know so many amazingly successful men who have businesses, or who are getting married, and they want something from me. But for a girl to make a man's suit is not normal. Usually men design for men. It's beautiful to be able to respect men and give them what they want.
For women's suits, I definitely add more tailoring to shape women better, instead of looking boxy. My pants are higher waisted to bring attention to the right places and to be more complimentary. I've created special shoulder pads that are not too high, but give you a strong structure, yet don't make you look tired with bad posture. These are the little details that make a difference.
What is special about the GLAUDI bridal dresses?
Everything is special for our GLAUDI brides as our dresses take thousands of hours to create. All are handmade. I sketch and design in front of the brides who choose to do custom gowns and the brides who shop from our collection, they get to have a personal bridal stylist. All designs are made to fit each bride perfectly.
At GLAUDI brides never settle for a dress. I make their entire fairy tale wedding come to life as we also have dresses for bridesmaids and mother of the bride. When it's complete, it brings joy to all of us. And now that COVID is here, I know a lot of brides are having smaller weddings. We are launching our bride tuxedo suit in white with this campaign. Bridal suits are so polished and elegant for women.
You would schedule an appointment online or over the phone with our stylist or with me. In our first meeting, I sketch in front of my clients, so they see everything coming to life. They get a dress that is made for them. We do tricks with corsets and bras inside of the dresses to help women look their very best on her wedding day. Most girls cry when we photograph them in the dress for the first time as they can't believe they look so beautiful.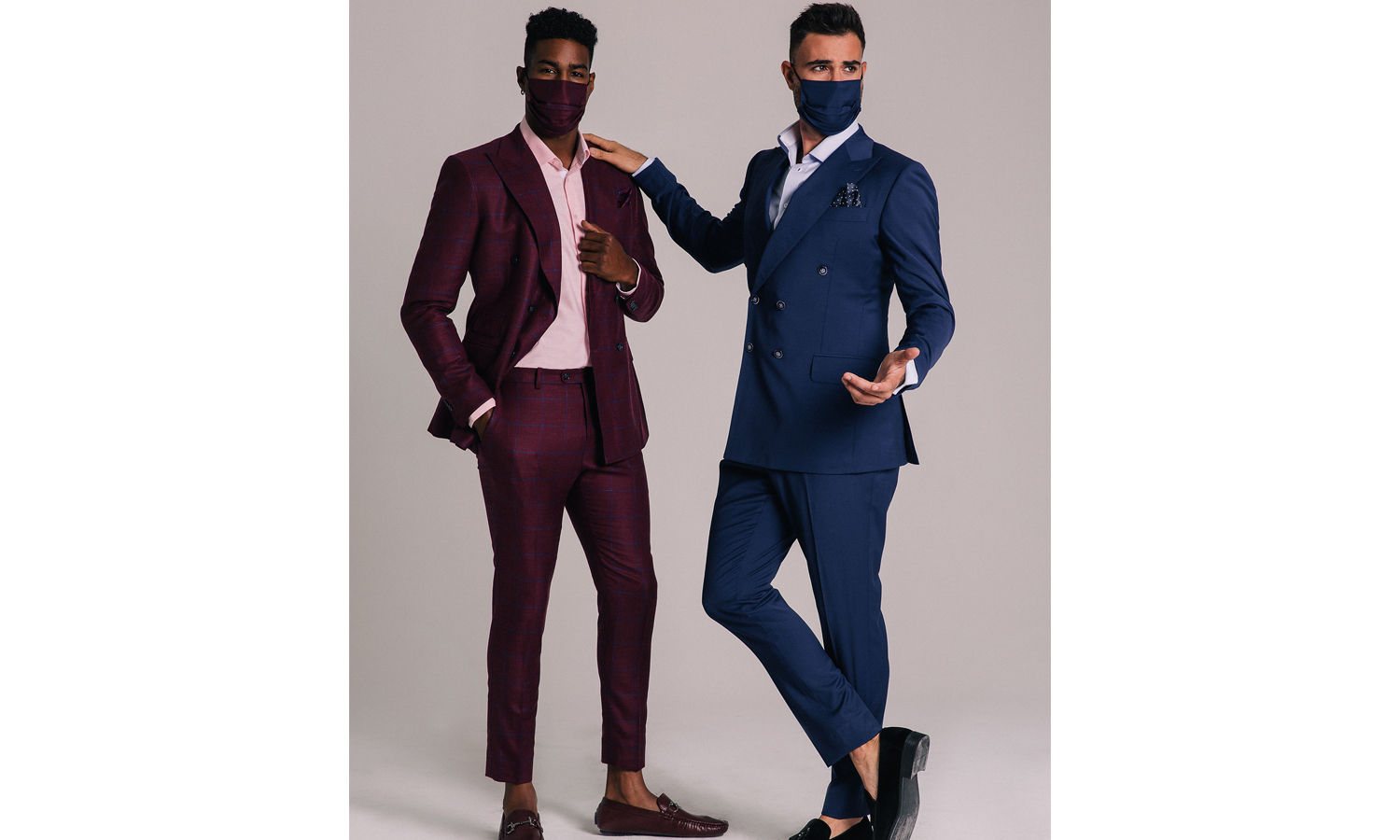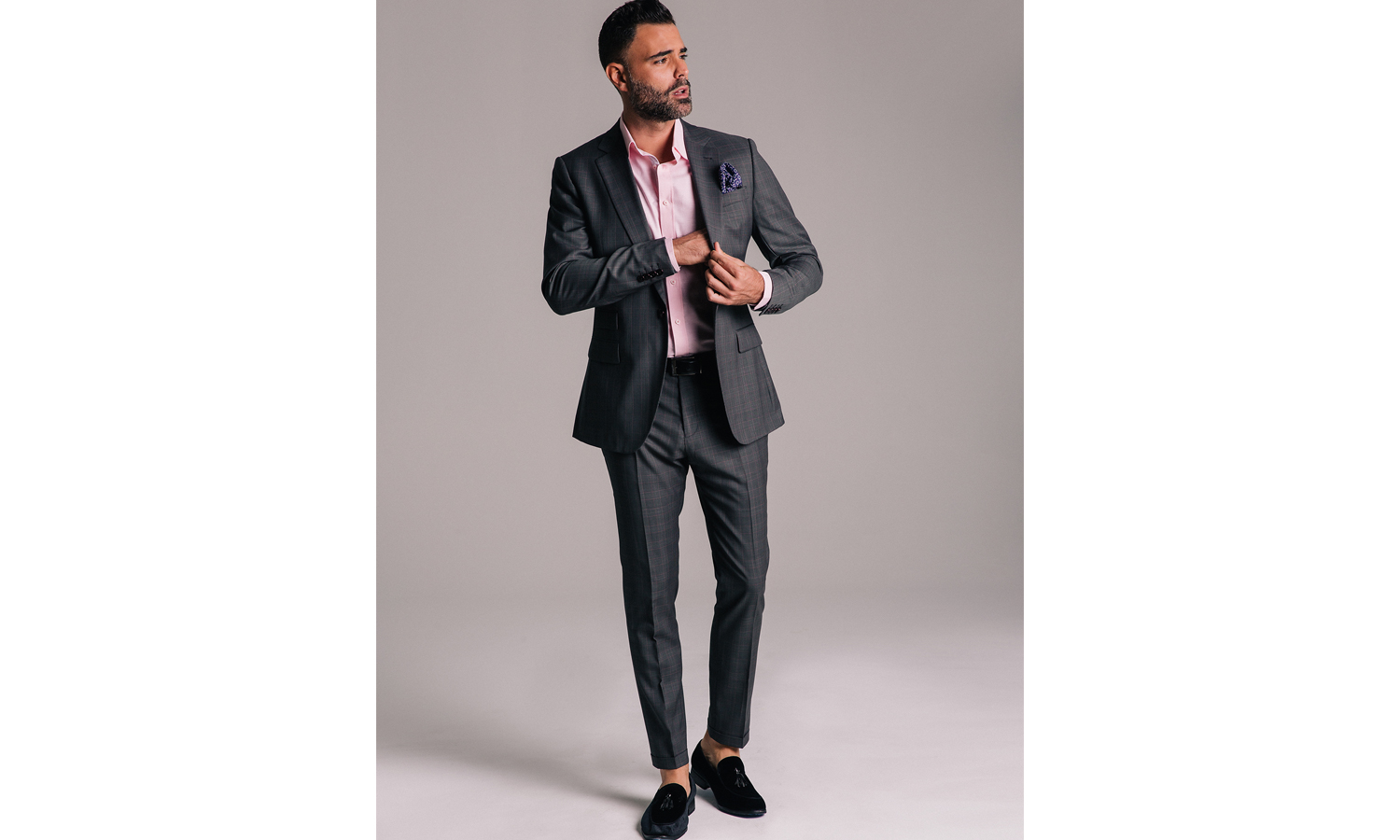 And your GLAUDI Men's "Rey" collection?
With our new men's tuxedo suits to complement the bride, we are doing some new things. When men get married in their tuxedo, they want to dance and have fun. It's a real celebration. So, I think about the fabrics I use to make them feel comfortable to be able to move. I add stretch to their suit. This is super exciting because no one has done this. It still looks structured and beautiful, but they can easily move. We are also making for grooms the ability to tell their love story with printed photos in the lining of their blazer. It's really fun.
Please tell us about your red-carpet collection, as well as the fabrics you choose.
This is the collection I always show at Paris Fashion Week. It is designed for women who are bold and not afraid to shine. When she walks into a room, she doesn't have to say a word. Her dress speaks for itself. This is the girl who is noticed on the red carpet. It is worn by the woman with confidence.
We use the best fabrications from all over the world, Italian laces, silks from Paris and Italy, and made in our atelier in Istanbul.
I noticed in one of your big fashion shows you employed a young, energetic model with Down syndrome. Can you tell us about her and your decision to include her in the show?
It was New York fashion week this past February 2020. When she came out on the runway, everyone was cheering. It was really special. I added her to the collection because I feel every girl could feel beautiful no matter what. She is now modeling all over the world. I think there's a lot of girls that need to see that there are girls like them achieving their dreams. It's empowering. I feel like we are all made to be equal and to just be uniting, loving and kind. Anyone can achieve anything.
Did you dream about one day designing a luxury brand?
I always wanted to design clothes that would help people. We give work to a lot of people because we make all of our garments by hand. We don't mass produce. So, when you get a suit or a dress, it's all hand made. You're giving work to people that are here in the U.S. mainly, or in other countries, people who are humble. We are helping families through fashion.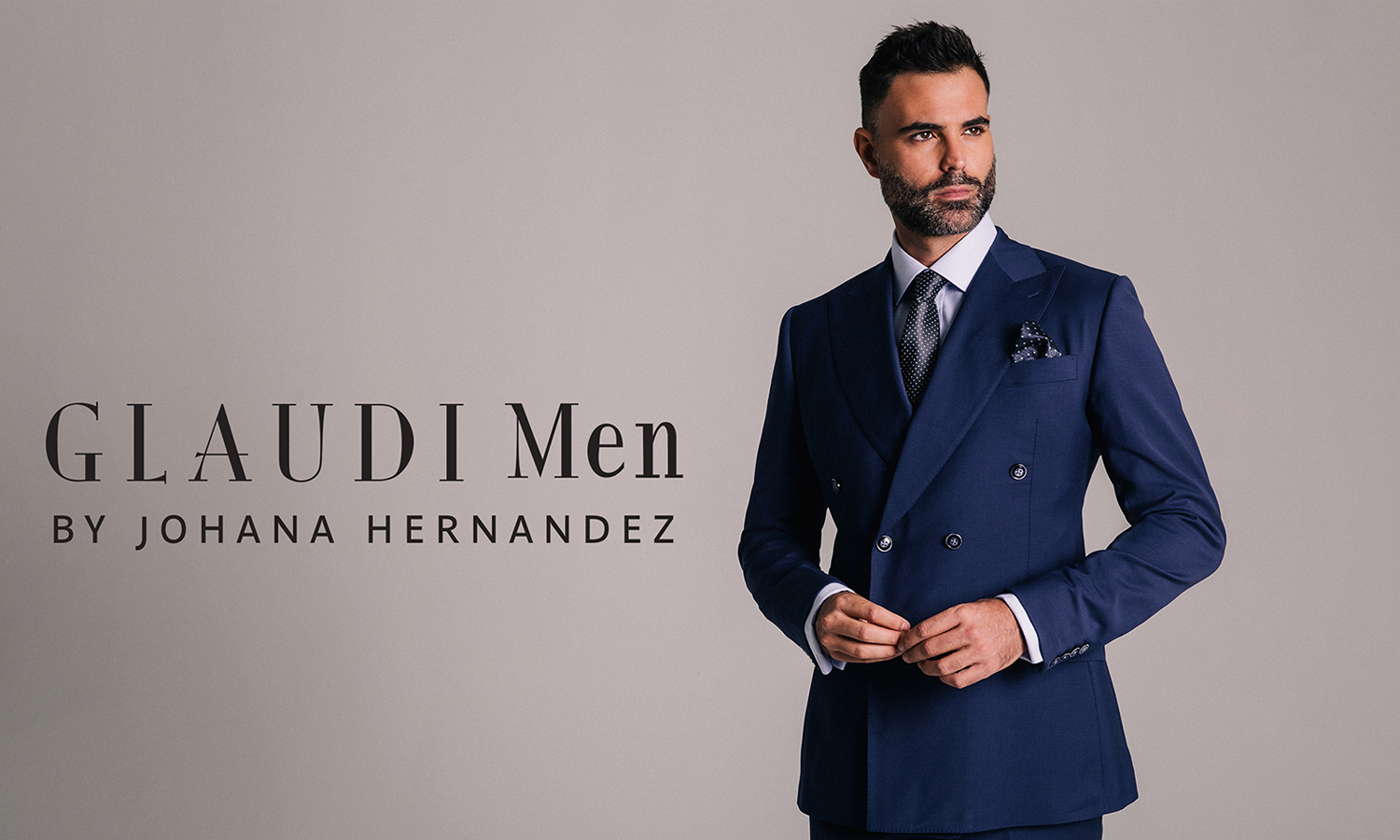 Your faith is very important to you. You do regular Bible studies in your store. During COVID, are you doing them virtually? Tell us about "God is Fab."
It's my Instagram handle. I created it to mentor girls and inspire women to get their confidence back through faith. I love to empower women to help them find purpose and God given talent no matter what religion we are from.
Who's your mentor?
Hmmm, my parents and God, to be honest.
What's your biggest challenge?
I'm usually the only Hispanic in the room as a luxury fashion business owner and designer. Being a Latina designer, I put in triple the work. Unfortunately, there are still people that feel Latinos aren't made for this, when my family has been in fashion for generations. Sometimes I don't get opportunities because of my skin color, because I'm Latina. Now I have decided to let my work speak for itself.
When I was younger, I didn't notice it was weird. Until my assistant, one time, said something to me. She was like, did you see that everyone looked at us? We were like the only Hispanics. She made me open my eyes. Sometimes I literally feel like I'm Rosa Parks and that feeling inspires me more to succeed, to bring everyone together through fashion.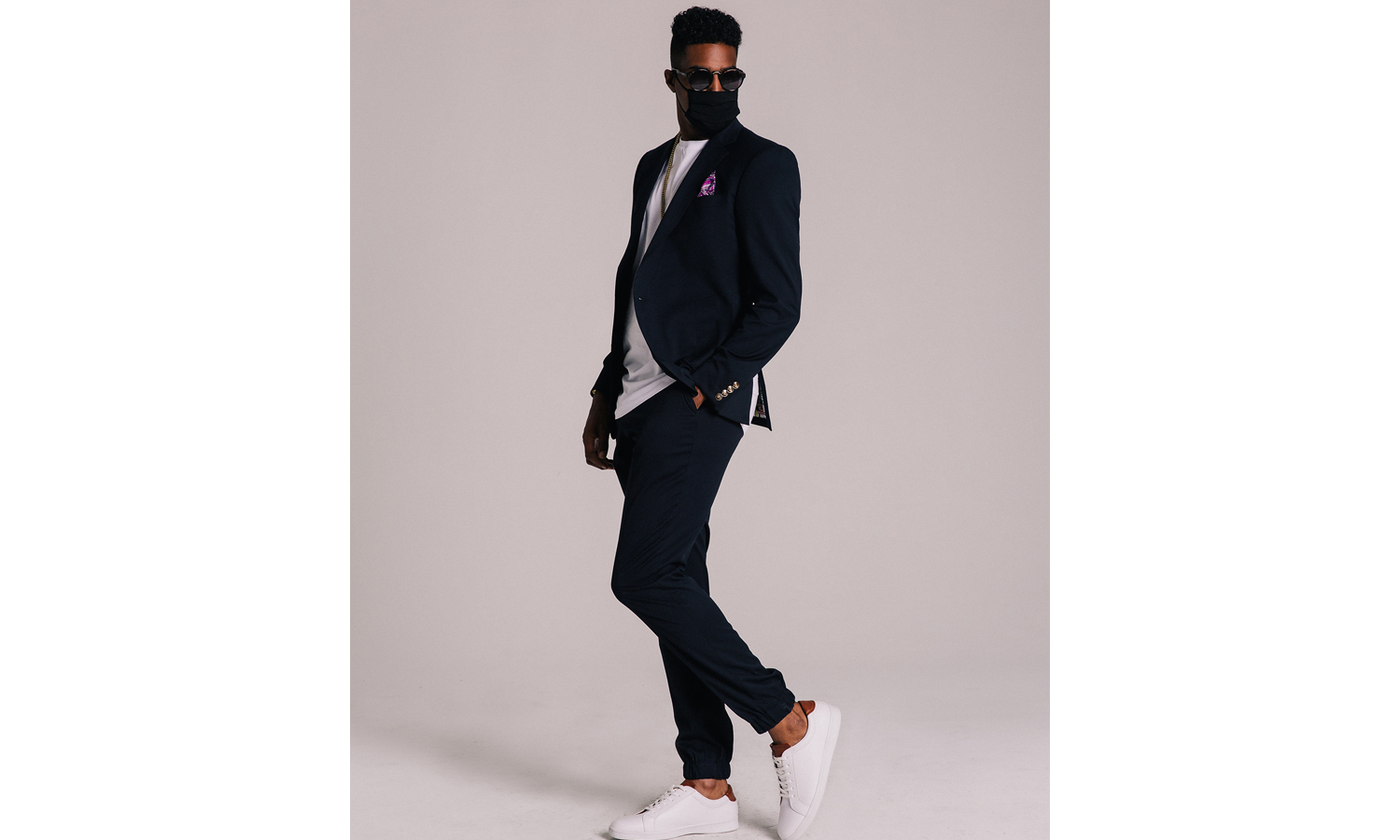 I imagine you may be feeling conflicted. As you just shared, you have experienced inequalities and injustices in your lifetime, and understand the Black Lives Matter message. And yet you're also a business owner, who has worked hard to open a boutique in Beverly Hills, only to be thrust into a position of having to protect your valued business. Are you caught between two worlds?
I grew up in Compton. My friends were super diverse, like me. We've always mattered to me. Originally, I thought it was a bad thing being born and raised in Compton, but now I'm grateful for it as I am making a difference. We were very conservative Christians. We had nothing to do with gang violence or crime. As I grew older, I've come to embrace that part of my story. People need to know that it doesn't matter where you come from, we should treat one another with love and respect.
Now I am really glad I can share my story. It's not about where I came from or the color of my skin. We're here to make everyone who wants to feel empowered and beautiful, to feel and look that way. And I'm just excited that it's a place where you get to meet people from all over the world.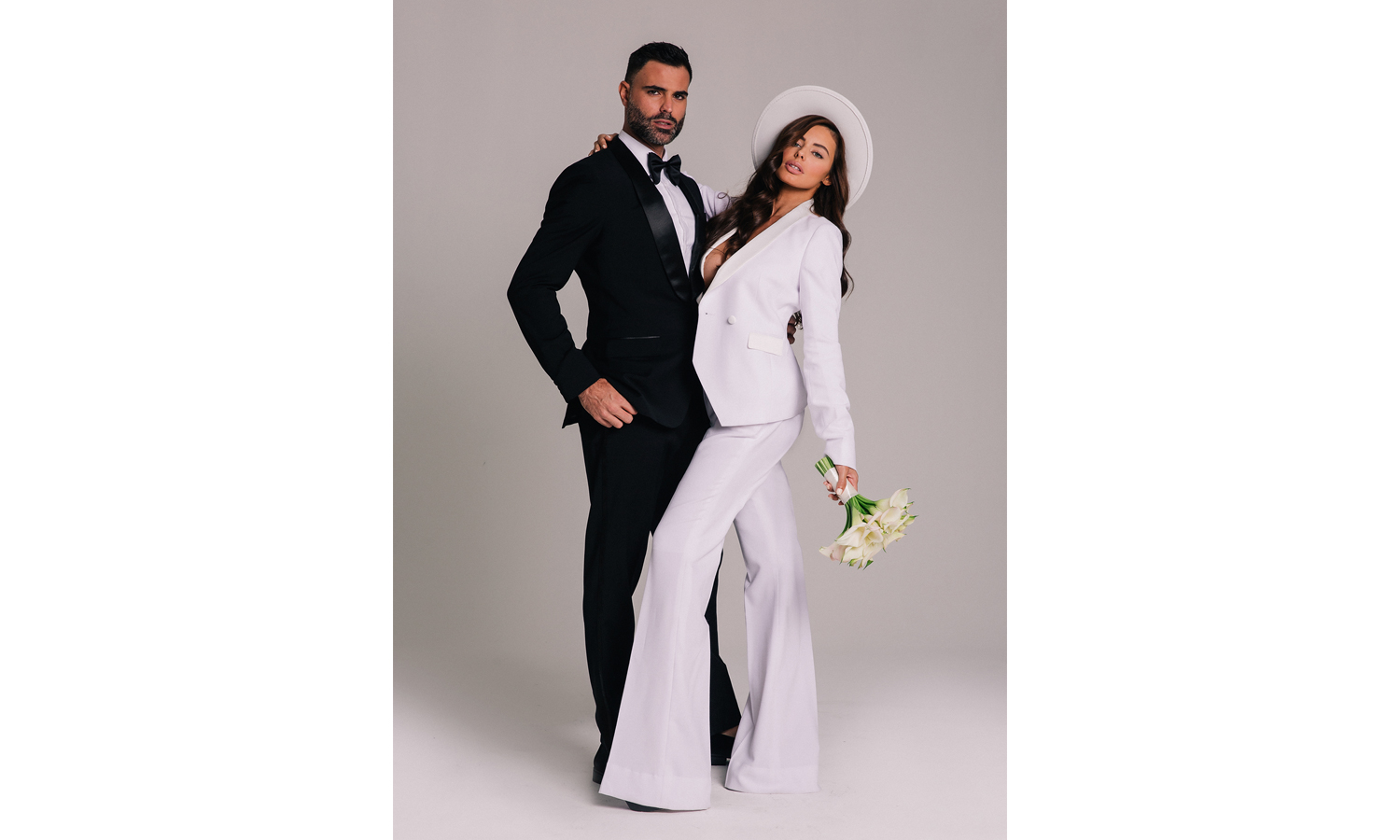 International travel has been curtailed. How has this changed your business model?
I don't target tourists. I don't target celebrities. They find me. My brand has a look. If the client is local, they visit us in the store. I love to have good relationships with my clientele. If the client is from out of town, we work through emails and through zoom.
What was the reaction from the Latino world when you opened in Beverly Hills?
Oh my Gosh. Everyone was super proud and excited. We were in all of the Latino media. Like it went viral. Even the president from El Salvador sent a message on social media about it. It's very inspiring. I love being that designer who makes you feel like, why not?
What inspires you?
I've traveled around the world, designing. And in every country, in every language, I meet the same girl. Like me, a woman who's confident and who wants to achieve goals. Even the guys. Like they all want to fall in love. They all want to achieve their dreams. They just speak different languages. GLAUDI is for everyone. Don't look at me just as a Latina designer. I am a designer. Don't see color. See the beautiful collections and wear them and feel confident. I want to unite everyone. You know what I mean?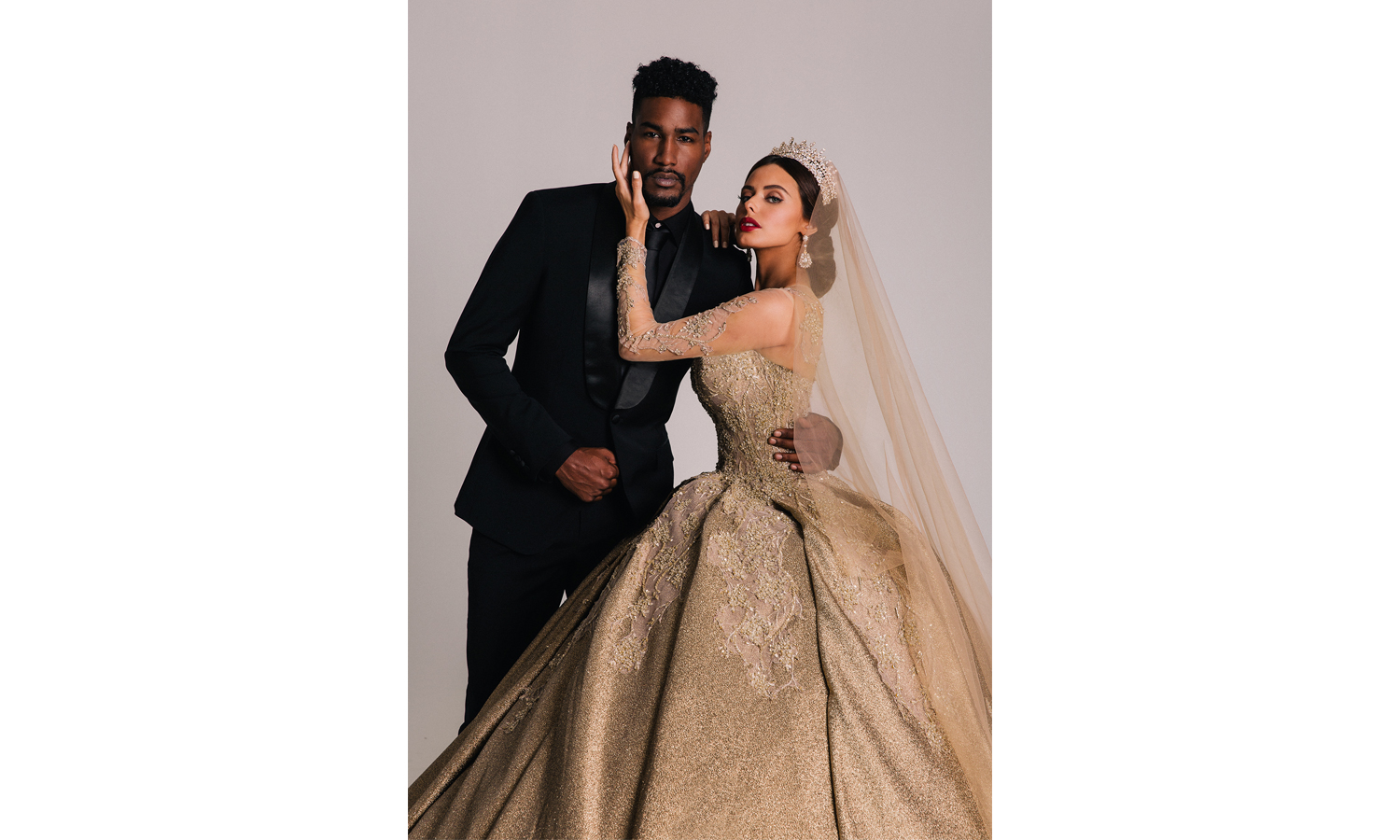 I sure do. Where do you see yourself in five years with GLAUDI? What do you hope to have accomplished being a part of the Beverly Hills community?
I want to continue here in Beverly Hills, of course. I want to present my designs internationally. I'm already showing in Paris and I'm going to Italy, to Milan. Across the United States, I really want everyone to get a little piece of what we do. I want it to always be about empowering people and taking them to the moon to celebrate the most special events. We design for the happiest moments in your life. That's the time where you come for a dress or a design. I want to be able to help you celebrate, and not let it be about this year's color. It's about feeling good. It's about you.
Johana Hernandez, this has been an honor and a pleasure. You are one extraordinary young woman, a role model and an inspiration. As the wedding and red carpet emperadora (empress), Beverly Hills is lucky you have chosen our City to be GLAUDI's home. Congratulations for being the Beverly Hills Courier STYLE's first Fashion icon! And welcome to our community!
With respect and appreciation,
Lisa Bloch
[embedyt] https://www.youtube.com/watch?v=K8-lxxfZkjw[/embedyt]
Instagram @GLAUDIbyJohanaHernandez
9608 Brighton Way
Beverly Hills, CA 90210