Nearly three years after pickleball was introduced as a pilot program in early 2020, the sport continues to see a surge in interest with a growing population of devoted followers in Beverly Hills. The activity is easy to learn and combines aspects of tennis, badminton, and Ping-Pong. After mounting public interest in pickleball and steady participation from the community, the city added additional pickleball courts in March and continues to add classes to accommodate a steady influx of reservations. 
Currently, Beverly Hills offers pickleball at the Roxbury Park Tennis Center, where four courts are available, and the La Cienega Tennis Center, with eight courts. Beverly Hills residents and visitors can sign up for pickleball private lessons and group classes with a pro or rent out a court.
"We now have over 150 people weekly in our group class program and somewhere between 20-50 per week for privates," Zoe Jeffery, Director of Pickleball for Beverly Hills Tennis, told the Courier. "We have grown from zero in January when we launched. It's very popular!"
After the successful launch of pickleball in 2020 followed by restrictions and lockdowns related to COVID-19, Beverly Hills neighbors formed an independent adult pickleball group. Started by Camden Drive neighbors and friends, Alyssa Rosten and Cindy Transgrud, a community of pickleball enthusiasts emerged.
"It started because of the pandemic, people needed to be social, but they wanted to be outside and get a little exercise," Beverly Hills resident Nancy Heim told the Courier. "And I'm older, I'm 64, but it's for all ages. My son plays, a lot of young kids play – they, of course, beat us. And it's just really made a difference in my social life, because as you get older, you don't have as many opportunities for socialization."
What began a few years ago with a handful of women getting together to play pickleball at Roxbury Park or La Cienega Tennis Center, has now evolved into a loosely organized league with a dedicated group of 35 to 40 people that meet three times a week to play and "whack their hearts out." Heim joined in January of this year.
"It's really just a great way to get exercise, foster friendships, and actually strengthen ties in the community," Heim said.
According to Heim, spots fill up less than an hour after Transgrud emails the group the weekly call for reservations. "If you don't respond quickly, you're not getting playtime because it's just so popular."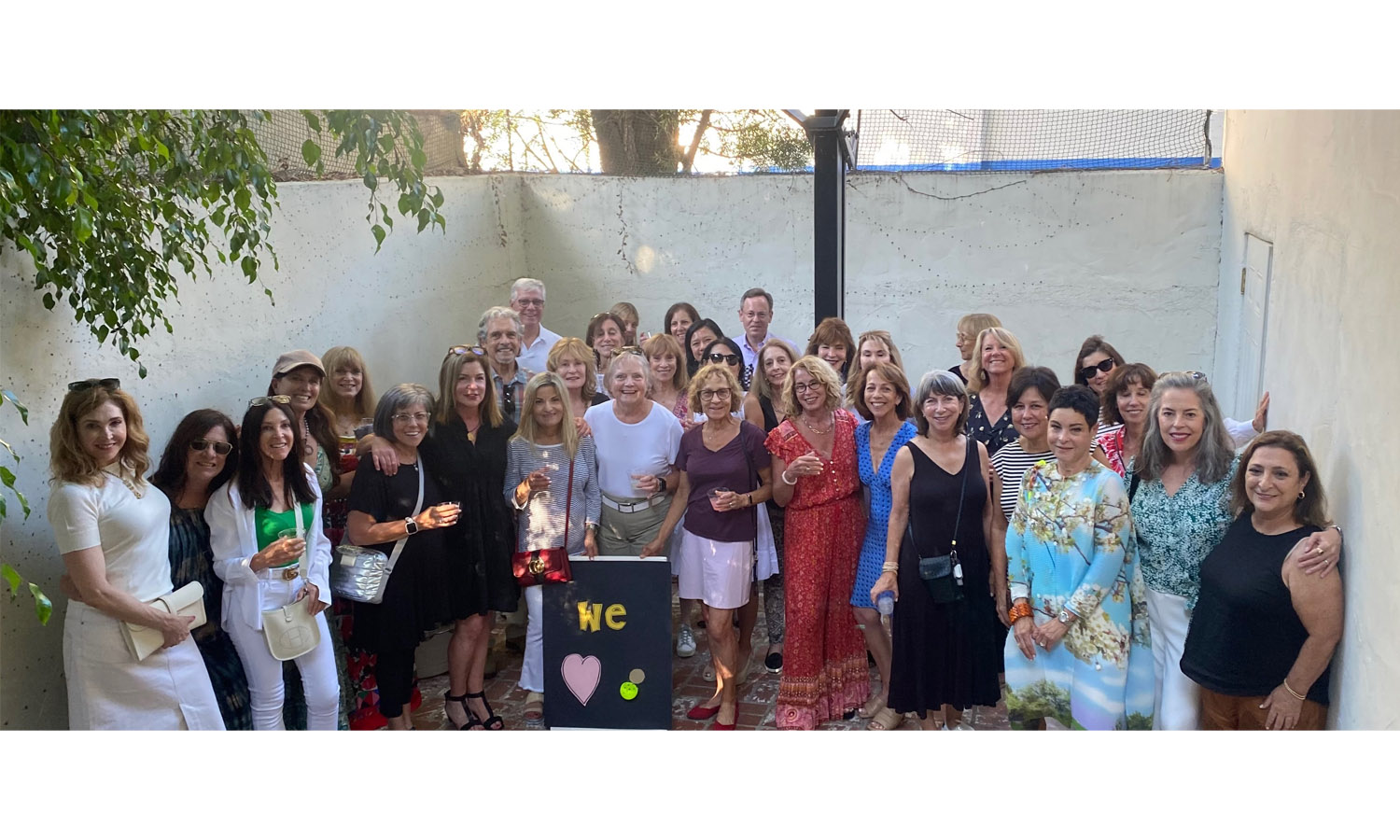 For some, pickleball serves an important social service by bringing adults together in an easy social setting that nurtures group camaraderie. "It's a great sport, easy to learn and so much fun to play," Susie Finesman, who moved a few years ago from New York to Los Angeles, told the Courier. "I haven't made this many new friends since my kids were in nursery school."
At Roxbury Park, courts are available to reserve on Monday, Tuesday, Wednesday, and Thursday from 7 a.m. to 10 p.m., and Friday, Saturday, Sunday from 7 a.m. to 6 p.m. At the La Cienega facility, courts are available to rent Monday through Sunday from 7 a.m. to 10 p.m. For residents, the fee is between $8 to $9 per hour, and for non-residents between $11 to $12 per hour.
To learn more, visit https://www.beverlyhillstennispickleball.com/. To make a reservation, visit www.beverlyhills.org/pickleballrez or email Tennis@beverlyhills.org. To schedule a pickleball lesson, contact the Beverly Hills Tennis Pro Shop at 310-652-7555.