An Interview with Beverly Hills Courier WINE + DINE
 

Man of the Year Wolfgang Puck

Wolfgang Puck opened Spago on Sunset Boulevard in West Hollywood in 1982. He later moved the location to the former Bistro Garden's spot on Canon Drive in Beverly Hills. In the intervening four decades, Puck's international brand has expanded to include restaurants across the world, frozen pizza, a celebrated catering company, cookbooks, cookware, and more. In this inaugural issue of Beverly Hills Courier Wine + Dine Issue, Puck sat down with his old friend, Christian Navarro, President & Principal of Wally's Wine & Spirits, at CUT Beverly Hills to discuss his early days in the business, what inspires him, and what his future holds. To put it another way, it is the culinary landscape of Southern California according to the man who shaped it.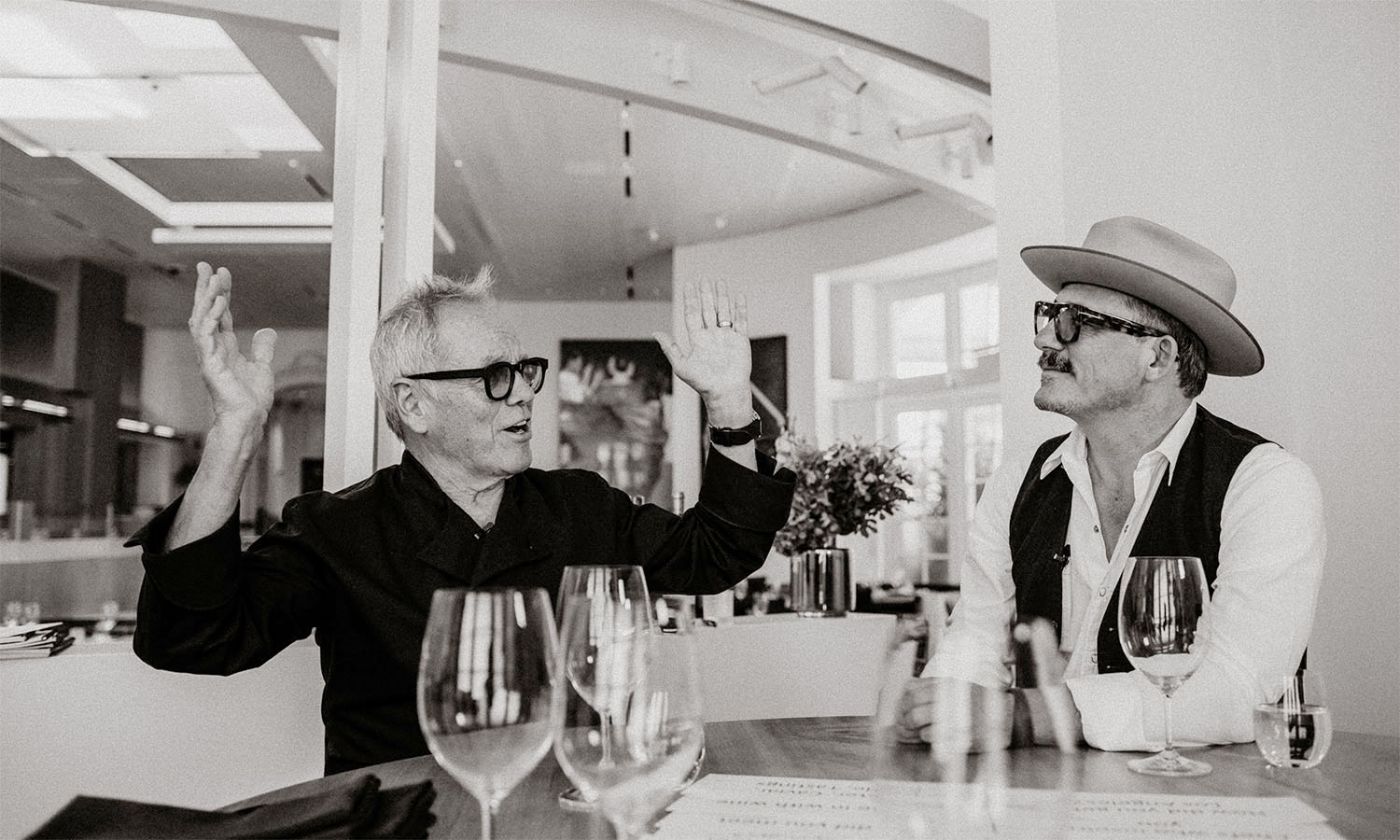 When you first came to Beverly Hills, people wondered why you left a bustling location to move to a dusty, old place here. What made you choose Beverly Hills? 
Well, I saw this location on Canon was so iconic and thought that we could really make it into a California-style restaurant, because it had this beautiful garden outside. The rest of the restaurant was a bistro-style thing, a fake bistro in a way, the food was just okay. I used to go just to sit outside. It felt like a nice place in Europe, in the summertime.
At the beginning it was difficult, they got jealous of me, because I remember the Bistro Garden used to have the Oscar party with Swifty (Lazar). Then one day I told Swifty, 'Why don't you have it at Spago, this is a Hollywood restaurant. The Bistro Garden is for the old people.'
He said, 'Okay, kid, what's the deal?' I said, 'I'll give you the same deal as Kurt Niklas gives you at the Bistro Garden, except you're going to get good food.' He said, 'Done.'
Everyone came to those after parties that you and Swifty Lazar hosted. Tell us about them.
I remember, at the beginning, it was amazing, because we had all the old guys from Jimmy Stewart to Cary Grant and Elizabeth Taylor, and what's his name? From 'Singin' in the Rain,' Gene Kelly and Fred Astaire. All the old ones and then the young ones came like Madonna and Michael Jackson and Sean Penn, and they were all in their 20s at that time.
It was really an amazing thing to have the old and the new meet. I remember Swifty late at night, Jack Nicholson came. He said, 'Okay, Jack is here. I'm going home now. I had enough of my party.'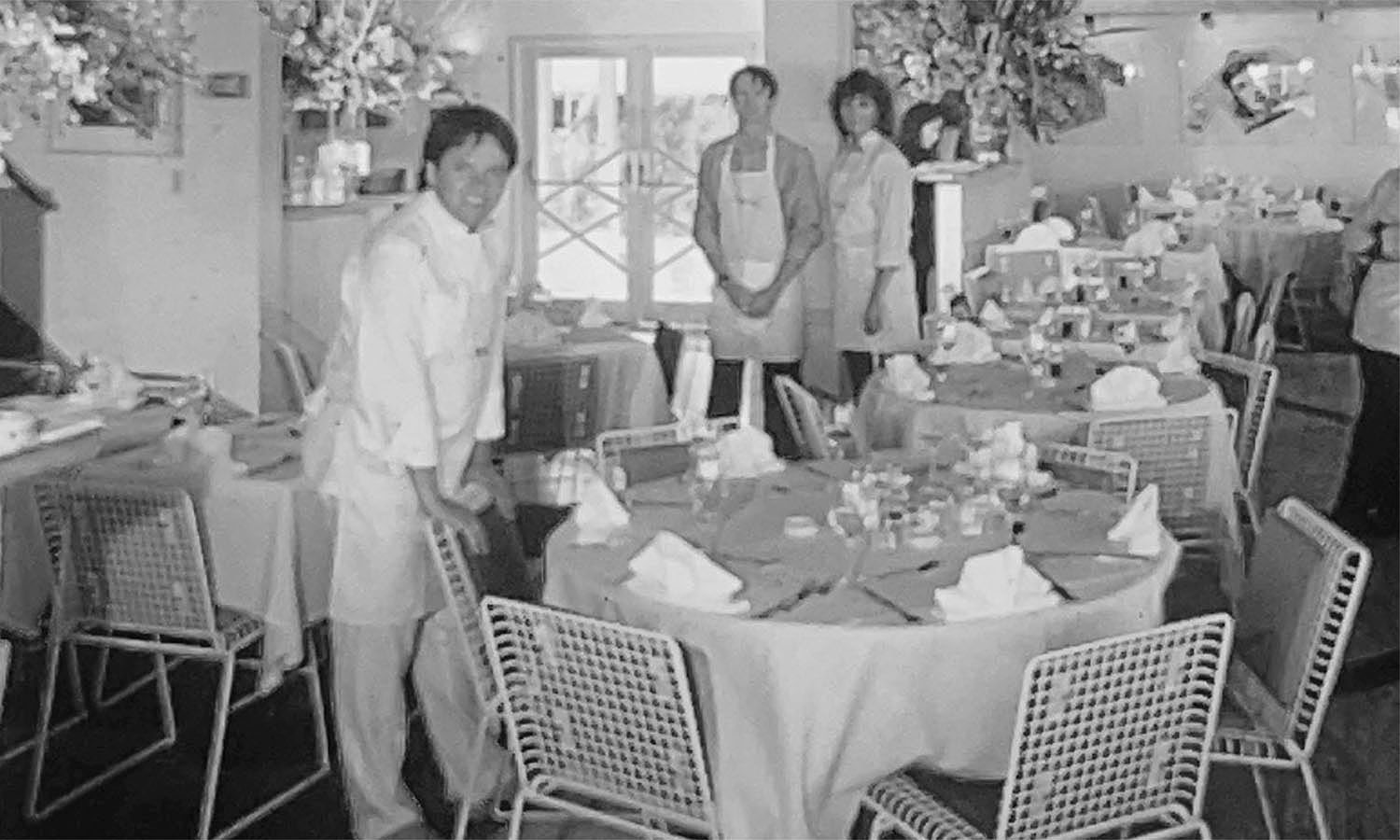 When you started out, there were great chefs and there were chefs who liked wine, but no one really tied them together. Where did you get the idea to tie everything together? 
Well, to me great food and great wine always made for the perfect marriage. It started when I worked in France, in Dijon, in Burgundy, and over there you drink all Burgundy. I got a taste of Musigny, wines from the DRC (Domaine de la Romanée-Conti). Even there the restaurant wasn't the greatest restaurant, but I tasted it with the boeuf bourguignon and some good red wine. I was 18 or 19-years-old at that time, and I thought, this is amazing, food and wine. In Austria, we drank beer. Then, I moved to Baumanière, near Avignon, one of the greatest restaurants in the world. There, I found my inspiration, my mentor, Raymond Thuilier. He changed my life really, because up to then, I wasn't even sure if I was going to be a cook. I thought maybe I'm going to be a truck driver. I had a friend in Austria who was a truck driver, and he made a lot of money. I didn't make any money, barely enough to live. The restaurant is in a tiny village in Les Baux, and that changed my life because we really had the best ingredients, and then because I liked wine, the sommelier there said, 'Why you don't come with me? We are going to Châteauneuf-du-Pape. I go to Châteauneuf-du-Pape, and I wondered how they could make wine when the whole field is full of pebbles. They explained to me that the pebbles get the heat from the sun, and it stays nice and warm. I remember we went to Rayas, we went to Belcastel, and I fell in love again. We were in that region that's what I drank then when I was in South of France. Really, for me, food and wine was always the ultimate experience.
How did you get to California?
After Baumanière, I worked in Paris at Maxim's, which was also a three-star restaurant. I had a good job there. I already drove an Alfa Romeo, and everything was very chic. I was the night chef, which means I was responsible for the kitchen after 10:30 or 11:00 because they had a lot of customers come from the opera. Maxim was the center of Paris at that time. A waiter who was a friend of mine had another friend who came from New York, and he said, 'You have to go to America. If you want to make money, if you want to get forward in your life, go to America, the land of opportunity.' So, I went to New York. I didn't really like New York that much, but I always liked auto racing. Somebody offered me a job in Indianapolis, and then with the last pennies I had left, I took the Greyhound bus to go to Indianapolis.
I thought it's going to be Monaco, something chic, but there was nothing there. On Sundays, everything was closed, but I couldn't leave, so I had to start working there. Then, the easy thing was, I got my Green Card there.
What was the name of the restaurant in Indianapolis? 
The restaurant was called La Tour, at the Indiana National Bank. The head of the bank wanted to have this fancy French restaurant on top of the tower, the highest building in Indianapolis. It was my first chef job really, where I was totally responsible, but after a year, I got my Green Card, and then I said, 'I want to go to California.'
When you are in Europe, you dream about California, the ocean, the beaches. I couldn't get a job in San Francisco, so I ended up here in L.A. At first, downtown, and then I met Patrick Terrail at Ma Maison, at that time the restaurant was bankrupt.
I remember my first paycheck bounced, and so I went to the fish market. I bought the lobster shell, for nothing almost, to make lobster sauce and lobster soup. Then, Ma Maison started to get better and better, and became very successful. I met awesome worlds. I met Billy Wilder and a lot of other famous people, who used to go to the restaurant.
About five years into it, I told Patrick I found this location on Sunset. I said to Patrick, 'We have to form a restaurant company, a management company, basically. I want to own 50 percent.' Patrick looked at me and said, 'I went to Cornell, I know how to run a restaurant. I'm always going to own 51 percent." I looked at him and said, 'Me too.'
Thank God for me, we split up. I had to leave Ma Maison. He actually fired me. Because everybody was talking, saying, 'Wolfgang is leaving. He's going to open a restaurant on Sunset.' They used to ask Patrick, 'Are you going to be part of it?' That drove him crazy, so he took my car away, cut my credit card in half, and that was it. Then, obviously, we started Spago in 1982.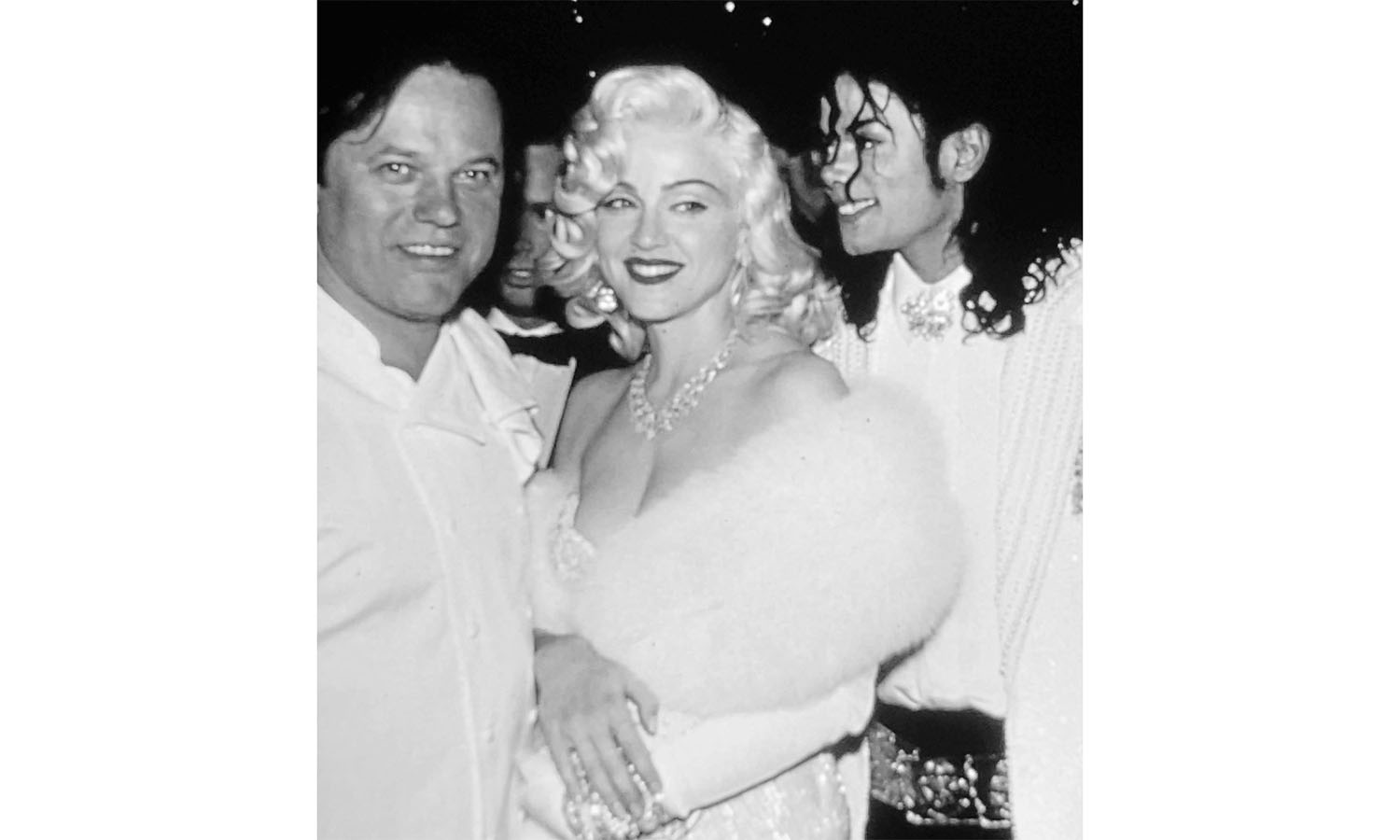 Where did you get the name Spago? 
Well, when I left Ma Maison, I had to find the money. I didn't have anything, so I talked to Giorgio Moroder, who was a good customer at Ma Maison. He did all the music for Donna Summer, "Midnight Express" and "Top Gun." He was the biggest thing, because disco was it, and he invented the synthesized music, made a lot of money. When I told him what I going to do, he said, 'Okay, I'm in,' but we didn't talk about the deal.  
The name 'Spago' came from Giorgio. He wanted to write a musical called 'Spago' at that time. That was around 1980-81. He told me Spago means to him, at least, poetically, a string with no beginning and no ending. Now, we know the beginning, but we don't know the ending yet. Hopefully, it's going to go on forever. 
Later, I think his lawyer told him, 'Well, you should get 60 percent. He has no money; he should be happy with 40 percent.' I told him, 'No, I only take a small salary until you make all your money back, and then I get 60 percent and you get 40 percent,' and he said, 'no.'  
In the end, I found some of the guys who used to come to my cooking school at Ma Maison. I asked them, some dentists, some shrinks, some lawyers, whatever.  
What was it like opening Spago?  
My ex-wife, Barbara, built the restaurant. When we opened, we had no money left. I spent all the money that we had. I had no income, but my first cookbook came out, still with all the recipes from Ma Maison. I went on a cookbook tour, and sold cookbooks, so that's how I made the money.  
The restaurant was open from 6:00 until 11:00 or so, it was hard, six days a week. I was cooking, and Mark Peel and Nancy Silverton were cooking, and Kazuto was cooking, so we had really good people cooking, but very few, we had 26 employees all together. I was going to the fish market every day, because I knew a few Japanese restaurants. I asked them where they got the fish.  
You reinvented the pizza at Spago. How did that come about? 
One of the things I wanted to do is pizza. Everybody said, 'Are you crazy? You make this amazing French food, and now you're going to make pizzas.' I said, 'Yes, I'm going to make pizzas, but not the way Italians do.' I said, 'The tomato sauce and a little mozzarella, and instead of making pepperonis, I made duck sausage.'
I bone the duck legs and put duck meat in it, and then roasted them slowly, and then put them on the pizza, maybe with some Shitake mushrooms and things like that, all fresh and good ingredients, and people loved it. I remember Linda Evans coming to the restaurant, and having her duck sausage pizza. It became famous, and I made one with Santa Barbara shrimp. I just put a little pesto on the pizza, very little cheese, and the tails of the shrimps on it, and maybe a little onion and maybe a little fresh basil at the end, and that was it, so simple, but it was tasty.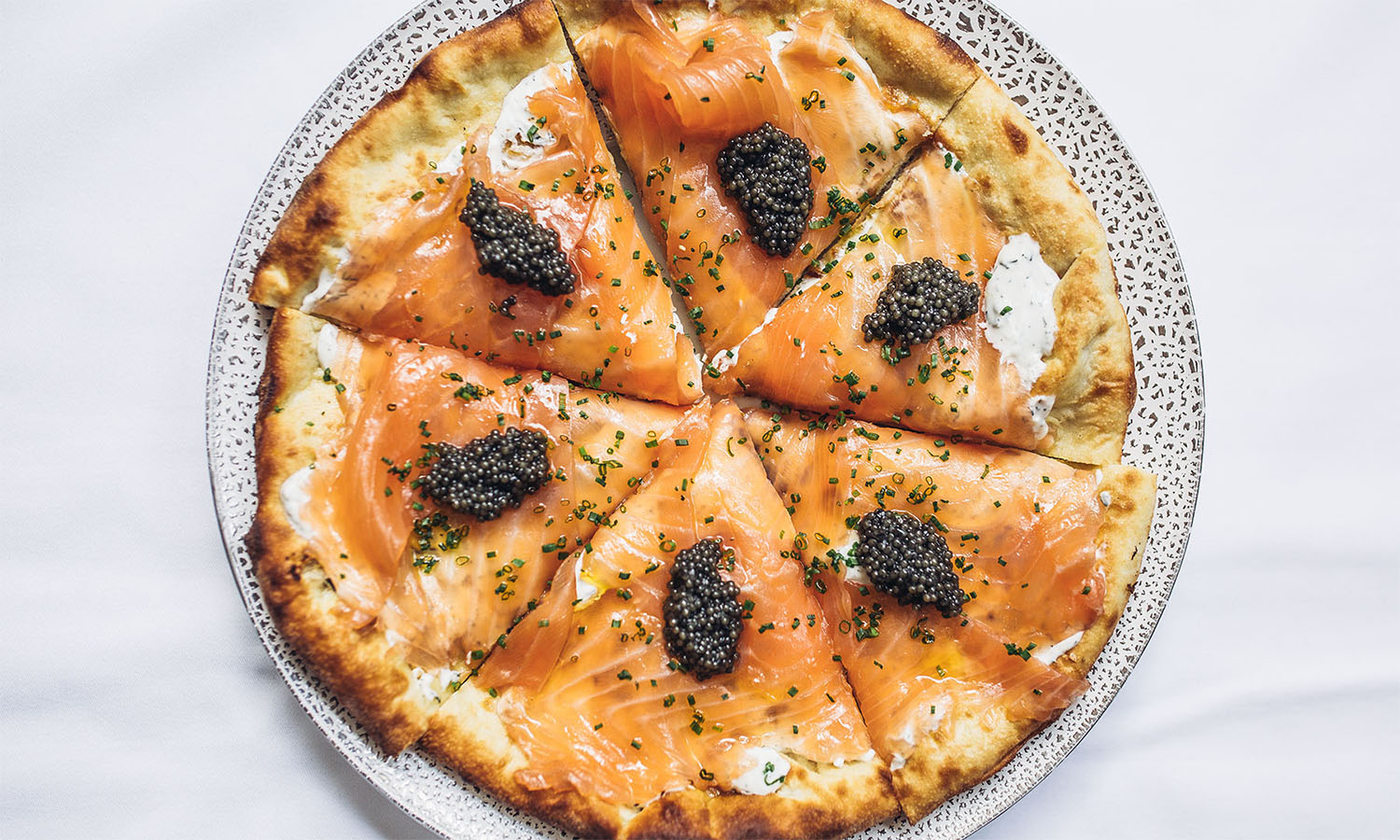 What is the story behind the smoked salmon pizza? 
One day Joan Collins comes in late, and she loved our smoked salmon, because we made it ourselves. We cut it thin, like the way they do it in England, and she ordered the smoked salmon. We ran out of bread. It was like eleven o'clock at night. I said, 'What we are going to get for her now to eat with the smoked salmon? We have no bread left.' I said, 'Oh, I'm just going to put in a pizza dough, bake the pizza dough, and cut it into pieces almost like a focaccia, and give it to her like that.' I put olive oil on it, put some sliced onions on it, and baked it nice and crispy, and we had the dill cream, which we served with the smoked salmon, put the dill cream on top, and then put the smoked salmon on top, and the little caviar, and then I tasted it. The first thing I said, 'This pizza needs a glass of champagne,' and the rest is history. I then made another one for Joan and she said, 'This should be the Joan Collins pizza.'
That pizza changed everyone's mind about food in California. Where do you get all of your inspiration? 
Sometimes, you create while doing things. For me, I have to be doing something. I don't sit at home and think, what can I do? When I see all the ingredients next to me, that's when I get excited. Now, every restaurant in the world has tuna tartare, some sliced tuna, whatever. At that time, no. I went to the Japanese fish market, where all the Japanese chefs went, bought the same tuna as them, and I made a tuna sashimi. I made it a little bit my style. I mixed soy sauce with lime juice, some pepper in it, some spices in it, and then I made a little salad, made the slices of tuna around with the little avocado slices, and some sweet onion slices, and on top again a little caviar, and that was our famous appetizer then. Little-by-little, that became the norm, but at that time, you couldn't get a lot of ingredients. That's why I used to go down to the Chino farm in Rancho Santa Fe to pick up the best vegetables. They had amazing melons. Strawberries, like 10 varieties of strawberries. I went down with my station wagon, filled it up with vegetables. I still remember people coming up to the counter and seeing a pile of strawberries, so dark red and so juicy and so sweet and saying, 'Wolfgang, where do you get these strawberries? Are they real?' We have made more advances in America than any other country in such a short amount of time in wine and in food.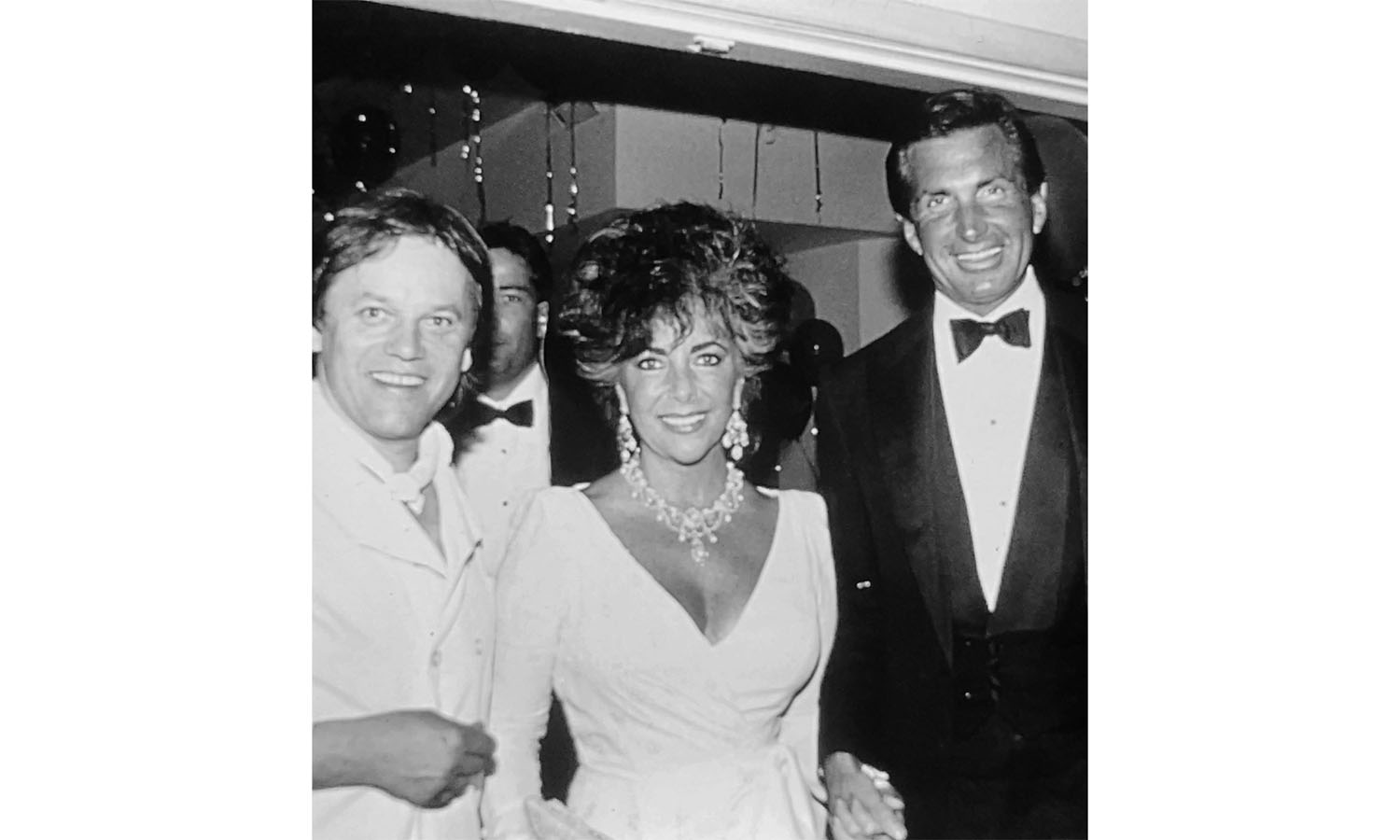 Why do you think Spago resonated with people so much back then?
When I opened Spago, I was the manager and the chef. I said, 'I'm going to build the kitchen in the dining room.' That was the first restaurant with a total open kitchen. That didn't exist before. The chefs were on stage, basically. It was like a theater. I said 'We should have fun. Not a fine dining restaurant, but a fun dining restaurant,' obviously, with the best ingredients. If I bought fresh fish downtown at a fish market, I just put it in a wood-burning oven, roasted it with some onions, maybe a little saffron, maybe some small tomatoes. It was really simple, but very tasty. That's the way I like to eat. And I always had a good sense of what goes with the wine. I didn't want to overpower, to say, 'Okay, we have a great red wine,' and then put jalapeno pepper and raw onions, or a salsa type thing, because that will fight it. I think I was always very conscious about the pairing of food and wine. I actually love to do it, and I love to think about it.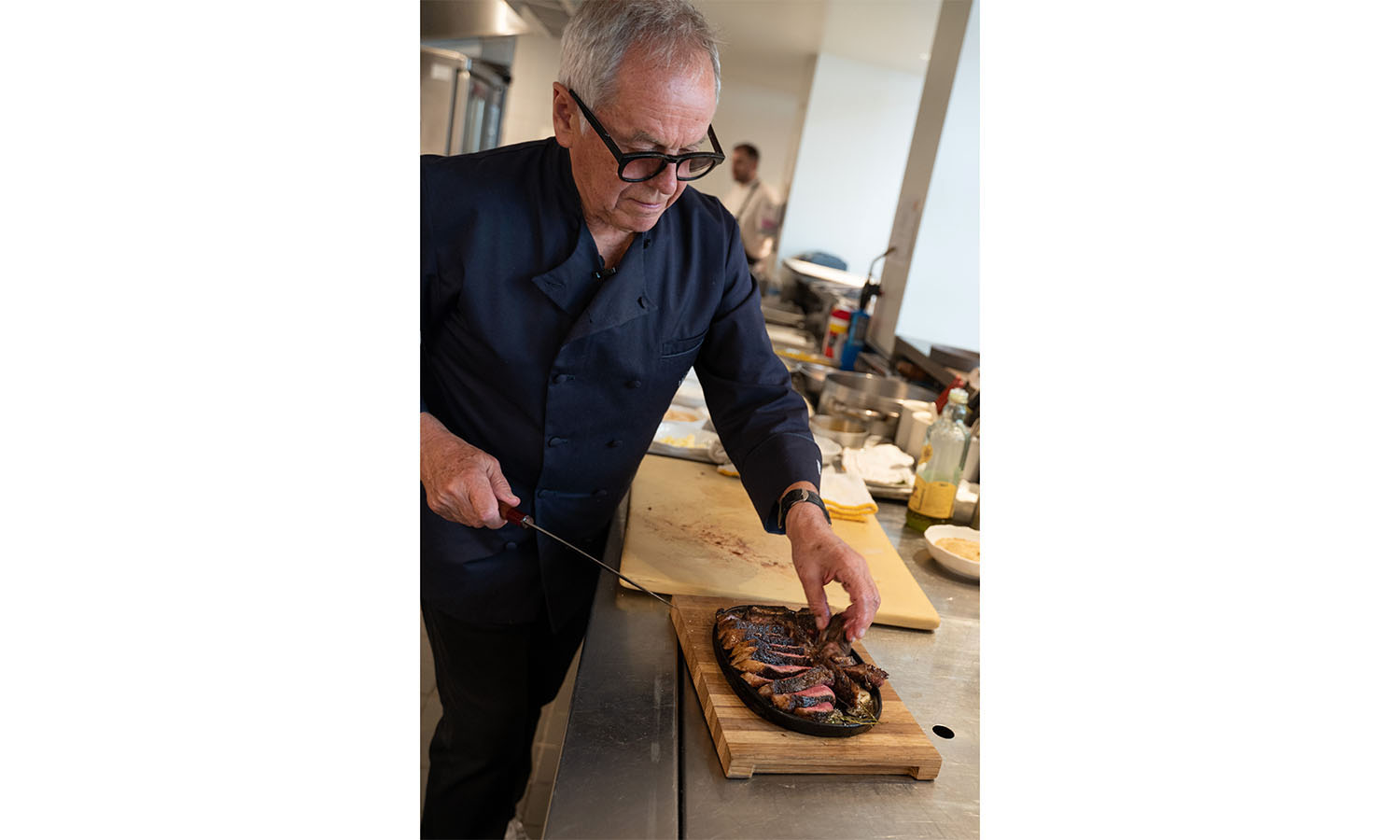 We have talked about Spago, now let's talk about CUT. It is really a steak joint, but with a Richard Meir interior, artwork by John Baldessari on the wall and your touch. It's a Wolfgang Puck steak joint in Beverly Hills.
Exactly. Here at CUT, we start with great meat. I like to cook it really slowly on our grill here, and then let it rest for a good 20 minutes. If you want steak like that, you have to have a little salad, a little appetizer, and have time to wait. You enjoy it. It's the anticipation for a great piece of meat, which is an important part, I think.
What is the origin of Chinois on Main? 
I started Spago, then we opened Spago in Tokyo. Then, I said, 'I'm tired of doing Spago.' The same thing all over again. We found this place in Santa Monica, and I said, 'I'm going to do Chinese food.' The landlord said, 'Okay, I know whatever you're going to do, it's going to be good.' Then, I had to think, I said, '[Expletive]. What am I going to do? I never used a wok in my life.' In 1983, we opened Chinois, and it became the first fusion restaurant. There was no such thing as mixing two cultures in the kitchen together. I think when I look back, I said, 'Do you know how important that was actually?' Because then little-by-little people got a hold of it. It was so successful. I remember Madonna and Warren Beatty and Elizabeth Taylor, all these people used to travel all the way to Santa Monica. 
You have more staff that's been there for more than 25 years than any other restaurant I know.
Exactly. I remember Bruce Paltrow, the father of Gwyneth Paltrow, and Blythe Danner, they used to come when Gwyneth Paltrow was little. Now, when Gwyneth comes to the restaurant, we have a food runner there, she comes up to him and says, 'Papa, so good to see you.' [laughter] He knows her from the beginning. It's really a nice feeling. I think that's what is really great. When I opened Spago, I said, 'I am going to open a restaurant for the locals.' When we open CUT here, I said, 'We going to open a restaurant for the locals.' I always said, 'If we want our neighbors to be interested in us, we have to be interested in them.'
How many restaurants do you have in your portfolio? Do you even know?
No. I think I have four sons. I have an ex-wife. Maybe two ex-wives. We don't talk about that. I think we have like 27 restaurants, and then we have another 80 or so in airports and so forth. Plus, we do have a catering company you know. Then we also have a company where we have merchandise, we sell pots and pans, and appliances and stuff like that. We always try to do new things. 
I remember this place you used to have, Eureka. Today, it would be a big hit, but you were way before your time. Same with Granita, your old place in Malibu.
Yes. You know we learn from failure, too. I did not make everything perfect. I did not just have a hundred percent success. People forget a lot of things have started here. It's not from New York, it's not from Washington. L.A. had the most innovative stuff. Even today, still, I think with all the different neighborhoods, we still have a lot of innovation here.
The first thing he did, he gave me a glass of Schnapps. He said, 'No, first we have to say cheers.' [laughter] I saw a lamb that looks really good. I thought, why are we trying to import meat from somewhere? We can just use that. I still go to see him. Each time I go to Budapest, I go see him and we take some lamb home.
You see each location as a celebration of its community.
Exactly, yes. I also say we are in the hospitality business. It's not about me, it's about the guests. We are here to make the guests happy. Some chefs go to the table and say, 'How did I do?' Who the [expletive] cares about the chef, how he did it or whatever? It's whether the guest enjoyed their time there. 
I think in life, we have so many tragedies already. When you are at the restaurant, you want to get relaxed, you want to have a good time. You don't want to be talked down to. We are in the hospitality business, and we have to make people feel good. When they leave our restaurant, they have to feel, 'Wow, I spent money, but you know what? It was a great time.' I think restaurants become part of the community. I have so many people who still come to the restaurant. Now, they are 80 years old, and they say, 'Oh, I cannot drink too much,' before they used to drink a cocktail and then wine. 'My doctor told me I have to watch what I eat.' I said, 'You know what? I know you forever, so whatever you want, we make.'
Are there any chefs around L.A. today that impress you? 
Yes, there are a lot of young chefs like people who worked for me, Evan Funke who has Felix, and now opens other restaurants, and there are quite a few who worked with us before. I think there are many young chefs now, especially downtown. Unfortunately, I'm a creature of habit, so where do I end up? I go to Matsuhisa probably the most. I go to Osteria Angelini. Last night, I went to Sushi Tama, a Japanese restaurant on Robertson. I try new ones, but more or less, I like to go where I have friends.
I always like people who are interested in food and wine. I see it now with my son, Bryon. He, too, is so passionate, he is also young, but he is very passionate about food and wine. If you have that passion, you can be successful. If you find something you love and want to do more than anything else, basically, that's when you're going to be successful. A lot of people have talent, but they don't really work on it. Talent alone isn't going to get you anywhere. You have to mix talent with tenacity, with doing things over and over again.
Do you think Spago wouldn't have worked anywhere else? Could you have opened it in New York City?
Maybe in New York City, I would've done it a little differently to fit into the space there. I wanted it to be like a beach house. We had this bleached wooden ceiling, and it was white inside. It's so interesting to see how we have influenced people all over the world. I have a very good friend in London, Ruth Rodgers. She owns The River Café, a famous restaurant in London. Where did it start? She came to Spago in the early 80s and said, 'Oh my God, we have nothing like that in England.' She found this place way outside of downtown, and opened this restaurant, and when I walked in, it felt like the old Spago. 
The influence of Spago has gone really everywhere, and not to say to put the chef on the center stage. By opening up the kitchen, by going out to say, 'hello.' It wasn't always easy for me. At the beginning, I only said 'hello' to the people I knew, and then little-by-little, I started to go to say 'hello' to everybody. I think it was important because I always felt they were guests in my house.
You are all over the world now. Tell us more about your future plans.   
We are in Budapest, in London, in Istanbul, in Bahrain, Qatar, Singapore, Maui, you name it, but we are still going to do new things. Our biggest project now is with Frank Gehry. I always love architects, so Frank Gehry is going to build us a restaurant where Gladstones is now (at Sunset and PCH). We're going to tear it down. When people ask me when I'm going to retire, I say, 'Why retire?' My sister was a school principal in Austria, she retired. She said, 'Why do you want to open another restaurant?' I said, 'This is what I live for, this is what I love. Do I need a restaurant in Riyadh? Do I need a restaurant in Kuala Lumpur?' It is going to be more work, more travel, and everything, but that's what gets me excited, and not to mention the restaurant on the beach, that's going to be the biggest thing. To get anything done on the beach, it takes forever.  But it is Frank Gehry and let me tell you, it's going to be a historical landmark, and people will come to that part of town forever. 
Do you look forward to your great-grandchildren one day saying, "My great grandfather did this with Frank Gehry, the greatest architect California has ever seen? Maybe you will be in that chef place in the sky by then.
No, I would be in hell for sure. [laughter] If you ask my ex-wife or anybody they'll say, 'Wolfgang will be in hell.' And you know what? I will like it better there anyway. All my friends are there, and we have the hot grill and the fire there.  How much better can it be? 
Chef Wolfgang Puck and his extensive list of restaurants can be found online at www.wolfgangpuck.com
Read the flip edition of the full Beverly Hills Courier Wine + Dine Issue here.