In the world of celebrity chefs, few possess the instantaneous first name-only recognition of Nobu Matsuhisa. Mention the name "Nobu," and it conjures up the way we eat now. It evokes a restaurant and hospitality empire spanning from Malibu to Marrakech. 
And its roots took shape in Beverly Hills. 
It was here, in 1987, that the chef opened his flagship Matsuhisa on La Cienega Boulevard. Here, he introduced a new type of sushi with Latin American influences.
The rest is culinary history.
As he approaches his 75th birthday, Nobu continues to crisscross the globe to open new restaurants, check in on existing ones and preside at food festivals that bear his name. Wine + Dine caught up with him during a brief time back in Beverly Hills. What follows are reflections on a youth spent in Japan, early days in Peru, partnership with De Niro and visions yet left to fulfill. 
His words tell, quite literally, of rising from the ashes. They are inspirational as well as unprecedented — in sum, worthy of where it all began.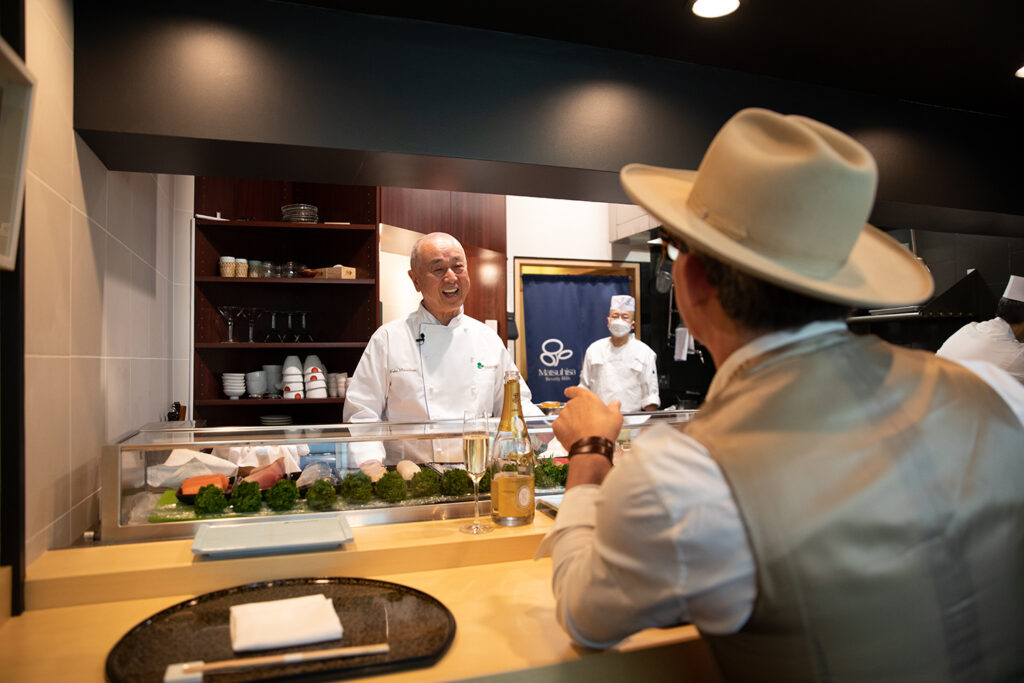 Yellowtail with Jalapeno, Black Cod with Miso, Rock Shrimp Tempura, Soft Shell Crab Roll. These are all your signature dishes and now we see them emulated all over the world. Where do your innovations come from? 
I never thought about being a force of change. I was just working, supervising in the kitchen. At my restaurant, we have the menu, but a lot of people tell me, 'Hey, Nobu. Make me anything you want.' They trust me. We go to the fish market every morning, always looking for something fresh, of course. We look for something different and something new. One day, for example almost three years ago, I found that an Italian chef sautés soft-shell crab in an Italian restaurant. I thought it was very interesting because I never had soft-shell crab. 
I went to the fish market and asked for the fresh soft-shell crab in the summertime. I brought it here and served it like an Italian or French restaurant, a fry or a sauté. Then a guest said, 'Hey, Nobu, why don't you make the roll?' This idea the customer gave to me. I started making rolls. Now, soft-shell crab rolls are all over the world.
Tell us about your early days in Japan and how you first learned to make sushi. 
When I was 18, I started training with a sushi chef in Tokyo because being a sushi chef was my dream. When I was very young my father passed away. I had older brothers and they took over my father's job. One day my brother took me to a sushi restaurant. The sliding doors, the grand welcome, sitting down at the counter, all the fresh fish there, I loved the experience. The chef makes the sushi one by one. You bite it, and 'wow.' This was my dream and immediately I wanted to be a sushi chef. After graduating high school, I was studying to be an architect, but after I discovered sushi, I forgot about this. I started training to be the chef at the counter. For the first two or three years I was doing dishwashing and bussing, cleaning, washing plates, and deliveries, the prep. Three years at the restaurant. How to make rice, how to prep the fish, that is what I did.
Sushi looks deceptively simple but it is truly an art form, right?
Yes, the sushi looks very simple; you only use 10 fingers and a sharp knife. Sometimes you have less than 10 fingers. [He laughs] I learned that when I was young. I was trying to make something easy, but one mistake cutting is very big damage to the fingers. I did it maybe four or five times, but you learn from mistakes, too. That's why after the biggest cuts on your fingers, no more mistakes. Mistakes are good for people sometimes, especially young people.
Tell us about your experiences after you left Japan.
I spent seven years training to make sushi, doing delivery, learning step by step how to make rice, how to prep fish, how to slice fish, how to make a roll, how to make nigiri. After seven years, I got to know a Japanese Peruvian, who was a regular customer in the restaurant. He came twice a year from Peru to Tokyo and always stopped by. There are a lot of Japanese companies and a lot of Japanese immigrants in Peru. 
He asked me, 'Do you want to come to Peru, to open a restaurant together?' I was very interested in going to Peru. After my father passed away, when I was a kid and missing him, I would always open an old photo album and see photos of him when he was in Palau, some small islands in the south, and there was one with my father next to a big tree and the native people. So, one day, I was asked to come to Peru. Peru felt to me in my head like, 'Oh, this is an experience like what my father had.' Then I would love to go. I went to Peru. 
In retrospect, that decision changed sushi forever, didn't it?
It was my chance. When I decided to go to Peru, I was 23 or 24, so very young. I moved there to open a restaurant partnership. Lima has very fresh seafood from the Pacific Ocean, with a market in the morning and afternoon, with all the fresh fish. Fresh fish was good for me because I knew it already from being in Japan. For example, sliced fish. Japan has sashimi, soy sauce and wasabi. But the first time I had a fish in Peru it was called ceviche.
Ceviche has the fresh fish and the onions and cilantro, with spicy chili paste cooked with lemon juice, and salt and garlic. They never use soy sauce and wasabi. I was like, 'Wow.' Same fish, but each culture is different. It's prepared in a completely different way. My cooking style is 100% Japanese style. But in Lima, I started to feel comfortable not just making food in the Japanese style. I learned from Peruvian culture. Still, the basic Japanese cooking, but little by little, I combined Peruvian influence with simple Japanese food.
I don't want to do fusion. What does fusion mean? Sometimes confusion. 
That's why I like making simple sashimi with Peruvian ingredients. This is called the Nobu style. Still, my food is basic, very simple. Pure, clean. I don't want to do too much at once with all the different ingredients.
You eventually left Peru, which is fortunate for us here in Beverly Hills. But it was quite a journey before you ended up here. Tell us about it. 
I was in Peru for almost three years and then one day, I had a meeting with my Japanese Peruvian partners, and we got into an argument. Business was good then, and I was looking for always good products. I buy the best quality fish, because I only want to make the guests happy, but some of my partners were only looking for money. One day in a meeting, my partner said, 'Hey, Nobu, you don't have to buy the best quality fish. Peru doesn't know the best fish.' I was young, and we had very different opinions. It turned into a big argument. I wanted to keep it as it was, but my partner wanted to buy cheaper fish. This is a big difference in our business philosophy.
Back then, I had a wife, one kid, and I was young. So, I said, all right, game is over. I'm finished here and I quit. But now, what can I do? I asked a friend because I didn't want to go back home to Japan yet, I still wanted to make it somewhere, but it was impossible to stay in Peru. Right then, a friend of mine introduced me to Buenos Aires, Argentina.
It's a beautiful country. I moved there with my wife and my first daughter. But the economy was very poor. Now that I'm a partner, it means I'm the half owner, and I'm employed but it means I have no salary. Also, there was not enough work. In Argentina, dinner starts at like 9 p.m. or sometimes 10 p.m., but in a Japanese family restaurant, we close at 10 or 11 p.m. We ended up having only one or two customers each night. I was young, I wanted to work because I like to work, but there were no customers. Around that time my wife was pregnant with our second baby, and I wondered how can I work and support them here?
In the years that followed, you found yourself back in Japan, then Alaska, and eventually to Beverly Hills. It was quite a saga, wasn't it?  
I wanted to be a father, but if I stayed there, I could not see any future. So, I decided to go back to Japan after four years. In these four years, Japan had a big change, called the oil shock. It used to have a good economy, but when oil went down, Japan's economy had a panic and everything was messed up.
We had a good life and good business abroad, but with the second baby coming, we went back to Japan. Our second baby was born there. Now, I still had a dream. I want to start over again, but my wife was almost ready to give up after the experiences in Peru, then Argentina, and now with the second baby. I said, 'Please give me one more chance.' Then I talked to another friend, who introduced me to somebody who was looking for a partnership to open a new restaurant in Anchorage, Alaska.
I was a little worried because my last partnership ended badly in Peru. Still, I could not give up my dream. I had one more chance, so I went to Anchorage, Alaska to open a restaurant. It was hard work, and after the grand opening, we were busy every night and worked for almost 50 days with no days off. We opened in October and by the end of November, I finally took a day off for Thanksgiving. It was my first day off after 50 days of being open, so I celebrated at a friend's house drinking and celebrating almost until the middle of the night.
Late that night, my partner called. There's a fire. It's midnight, very dark out and immediately I hear the sirens, and outside I saw a big trail of smoke, a big fire, far off downtown. Oh, my gosh. I drove over to the restaurant, but of course, they would not let me get close to it. 
I just fell to my knees. I could not think about anything. It meant my last chance, my dreams, they were all gone, my money was all gone. 
'My life is over,' I was thinking. I don't remember how I got back home. For almost a week I stayed there, sitting, and thinking. Thinking my only option was to kill myself. Thinking about how I could kill myself. But through it all, my wife and kids were next to me. The kids didn't know, they were just happy because I was home all day with them. But my brain was blank. I could not eat, couldn't drink.
One day, my kids were playing, they got a bit loud and started screaming and fighting. And I woke up. One second before, there was nothing, but when I heard this scream, the next second, I thought, 'Oh, yes. I have kids.' Then I saw my wife next to me. I thought, 'I have a family, my wife, my kids. I must wake up for them.'
I was so tired, but I started again. After this experience, I decided to never rush into what to do next. I like to go one by one. I decided I didn't want to die. I would go forward but not fast. I would go one by one, step by step, even 1 millimeter forward at a time, to start my life over again.
Finally, I ran out of money and had to go back home to Japan. But before leaving Alaska, I called a friend who lived in Los Angeles and explained about the restaurant fire and that I had to go back to Japan, with all my dreams gone. He said, 'Come to LA.' So, I sent my wife and kids to my wife's family's home. They lived far away from Tokyo in the Okayama prefecture. My wife and the two kids stayed with her mother and father. I stayed with them for one week in Japan. I had one bag and only $24 cash in my pocket. Then I came to Los Angeles. That was in 1979. I appreciate my wife because even in tough times, she always trusted and supported me. 
What did you do when you first arrived in L.A.?
A friend of mine introduced me to a small family restaurant in West Los Angeles, with only six seats at the sushi bar, and I started to work there. They supported my green card, and after two years, I got a green card to include my family, too. Once I got my green card, my boss said, 'Okay, you have the technique, you have the great chef skills. You don't have to stay here. You can go out now and work anywhere.' He pushed me to keep growing. I went to a restaurant where I had more responsibility, more money and could do more of it my way. I was there for almost seven years, but then I found out the restaurant was up for sale. 
I was worried that after the sale it might not be a Japanese restaurant anymore. Maybe an Italian restaurant. I didn't want to lose my job like I did in Alaska. I always had flashbacks to Alaska. I was always scared to lose my job. And I worried that when they sold this restaurant, maybe I was going to lose my job. So, I asked a friend for advice. 
I knew this friend from Peru, and he used to work at a Japanese embassy and he was almost retired. I asked him for help with my situation and he said, 'Okay, I can give you $70,000 to find your own restaurant. Pay the money back anytime.'
So, then I needed real estate. I was looking in the newspaper, driving around, and asking anybody and everybody if they would sell their restaurant space. Then finally I found this restaurant. It even had a sushi bar. My first restaurant, Matsuhisa, opened in 1987. Only 38 seats.
Fear of being out of a job actually compelled you to be here today. Clearly, you no longer have those fears, right?
It's like a cooking philosophy. My mind, I never change. I always try my best. I like to make my guests happy and I like to use the best products. I opened in 1987 and for the first two years, I never made any money because I would go to the fish market and buy the best fish. There weren't enough customers and the food costs were so high.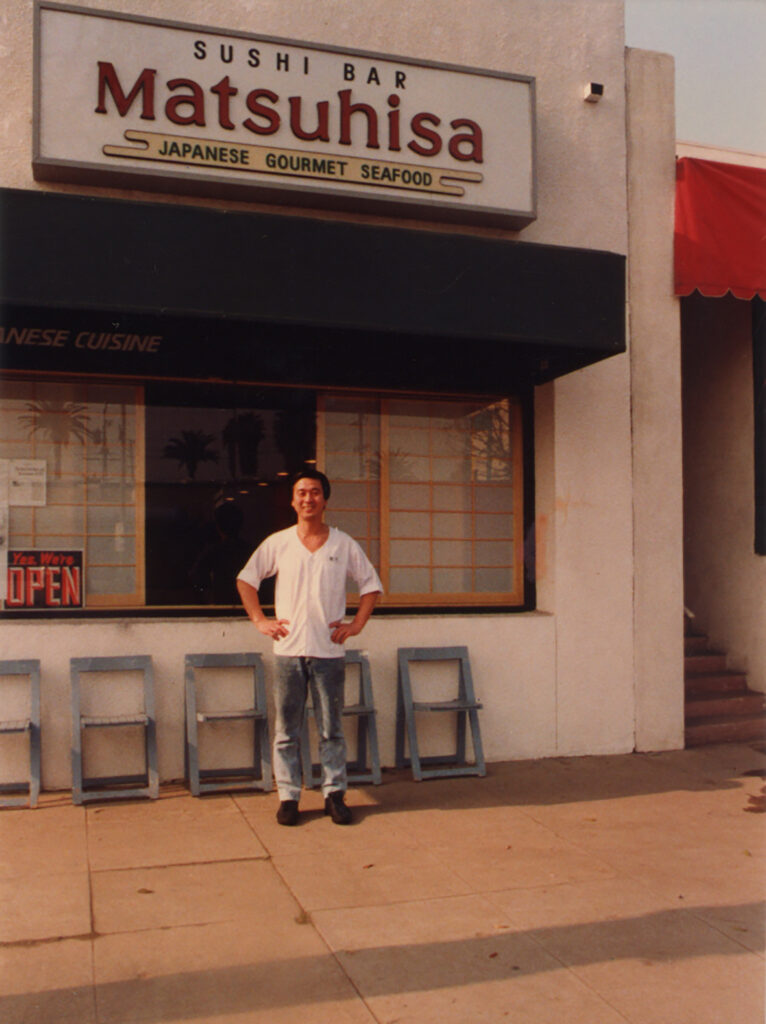 My wife did the books and the banking and controlled the money. After two years she said to me, 'Okay, we've done two years of business. The bank account is at zero.' There was no money because I used the best products, and after paying rent, staff, insurance, at the end of the month, after paying everything the money in the bank amounted to zero. But even with a bank account at zero, still we had a life. I could pay rent for the apartment, the kids were going to school, and we had food.
I said, 'Please be patient.' I knew it would take a couple of years. I invested in our customers because even though we didn't make any money,  the customer understands that when they come to Matsuhisa, they will have very interesting fish, very good quality fish, and some Japanese and Peruvian styles of fish. They know it's a unique restaurant. 
Do you think the fact that you opened in Beverly Hills contributed to your success?
Choosing a good location helps. Here in Beverly Hills, people know good food. Many people here have traveled internationally all over the world, and they know all the different cuisines. When I opened here, Japanese food was not popular yet. If I opened in another location, I might not have had the same success because here people accept my food, people understand my food, and people appreciate my food. Customers were used to sushi restaurants that used a lot of frozen fish. But I served fresh fish in the Japanese style and I invested in the quality for the guest. That's why still people trust our quality. 
Then one day, Robert De Niro came here.
It was in 1988. He was here doing a movie. I had a regular customer, Roland Joffé, who is a British movie director, who brought Robert De Niro to the sushi bar. I didn't know who he was. I had seven employees, including me, and I had to do everything. I cooked, I washed dishes, I did everything. So, at closing time, Mr. Joffé said to me, 'Hey, now come sit down with us.' 
I sat down with them and asked how they liked their dinner. They said it was great. I knew the name De Niro, but I never saw any movies because I was always working. But then I found out, he's Mr. De Niro the movie star. He was a very quiet guy. He'd come from New York that day and was always going back and forth, but from then on, he would always stop by, and say, 'Hey, Nobu, make me something, anything.' Eventually, a lot of people would say, 'Hey, Nobu, do you know this guy?'
I'd go, 'Oh, now I know him. He likes my food.' I don't care which people come. I like to make all the guests happy, in every one of the 38 seats.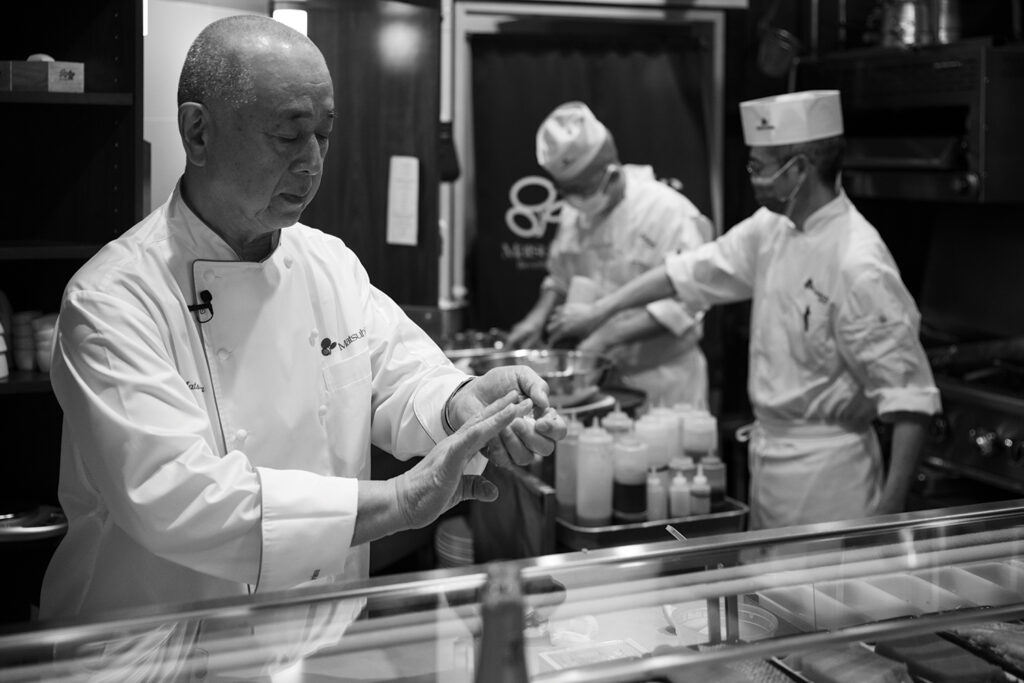 You have since formed an incredibly successful partnership with De Niro. It was a long time in the making, though, wasn't it? 
One day, De Niro asked me, 'Hey, Nobu, you want to open a restaurant in New York with me?' He sent me a ticket and arranged for the hotel, and we talked about opening a new restaurant. 
He'd bought an old building that used to be a warehouse. He brought me there, and the water was leaking, there were mice running around. He explained to me, 'Nobu, this is my dream. This is a brand-new restaurant space. This is my office.' Finally, I said 'Hey, Bob, thank you so much. But my restaurant is still new and not organized yet.' I didn't want to be back in Alaska, and Peru, and open too quickly and make the same mistakes. I wanted to go one by one. I explained everything to him. Finally, I said, 'Thank you, but no thank you, it's too soon.' He said, 'Okay.' He was very cool. Then I went back at it, I kept working, and he kept coming to my restaurant. 
After four, almost five years, he called me and said, 'Hey, Nobu, how are you doing?'
'Hi, Bob. I'm busy.' In between the four or five years, the New York Times and even the L.A. Times, even Jay Weston, who had a newsletter, and even on TV—all the media were talking about the Matsuhisa restaurant. Even a New York Times article called it the best new restaurant in the world. 
When he called, I was doing well and also looking to start new stuff, growing, so he said maybe it was time to come to New York now. He was waiting for me, almost four or five years. 
After Peru and Anchorage, I didn't want to work with partners anymore, but Bob is a different partner because he understands me. He was waiting for four years. Now I said, 'Okay, maybe I can trust him.' So, we started talking about the New York project, looking for locations. Finally, we decided and opened Nobu in 1994 in New York, Tribeca.
At the time, no one in New York had seen the type of sushi you were doing. The restaurant was an immediate success. You also brought in Drew Nieporent as a partner. What role did he play in the business? 
When I started in New York I was 38. I wasn't a professional restaurant businessman, but Drew Nieporent was a great restaurateur. He's very professional. He had Montrachet, which opened where the Nobu restaurant was supposed to go years before, but when I turned Bob down, he asked Drew, and then it became Tribeca Grill. 
Drew knew how to do all the organizing, and training systems and promotions, and then we started the New York restaurant, in 1994. When we started it wasn't the Matsuhisa style. The food was my concept, but Drew helped create the Nobu style of service.
You then launched a third restaurant in London, right?
Yes. New York was immediately a success. When we opened the new restaurant, we spent so much time training and preparing. A successful business brings more investors looking to start another successful business with our good reputation. 
The next one was in London in 1997 with a man who was my customer here and he had a hotel, the New London. 
He asked me to come open a restaurant in London, but he didn't want Bob in the beginning. Just me and Drew and a Singaporean partner. I said I cannot do business without Bob. He gave me the chance. That's why I'm here.
Europe had never seen anything like Nobu. In fact, in the early days, customers didn't even know how to eat the sushi. Now you are credited with enhancing the culinary game of London itself. 
Customers asked me, 'Nobu, why you like London so much?' Back then, London was all about the fish and chips, but not good fresh fish. 
A lot of my customers travel internationally. They come to LA, they go to London, they come to New York, they travel all over the world. So, my regular customers would come to London and visit Nobu there. And then, I started using the different local fish, different products. 
The black cod dish was getting popular, and one day the London newspaper printed a title with me and Bob, calling us the 'Godfather and the Codfather.' 
Another aspect of your partnership with De Niro is that he cast you in some of his movies. You've had roles in "Casino," "Goldmember" and "Memoirs of a Geisha." How did he convince you to take on that work?
In 1994, around the same time we opened in New York, Bob was working on 'Casino.' Bob asked me to go to the audition. I didn't even know what he meant by audition. He said, 'Oh, we're doing a movie with Martin Scorsese, Joe Pesci, Sharon Stone. Go there.' I said, 'Oh my gosh, Bob. I'm very busy. I have no time,' but my manager said, I should go. So, I met with the casting director, and they shot some of my reactions, and then I went back to the restaurant. They sent the tape to Bob and he said, 'Looks great. Next step you go to Las Vegas.'
I said, 'Hey, hey Bob. Wait, I haven't said yes yet. I've got to work!'
But I did agree, and I was sent on a plane to Las Vegas, and Bob and Martin Scorsese were there. They said, 'Now you're in the movie." Bob gave me the trailer next to him on set. That was my first experience in a movie, for 'Casino.'
You have inspired many people that have worked for you and give you all the credit for their work ethic and success. How do you mentor people and what do you do to support them? 
Since I started, I've always tried my best. In work, in my life when I talk to people, even when I play golf. I always want to be my best.
I was challenged so many times. I met the challenges not just to be successful, but because I didn't want to make a big mistake like I did in my worst experience in Alaska. With all experiences, people try and make mistakes. The people looking for the easy way to success, make mistakes, never help. The advice I give to young people is don't be frightened about a challenge, even making a mistake. 
You are the true hospitality entrepreneur, with restaurants all over the world. You have Hokusetsu Sake, you've got Qui Tequila and Nobu Hotels. How did the hotel business come about?
The hotel started as Bob's idea. We have Nobu restaurants in a lot of different hotels, and Bob said, 'Hey, why are we opening a Nobu restaurant at somebody else's hotel? We have to make a Nobu Hotel with a Nobu Restaurant there.'
We had a busy restaurant but our operations were much smaller than a hotel. We started to build our hotel teams. The first Nobu Hotel was in Las Vegas at Caesars Palace. We already had a good relationship with them. Now we have breakfast, room service and lunch and dinner, not more operation. We already had all the food and beverage teams and chefs' teams. Then we created a room service menu and breakfast menu.
The first Nobu Hotel has been a success for over 10 years. Now we have about 15 or 16 hotels.
You also are busier than ever, judging from your social media. You are in a different country every week. How many restaurants do you have now?
A couple days ago, I was in Spain, for the Seville opening. It used to be 52 or 53 restaurants. Now 54, 55 maybe. Then Matsuhisa, we have about 12, but it's going to be 13 soon. And 15 or 16 hotels. Phew. We have a very strong team, and I appreciate them.
Next, I'm going to Atlanta, Miami, Dallas and Houston, then back to LA for 10 days, then going for almost two months to Europe, London, Monaco, Seville, Ibiza, Athens and Mykonos. It's only three days at each location. Some are new restaurants opening, some already existing ones. 
I'm lucky because being busy is good. 
You have always emphasized the importance of a good team and you inspire loyalty. 
If I go to different locations, my team travels with me and they support me. The team educates the next generation. There's a lot of history since I started here, in '87, New York in '94, London in '97. A lot of people grew up from these restaurants.
Also, some customers are the second or third generation coming here to Beverly Hills. I appreciate Beverly Hills because it has a lot of good people and good families, and a lot of my loyal customers. After 36 years, they still keep coming back. 
Everybody has their day. They come on a Friday, they come on Thursday, they come today. It's the same in New York.
Now we create with our takeout business, too. We learned from the pandemic. 
Even on the cooking side, the guy doing the tempura in New York downtown, now his son is doing the same job, just like his father. In Las Vegas, the chef's kids are working at the Nobu Restaurant. And Bob's still with me and that's amazing. 
I always say to my teams and staff, 'What's the most important thing? The people.'
I'm a very lucky person, but we also have a great team that works so hard. I like to support my team because my dream is for them to reach the next step. Everyone around me is looking for their future, looking for their dream.