"Reboot," from the deviously clever mind of Steven Levitan ("Modern Family"), is one laugh out loud moment after another, played in front of the curtain of Hollywood and behind the wall of family dysfunction. And it all works!
Ostensibly about the making, or rather remaking, of a popular early 2000s sitcom, we are given an inside glimpse of how TV gets made with all the high stakes elevated. It is a hilarious production about a Hulu-produced show that will be shown on Hulu, that is actually a Hulu produced show that will be shown on Hulu. Talk about meta! 
Levitan is pretty straightforward about how a show gets made, from the directors and backstage crew, to the stars as they behave on and off screen, to the studio execs (Hulu) who are skewered for their lack of insight, venal behavior, and vindictiveness, all in the name of fun. But no one is left unscathed – singed slightly, but not unscathed.
Hannah, whose latest independent film shot from a lesbian perspective, is at the studio to pitch her idea for a reboot of "Step Right Up," a hit sitcom from the early 2000s that went off the air when the lead, Reed Sterling, left to pursue a features career (a series of clips indicate how poorly that went). She nervously presents her idea to the head of the studio and his team of yes-men and women. She posits the question, "What if we continue 'Step Right Up' as all those characters would be today?" The problems they face in the 2020s would be vastly different than those of 2000 with the son Zack all grown up but even now living at home with mom, stepdad, and interfering dad still sticking his nose in everything. They could have real world problems and try to navigate them without always looking for the punchline. Not entirely understanding this modern-day concept, Daniel, the studio exec, decides that the brand identification is strong enough to give this a try provided all the original actors are available, and costs are kept to a minimum. They are, and all of them are desperate to do the show, albeit for different reasons.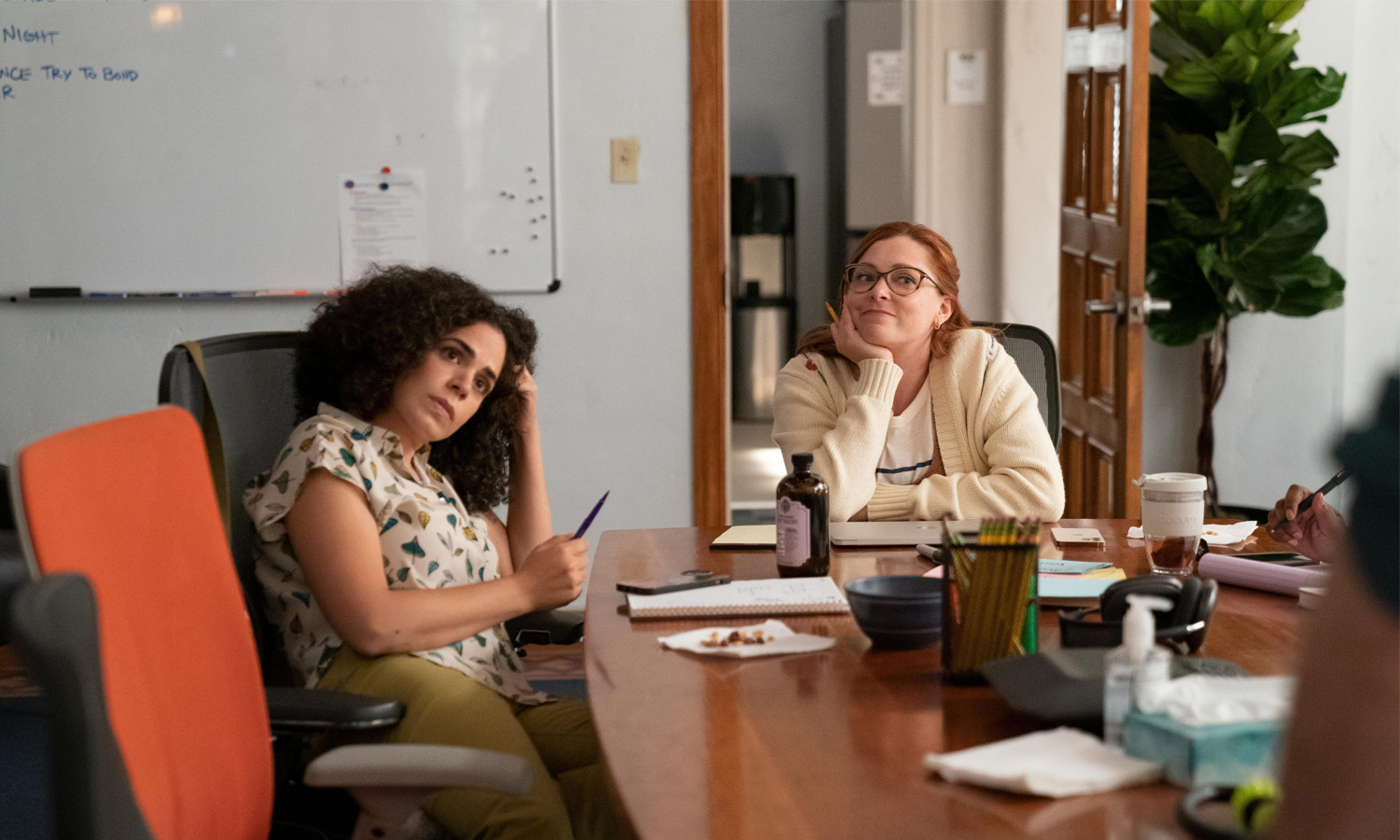 Bree (the original mom), after leaving the show, married royalty in some unknown icy duchy north of Norway. That marriage is on the iceberg and she's broke. Clay, the interfering ex-husband, is not only broke but also trying to get sober after years of out of control behavior that was never as funny as he thought it was. Reed Sterling, the former lead, is still as pretentious as ever. The features career didn't pan out as he'd hoped and Broadway work was restricted to minor, experimental shows way way Off Broadway. He loves the "grittiness" of this new show and is eager to get back. Zach, the son, has had the most successful career of any of them, having starred in innumerable TV movies aimed at the Nickelodeon crowd. His life lessons have all been learned from these insipid films, the titles of which, all hilarious, are quoted incessantly. 
Complicating the dynamics are the previous personal relationships between the stars, Bree and Sterling, who had a hot and heavy on-set romance but haven't spoken for 15 years. 
So on with the show! Everyone is excited to use actual acting skills that never came to play in the original. It seems too good to be true because it is. All the air is let out of the room when they discover that the original creator of the series, a man who has never met a low-brow gag he didn't love, is now running the show. Out went Hannah and in came Gordon, who still holds the rights. It is more complicated than that, but we don't want to spoil the reveal.
The number of past series about making a television show are numerous. One of the most recent is the fabulous Showtime series, "Episodes," created by David Crane, co-creator of "Friends," and writer Jeffrey Klarik. Other comic insider series were "Beggars and Choosers" and "Action." None had the kind of viewership that their excellent writing and production values warranted.
"Reboot" at its heart (and soul) is about relationships, both on and off screen. It's father and daughter drama; it's about recovery and becoming better; it's about past loves and present ones; and it does this with a great deal of humor. Everyone can relate to the human aspects on full display. "Reboot" is about character with some insider Hollywood thrown in. As exaggerated as everything might seem, from the executives, to the crew, to the actors, there's enough reality here for it to ring true.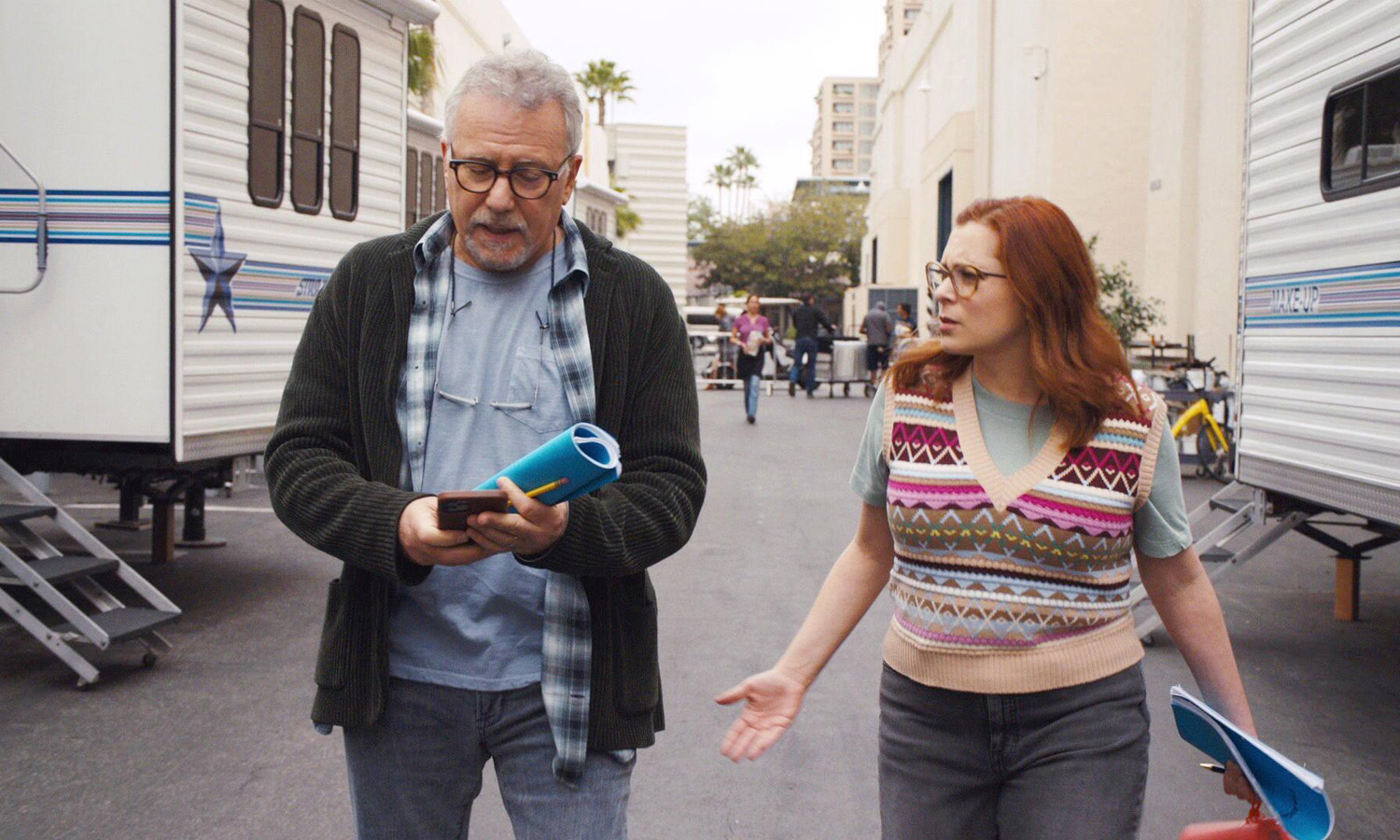 In addition to outstanding writing, great direction, and terrific production values, "Reboot" has a remarkable cast. Levitan found actors who are perfect for the roles.
Leading the group is Keegan-Michael Key as Sterling. He walks a fine line between pretentious and sincere, but pretentious is a lot funnier and he always finds the right self-impressed note. 
Playing opposite him as the rambunctious, inappropriate good old boy is Johnny Knoxville as Clay Barber who, in the original series, ruined more takes from his drunken escapades than an undisciplined child. Clay, trying to walk a tightrope of good behavior, positively pops on screen. Knoxville actually does have more depth than "Jackass" would have led you to believe. 
Judy Greer as Bree hits all the right notes and timing as the aging, needy, entitled female lead who, like the others, has made more bad choices than good. 
Calum Worthy as Zack is the perfect doofus. Rachel Bloom, late of "Crazy Ex-Girlfriend," is the writer personified: needy, arrogant, insecure, stubborn, and talented. Paul Reiser, in probably his best role since "Mad About You," is pitch perfect, able to straddle megalomaniac, entitled, stubborn, talented, and protective, sometimes all at once. The way his character and that of Rachel Bloom play off each other is a master class. 
Levitan has created an in depth look at relationships, set against a backdrop of making a television show that finds the parallels between a fake family and a real one. Filmed on the Fox lot in Century City, an extra layer of reality is added, giving it a "you are there" feeling.
The only criticism I have is that these eight half-hour episodes are over too soon. I've already watched all the episodes twice and will probably watch again. 
The first three episodes are now streaming on Hulu with episode three.