The 12th annual Doggy Daze 90210 took place at Roxbury Park's "Wiggly Field" on Nov. 6 after a two-year hiatus with a paw- some selection of nearly 40 vendors and fun activities for dog lovers.
The free event, presented by the Beverly Hills Community Services Department, is dedicated to dogs and their owners. Local businesses, adoption agencies, and several thousand Beverly Hills dog fans flocked to the park to participate in the day's festivities, which included a pet talent show and pet parade open to everyone.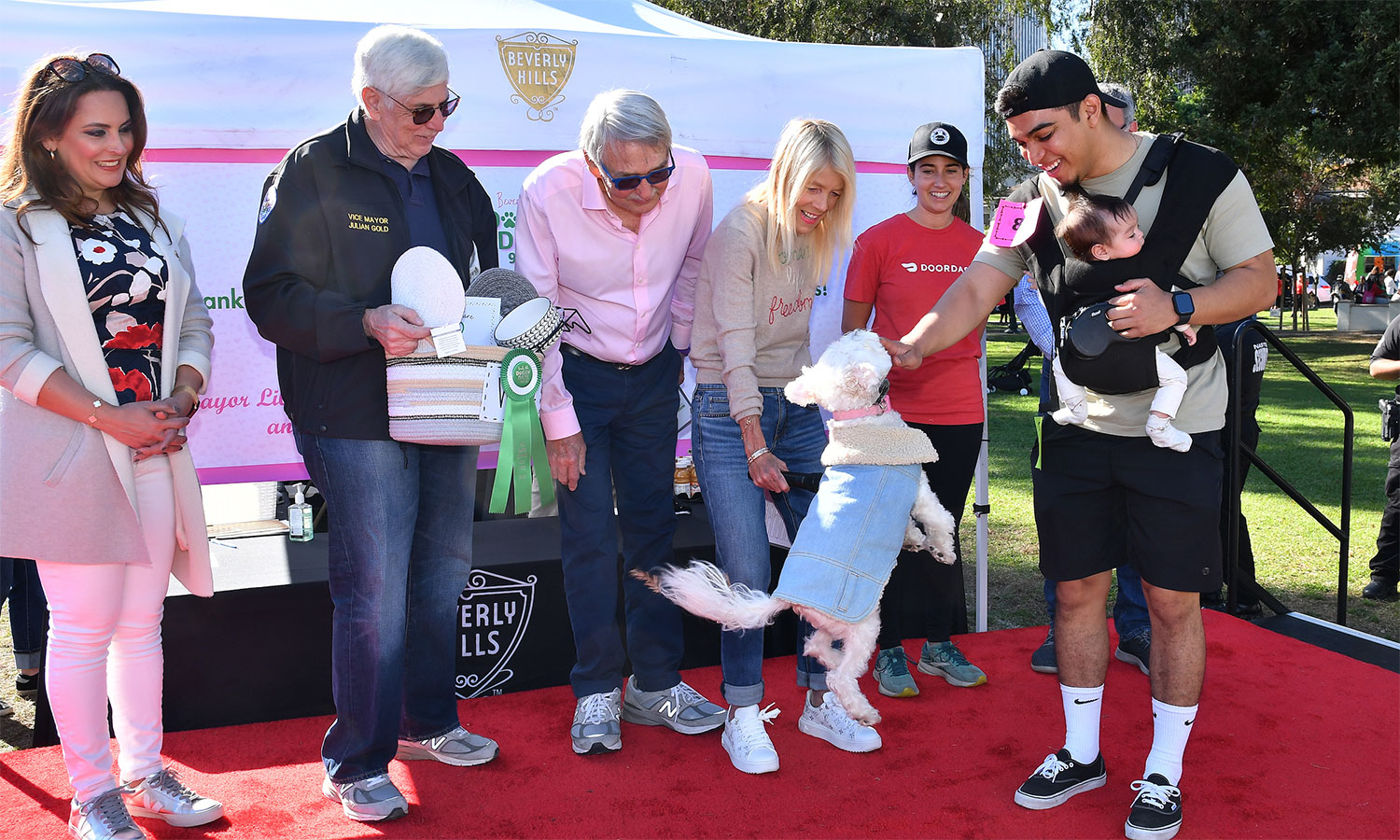 "This event is near and dear to my heart as a dog mom," Brooke Simon, Senior Recreation Advisor for the Community Services Department, told the Courier. "It's been nice after the pandemic to get everyone together, and who doesn't love a park full of dogs?"
Local adoption nonprofit The Amanda Foundation and DoorDash sponsored the event, along with Mayor Lili Bosse and her husband, John Bosse. The Amanda Foundation has been helping dogs find new homes and get critical veterinary services in Beverly Hills for over 35 years. Several dogs were adopted at the event and will go to their new homes later this week.
"I think after a few years off, people really missed this event," said Teri Austin, president of the Amanda Foundation. "We had lots of interest in many of our dogs. We were so happy to take part."
Businesses from all over Southern California offered everything a dog lover could want, from leashes to treats to daycare services. Stephanie Cavagrotti and Artie Friedman from the Golden Retriever Club of Greater Los Angeles came with their adorable rescue pups.
"We love coming here," Friedman said.
"This is my fourth year coming here, and we'll keep coming back."
Eva Rose Gomez, who owns Claremont-based store Evil Rose, came to Doggy Daze to sell dog bandanas made from vintage shirts.
"I worked in the pet industry, which is flooded with a lot of generic, boring stuff," Gomez said. "I want to bring something new to the table."
The long-awaited event was a reminder of what was lost during the pandemic – the opportunity to connect with friendly faces.
"Doggy Daze is a day of happiness in our city," Bosse told the Courier. "It's great to have it back and see everybody connect. This is community. It's the best of the best."
The highlight of the day was the pet talent show. Dozens of dogs and their owners lined up to show off their talents, or just their cuteness. Adorable pups sat, laid down, and strutted across the stage for the panel of judges that included Bosse, veterinarian Dr. John Winters from the Beverly Hills Small Animal Hospital, and Marina from DoorDash. The top prize went to Bichon Frisé Bella and her owner Jose, who was a double-duty dad carrying a baby and a dog.
"It is really so fun to see all of you and these four-legged cutie pies," Bosse told the crowd. "We're giving out three awards, but as far as I'm concerned, all of these dogs and their moms and dads deserve awards."