In the mid-'90s, Anastasia Soare would stroll the Triangle, taking note of empty storefronts and jotting down realtor names and numbers on posted "For Lease" signs. She had already amassed a following of devotees who flocked to get their brows done by her, but had grown tired of working at the back of someone else's salon. 
"I came to America with the idea that I was going to work in Beverly Hills. It was not even a question–I would work in a salon in Beverly Hills," she says. 
But after accomplishing this, she firmly set her sights on her next goal, to realize her dream of owning her own salon.
While on her reconnaissance walks, Anastasia often found herself drawn to a building at 430 North Bedford Drive.  For two years it sat vacant with a sign on its façade that read, "Dembo Realty," until one day, she decided to take the plunge. She called the realtor who later set up a meeting with the landlord.  
When, face-to-face, the landlord heard Anastasia's plans to open an eyebrow salon, he was incredulous, "You do eyebrows!? Get outta here. You can't pay rent. This is Beverly Hills lady."
Undeterred, Anastasia returned to his office with magazine photos and articles of her famous clients.  
"I'm going to make this street famous," she told him. "You have to believe in me." 
He didn't. 
Driven by her convictions and life experiences, she tried again.
"I am sure your grandparents or great-grandparents came here. Immigrants as well. Somebody gave them a chance. Please give me a chance. Six months. If I don't make it, I will leave."
The landlord eventually gave in. 
In May of 1997, "Anastasia" opened its doors to a long line of awaiting customers, many of them celebrities. Vindication was quick to follow, when the landlord, seeing the crowd from his office across the street, called the salon to verify that all of the people were, in fact, queuing up for eyebrow service. When the receptionist confirmed, he was astounded and asked to speak to Anastasia.  She got on the phone and told him flatly, "Like I told you, I'm going to make this street famous." To this day, 25 years later, the space has remained her flagship salon.
Anastasia recounts this defining moment in her life from a hotel suite in Paris.  She's taking a break from her jam-packed traveling schedule, which has taken her all over the European continent, to virtually connect with me in our Beverly Hills Courier offices.
 To beauty buffs and die-hard makeup aficionados, Anastasia probably needs no introduction. Even women who prefer to go au naturale have, more than likely, at least heard of the eyebrow brand, "Anastasia Beverly Hills." In the early aughts, Anastasia revolutionized the cosmetics industry by creating a then-unheard-of niche centered around a technique and product devoted to something most never gave a second thought to–eyebrows.  These days, brows are a multimillion-dollar category in the beauty industry. You can't walk down a beauty aisle without bumping into a display case of products promising thicker, fuller, tidier, better-shaped brows, all thanks to Anastasia's trailblazing concept.
In June, Forbes published its list, "America's Richest Self-Made Women 2022," which ranks the wealthiest women in the United States.The article placed Anastasia at number 38. 
This year marks the 25th anniversary of Anastasia Beverly Hills, with products now available in almost 2000 stores internationally. To fully understand the scope of her rise to a globally recognized mononym with a beauty empire, Anastasia, from Paris, takes us back to the start. It was 33 years ago, at age 32, clutching her two-year-old daughter, Claudia, in her arms, when Anastasia boarded an airplane from her Eastern Bloc homeland en route to America.  
Born in Constanta, an ancient town founded around 600 B.C., Anastasia grew up in Romania's fifth-largest city and largest port on the Black Sea. Despite being immersed in culture, Roman mosaics, celebrated Greek mythological history and ancient ruins, life was challenging under Communistic regimes for Anastasia and her family. By the 1980s, it became untenable. Severe rationing of food, electricity and gas was commonplace. 
In 1986, while traveling on a ship for work in Europe, Anastasia's husband, Victor, obtained asylum in Italy at the American Embassy, thereby opening the door for Anastasia and their daughter to come to America.
After three long years, Anastasia was able to legally leave her mother and sister (her father had passed away when she was a young girl) and travel for the first time, boarding the airplane, with Claudia in tow, bound for America. Their eventual landing spot was Los Angeles.
"Everybody on the planet Earth, from every small town to a big town, dreams of Beverly Hills. I was dreaming 30, 40 years ago. People are still dreaming. So that was my dream, like everybody else."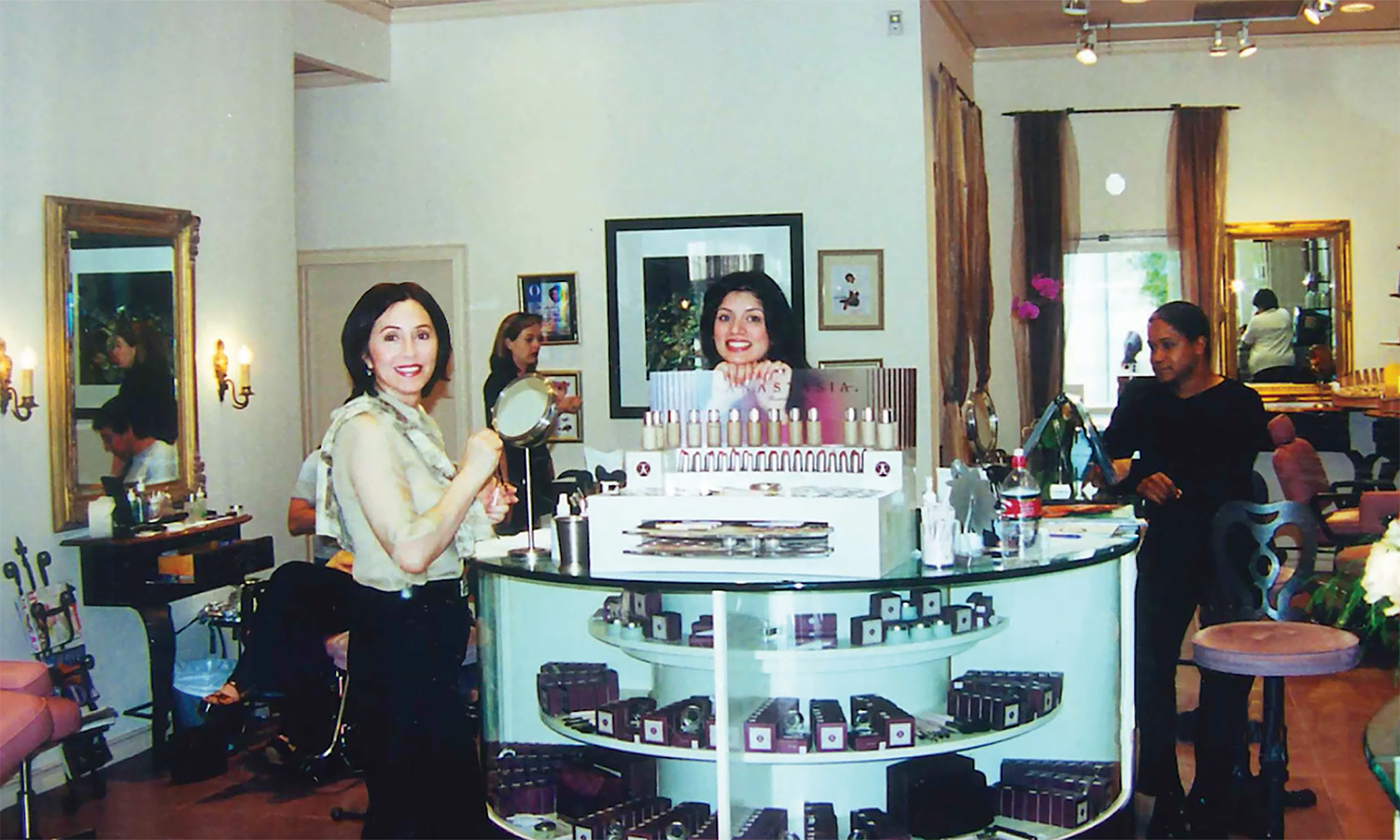 In Communist Romania where all information was controlled, Anastasia's introduction to Beverly Hills was through movies.
"I mean it was very hard for us to even buy a Vogue magazine. But I remember 'Beverly Hills Cop,' with Eddie Murphy. I think I watched that movie 100 million times. And 'Pretty Woman,' another movie."
These celluloid images–of ritzy boutiques along Rodeo Drive, palm tree-lined, sun-drenched streets dotted with sprawling mansions, where handsome men in European convertible sports cars escorted incredibly stylish women to lavish dinners–captured Anastasia's imagination. And they flickered on the screen in stark contrast to the realities of life that surrounded her. She knew she was going to Beverly Hills.
She arrived to find those two-dimensional moving images come to life. Beverly Hills seemed to fulfill all of its onscreen promises. But her unwavering desire to live in America prevented her from considering what the transition would be like in a new country, far from home.
"I never, ever for a minute, thought what I'm going to do there. Or it's going to be bad, I'm going to be lonely. But when I arrived in the United States, in Los Angeles, I felt like, oh my God, I don't know anyone. I don't speak the language. I miss my family, I miss my home, I miss everything. I cried for the first six months. Every day."
A stranger in a foreign land, Anastasia had to support herself and her daughter. Returning to Romania was not an option as the revolution was about to take place. At this time, she was offered her first job in an American salon, as a waxing aesthetician, to replace another Romanian woman going on maternity leave. It was there she quickly learned the techniques in America were very different from those back in Romania.
"As aestheticians, we had to go to a pharmacy and make a custom cream because you couldn't go into a department store to buy a cream. This is why sometimes I think women are so lucky to live in the United States. You can choose from whatever you want. You are overwhelmed by so much. In Romania we didn't have any," she says.
Anastasia describes beauty school in Romania as an intense and extensive two-year program. "You need to learn biology and chemistry. People didn't go to a dermatologist for anything other than dermatitis or a really (serious) skin condition," she says. "But for a facial, for pimples, they used to go to an aesthetician."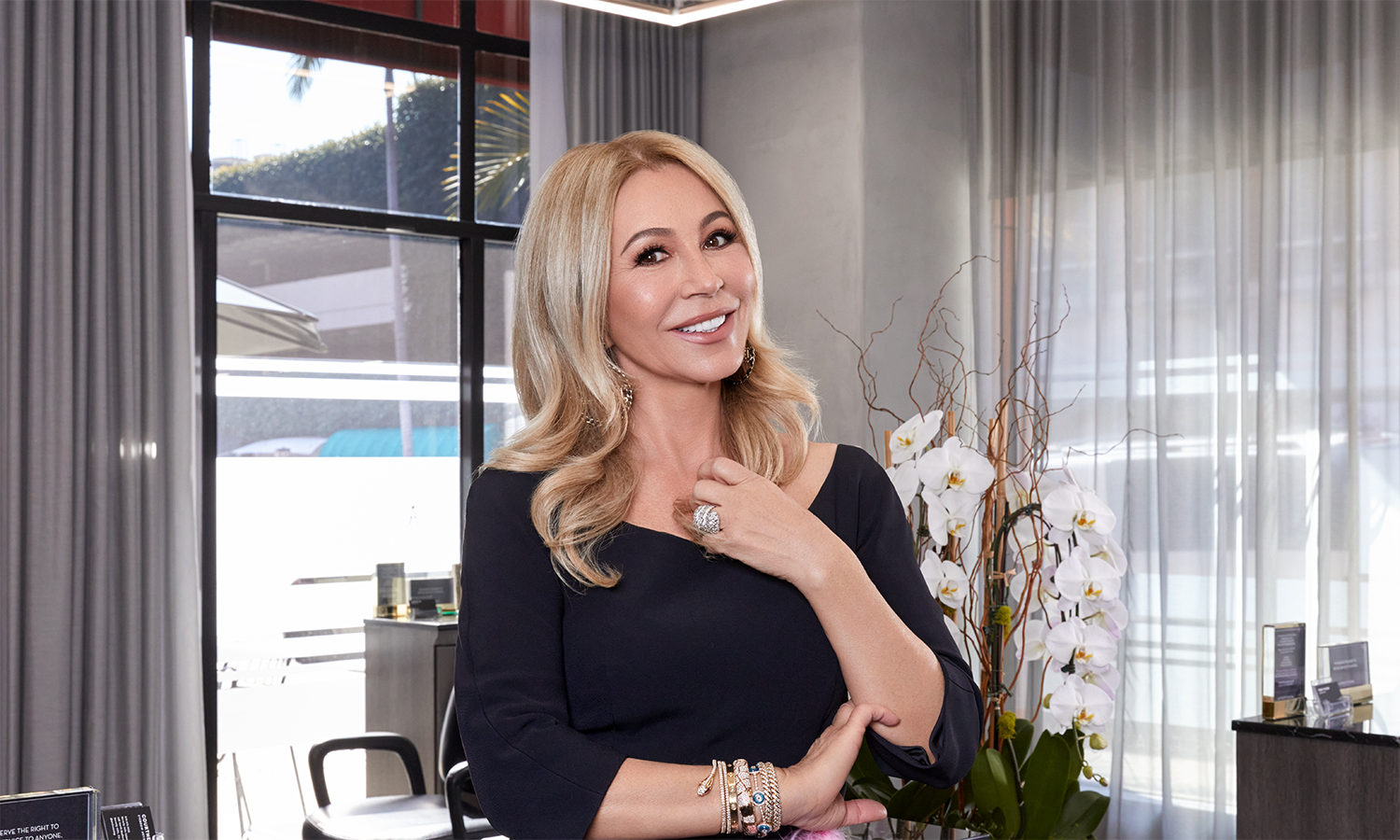 It was while working as a waxing aesthetician that she discovered how little attention was given to eyebrows. Worse yet, she remembers the style was extremely thin with an unnatural high arch. Recalling the lessons from her art teacher in Romania, she knew that when painting a portrait, the eyebrow is important as the shape affects the subject's emotion. If you want to change the emotion, you have to change the shape of the eyebrow. But how can that be done when the brow was so thin and round?
Having also learned about Leonardo da Vinci's use of Golden Ratio proportions in his works, she had the idea to apply the concept to eyebrows with respect to the bone structure of the face. Maybe a system could be designed by applying this mathematical theory to enhance eyebrows. Anastasia went to the library in Los Angeles to do more research. 
After months of studying da Vinci's mastermind approach, she went to an art store and created a stencil, a tool to shape the eyebrow. She began to work on her own eyebrows until she obtained the perfect, natural arch. Soon clients would take notice.  
"My clients would ask me, 'What did you do? Did you cut your hair? You look different. You look better,'" she says.
Clients wanted Anastasia to work her brow magic on them, but the process took extra time. Soon the owner of the salon complained to Anastasia that the eyebrows were eating up the "facial" time, and since the salon did not charge à la carte for eyebrows, she could no longer provide the ancillary service.
This did not hold Anastasia back. She began taking house calls on weekends. Eventually, entire households, men and women, wanted her service. This convinced her she was on to something.
"The transformation with the right-shaped eyebrows was so incredible that I really believed that [the concept] would make a difference on everybody's face."
Deciding this was her path, she opened up the Los Angeles Times looking to rent her own space.  "I told my husband, 'I'm going to open my own business and it's going to be in Beverly Hills. I don't want to go anywhere else. Only in Beverly Hills.'"
She admits it was scary at first, but she had a vision. She believed in eyebrows.
"Look, I left my family. I left my country, I left everybody, all my friends. I left my house to come here. I'm not going to do this for the rest of my life. To be in a small little room. I want to build something. And I have this vision. I really believe in it. Everybody was saying, 'You are crazy…You can't pay rent doing eyebrows. This is not big enough.'"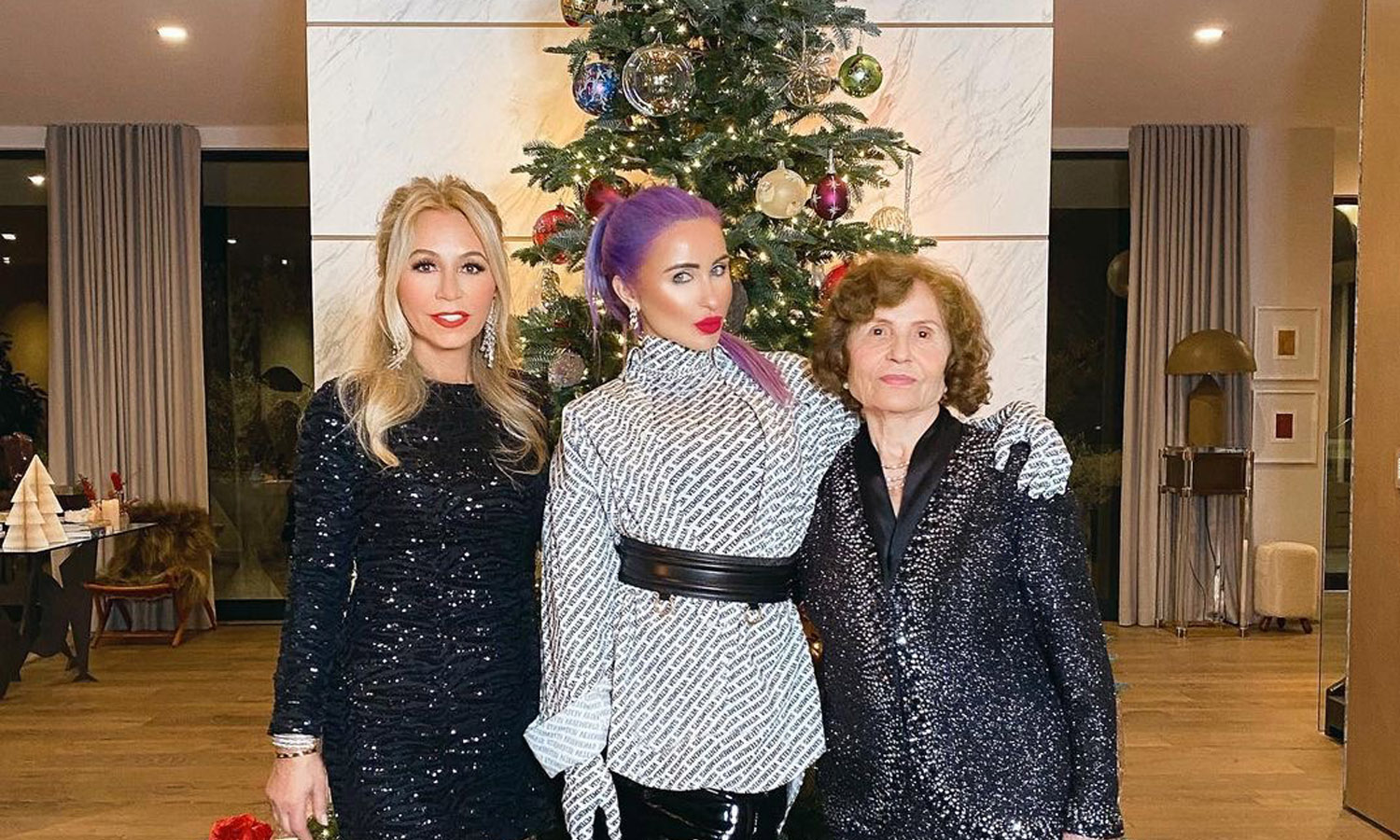 Between 1992 and 1996, she rented a small room at Juan Juan in Beverly Hills, and Anastasia, driven, focused and passionate, built an impressive clientele of movie stars and entertainers, supermodels, successful business executives and local folks, such as Kim Kardashian, Jennifer Lopez, Eva Longoria, Naomi Campbell, Victoria Beckham and Oprah Winfrey. Since eyebrow products were limited on the market, Anastasia took a playbook page from her time in Romania, mixed together drugstore products–Vaseline, aloe vera and eye shadow–and used them in her salon.
One such client, actress Poppy Montgomery, and her agent approached Anastasia about Poppy filming in Canada for several months and requested Anastasia to provide a small traveling case of the products Anastasia used in the salon. About the same time, her clients would comment, "My eyebrows look perfect when I leave, but after I take a shower, I still have gaps. It's not the same. I need products."
Anastasia recognized the big opportunity to mass-produce eyebrow products. Ever resourceful, she made several stencils and filled many little containers with her formulas for the clients who could not regularly come into the salon.  The concept was revolutionary. She knew she needed to manufacture these products and capitalize on what she felt was "lightning in a bottle." So, she hopped on a plane to Italy, the only place where cosmetics were mass-produced at that time, and began working with a manufacturer.
She also knew that the timing was right to pursue her dream of opening her own salon. By now Romania had recovered from the revolution. The government was giving back Anastasia's home. Feeling the pull to return, she decided to visit Romania and contemplate moving back, permanently. But after one week, she knew she belonged in Beverly Hills.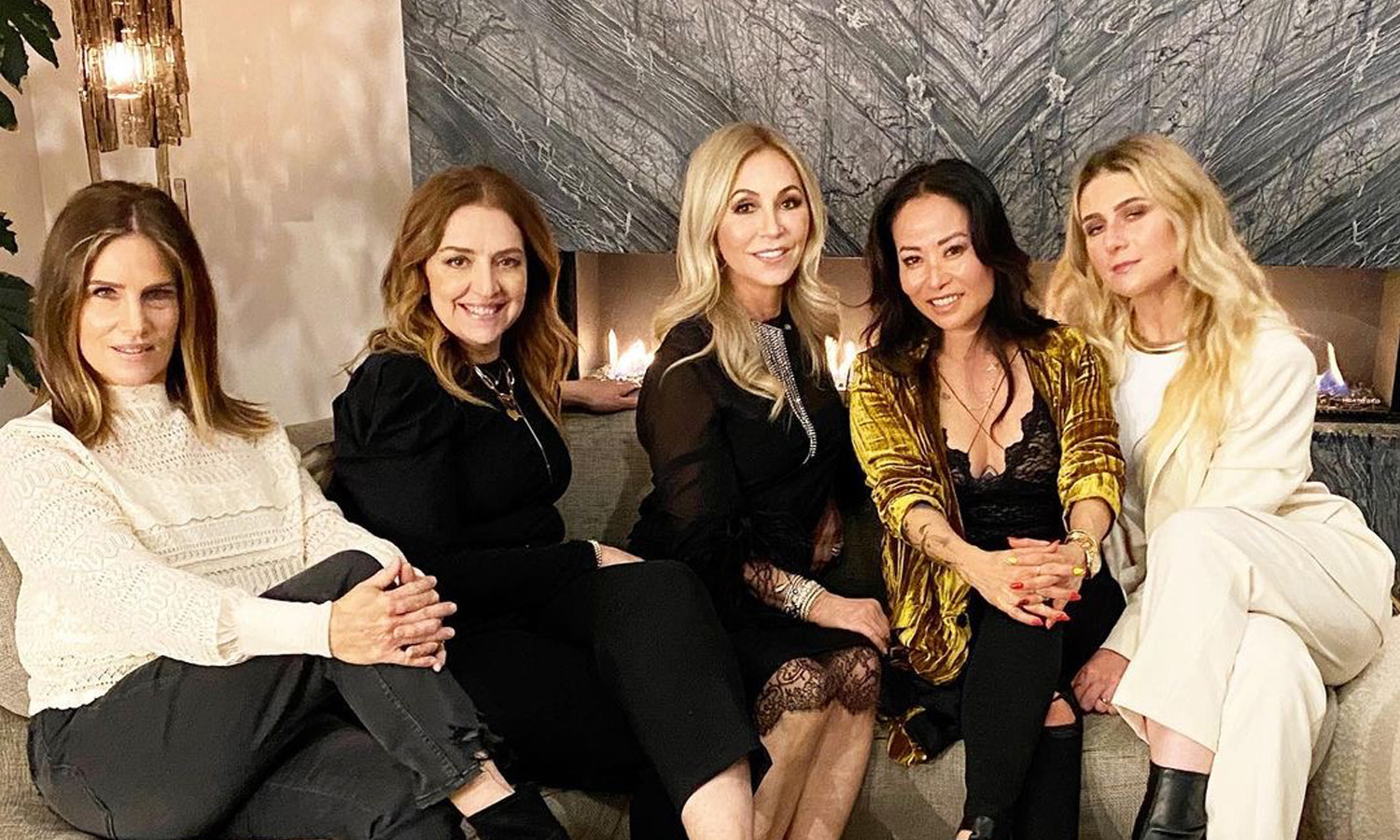 "I think it was very good for me to do that because I realized that it was important to close that door," Anastasia says of her visit to her native country, which only served to strengthen her resolve to make it here in America. "And I said to myself, 'Okay, this is where I'm going to build a business. This is the country that will give me the opportunities.' In Romania, I couldn't do it."
It was after this trip, armed with a renewed sense of resolve, that she found her own eyebrow salon in Beverly Hills, at 430 North Bedford Drive.
Shortly afterward, Anastasia would make a decision that would forever entwine her business with Beverly Hills where she knew she would make her mark. Her lawyer approached her, advising that her single name was not strong enough for her company. He suggested adding "Beverly Hills" to the brand's name. She wholeheartedly agreed. "I felt this incredible pride to represent the city as it was my dream to be in Beverly Hills."
Anastasia officially became "Anastasia Beverly Hills."
At this point, her daughter Claudia was a young child, and as a single mother, Anastasia often brought her to the salon.
As a child back in Romania, Anastasia would spend time at her parents' tailoring shop, which they operated out of the front of the family home. It was there that Anastasia received first-hand knowledge, watching her parents, and then her mother alone, interact with clients.
"My mother used to cater to the wives of leaders of the Communist Party. But even with normal people, she never made a separation. Everybody wanted to look beautiful. And she loved that." Anastasia credits her mother with passing down this egalitarian legacy of ensuring customer satisfaction for all, a legacy Anastasia was passing down to Claudia.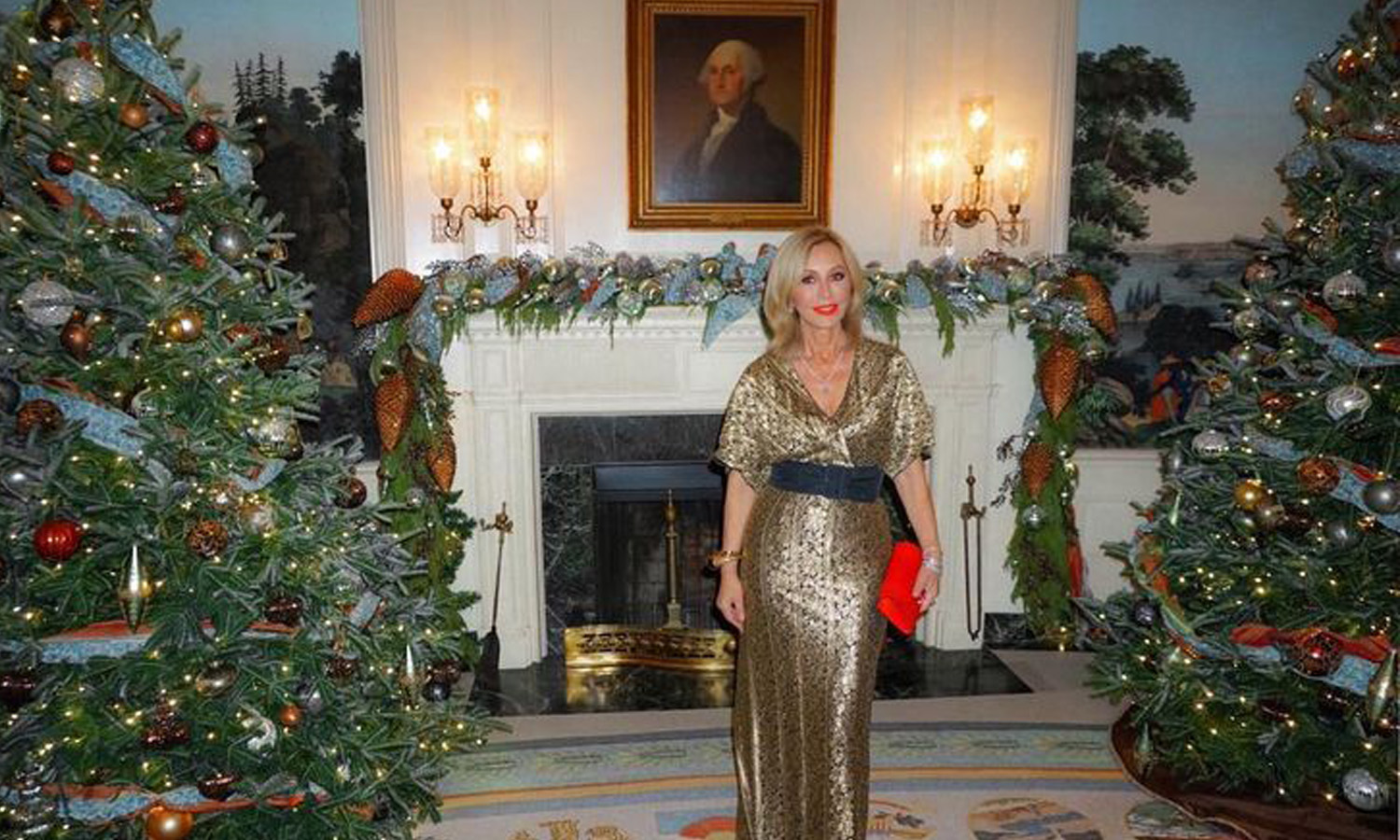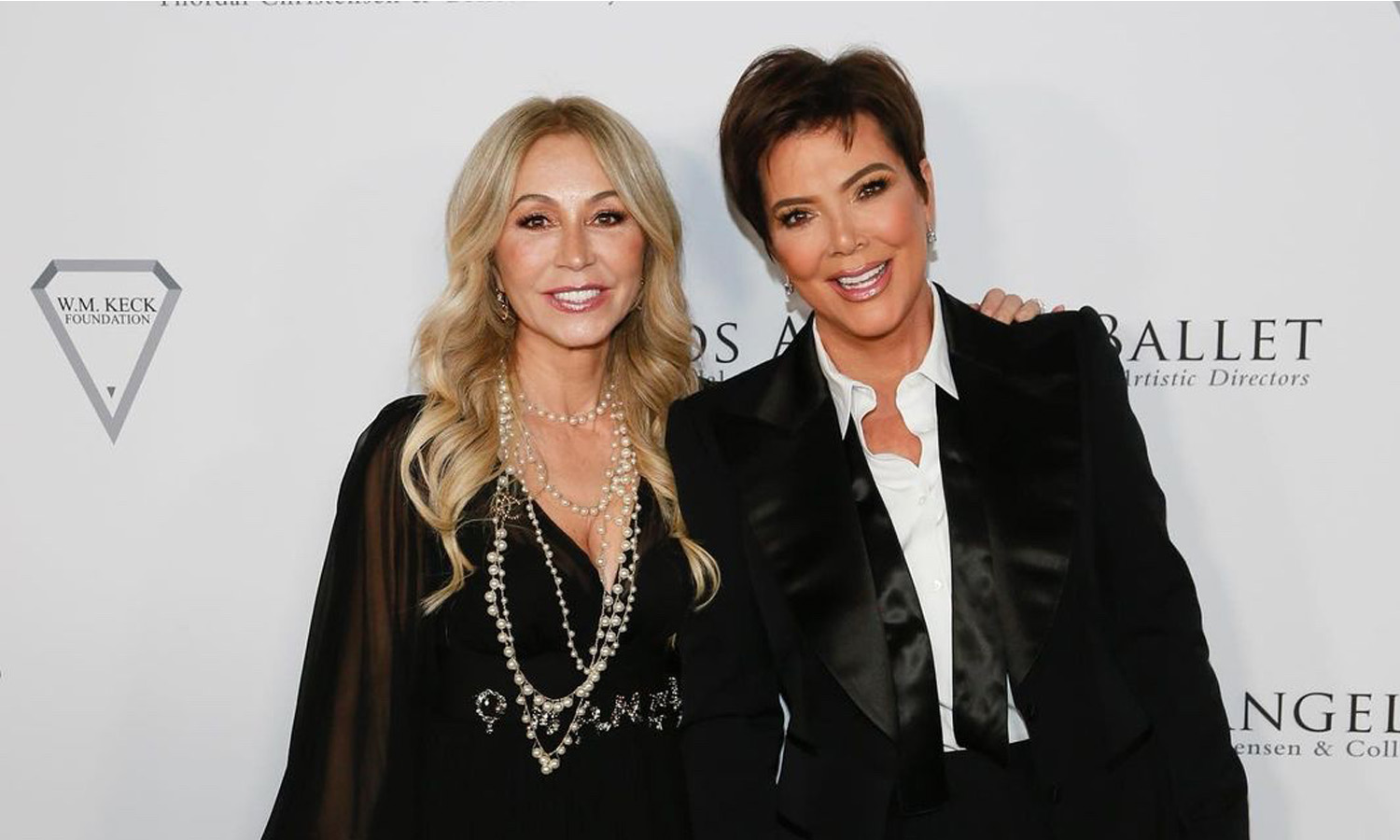 In 2000, Anastasia finally launched her first full-scale eyebrow product line. It was a resounding success with her clients. Her motto about success? "It's 10% talent, 90% hard work. The harder you work, the luckier you get."
She proved her "lucky" theory soon thereafter. Two executives from Nordstrom came into the salon for an eyebrow treatment after reading about her innovative approach to eyebrows in magazines. While buying her products following their appointments, they told Anastasia that they wanted her products to be sold at Nordstrom. 
Anastasia knew that going from a single, local boutique to being a part of a well-respected national department store chain with dozens of locations across the country would be transformative. But she was true to her mission. Instinctively, she felt her products would not be successful unless the employees were trained with her eyebrow products and techniques. Focused, confident and determined, Anastasia convinced the top brass at Nordstrom to invest in brow studios within their stores. 
Peggy Moore, VP of Cosmetic Merchandise Manager of Nordstrom, shares, "I was honored to be the first national merchandise manager to launch Anastasia products and services for Nordstrom stores," she says. "In our first meeting, I remember she was genuine, and her business plan was unique. She understood the customers' needs, the retailers' needs, as well as how to bring it together in a profitable way. She was the hardest working vendor that I ever met, and her tireless efforts surely paid off. She was and still is the real deal."
But training beauty consultants all over the country on how to work with the products, along with waxing and shaping, became an exhaustive process. Her hard work ethic went into full gear.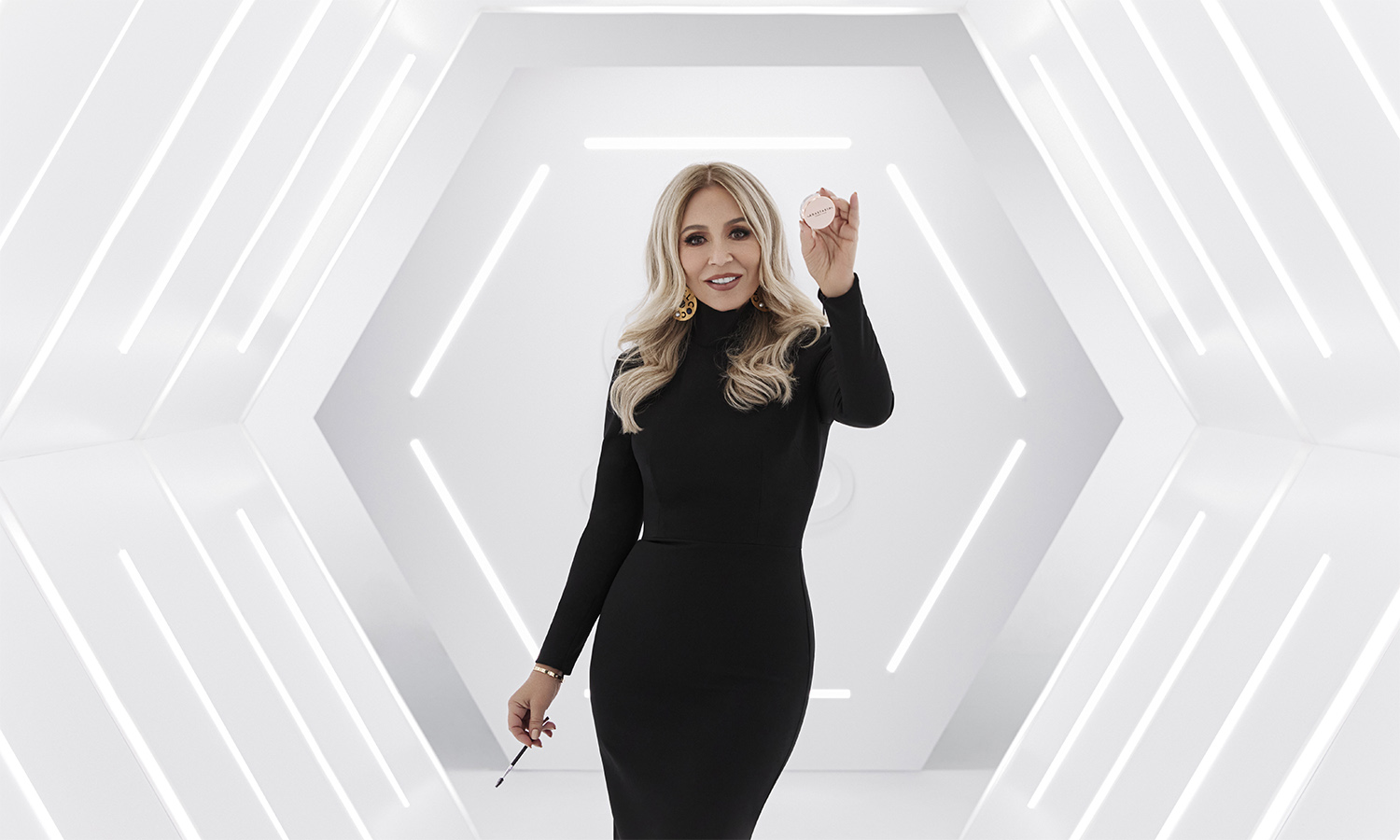 "Saturday, we'd finish at the salon at 7 in the evening. We'd take our carry-on, fly on the red eye to one city. The next day, Sunday, I would wax eyebrows all day long, and Claudia would teach the client how to use the products. Then at 7 p.m. on Sunday, we'd go to another city close by. We'd do another event on Monday in Nordstrom, and Monday night we'd fly back and arrive at midnight. We worked seven days a week. This is how we used to train the aestheticians."
Claudia, now a college student, was by her mother's side as always, going on these training trips and working part time, manning the front desk at the salon. Until one day, fed up with Claudia showing up to work late for the umpteenth time, Anastasia fired her. In disbelief, Claudia left the salon and looked for another job.
Anastasia claims her multi-tasking daughter was extremely efficient and talented, particularly in servicing the customers, answering phones, and facilitating credit card transactions. Still, Anastasia felt she needed to teach her daughter a lesson. A month passed. Anastasia hired several people to replace the work of Claudia. Anastasia missed her but was unwilling to beg her to come back.
"One day, Claudia came in [to the salon] and said, 'Mom, can I borrow some money? Because after taxes, I don't have enough money to pay my rent.' I told her, 'You wanted to be independent, I'm sorry. Go and get another job. I'm not going to give you the money because you need to learn.'" With that, Anastasia went back to her appointments. An hour later, Claudia was still there. Seeing her daughter's resolve, she softened, and offered Claudia her job back but warned, "the moment you walk inside this store, I'm not your mother. And you have to work harder than everybody else. Because I'm going to be tougher on you than everybody else. I will set an example with you."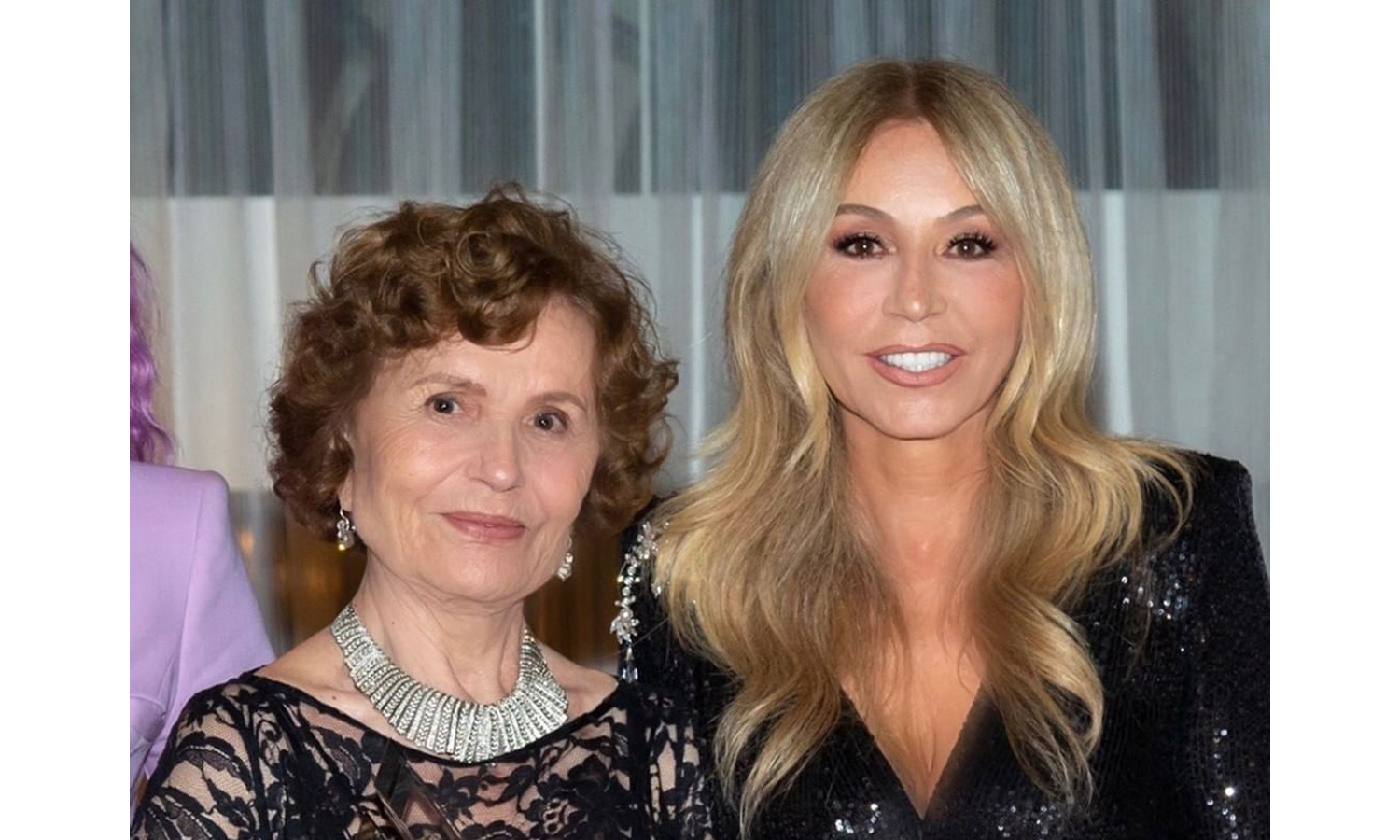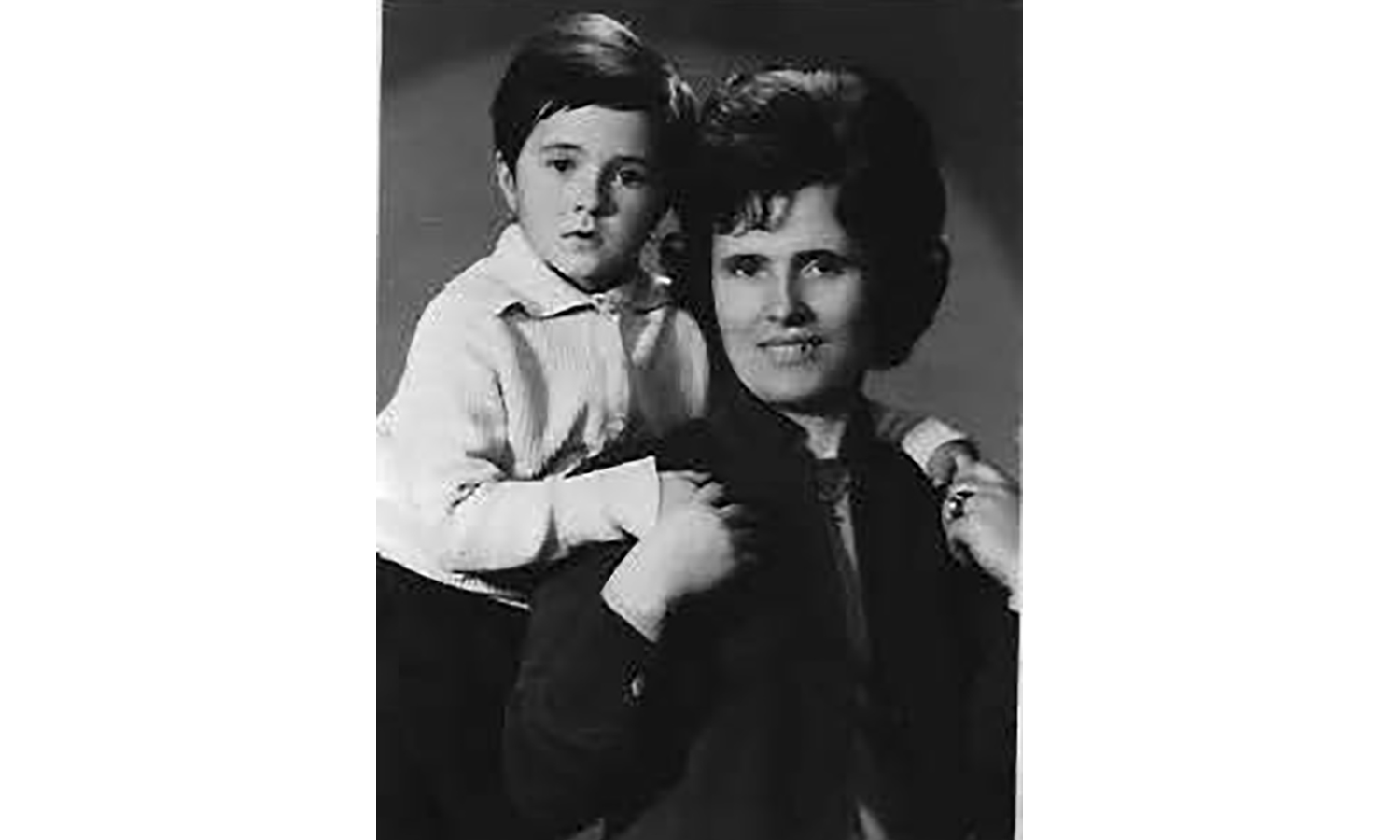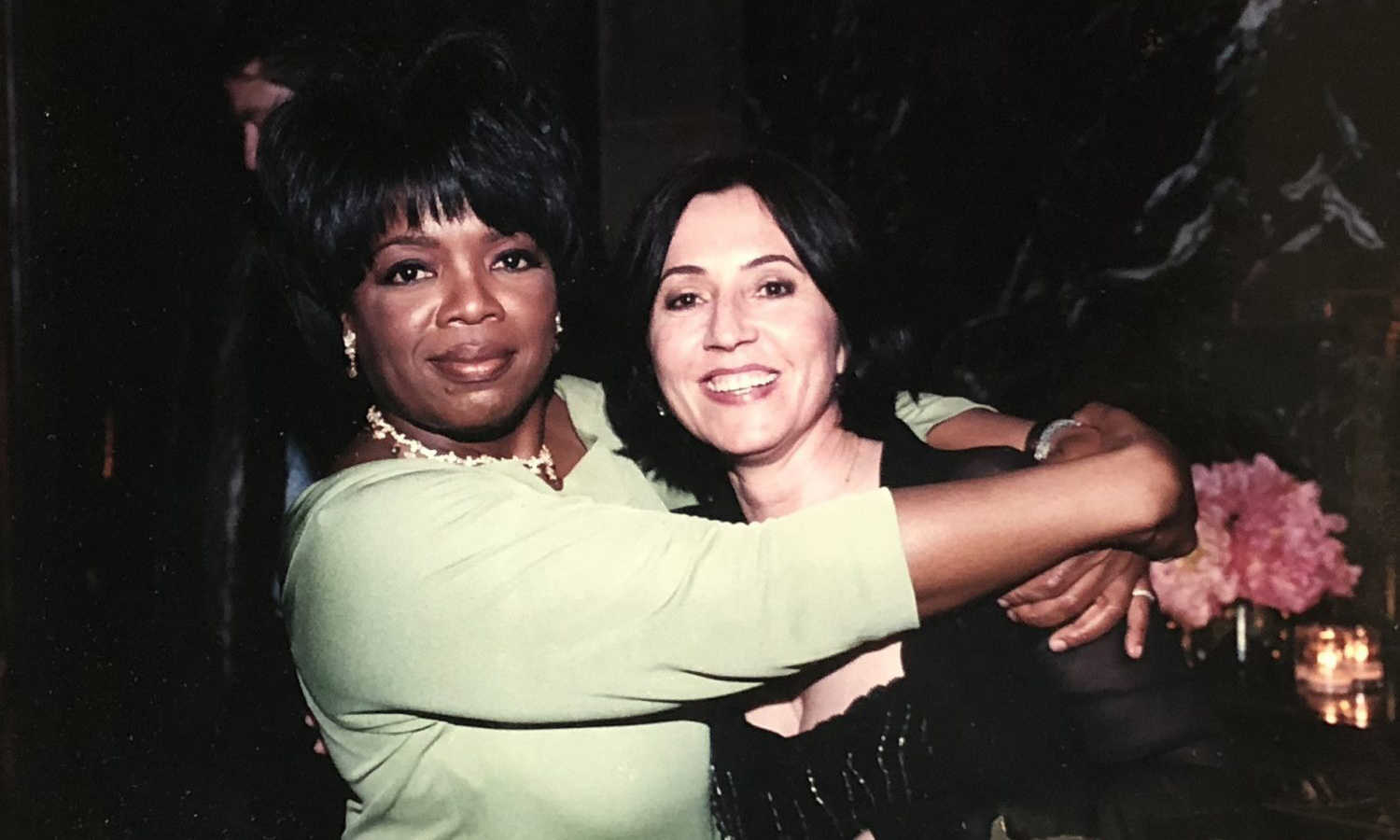 Anastasia and Oprah
 She joined Oprah and a multitude of celebrities, including Nelson Mandela, at the opening of Oprah's Leadership Academy for Girls, south of Johannesburg, South Africa, in January of 2007. "That was the moment when I said, 'This should be my mission to give back in life.  Because this is what is the ultimate happiness.'"
A female founder and CEO, Oprah Winfrey inspired Anastasia to "pay it forward." Over the years, Anastasia has honored her commitment. She has recognized and reenergized the ongoing efforts to create positive change for women all around the world. And most importantly, Anastasia believes in the importance of education. "I think it's important to give back, to sponsor children to go to school."
Anastasia supported the building of a small community school in Africa for Albino children. In Los Angeles, she assists United Friends of the Children in putting foster youth through beauty school with the belief that these young people can make a living, be self-sufficient and enjoy what they do. In Romania, she has been a part of the Blue Heron Foundation for 16 years.
"When we started, there were so many orphanages in Romania with children. They didn't have windows. They didn't have doors. It was tragic. It was such an honor for me to partner with Blue Heron to help those kids. I could not stop crying because everybody was talking about how this organization changed their lives. Now the kids are growing. We put them in schools. I sponsor children in the university. It's amazing."
Blue Heron Founder and President Stefania Magidson counts Anastasia as one of the organization's faithful supporters, calling her "an intelligent, fearless woman who built a renowned beauty empire, who has not hesitated to give back as soon as she was in a position to do so." In fact, Magidson says that thanks to Anastasia's generous financial support and presence in the community, she has inspired many other donors to align their philanthropic efforts with the organization. "We continue to be enormously grateful that we can always count on her support."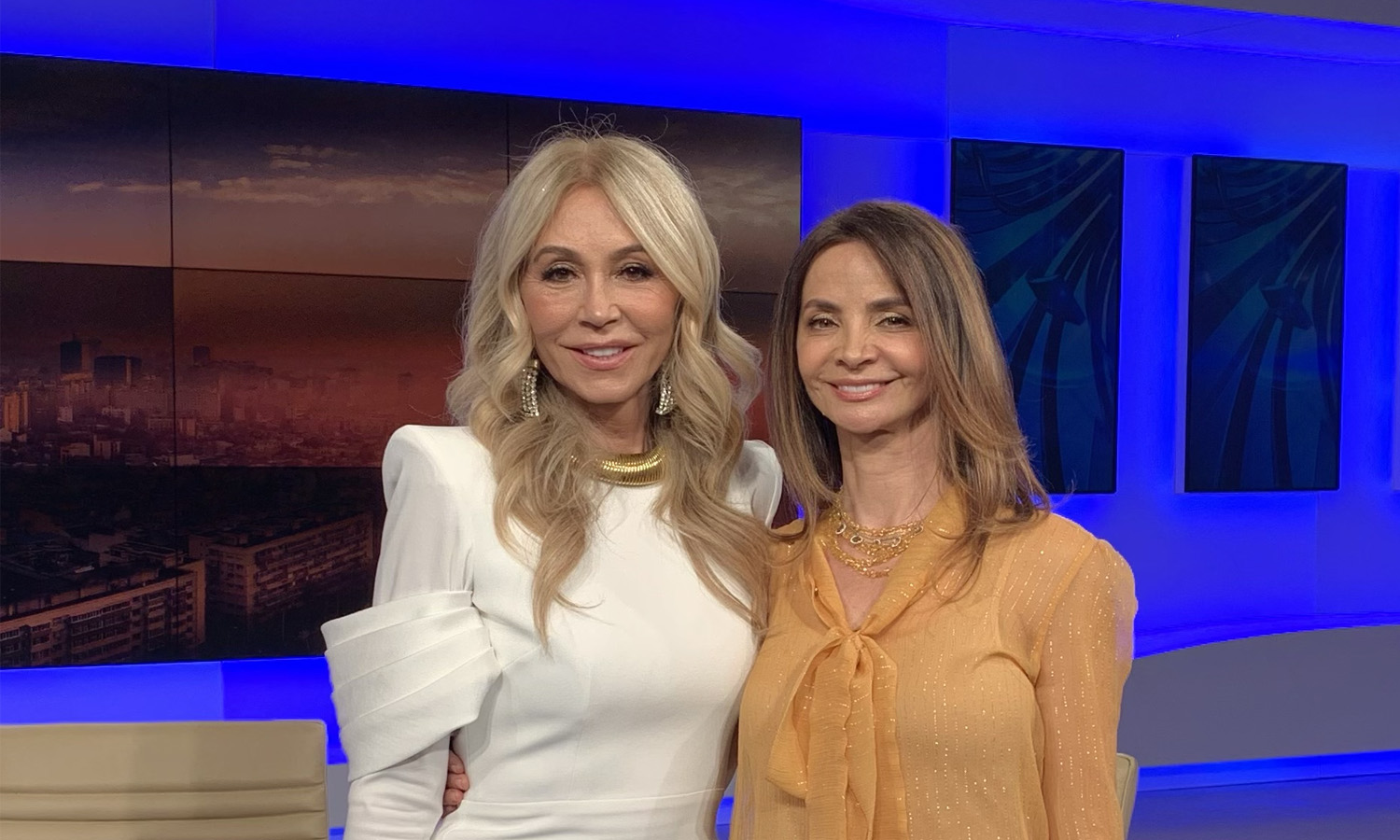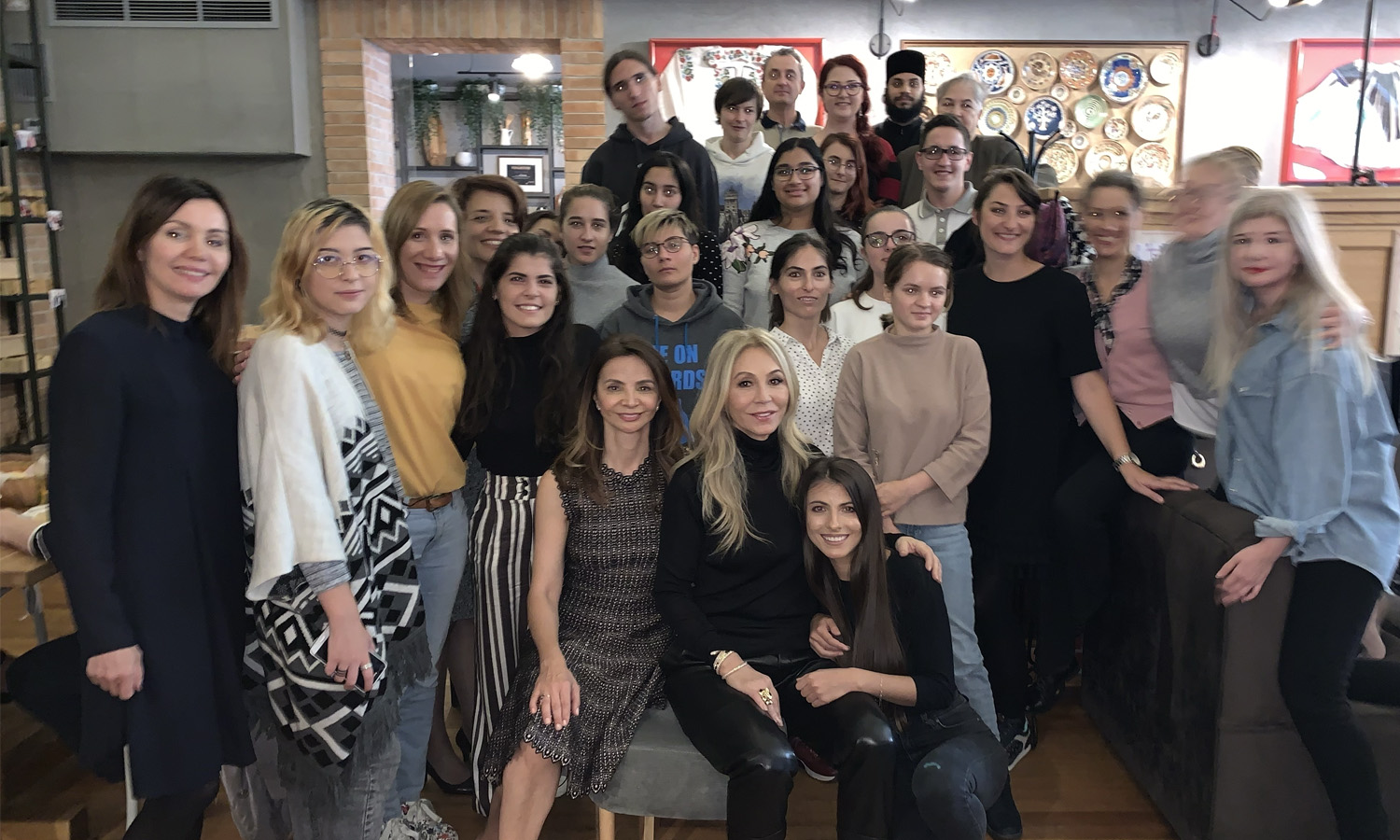 Anastasia managed to juggle her philanthropic efforts while building her brand, which for years continued to grow apace. In the intervening years between 2007 to 2010, she expanded, launching a plethora of new brow products–powders, waterproof gels, crème tints, and a collection of every imaginable tool, from brow brushes to tweezers, needed to maintain arches.
In 2010, Anastasia appointed Claudia the President of Anastasia Beverly Hills after Claudia had tirelessly worked her way up the ranks at the company, mastering every aspect of the business. 
Anastasia credits Claudia for one of many invaluable contributions to the company. She led the company to Instagram in the earliest years of the platform.
Claudia shares, "2011 was when I realized that social media had power. And that's when I started dabbling on Instagram. Finally, I got the brand onto Instagram in August 2012. And my mom didn't really get it. But she didn't have money for advertising and marketing, compared to all the other brands at Sephora and Ulta. So, I said, 'You need to speak to the customers directly, and this is how you are going to do it.' And she said, 'Okay.'"
They began posting and encouraging special relationships with beauty product users. Claudia studied them, and the competitors, and admits she is a good "pattern reader."
"I saw the patterns, and I thought we should make some makeup starting with the  'Contour Kit.'" 
This was Anastasia's first foray into makeup. Launched in 2014, based on what had become her signature use of the Golden Ratio in supporting one's natural bone structure, the kit presented highlights and shadows used to bring balance and proportion to the face. It also made contouring popular among all beauty lovers, not just professional makeup artists.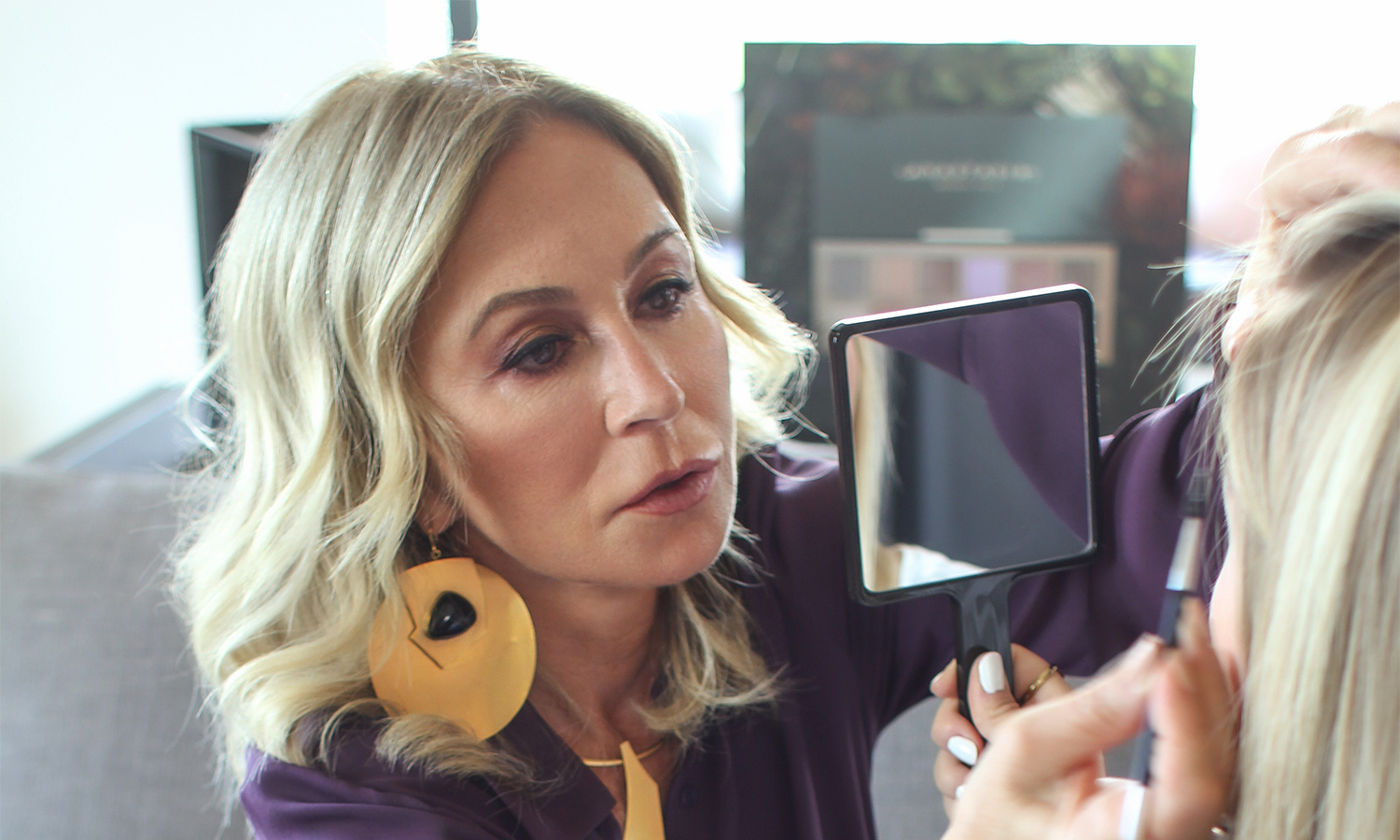 Anastasia Beverly Hills sold 50,000 kits in one day, leaving Anastasia and Claudia in shock and without stock for four months. They no longer needed to travel as extensively. Instead, they could post videos on social media and reach, and teach, more clients than ever.
It's undeniable. Claudia's visionary instinct to embrace social media has enabled Anastasia Beverly Hills to have an extraordinary social media presence.
By 2015, the Anastasia Beverly Hills Instagram feed was listed as the most followed beauty account by digital think tank L2, which ranked 106 major beauty brands based on their digital reach. 
Three years later, in 2018, CNBC published a report that the private equity firm TPG (Texas Pacific Group) had made a strategic investment in Anastasia Beverly Hills, valuing the company at $3 billion dollars. Anastasia maintained the largest ownership.
Today, there are approximately 80 brow studios inside Nordstrom stores, and the brand is carried in national retailers Sephora, Macy's, Ulta, Saks Fifth Avenue, Dillard's, and on the biggest e-commerce outlet, Amazon.
The mother-daughter team continually pushes the brand's expansion forward, creating and identifying room for improvement in the formulas, such as eyeshadows, liquid lipsticks, and color palettes. Claudia has led the creative team into exciting new areas like the Norvina Collection (Norvina was the name Anastasia had planned to give her daughter, after her paternal grandfather). This latest inspiration is a series that provides makeup for professionals and an exciting entry point into vivid color for all consumers. 
 "She's smart, she's hardworking, she is incredible. And I'm so proud of her," says Anastasia of her daughter.
When asked about staying in front of the trends within the competitive beauty industry, she says that they strive to innovate while always engaging with their audience.
"Presently, we are working on many different ideas as we want to expand, but the ideas need to make sense. We try many formulas, technologies, and ideas evolve, but for us to go forward, we have to believe in it 100%."
While Anastasia touts that the brand works for everyone, regardless of age, race or sexual orientation, she also makes it clear that she's never strayed from her tried-and-true Golden Ratio methodology. 
And she admits she's made mistakes along the way.
"I've made so many mistakes. People think that if you are successful, you don't make mistakes. Of course, you do. This is how business is. You need to try, and you make mistakes and you learn, and remember never to do it again."
When asked about her biggest achievement, Anastasia points to her daughter. "I think that I was able to give my daughter this drive and the fact that she loves what she does so much, and she has a purpose, in life together with me, is I think my biggest achievement."
It's interesting to note that her list doesn't include founding her company, a homegrown, local business in Beverly Hills, now a global success, or the fact that she's never taken on a partner.
To financially help her fund the company throughout the years, Anastasia turned to the real estate business, another passion of hers. And she's done remarkably well, buying, redesigning, and reselling homes in Beverly Hills.  She shyly admits "for myself." Then she clarifies, "I put everything I made back into the business. Because remember, I didn't have any investors. I was a 100% owner."
For Anastasia, her ambition and dedication are always paramount. She approaches her goals and works to fulfill her dreams with laser-like focus. 
 "When I came here, my goal was to be significant. To do something that is going to make me proud and would satisfy the way I am. Because I cannot be mediocre. I need to be the best in what I do. When I see the result, the final result gives me joy."
Share Post