'Tis the season of cocktail parties, holiday dinners and festive gatherings, giving us a months-long reason to celebrate–and imbibe. But not everyone will be toasting at Thanksgiving with goblets of wine or popping bottles of bubbly as they ring in the New Year. 
According to the Bacardi Cocktail Trends Report 2022, 58% of those who drink alcohol are increasingly opting for non- and low-alcoholic cocktails across the globe. This worldwide trend is not a temperance movement; it isn't about morality or enforced sobriety; it's about choices and having options. And it's being driven largely by the younger generation and the health-conscious. 
After years of constantly thinking about our individual health and the collective well-being of our communities, it's not surprising many are choosing to get in the holiday spirit, sans spirits. 
To understand why this shift has happened we have to look to the early days of the pandemic when there was so much uncertainty and anxiety compounded by lockdown, imposed isolation and the stress of navigating work from home and remote schooling logistics. There was a palpable tension that seemed to hang in the air everywhere–along the sparse-shelved supermarket aisles, in the spaces between the social-distanced, masked-clad people waiting in epic lines outside of shops. Adjusting to the "new normal" of this unprecedented event began to take its toll. And many Americans turned, as they have in the past during times of crisis, to drinking. 
According to a study published in December 2020 by the National Library of Medicine (an organization within the National Institutes of Health), in-store alcohol sales jumped 54% and online purchases spiked 262% between March 1 and April 18, 2020 (compared to sales data for the same week in 2019). And throughout the rest of 2020, alcohol consumption remained high, with 60% of participants in the study reporting that their drinking increased in 2020. "Of those, 45.7% reported that their drinking had increased because of increased stress, 34.4% reported that their drinking had increased because of the increased availability of alcohol, and 30.1% reported that their drinking had increased because of boredom. Almost two-thirds of the participants (63.7%) listed some combination of these three reasons. The remainder either gave no reason (1.7%) or some other reason (4.0%), such as 'It gives me the feeling of going out,' [or] 'I feel safer because I am at home…,"' the study stated, also noting that similar alcohol consumption spikes were reported in the wake of 9/11. 
Numbers remained high but fluctuated throughout 2021 as many tried to course correct, culminating in a worldwide movement spurred by social media. Known as Dry January (with its own hashtag), millions publicly pledged to abstain from alcohol for the entire month. The trend continued and has gained steam. 
According to a report by NielsenIQ published this year, U.S. retail sales of non-alcoholic spirits have grown 116%; non-alcoholic beer jumped 21%; and non-alcoholic wine rose 20%. 
The zero-proof industry is now expected to become a multibillion-dollar industry. Dozens of brands like Seedlip, Amass and Monday Mezcal are popping up to meet the demand. Even celebrities like Katy Perry and Blake Lively are jumping on the booze-free bandwagon with alcohol-free wines. 
 In February 2021, Boisson, an entire boutique dedicated to high-end non-alcohol (NA) spirits, wines, and brews, opened in Brooklyn, New York. A year later, four more Boisson shops opened across Manhattan. And now the company's West Coast expansion has begun–first, with a storefront in Brentwood this summer, and this month, the Beverly Hills outpost opened with a tightly-curated selection of the best NA brands on the market. Co-owner Nick Bodkins has said that his goal is to provide non-alcoholic shoppers with the same experience as someone walking into an upscale liquor or wine store, including having a knowledgeable staff on hand to answer any questions. "Most of our customer base is composed of people exploring non-alcoholic options for the first time. Whether they are sober, 'sober curious' rethinking their relationship with alcohol or simply moderating," he said.  
"Choosing a location is about neighborhood, walkability, and central location that will allow us to facilitate same-day delivery in a super-efficient way. With these criteria in mind, we chose Brentwood, Beverly Hills and Studio City as our inaugural locations to bring free-spirited sips to Angelenos." 
Local bars have also taken note of the trend. We reached out to popular drinking spots in Beverly Hills to find out what alcohol alternatives they are serving up this holiday season.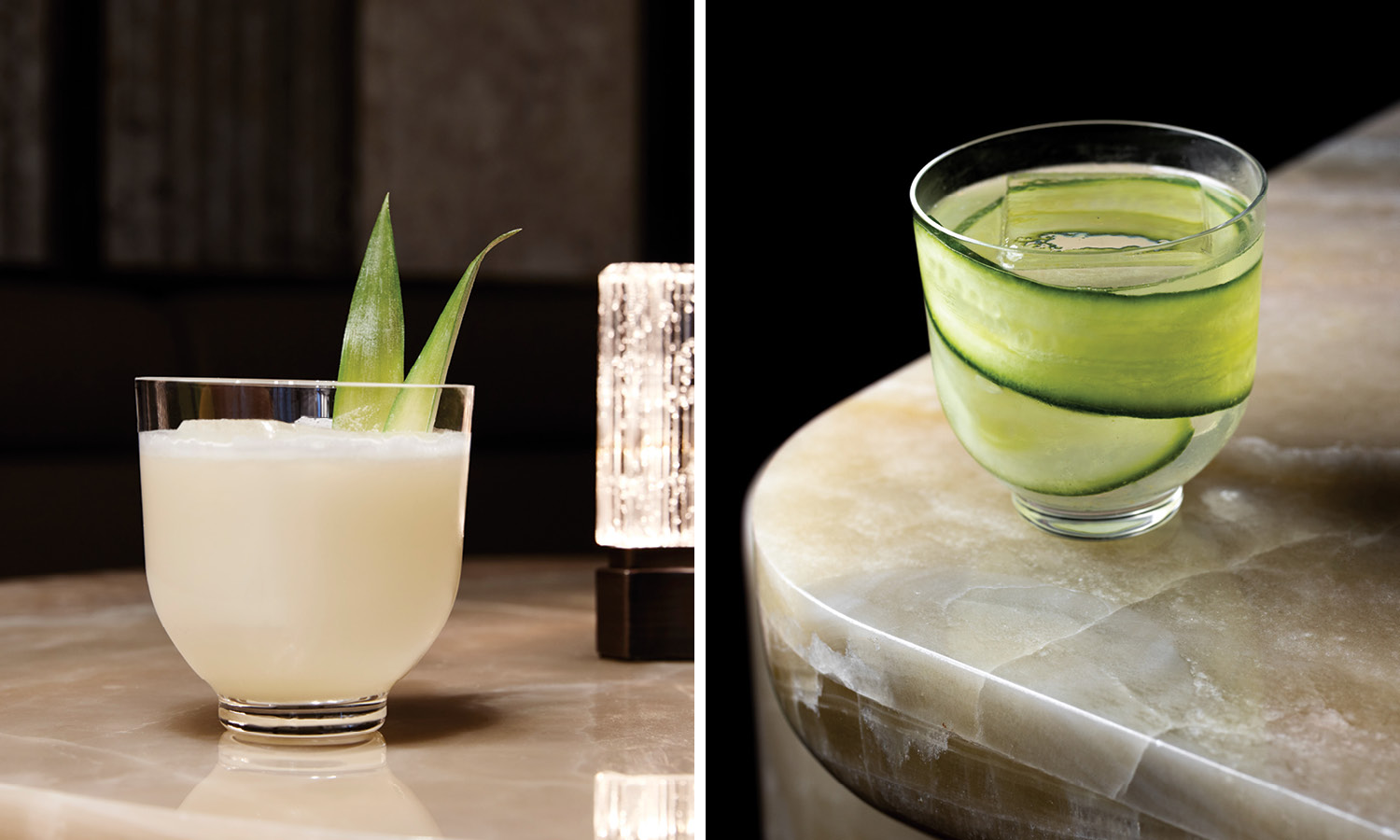 The Maybourne Bar
225 N. Canon Drive
310-860-7800
Discreetly tucked away just off the lobby of The Maybourne Beverly Hills Hotel sits The Maybourne Bar. It's a little jewel box of a space with a show-stopping bar–carved in Art Deco style from a single piece of solid Turkish silver onyx–as its centerpiece. Polished curving nickel fixtures and giant glowing Lalique lamps accent the room. Bartenders outfitted in seersucker suits and penny loafers serve up cocktails inspired by The Five Elements Theory, which simply states that everything in nature is connected by Earth, Water, Fire, Air, and Space. But in addition to the fiery-Mezcal and earthy-gin-based concoctions on the menu, you'll find a selection of artisanal handcrafted spirit-free cocktails. Award-winning mixologist Chris Amirault, who spearheads the drinks program at The Maybourne Bar, says that he's witnessed a spike in requests for zero-proof drinks. "Lots of guests are skewing in the non-alcoholic direction. But I wouldn't call it a trend because non-alcoholic cocktails are here to stay," he said. "At The Maybourne, we draw a lot of inspiration from The Aviary [in Chicago], which was arguably the first bar to make their own non-alcoholic 'spirits,' and we try to do the same since we have the culinary capabilities to do so." As a result, the options offered here are more refined and complex. The most popular is the "Hendri-x & Tonic" made with Maybourne Cucumber Zero Gin and East Imperial Tonic, a non-alcoholic spin on the timeless gin and tonic, built on the flavors of Hendrick's gin.  The "Hundred Acre Wood" is a mix of Lapsang Souchong tea, honey, lime, pineapple and coconut cream, which tastes like a smokey piña colada. The "Melanie," comprised of Ghai aperitif, pomelo sherbet and soda water, is a citrusy slightly bitter version of a classic Aperol Spritz.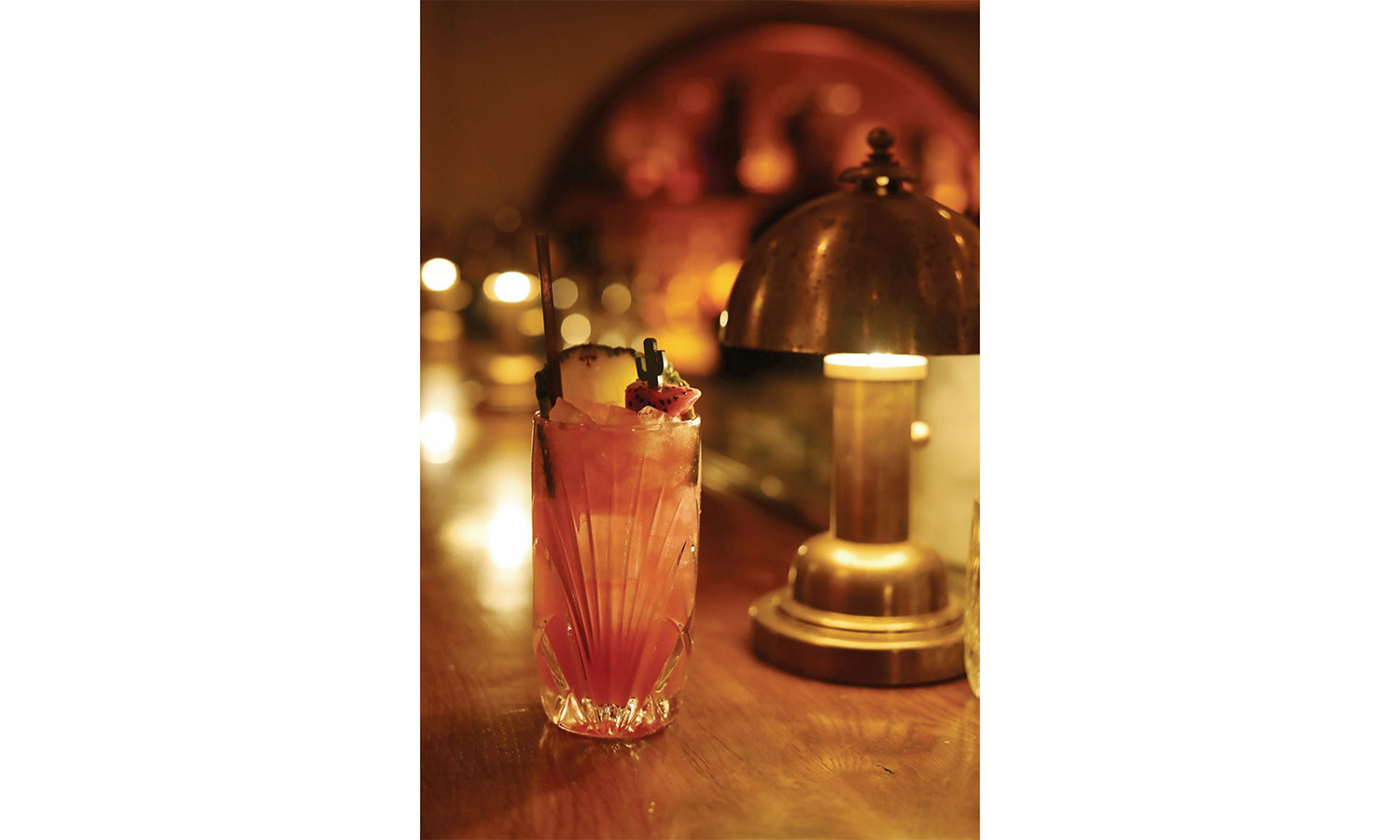 The Hideaway
421 N. Rodeo Drive
310-974-8020 
Secreted below the Rodeo Collection sits the recently opened subterranean hotspot The Hideaway. The uber-hip, swanky, Mexican surf-and-turf restaurant and bar is the brainchild of party planner to the stars Jeffrey Best and nightlife impresario Sylvain Bitton (with Hollywood heavyweight actors Ryan Phillippe and Evan Ross among its investors). An ode to 1970s Baja, inspired by Best's childhood trips to a fishing village in Rosarito, the glowing amber-lit space features a spacious patio, intimate cabanas and a central fireplace. The menu from Chefs Alex Moreno (formerly of Best's Habana in Irvine) and Viet Pham (formerly of Best's Firefly in Studio City) boasts riffs on traditional Mexican dishes like wasabi-guacamole, lobster tempura and barbacoa short ribs. Overseeing the bar and its cocktail program is Julian Cox (formerly of Bestia and Otium). While tequila is somewhat of a no-brainer at an establishment such as this (in fact there's even a button on the dining tables to call for another round), The Hideaway also has a selection of non-alcoholic options on offer. Their most popular zero-proof libation is called the "Post Melón" (a tongue-in-cheek nod to the chart-topping, tattooed-faced crooner Post Malone). It's made of lemongrass, fresh lime, housemade coconut cream, and honeydew. The latest seasonal cocktail is called "So Fresca, So Clean" (another pop culture reference, this one a play on the hit song by Outkast) made with hibiscus, lime, pineapple juice and dragon fruit. And for those recovering from an evening of overindulgence, Cox says you can't go wrong with a classic Virgin Bloody Mary. "People and particularly Gen Z are looking for healthier options for beverages in general," he said. "I've definitely seen an uptick in requests. The non-alcoholic or spirit-free section of the menu is now quite common, particularly in higher-end restaurants and bars on the West Coast."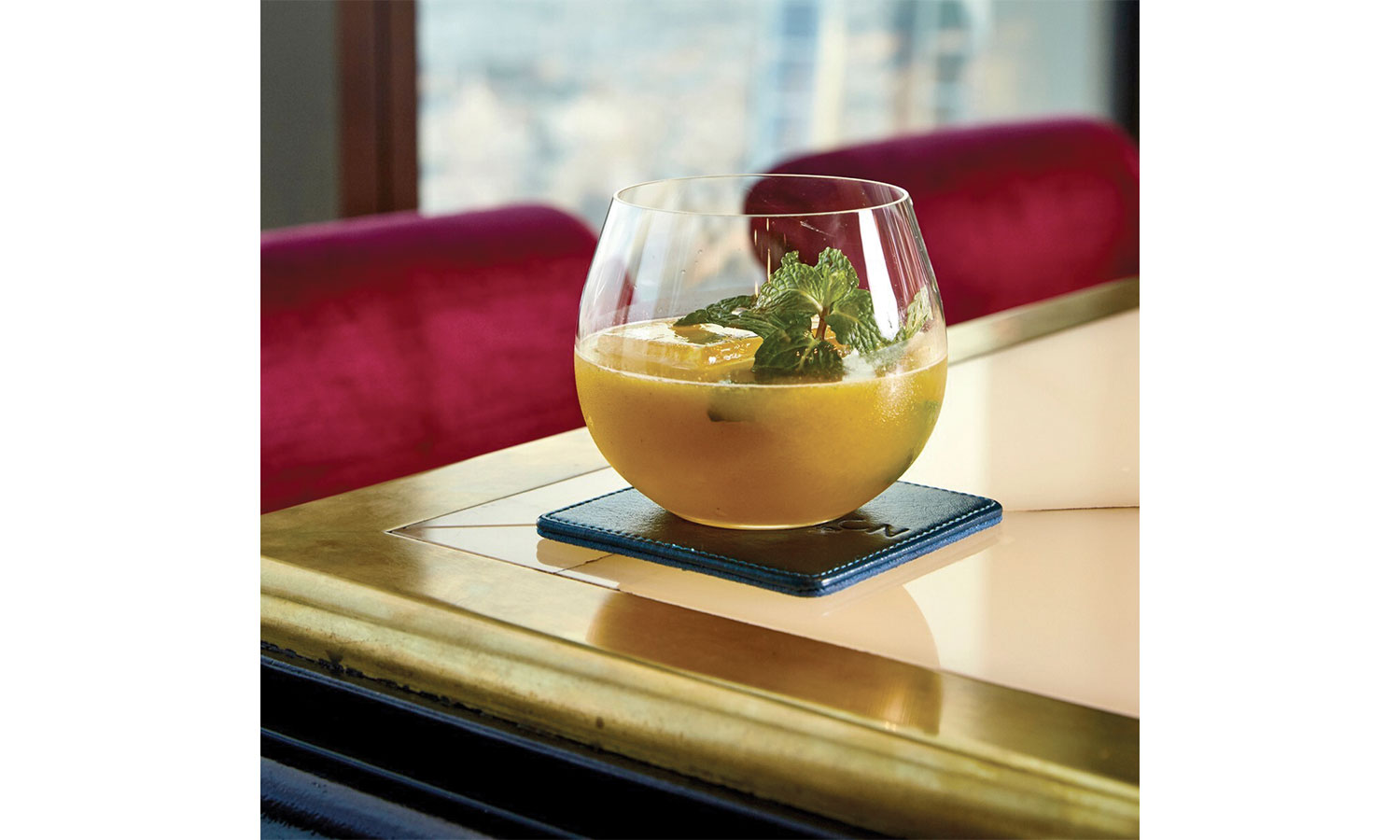 CUT Lounge at Beverly Wilshire, a Four Seasons Hotel
9500 Wilshire Boulevard
310-275-5200 
The CUT Lounge (sister to Wolfgang Puck's adjacent Michelin-starred steakhouse CUT) has been a favorite watering hole for post-work crowds ever since it first opened in 2016. The Richard Meier-designed space, with its monochromatic décor and dim lighting, provides a serene backdrop for those looking to unwind after a stressful day at the office. Bookending the large glass and steel doors at the entrance are two windows showcasing high-end bottles of spirits with the reverence of fine jewelry in the shops along Rodeo Drive. And inside on lighted shelves behind the bar, the full selection of liquors are on display with the same level of veneration. But after all of the worry and stress during the uncertainty of the COVID-19 days, some patrons are looking for something other than the standard shaken or stirred options. "I think the past few years have made people rethink their drinking habits. And mocktails are a refreshing and fun alternative that allow you to savor various flavor profiles," offered General Manager Charles Hueston. "The 'Double Happiness' is our most requested mocktail. Not only do people love the name, but it also naturally brings happiness with the combination of pineapple juice, passionfruit, orgeat (a sweet syrup made from almonds, sugar, and rose or orange flower water) and lime," he shared.  Other options include an "Apple Ginger Spritz" made with fresh apple cider, lemon, sweet honey and ginger syrup and an earthy "Rosemary Limeade" with fresh sprigs of the woodsy herb.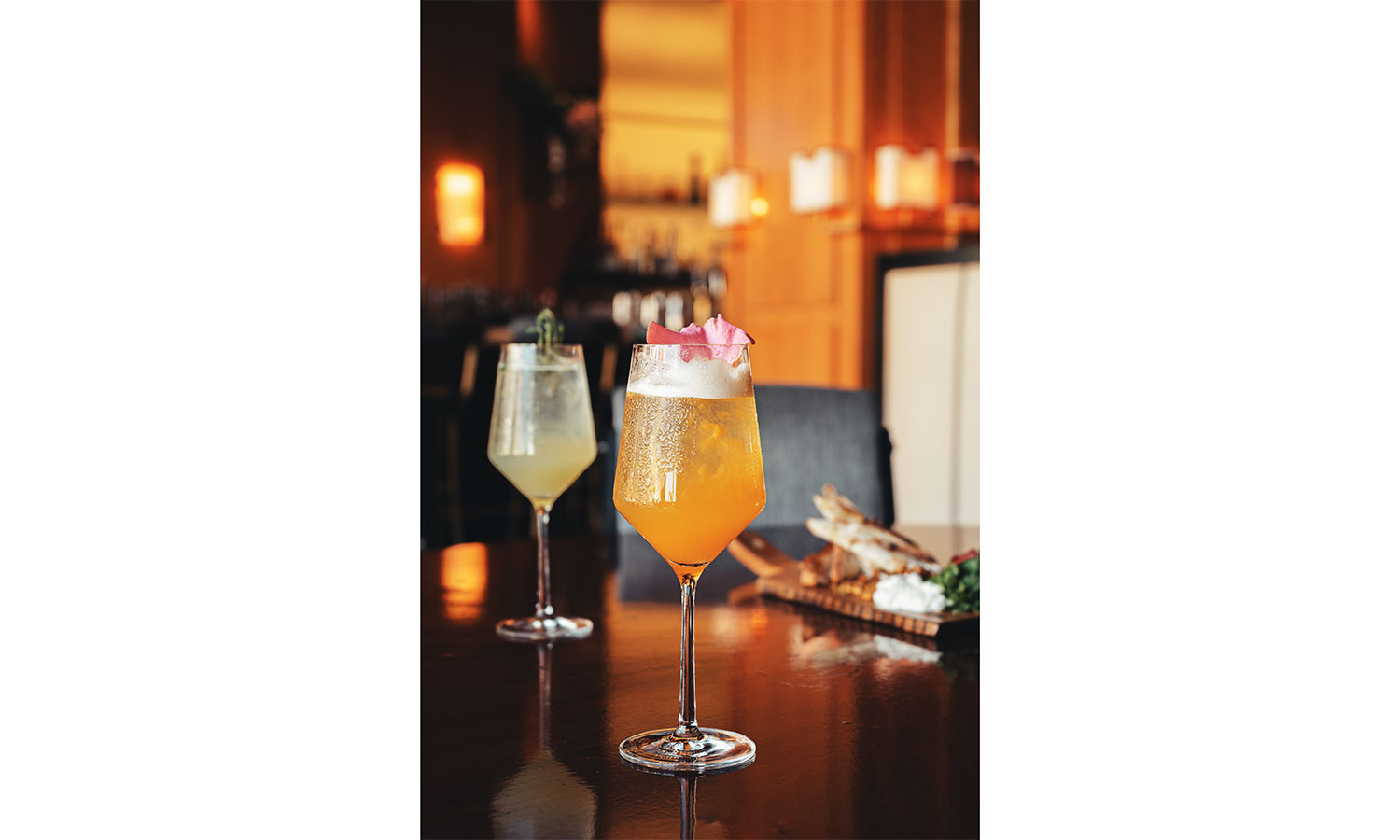 THEBlvd Lounge at Beverly Wilshire, a Four Seasons Hotel
9500 Wilshire Boulevard
310-275-5200 
You might expect martinis and single malts to be the preferred drinks of choice at THEBlvd Lounge with its vaulted ceilings, wood and leather paneling and Old World-meets-Minimalist vibe. And you wouldn't necessarily be wrong. But according to General Manager Sanju Beri, requests for non-alcoholic options are becoming more frequent. They've become so common, in fact, that the selection of zero-proof options have been given a playful moniker. Here they aren't mocktails, they're "Boozeless Bevys." "We are seeing a lot of millennials and women choosing our 'Boozeless Bevys' over cocktails. I think more people are doing cleanses, choosing a vegan diet or just looking to lead an overall healthier lifestyle," he explained. "Opting for a mocktail over a cocktail has many health benefits, including hydration, fewer calories and more nutrients." To meet the rising demand, the lounge has added four mocktails to the drink menu. The "Pear Nojito" is a refreshing and fruity option made of fresh lime and pear juice; the "Winter Passion" is a mix of passion fruit puree, agave syrup, aquafaba (a liquid derived from chickpeas that creates a foamy froth) and ginger ale with hints of spice. The "Garden Nojito," Beri explained, not only aids in digestion (thanks to fresh mint) but is also a great hangover remedy as well. "The cucumber contains vitamin B and electrolytes to help replenish essential nutrients back into the body. And the fizziness from the ginger ale is a great way to help settle queasy stomachs," he said. But by far the most requested right now is the "Grapefruit Spritzer," a bubbly and tangy blend of citrusy grapefruit with a hint of sweetness from agave and effervescence from a splash of soda water.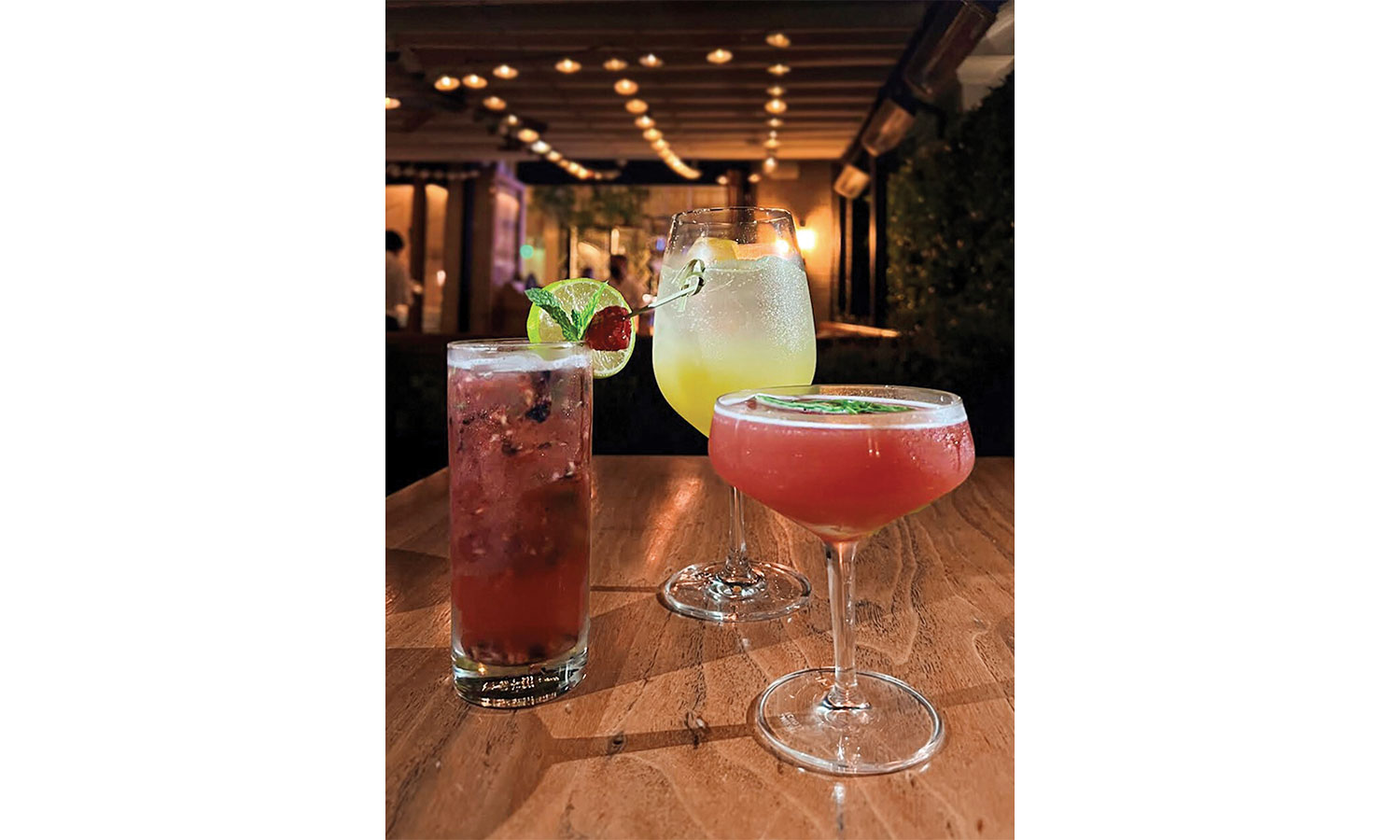 The Bar Room
424 N. Canon Drive
310-274-6534 
Lively and convivial, Porta Via's The Bar Room has been a go-to neighborhood spot for those looking to drink fine wines in a more casual yet sophisticated environment. According to owner Peter Garland, during COVID-19, crowds opted for "the hard stuff." Now, as most have returned to the workplace, he's witnessed a shift back to lunches with iced teas over tequila. "A year or so ago, we didn't have any mocktails on our menu, but now we've added a few because people want a refreshing alternative," he said. "Most of these requests actually come from drinkers who just want an alternative. It's kind of like the Impossible Burger explosion. We have an Impossible Burger and an Impossible Bolognese on our menu, and they are among our best-selling dishes. It's not like there are so many vegans all of a sudden. Most of the people who order these dishes are in fact meat eaters who still want the taste but now have a healthier option." Among the new mocktails currently on offer is a "Santa Monica Mojito" made with muddled strawberries and raspberries, mint leaves, lime juice, club soda and a mint leaf garnish; a "Malibu Spritz" with fresh squeezed grapefruit, lemon, lime, orange juices, club soda and a grapefruit twist; and the "Santa Cruz Martini," a blend of fresh watermelon juice, lemon juice, simple syrup, sparkling water and a basil leaf garnish.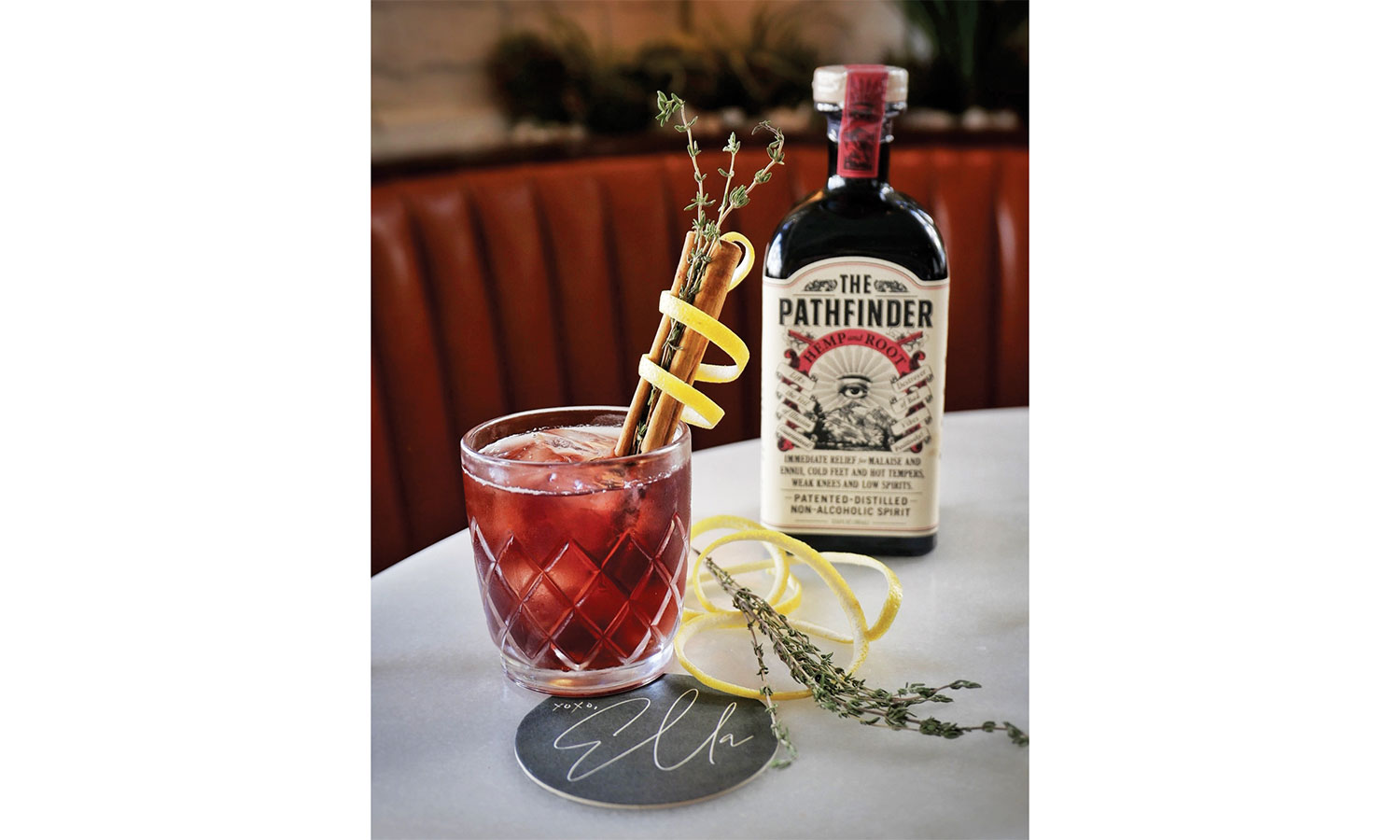 Umbrella Social Club at SIXTY Beverly Hills
9360 Wilshire Boulevard
310-388-6860 
Perched on the rooftop terrace of the SIXTY Hotel, the Umbrella Social Club offers spectacular views of the city. On cool nights, you can grab a drink and cozy up beside the flickering flames of a fireplace or kick it in a hanging wicker chair. Here, natural and biodynamic, low-sulfite, and even orange wines are very popular. "In general, people are more aware of what they are drinking," said Manager Austin Melrose. The Gen Z set in particular seems to be more focused on non-alcoholic options. "Pre-COVID, it was all about pounding Four Lokos, but leave it to a global pandemic to make the younger generation think about what they put in their bodies." And non-alcoholic drinks are an extension.  "What I'm seeing is that most people are willing to try zero-proof cocktails especially when there's a functional aspect to the drink. They actually have health benefits–to lighten your mood or aid in digestion. And sometimes you just want to keep hanging out at the bar with your friends, enjoying the social aspect of being in a bar, but you don't necessarily want to keep slamming tequila shots. Having an alternative, something delicious that's helping your body or your mood, is very appealing." Right now, guests can enjoy a non-alcoholic buzz with Umbrella's "Portland Pick Me Up" cocktail, a mix of Pathfinder Amaro, Lyre's White Cane Spirit, blueberry-cinnamon-thyme syrup, and a shot of espresso.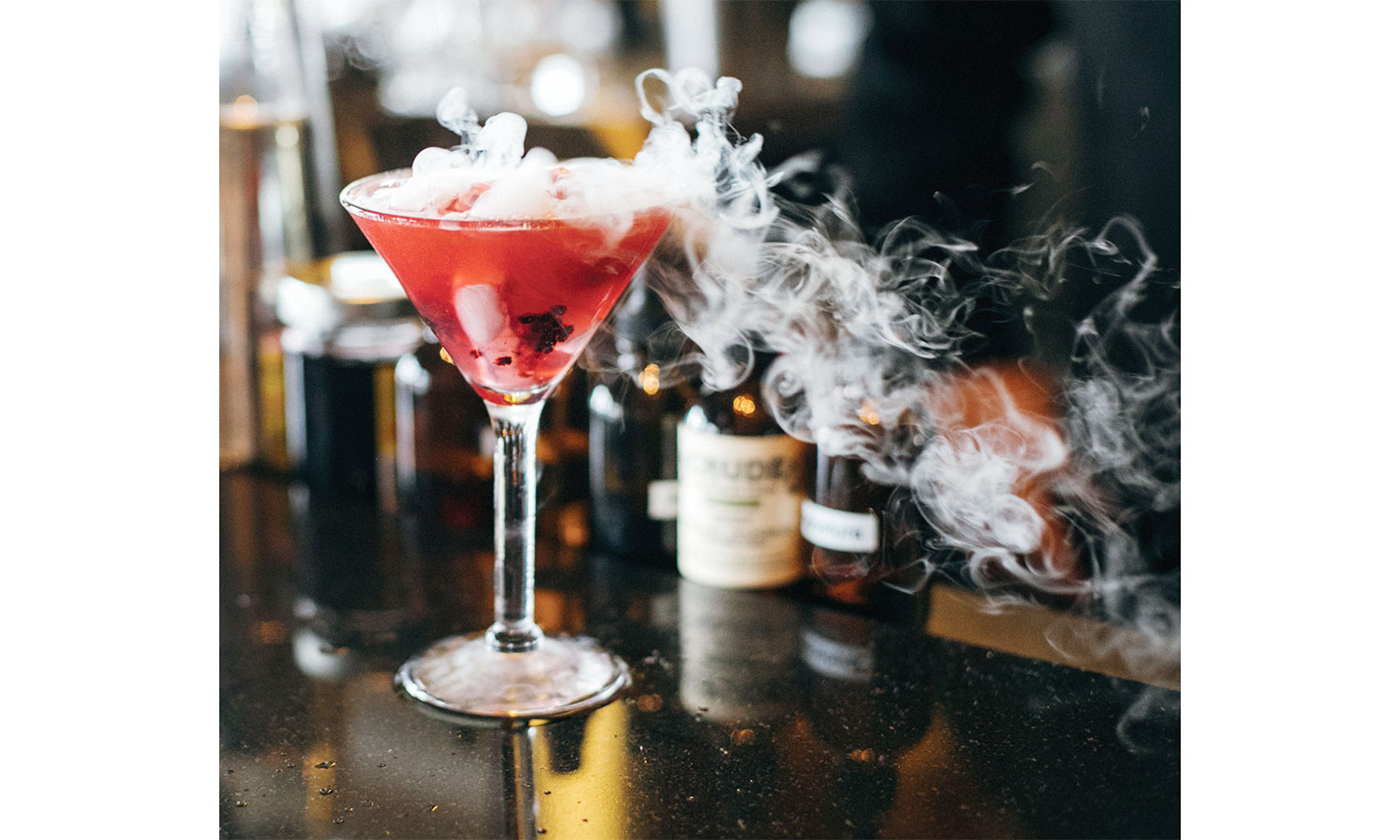 Ocean Prime Lounge
9595 Wilshire Boulevard
310-859-4818 
The real draw at this 1,400-square-foot space with its large terrace dotted with umbrellas is the food–the smoking seafood towers and sizzling prime cuts of steak. But the restaurant's Lounge is a happening draw in its own right. And while whiskey and tequila are still among the top-ordered drinks, Manager Robert Elliott has observed an increase in requests for non-alcoholic drinks coming from the dining room. The most requested is a Virgin Mojito. "I know that a lot of our competitors in the Beverly Hills area are embracing the zero-alcohol trend and actually have full menus devoted to them," Elliot said. "I've contemplated developing a few mocktail options for our program, but haven't pursued any of them yet." For now, servers offer Virgin Marys, Virgin Piña Coladas, and a non-alcoholic version of the popular "Berries and Bubbles" cocktail, made with red cranberry and white cranberry juices, sour mix, and Sprite, served with dry ice, and fresh berries.