As part of her Business with Bosse initiative, Mayor Lili Bosse was joined by dozens for a special private tour of the Veuve Clicquot Solaire Culture pop-up exhibit before its doors opened to the public on Nov. 14. Located at 468 North Rodeo Drive, the Solaire Culture exhibit celebrates 250 years of the Champagne house through an immersive and colorful tour of Veuve Clicquot's legacy and heritage since its inception in 1772. Dubbed "la Grande Dame de la Champagne," the exhibit pays homage to Barbe-Nicole Ponsardin, known as Madame Clicquot, who took over her husband's wine business after being widowed at age 27 in Reims, France.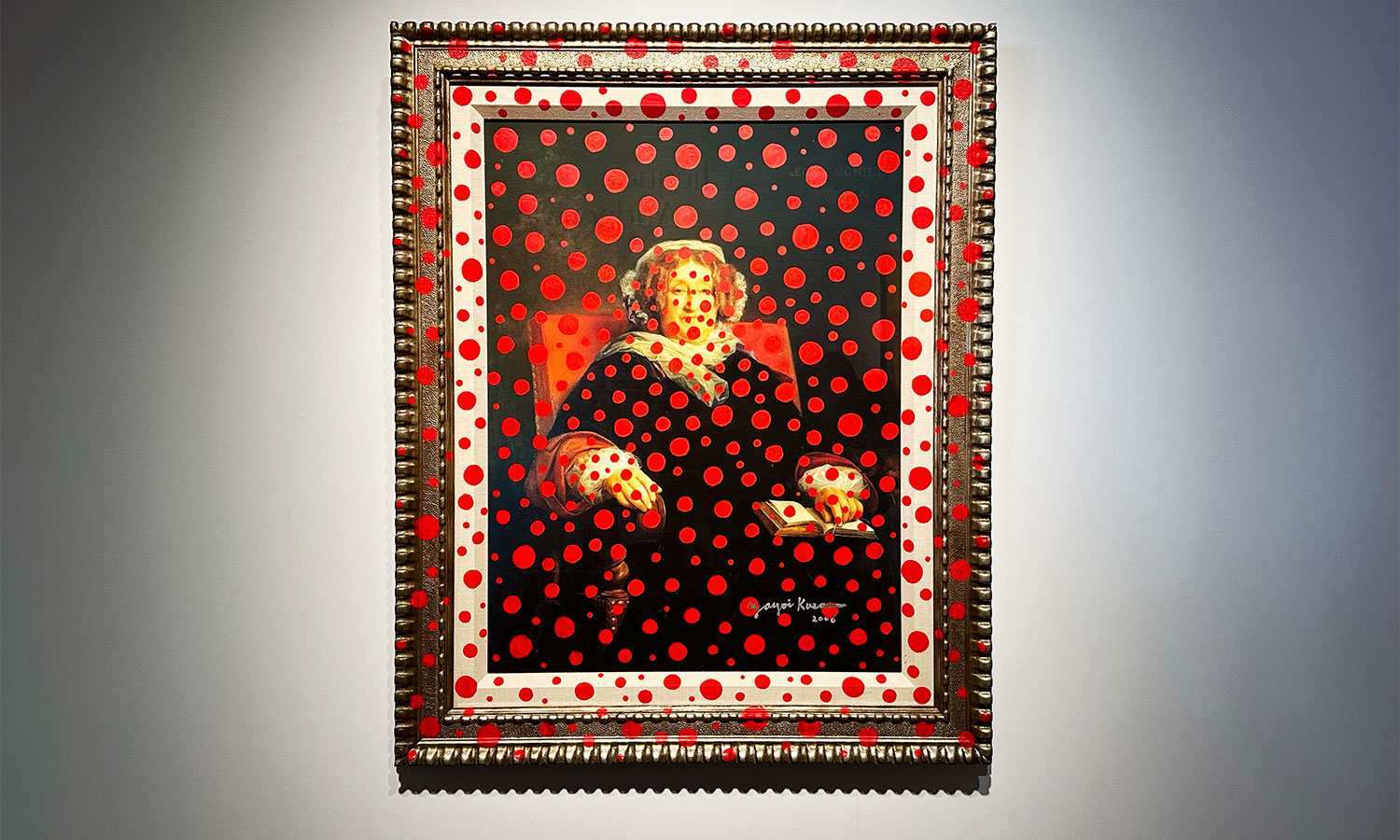 "It starts often with amazing women who have a vision," Bosse said on Nov. 14. "We're going to get to see incredible art and understand where this remarkable Champagne came from."
Adorning the walls are works by 10 female artists whose artistic interpretations of Madame Clicquot were commissioned for the occasion: Yayoi Kusama, Sheila Hicks, Monique Frydman, Moyoco Anno, Tacita Dean, Pénélope Bagieu, Inès Longevial, Olimpia Zagnoli, Rosie McGuinness and Cece Philips. The first piece in the show is Kusama's "Twist with Madame Clicquot!" where an original portrait of the Madame is reimagined with the artist's signature red polka dots. 
"Twist with Madame Clicquot!" by Yayoi Kusama. Photo by Bianca Heyward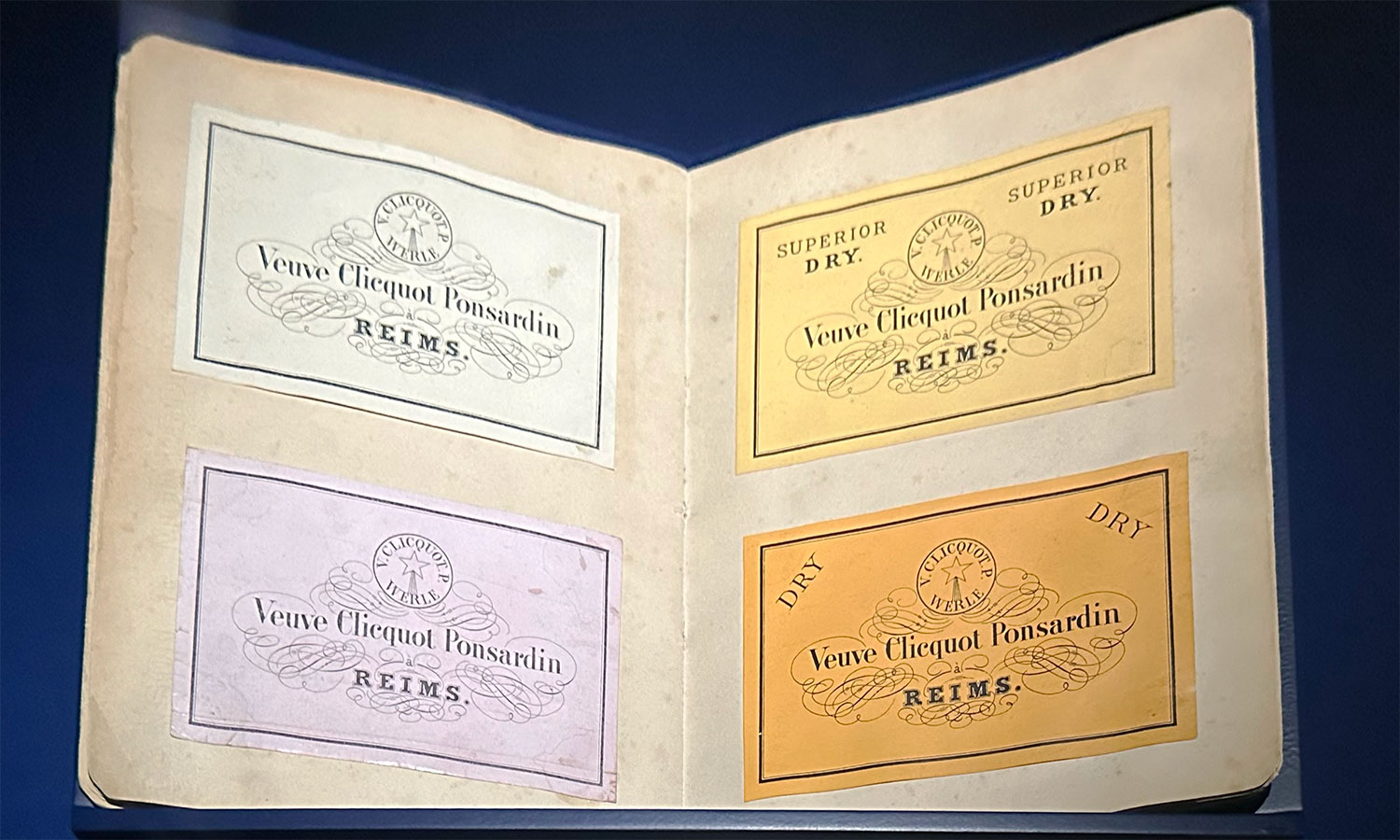 "The story of this brand is so rich and unique, and it starts with this audacious woman who was the first owner of this Champagne maison," said Nelson Elliot Gillum, Marketing Director at Möet Hennessy. "And her and her husband, while he was still alive, took joy in running the family winery. It was really small, and the family focused on other businesses. But through a legal loophole at a time when women weren't allowed to have bank accounts, and in France they weren't allowed to own property, she was able to take this business and grow it to the budding empire that it is today. We're standing in the glory of her work 250 years later. Really, she's truly the first modern day businesswoman."
Conceived by French curator Camille Morineau and designer Constance Guisset, the exhibit includes a film component to virtually tour the brand's vineyards and chalk cellars, an interactive library, original Champagne bottles from the 1840's that were found in the Baltic Sea, original bottle labels, the trademark registration certificate for Veuve Clicquot labeling and sealing from 1874, and more. 
The pop-up exhibit also includes the Yellow Café, where guests can purchase lite bites and taste pairings of Veuve Clicquot. In addition, the gift shop has an array of Veuve Clicquot's collectible items, Champagnes, and other merchandise branded by its distinctive yellow color. All proceeds from the Yellow Café will go to support RE:Her, a nonprofit comprised of women restaurateurs dedicated to empowering female entrepreneurs in the food and beverage industry. 
Solaire Culture marks the first global traveling exhibition from the LVMH owned brand tVeuve Clicquot, which debuted in Tokyo this June, and will next make its way to London after Beverly Hills. Running through Nov. 20, the exhibit is open daily from 11 a.m. to 8 p.m. Admission is free, and all guests must be 21 or older to attend. To book tickets, visit visit https://solaireculture.veuveclicquot.com/en-us/exhibition.