The leaders of broadcast television have long been touting the value of a rolling season; TV premiers should continue year-round. Their problem was that they didn't listen to their own advice, stubbornly hewing to fall premiers with occasional mid-season rollouts. They were, by the way, right. Streaming platforms did listen and are constantly releasing new series, both scripted and non, throughout the year. They come in clumps, but they come, incessantly, sometimes dropping whole seasons in your lap for you to binge. It's hard to keep up with this rather shotgun approach but there are rewards (and punishments) to that system.
March brings a bouquet of flowers (and weeds) and I will try to give you some viewing options and opinions. Buyer beware. Some are good and some not so, but let's start with the ones I liked and think you might also.
"Rabbit Hole"
A thriller where an expert in corporate espionage is trapped in a circle of deception he helped create is about nothing less than the survival of democracy. John Weir is hired by his best friend and former partner to draw attention away from a securities investigation by putting a Treasury agent in the frame with someone he's investigating. It goes as planned until it doesn't. The targeted Treasury agent is murdered and Weir is the chief suspect. When confronting the friend who hired him, everything goes wrong and Weir is on the run for good, or at least for the good of the show. No one is who they seem, or at least that's his premise. 
There's a plot; someone really is out to get him; his past comes back to haunt him, although that past may be his lifeboat; and who, we all wonder, is the beautiful woman who picked him up in a bar. They will all descend into a deep, dark rabbit hole as they try to crawl out intact. Expect lots of speed, explosions and lots of twists in this dark net eight-episode series.
Fast moving with a top-notch cast led by Kiefer Sutherland as Weir and the usually elegant, but not here, Charles Dance as a potential savior. 
Premiering on Paramount+ on March 26 with the first two episodes, with subsequent episodes dropping weekly. 
"Up Here"
A truly innovative series with charming, engaging characters and an interesting premise, "Up Here" is one of the best shows to premiere in some time.
Lindsay and Miguel are destined to meet, each pretending to be who they want to be but not what they are. And so launches a series of boy meets girl, boy loses girl meets boy loses boy, ad infinitum. They fight against their attraction, against their aspirations, but mostly they fight against the people in their heads, their parents and supposed friends who smother them in platitudes and discourage them from reaching for their dreams.
What makes this series unique is that, like "Crazy Ex-Girlfriend," "Up Here" is a musical, or rather the characters and their interior shadows are prone to breaking out into song and dance in a heartbeat. What's even better is that the music and the choreography are terrific and feel organic to the moment. Graced with actors who can sing and dance, well most who can sing and dance, "Up Here" is led by Mae Whitman as Lindsay and Carlos Valdes as Miguel. Katie Finneran, a Tony-winning musical star, plays Lindsay's mother with John Hodgman (whose musical chops are less than his comedic ones) plays her father.
Of course, the musical numbers are fabulous. The writing team behind this joyous, unusual series is Steve Levenson, a Tony winner for the book of "Dear Evan Hansen" and Danielle Sanchez-Witzel. The songs are by Kristen Anderson-Lopez and Robert Lopez, the team behind "Frozen." Directed by Thomas Kail ("Hamilton"), this charming series about reaching your potential and finding your soul and soulmate when faced with insecurities and doubts fueled by years of parental "support" is a welcome, bingeable addition to fight the early spring doldrums.
Premiering March 24 on Hulu.
"The Traveler" 
This new French procedural follows the path taken by Thomas Bareski, a police captain "on leave" from the service. Frustrated that budgetary constraints stymie the pursuit of justice in difficult cases, folded over into an unsolved file too early in the process, scruffy Bareski is on a mission to deliver justice and solace to the surviving victims and bring the elusive perpetrators to jail or retribution. Because he is no longer an official member of the justice system, his methods are often outside the law. He doesn't need a search warrant or permission for his investigations. If the local police object, which they often do, they can take it up with his "guardian angel" within the Ministry of Justice, a name so powerful that it brings police commissioners to heel.
Starring former soccer great Eric Cantona, Bareski looks just like someone who lives in a van because he does. His manner is brusque but vulnerability shows through, like catnip to the ladies. He's the quintessential loner. Like a hero in an old-time western, he arrives in town to set things right and leaves for the next town on his list when he's solved the case; usually with a woman crying in her Chablis.
In French with English subtitles.
Premiering March 21st on MHz Choice.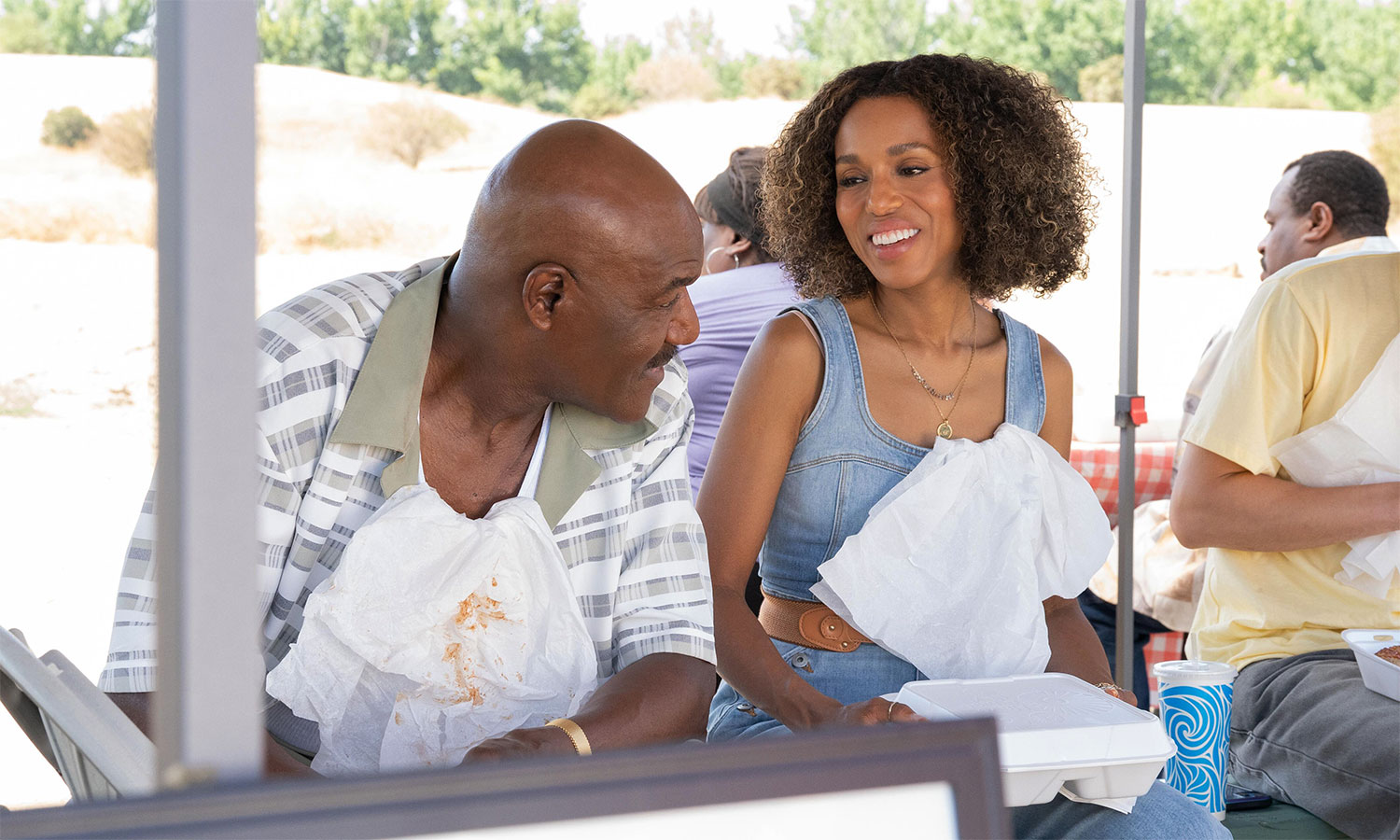 "Unprisoned"
Starring Kerry Washington and Delroy Lindo, this half-hour dramedy is constantly hitting all the right notes on complicated family relationships and self-image seen through the prism of a Black woman, seemingly in control but always on the verge of making the wrong decision.
Paige (Washington), a single mother raising a teenage son, is a therapist with great life advice for her clients and the followers of her popular podcast even if she's not quite the woman in control she appears to be. 
Her allegedly still waters are about to undergo a tsunami. Her father, Edwin (Lindo), never a presence in her life for more than months at a time between prison stints, is being released from the pen and arrives on her doorstep. She unwillingly takes him in. But will she regret this decision? Will she be able to look past the past? Of course, and that's the intriguing, continuing storyline.
On Hulu. All eight episodes premiered on March 10.
"School Spirits"
This new YA series combines teen angst and mystery, intertwining high school insecurities and betrayals as a metaphor for purgatory.
Maddie's disorientation is understandable as she stands in the hall between classes as everyone passes without seeing her. It takes a while for the penny to drop. She's dead and has been returned to the place of her demise. But she's not alone. Seated in an empty room is what appears to be an ongoing therapy session hosted by a neatly dressed teacher leading the students in an open discussion. Maddie, against her wishes, joins the group as they discuss how they died on the grounds of the school, destined forever to roam the halls and the athletic fields. Maddie doesn't have anything to add because she doesn't know how she got there, unaware that she was murdered.
Each ghost, for lack of a better word, has a story to tell and advice to give as Maddie navigates the five stages of grief: denial, anger, bargaining, depression and acceptance. In the first three of the eight-episode series, we see Maddie go through denial and anger almost simultaneously. She and her dead ally Charley begin their illicit investigation as they uncover layers of betrayal and subterfuge. They are unseen as they follow her schoolmates, both friends and enemies.
No one is above suspicion but everywhere Maddie and Simon turn all the promising leads turn into dead ends.
Certainly "School Spirits" can be taken as a good old-fashioned murder mystery to be solved from the beyond, but it's also a sly take on high school as both a living and dead hell on earth. How do you escape? There may be only two ways and one is to graduate and the other is to die; but to die lands you in the purgatory of eternal high school, which belies the expression "these are the best years of your life" when they become, literally and figuratively, the worst times.
The cast is good even though the characters don't always rise above stereotype, but then when do most television teens rise above stereotype. Peyton List plays Maddie; Kristian Flores is Maddie's best friend Simon and Spencer Macpherson is Xavier, the boyfriend and lead suspect. Best of them all, however, is Milo Manheim as Wally the dead jock. His eyes sparkle, his timing is on target, and he adds the comedy element necessary to a show about dead teenagers stuck in the purgatory that is high school.
The first episode premiered March 9 on Paramount + with subsequent episodes appearing weekly.
"History of the World Part II"
At long last, just what the world has been waiting for: the sequel to "History of the World Part I," Mel Brooks' revenge against western civilization as taught in school. Stand back because Part II has arrived. Mel's primary association as consulting producer is the concept and an opening joke. In essence "History of the World Part II" is a case of excess, following the adage that too much is never enough, with copious amounts of profanity, bodily fluids and their associated sounds. A sketch comedy, some scenes will hit but most will miss. With appearances by a drunk Ulysses S. Grant, the "creator" of the Kama Sutra, the Romanoff Family and Jesus, among others, there is no bottoming out to the depths they explore, or rather explode.
Crammed full of today's comedians and stars playing various roles in the many different skits over the eight-episode season, you will see Nick Kroll, Ike Barinholtz and Wanda Sykes, who act, write and produce the series. Other familiar faces are Marla Gibbs, Richard Kind, J.B. Smoove, Danny DeVito and Kumail Nanjiani. I just wish they had let me in on the joke.
Now playing on Hulu. 
Neely Swanson spent most of her professional career in the television industry, almost all of it working for David E. Kelley. In her last full-time position as Executive Vice President of Development, she reviewed writer submissions and targeted content for adaptation. As she has often said, she did book reports for a living. For several years she was a freelance writer for "Written By," the magazine of the WGA West and was adjunct faculty at USC in the writing division of the School of Cinematic Arts. Neely has been writing film and television reviews for the "Easy Reader" for more than 10 years. Her past reviews can be read on Rotten Tomatoes where she is a tomato-approved critic.