The Portland, Oregon art scene is thriving and Lizzy is there on the margins. A potter, she lives a life of quiet frustration. Self-identifying as an artist, she tries her best to keep her projects at the center of her being. Working at an art school that hums with creativity and passion, she was hired by her mother Jean, the founder and director of the school, to be the accounting manager. While everyone attached to the space is celebrated for their artistry, Lizzy's projects are afterthoughts to those around her. She can have time at the kiln when it's not busy; she can plan for her own show if she gets her other work done or takes a personal day. She's a living, breathing side note.
Clearly her second-class status was established long ago with a father, Bill, who was a celebrated potter; a bitter divorced mother who seems to have hired her daughter more out of pity and loyalty than belief in her; and a brother, Sean, long thought to be a talented artist but now living a sequestered life on the edge of a mental illness that is always on the verge of erupting into full-blown crisis. No one has made room for the daughter who only finds an outlet in the small figures she sculpts out of clay.
Lizzy finds some solace in her live-work studio close to the art school. She rents from a fellow artist, Jo, a graduate of the art program who is about to go big. Totally preoccupied with her own upcoming shows, two of them, she has no time for Lizzy's problems even if they are Jo-created. There has been no hot water in Lizzy's apartment for days and the thought of showering in Jo's apartment is horrifying. It would violate all the walls she has constructed around her. Even so, Lizzy is unable to see the boundary that Jo has created.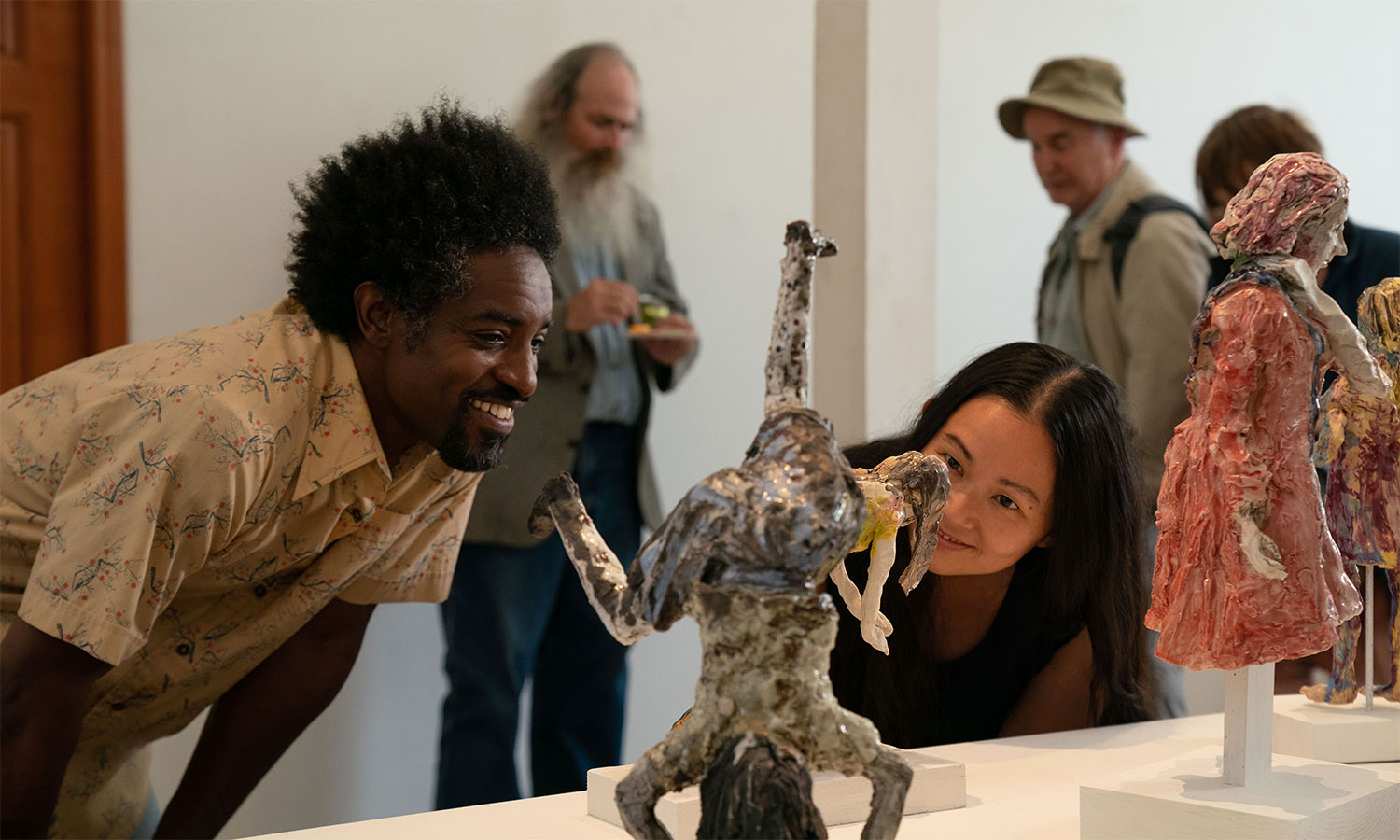 But there are other unspoken, but probably felt, problems in their so-called friendship, something that Lizzy has always viewed as a peer relationship despite the clues that it isn't. Jo, with her cutting-edge projects and inventive eye, is an artist about to explode on the scene and she knows it. Her indifferent attitude toward Lizzy and her problems, even if Jo is responsible, speaks to her undercurrent of apathy for any talent Lizzy may or may not have. Her refrain of "I'm busy preparing for my shows. I'll get to it after they open," reveals how far down the totem pole Lizzy is. Lizzy, she implies, should understand that art comes before comfort, at least Jo's art and Lizzy's comfort.
Socially awkward is a major descriptor of our Lizzy. Mumbling, acquiescent, unable to express dissatisfaction, inattentiveness to her appearance all contribute to her self-image and how she is viewed by others. The opening shot of her shuffling around in her studio focuses first on her shoes, slightly dirty, white Crocs. Always considered comfortable and re-emerging as "fashionable" footwear, on Lizzy they define a character unsure of her place and unable to command any attention. They, along with her musty pastel sweatpants and sweatshirts, cry out "Don't look at me."
"Showing Up" takes place over a one-week period as Lucy fights to finish the clay figures for her own opening. The world roils around her and she's just trying to keep up. As the students at the school wrap up their projects, a famous artist arrives to start a residency. Jean's primary concern is expense reports; Jo, soon to be their most successful graduate, hovers everywhere as she sets up her pieces for the show at the school and the outside gallery that is presenting her; and Lizzy tries to wrestle time at the kiln to finish her figures. That one of her pieces is misfired is a testament to her lack of stature. Even in her own studio, Lizzy seems to be more observer than participant.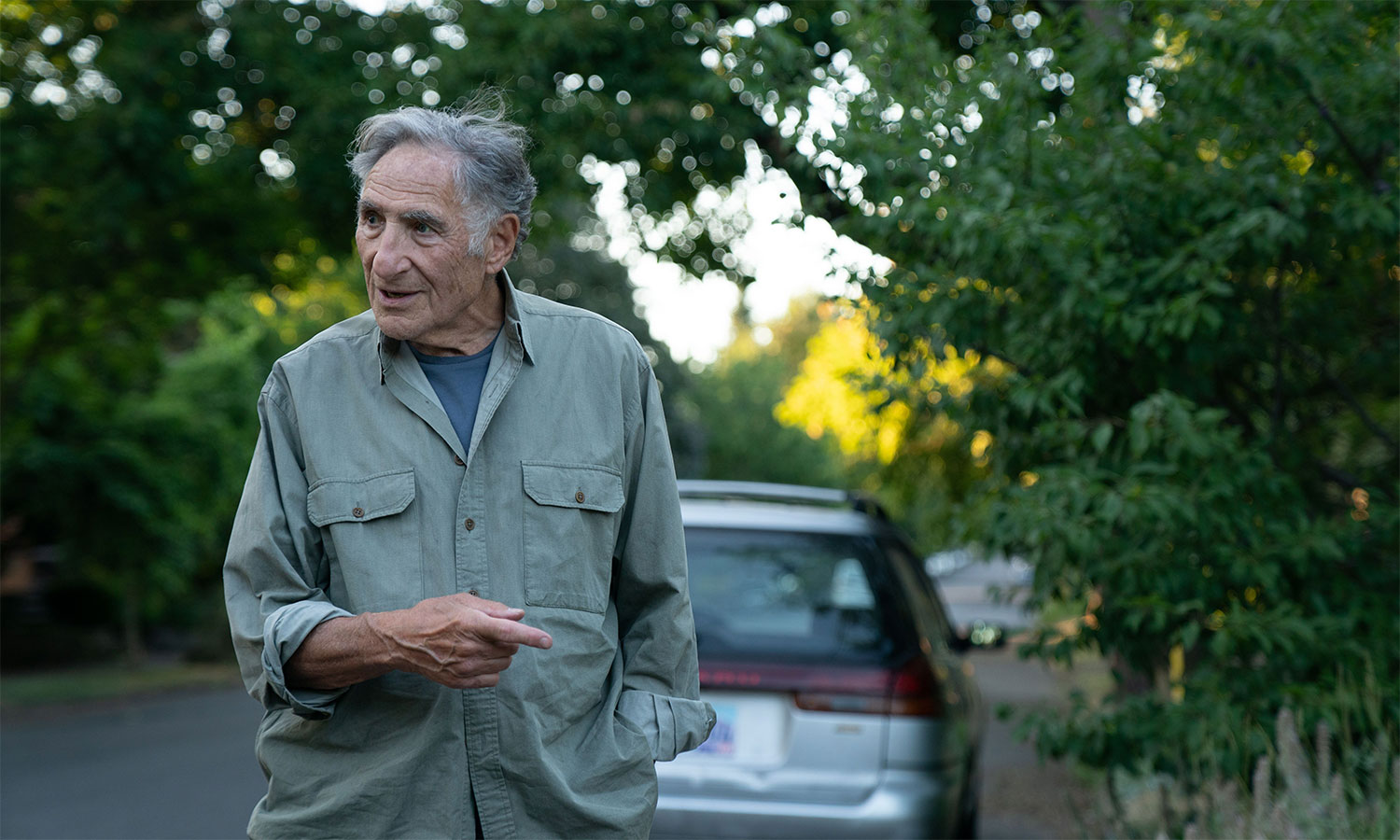 Kelly Reichardt, who directed the film and co-wrote it with Jonathan Raymond, has set out to give us a slice of life centered on Lizzy. She obviously likes her character and has given us a bittersweet portrait of someone who is kind, considerate and, unfortunately, ordinary in every way. But there's a reason this film is called "Showing Up." It's an ode to everyone who has the courage to come in, get to work, and try hard even when no one else is looking. But the only prizes for showing up are given out in grade school for perfect attendance. There is no lasting legacy to the one who came in, rain or shine, and did her job. Even Lizzy's niche in the art world is borderline. Little clay figurines get sparse attention in the high-end galleries that dictate the next big thing. The kind of pieces that Lizzy creates find an afterlife in expensive boutiques that purport to sell "art" but are really selling decor.
There is no lasting legacy for those whose greatest asset is being there. It brings to mind one of the central questions in "The Banshees of Inisherin" when Pádraíc asks his former friend Colm why being nice, his greatest asset, isn't good enough. Colm responds, "A hundred years from now, no one will remember nice, but they'll still remember Mozart."
Then there is Jo for contrast. She isn't Mozart but she clearly sees the difference between herself and Lizzy. Her unrecognized narcissism is a trait necessary to almost all great artists in order to shield themselves from the white noise around them. This doesn't excuse the egocentricity one sees in artists of all kinds, but in order to succeed, one has to have an absolute, unshatterable belief in oneself. Jo has the kind of confidence that has a tendency to manifest itself in self-importance and Lizzy doesn't have it, either in her art or in her personality.
Reichardt is helped greatly by the cast she has chosen, with the vastly underused Maryann Plunkett as Jean. The downturned mouth, the frequent sighs, the sharp impatient tone contribute to our understanding, not just of Jean and the hand life has dealt her, but also of Lizzy. Jean represents one more wall to climb in Lizzy's existence.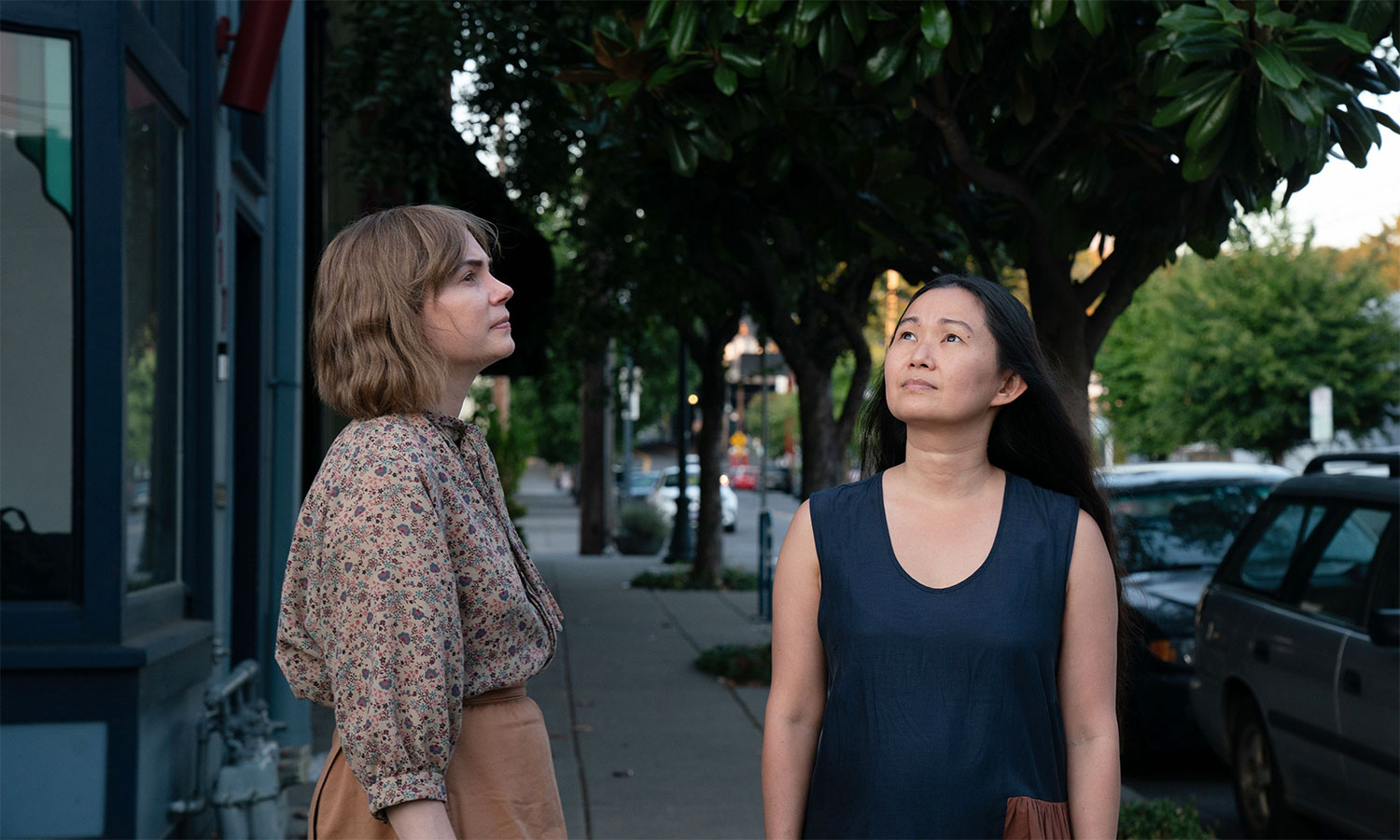 Judd Hirsch as Bill, her father, has that aforementioned narcissism of an artist, still living in his past glory. His success and lack of interest in his daughter is one more brick layer on top of that already insurmountable wall. Never acknowledging or encouraging Lizzy's art, he is, years after leaving the family, still self-focused long after an expiration date that even he fails to see.
Michelle Williams has been a frequent collaborator of Reichardt ("Wendy and Lucy," "Certain Women," "Meek's Cutoff"). Her hesitations, her shuffling sadness, her inarticulate expressions all contribute to eliminating the glamour one associates with Williams and helps her disappear into the role. Her inherent sadness attracts a certain amount of sympathy but it is her artistry that actually provokes the antipathy you ultimately feel for her character. Williams's Lizzy tries so hard to please everyone around her that she ends up pleasing no one, least of all herself. In some ways, her successful portrayal ends up making her almost secondary despite her starring role. Leading us to Hong Chau, an actor undergoing a renaissance of discovery, as Jo.
Hong Chau's vivid portrayal of a woman on the verge of a breakthrough, orchestrating every step so that she explodes on the scene, is a marvel. Self-involved to the nth degree, Jo never becomes entirely unsympathetic. She is gentle with Lizzy until Lizzy becomes the fly that won't stop buzzing until it's swatted away. Yes, she is responsible for the defective water heater, but in her world it's a problem that doesn't need solving at her own expense—a classic case of skewed logic. Hong Chau plays Jo as a force of nature and you truly believe that she is an artist, both in the small and large movements she makes. It is her character's very juxtaposition with Lizzy that defines the film. Chaus's versatility as an actor is underscored by the other, very different roles she played this year, disappearing into each of them. She was the dominatrix-like major domo in "The Menu" and was nominated for an Oscar for her role as the caregiver in "The Whale." There does not appear to be anything she can't do.
Reichardt added the role of editor to her other duties on this film, making it more difficult for anyone else to tamper with her ideas. She may not have been granted final cut, something that even the most famous directors rarely get, but she put herself in charge of the footage, limiting the ways others could "play" with it.
Although initially perplexed by the film and not sure of how I felt, it's a movie that bears reflection. There is actually less to Lizzy and more to Jo than meets the eye, and that, in the end, is the point.
Now playing at the AMC Century City and AMC Grove.
Neely Swanson spent most of her professional career in the television industry, almost all of it working for David E. Kelley. In her last full-time position as Executive Vice President of Development, she reviewed writer submissions and targeted content for adaptation. As she has often said, she did book reports for a living. For several years she was a freelance writer for "Written By," the magazine of the WGA West and was adjunct faculty at USC in the writing division of the School of Cinematic Arts. Neely has been writing film and television reviews for the "Easy Reader" for more than 10 years. Her past reviews can be read on Rotten Tomatoes where she is a tomato-approved critic.