When Felix Lotan, head of Magen David Adom's disaster preparedness department and a senior paramedic, was leading an Israeli search-and-rescue effort following the 7.8 magnitude earthquake that occurred in Turkey in February—the catastrophic event left more than 50,000 people dead and millions homeless—the mission was clear: save as many people as possible.
In Turkey, "we had pretzels and we had Nature Valley [bars]," Lotan said. "This was our food for the next 48 hours. And we went to look for survivors."
Lotan was speaking to an intimate crowd of approximately 30 Magen David Adom donors at the Beverly Hills home of Indre and Barak Raviv. Held May 16, the event was organized by American Friends of Magen David Adom, the U.S.-based fundraising arm of the Israel-based organization. The goal was to increase awareness about the work of MDA, Israel's national emergency medical service and representative to the International Red Cross.
Founded in 1930, 18 years before Israel declared official statehood, Magen David Adom—literally "Red Star of David"—has played a critical, lifesaving role throughout Israel's history. During the country's War of Independence, Magen David Adom (MDA) ambulances and blood collection vans provided treatment for soldiers and civilians injured in attacks. In 1950, the Israeli government mandated MDA provide all emergency medical, ambulance and blood services. It is an apolitical group and is not funded by the Israeli government.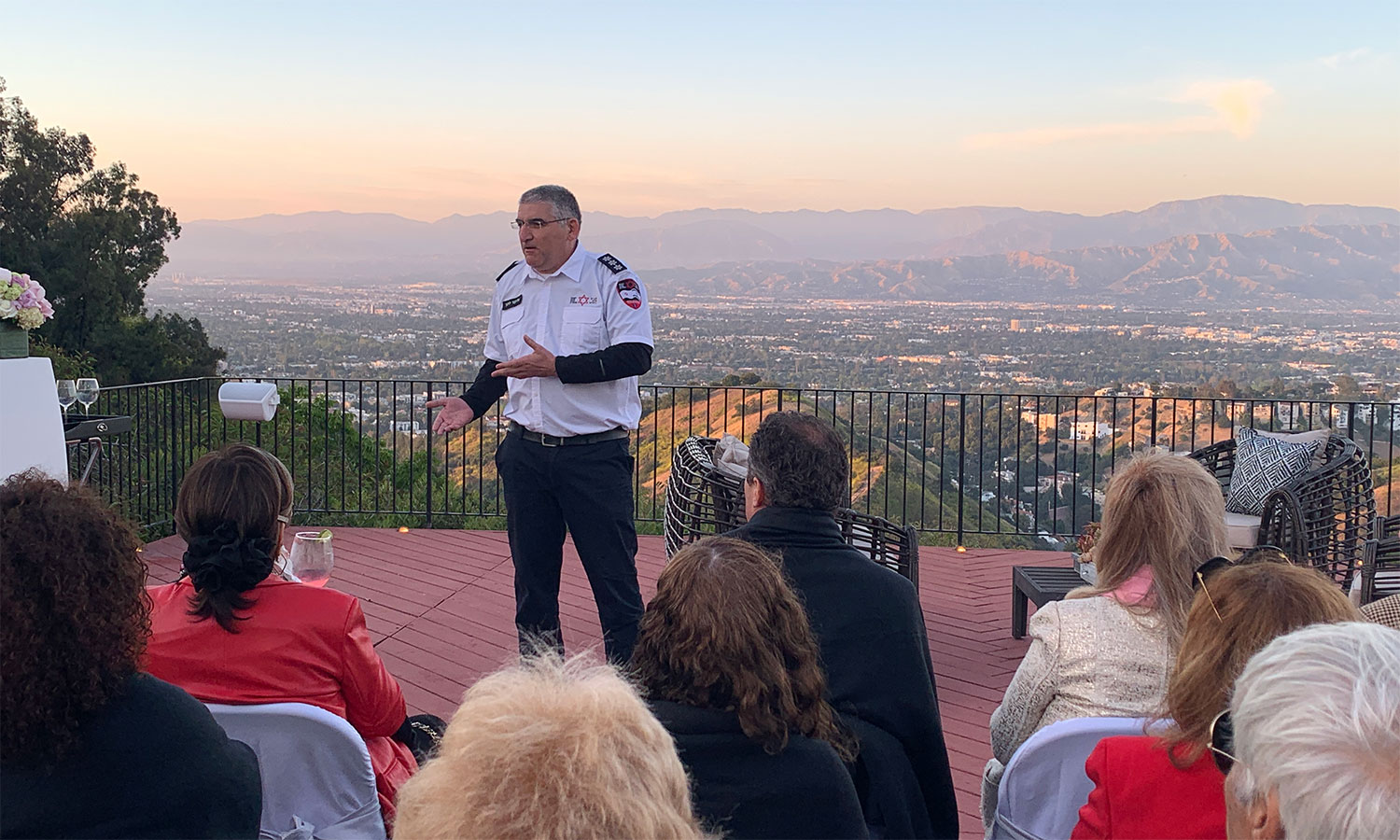 The organization, instead, relies on donor support. Historically, American supporters have sponsored the majority of MDA's emergency vehicle fleet.
"Without philanthropists like you," Lotan told the crowd gathered in the backyard in Beverly Hills, "MDA could not exist."
Because there's nationalized health insurance in Israel, when MDA evacuates someone to a hospital, the organization bills the insurance company. During a normal shift, MDA operates between 350-500 ambulances around Israel.
During the recent Operation Shield and Arrow, a recent exchange of attacks between Israel and Palestinian Islamic Jihad in the Gaza Strip—after several days of rocket attacks, a cease-fire was declared May 13—MDA operated approximately 1,000 ambulances. As rockets rained on Israel, the group continued providing routine emergency response services to the country's civilian population.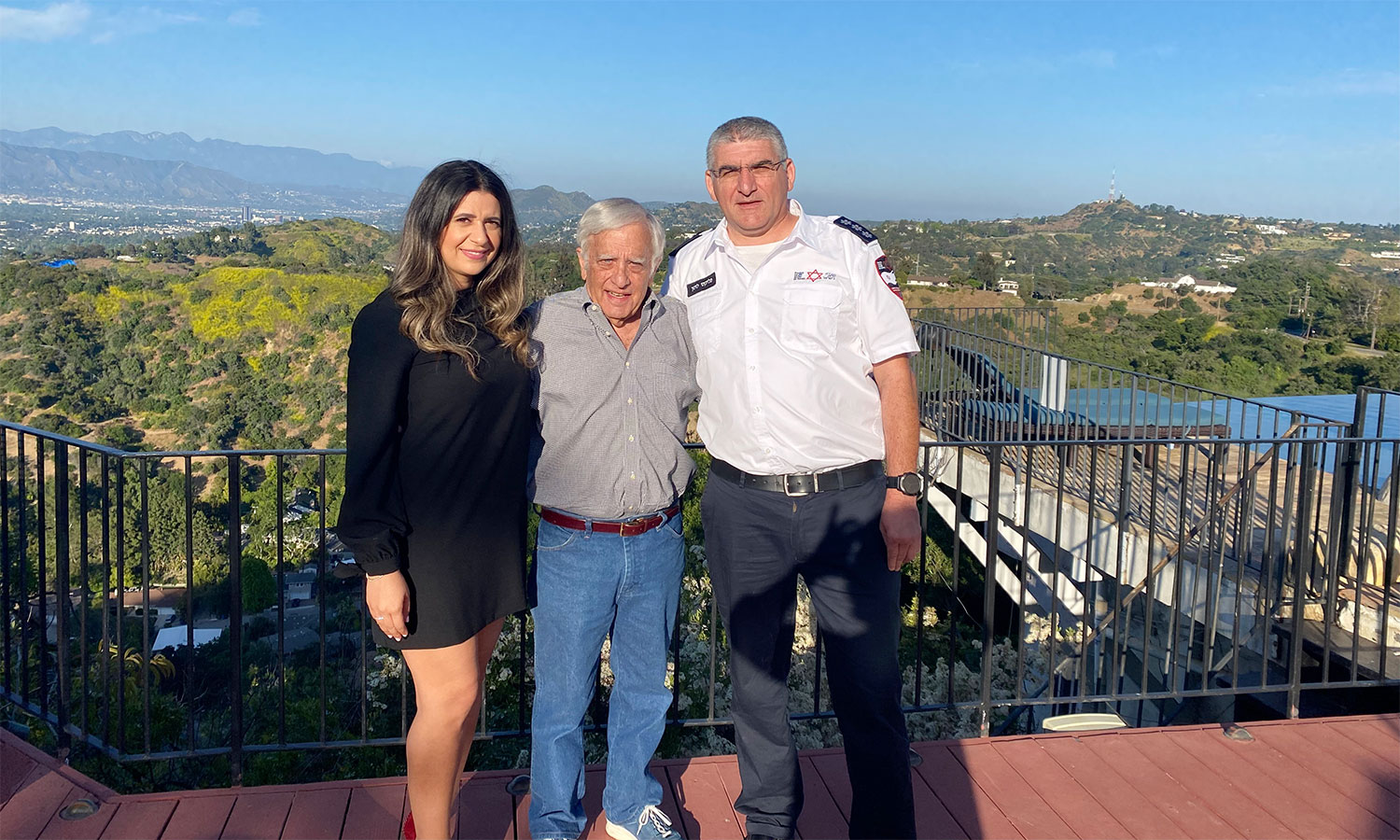 "We needed to continue to provide services to people who had heart attacks, to people who had strokes, to deliver babies," Lotan said. "In Israel, we deliver a lot of babies. Most of our paramedics are half-midwives, especially those working in the religious areas—they are experts at delivering babies."
Because the organization is a member of the Red Cross, Lotan said, "we're not only doing EMS [emergency medical services] things; we're doing humanitarian things as well."
Lotan has been involved in several of MDA's international relief missions, including in Haiti and Nepal, following devastating earthquakes in those regions. Additionally, he was among the Israeli delegation of aid workers dispatched to Texas after Hurricane Harvey. He was also one of the MDA paramedics sent to Moldova, following Russia's invasion of Ukraine, to support Ukrainian refugees.
A paramedic with MDA for more than 23 years, he characterized the work of MDA as vital to Israel's existence.
"Magen David Adom is not the second line. It's the first line," Lotan said. "IDF will fight outside borders, but our enemies today are aiming inside the borders of Israel."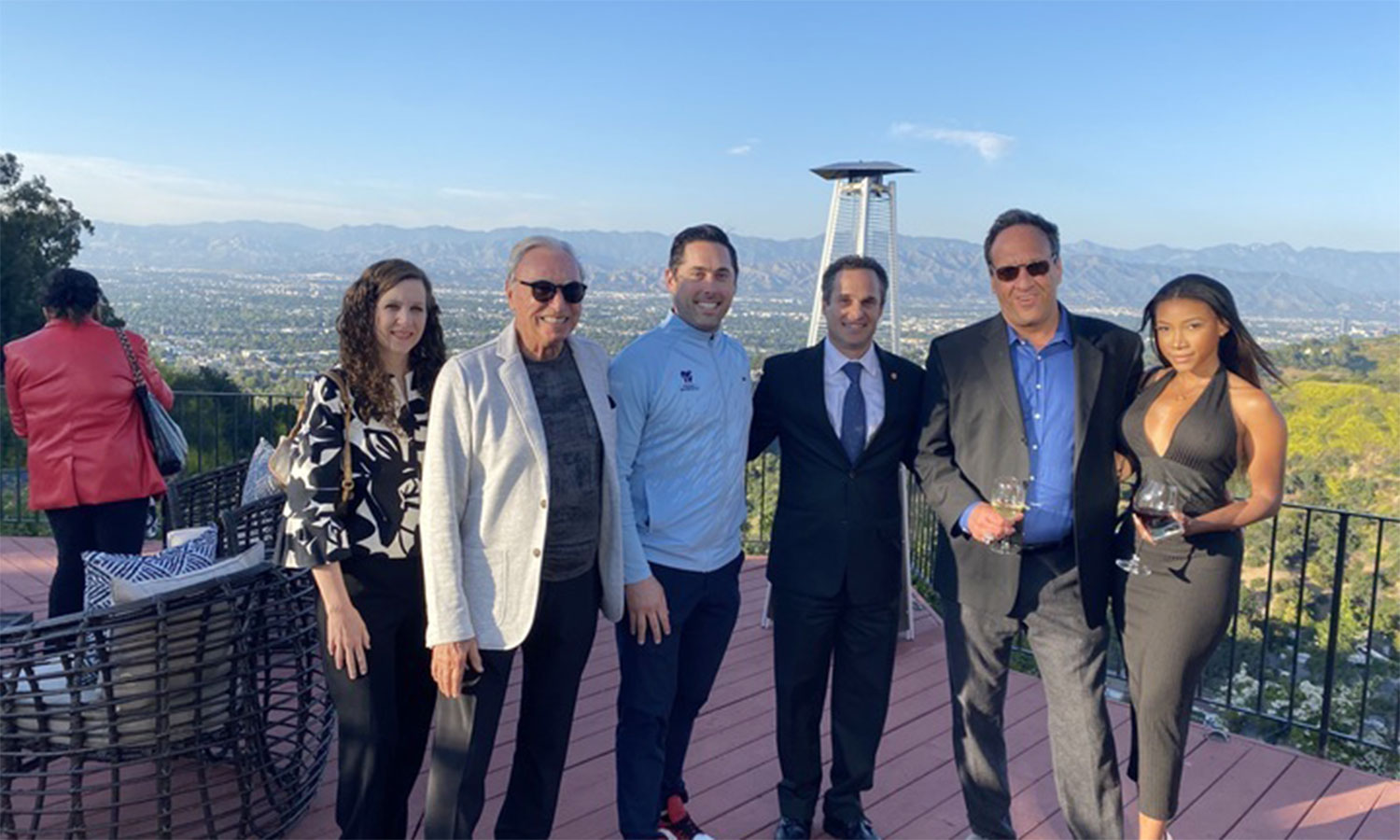 Discussing his recent time in Turkey, he said the first rescue mission involved an 11-year-old boy, Arda, who was trapped in his bedroom. The relief workers had to drill small holes in the ceiling and called out to the boy asking if he saw any light from their holes. Eventually they realized he was on his bed. They drilled a hole large enough for him to fall through. He fell right into relief workers' arms.
Ultimately, the Israeli rescue team extracted 19 people from under the rubble, an unprecedented amount for a foreign delegation. It happened, Lotan said, because of the team's motivation and willingness to work in conditions that were sub-ideal.
The MDA organization has approximately 30,000 volunteers, contributing more than 1 million combined man-hours per year. Each volunteer is trained in a variety of specialties.
It is not only Jewish people who are volunteering for MDA, Lotan said.
"When you want to see coexistence," he said, "you see coexistence at MDA."
Lotan's appearance at the Beverly Hills home was one of several engagements he had in town. On May 19, he delivered an introduction at an AFMDA emergency response training at the Jewish Federation of Los Angeles offices. He also addressed the Beverly Hills-based synagogue, Nessah, on May 20, and he spoke with Beverly Hills City Council members in a closed session.