If London is in your summer travel plans, you won't want to miss the Bridge Theatre's production of "Guys and Dolls." I was lucky enough to see the show last week at the beginning of what is sure to be a long run. I came away thinking that this American classic may very well be the perfect musical. That is not to say everything about this production is beyond reproach, but it would be nigh unto impossible not to laugh, smile and glory in the play itself while mouthing the words to "A Bushel and a Peck," "Adelaide's Lament" or "Sit Down, You're Rockin' the Boat." 
While not perfect, this production is about as good as it can get with music and lyrics by Frank Loesser and a book primarily written by Abe Burrows. Nicholas Hytner, the director, formerly Artistic Director of the National Theatre and co-founder of the Bridge Theatre, is no slouch. Among the plays he's directed to Tonys and/or Oliviers, both for himself and/or the productions, are "History Boys," "One Man, Two Guvnors," "Carousel" and "Miss Saigon."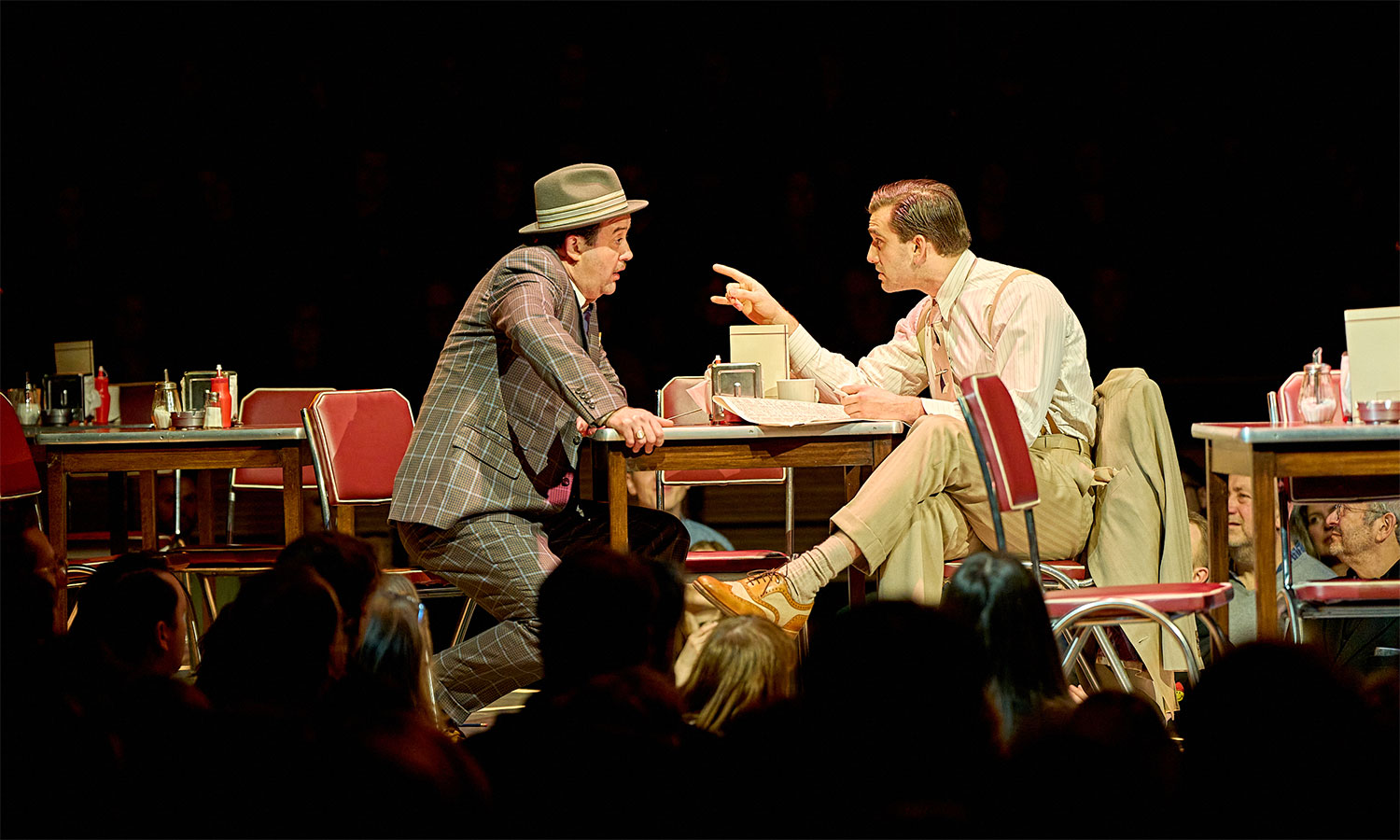 "Guys and Dolls" is based on characters created by Damon Runyon (and if you've never read any of his short stories, you must) and the story is about the "oldest established permanent floating crap game in New York." The era, late '20s or early '30s, is quintessential midtown Broadway where gangsters mix with showgirls, cops are on the take, preachers recruit sinners and the high lifes and low lifes intermingle at Mindy's restaurant after the show. Nathan Detroit is tasked with finding a spot to host the game, for which he gets a cut, something that has been made very difficult of late given the recent crackdown by Lieutenant Brannigan, sore because his superiors are on to his fiduciary relationship with the gamblers. Nathan has to come up with a "grand" to procure the facilities of the Biltmore garage, and it's a grand he ain't got. There are a lot of high rollers in town, not the least of whom is Sky Masterson, suave, handsome and flush with cash. Poor Nathan, he's also being pressured by his girlfriend, Miss Adelaide, the headliner at the Hot Box Revue. As she laments, they've been engaged for 14 years and still not any closer to the altar.
Nathan, unable to bring himself to ask Sky for a loan, comes up with a surefire, never lose a bet. He bets Sky, a lady's man without equal, that he won't be able to seduce a woman into accompanying him to Havana; but it will be a woman of Nathan's choice. And who is this "doll?" Miss Sarah Brown of the Save-a-Soul Mission. Will Nathan get his grand? Will Miss Adelaide get her wedding? Will Sky meet his match? It's all in the telling and the singing. And no matter how many times you've seen this show or heard the music, it's still as fresh as it's ever been.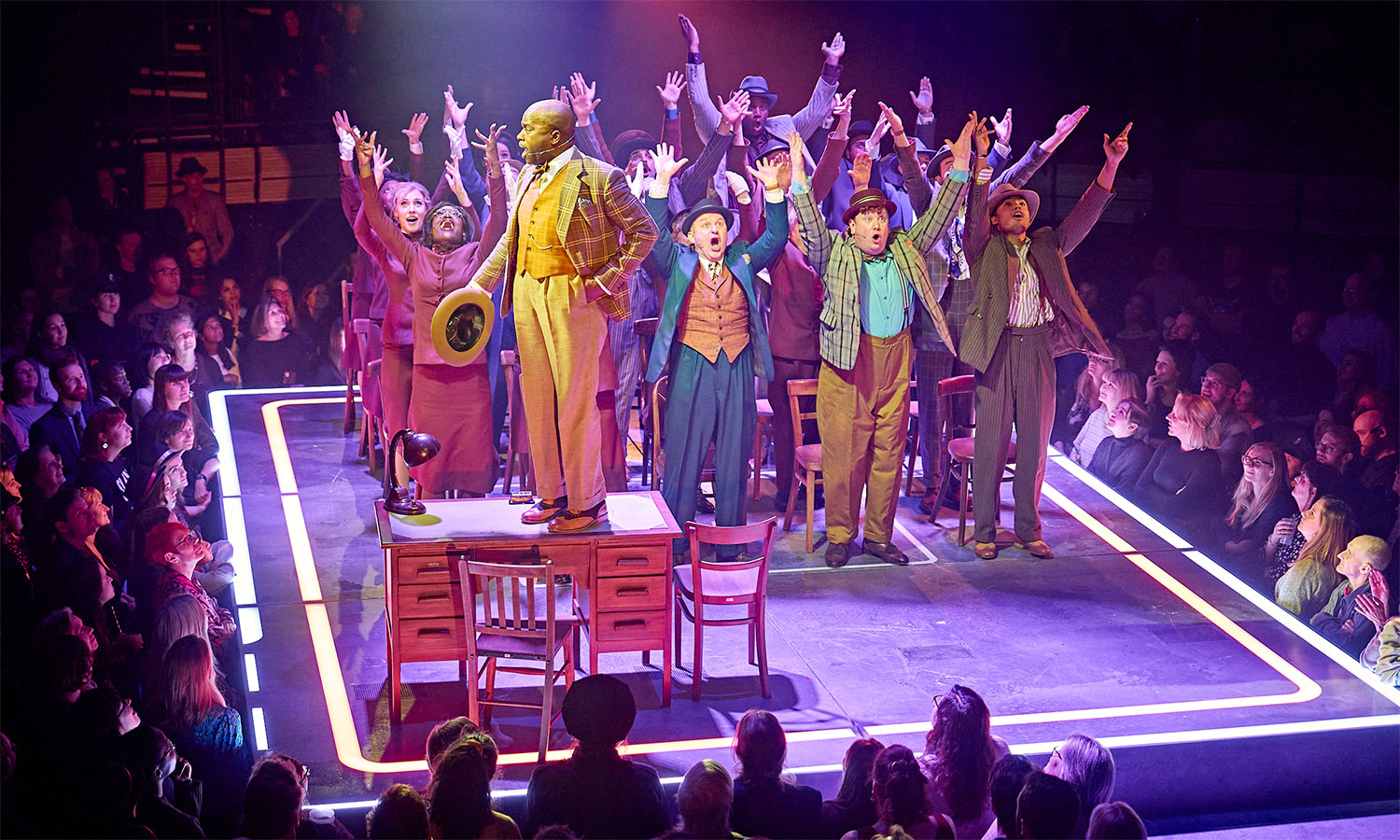 What makes this "Guys and Dolls" unique is the staging. Yes, the music is wonderful, the Runyonesque characters are spot on and the timing is everything you could hope for. But Hytner has, once again, marked this production with his imaginative and daring staging. The Bridge is basically a theater in the round (actually it's a square) with the stalls, British speak for orchestra or, in this case seating closest to the stage, and three levels of gallery seating above the stalls. The Bridge is known for its immersive audience experience with standing room around the staging area. I say staging area because the configuration of the "stage" is variable and sections of marked-off flooring will raise or lower according to the scene in a positively breathtaking manner. The audience with "immersive" tickets is moved from area to area by ushers dressed as New York police officers of the era so that the marked-off platforms can rise with the actors or disappear back onto level ground as called for. This has a tendency to make all the action more immediate and lightning paced. Imagine your high school gym floor taped with a rectangle overlapping a triangle next to a big square next to another long rectangle, each rising independently from the floor to create a miniature customized stage on which the characters interact and then lowering to its initial seamless floor level position as the dancers/actors glide to a new riser, constantly on the move as the floor changes levels.
Arlene Philips, assisted by James Cousins, choreographed this show within an inch of its life, and I mean this in the best possible way. Despite the small, sometimes tiny areas, she was able to create full dance numbers on postage stamp-sized platforms that left you holding your breath, both from the standpoint of artistry and finesse as well as how close some of the dancers came to the edge of the stage. Sky twirls Sarah in midair, literally, because she is swung out over the edge of the riser. She was definitely a bell that was ringing and a gate that was swinging. In almost all the numbers, you marvel as the chorines execute their pirouettes and slides. Her Hot Box numbers with the scantily clad showgirls form a square so that the entire audience may revel in their beauty and high kicks as they continue to move counter-clockwise. The sound is as vibrant as the action because the live orchestra is on full view in one of the upper galleries.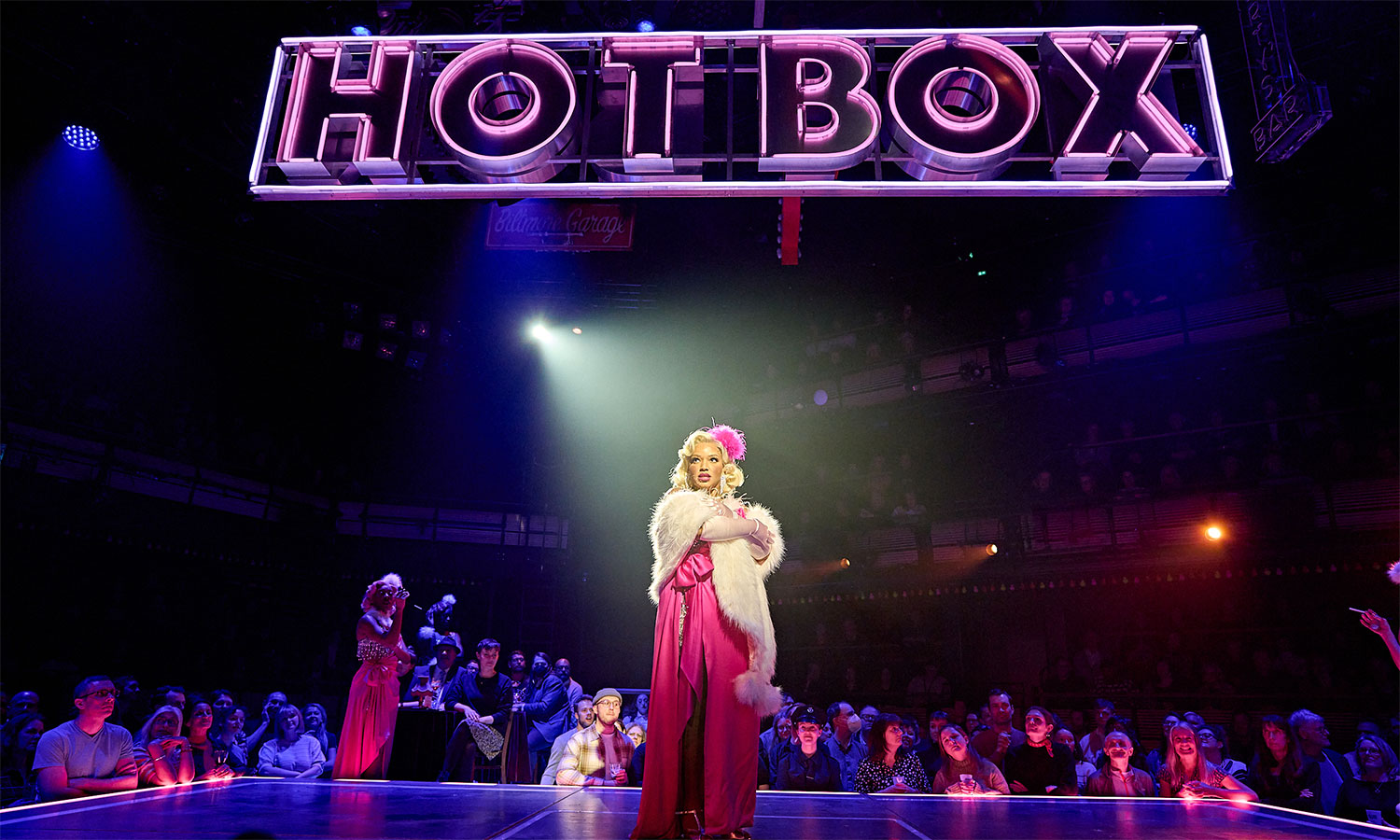 Most of the guys and dolls have multiple roles, whether nightclub performers, Salvation Army members or gamblers, and acquit themselves very well. But you don't come for the chorus, you come for the characters. Cameron Johnson as the intimidatingly tall and gruff Big Julie and Cornelius Clarke as the grumpy Lieutenant Brannigan make good use of their time on stage. Cedric Neal as Nicely Nicely, one of the premiere supporting characters in the show, has three signature numbers, "Fugue for Tinhorns," "Guys and Dolls" and "Sit Down You're Rocking the Boat."  He doesn't really sell his beautiful tenor until the very end with what starts out as a swing band version of "Sit Down You're Rocking the Boat'' and ends as a showstopping, foot-stomping, shake-the-rafters gospel number that has the audience on its feet. Any previous disappointment, something that is often inevitable when the music is so familiar, is instantly erased.
Daniel Mays as Nathan Detroit has probably the most impressive theater, film and television credits of anyone in the cast, but he chose to mug with extraneous facial and body tics rather than give his character more depth and understanding. He's not bad; he's just more of a caricature than he needed to be. Andrew Richardson as Sky Masterson had essentially no credits before being chosen for this lead and will surely have many more to come. Although hampered by a perplexing accent, one that may have been the result of poor dialect coaching, he's an absolute  hunk with a voice to match his looks. He was the very definition of a romantic lead. Celinda Schoenmaker as Sarah Brown is every bit Richardson's counterpart with an angelic voice and powerful stage presence. Their dynamic combination makes you believe that initial antipathy can turn into love at second sight.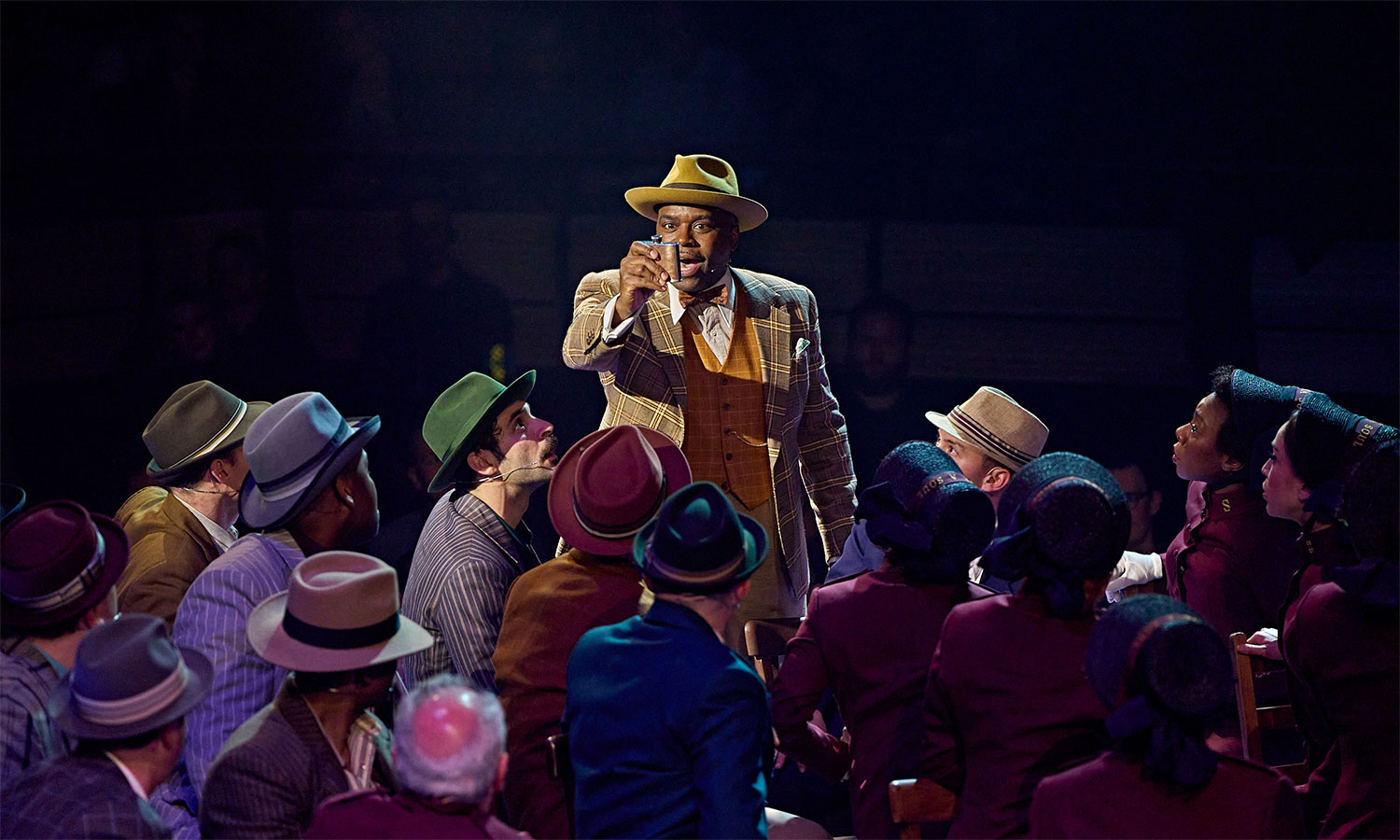 The showstopper role of Miss Adelaide, the shady lady with a tainted past, has always been an award winner whether played by Vivian Blaine or Jane Krakowski. Here, it is Marisha Wallace who steals every scene she appears in, making this more a Doll and Guys. Wallace has a voice worthy of touring and recording and a stage presence that really sells her devoted ingenuousness makings you believe she would stay with a guy like Nathan for 14 years of broken promises. Dressed like a stripper, you never doubt her innocence or sincerity.
If you're going to London in the next few months, add "Guys and Dolls" to your agenda. Otherwise, we can hope it will be presented as part of the National Theatre Live film and television performances. I'm not sure how the staging would translate to a more static medium but the show itself is so good that it would still be worth it.