In response to the ongoing thefts of catalytic converters, the Beverly Hills Police Department (BHPD) held an "Etch and Catch" community event, during which Beverly Hills residents marked their catalytic converters with their Vehicle Identification Number (VIN).
The May 13 program drew 60 vehicle appointments. 
BHPD and their partners also applied a high-temperature spray paint on the catalytic converters in the hope of deterring any future burglaries of an auto part commonly targeted by thieves.
"Our goal today is to get as many of our residents etched and spray-painted as possible," BHPD Sgt. Jeff Newman, head of the department's community relations unit, told the Courier during the in-person program, held from 8 a.m.-1 p.m. at the intersection of Foothill Road and Civic Center Drive.
Pre-registration was required for the free event, which was open exclusively to the city's residents. All appointment slots filled up quickly, Newman said.
While Beverly Hills is not leading other areas of the city in the theft of catalytic converters—called "cat" for short—it remains a serious issue of concern in the area, Newman explained. There were approximately 8,000 reported catalytic converter thefts in Los Angeles in 2022, according to a recent Los Angeles Times story. Statistics for Beverly Hills were not immediately available.
Having a VIN etched onto the catalytic converter enables law enforcement to trace and identify the stolen part and can ultimately help with prosecution. If a VIN is displayed on a catalytic converter, it indicates to the auto part's potential buyer that it's been stolen. 
For those who've been fortunate enough not to have been a victim of the crime, BHPD's event provided basic information about how and why it takes place. Most catalytic converter thefts, Newman explained, occur at night when a car's engine has likely been off for some time; otherwise, it will be too hot for the thieves to steal the part. 
The device, which is used to control emissions, is mandatory for all vehicles with gas-powered engines. It is often targeted because of its external location and because it's made of precious metals, including platinum, which can be sold for up to $1,000 per ounce.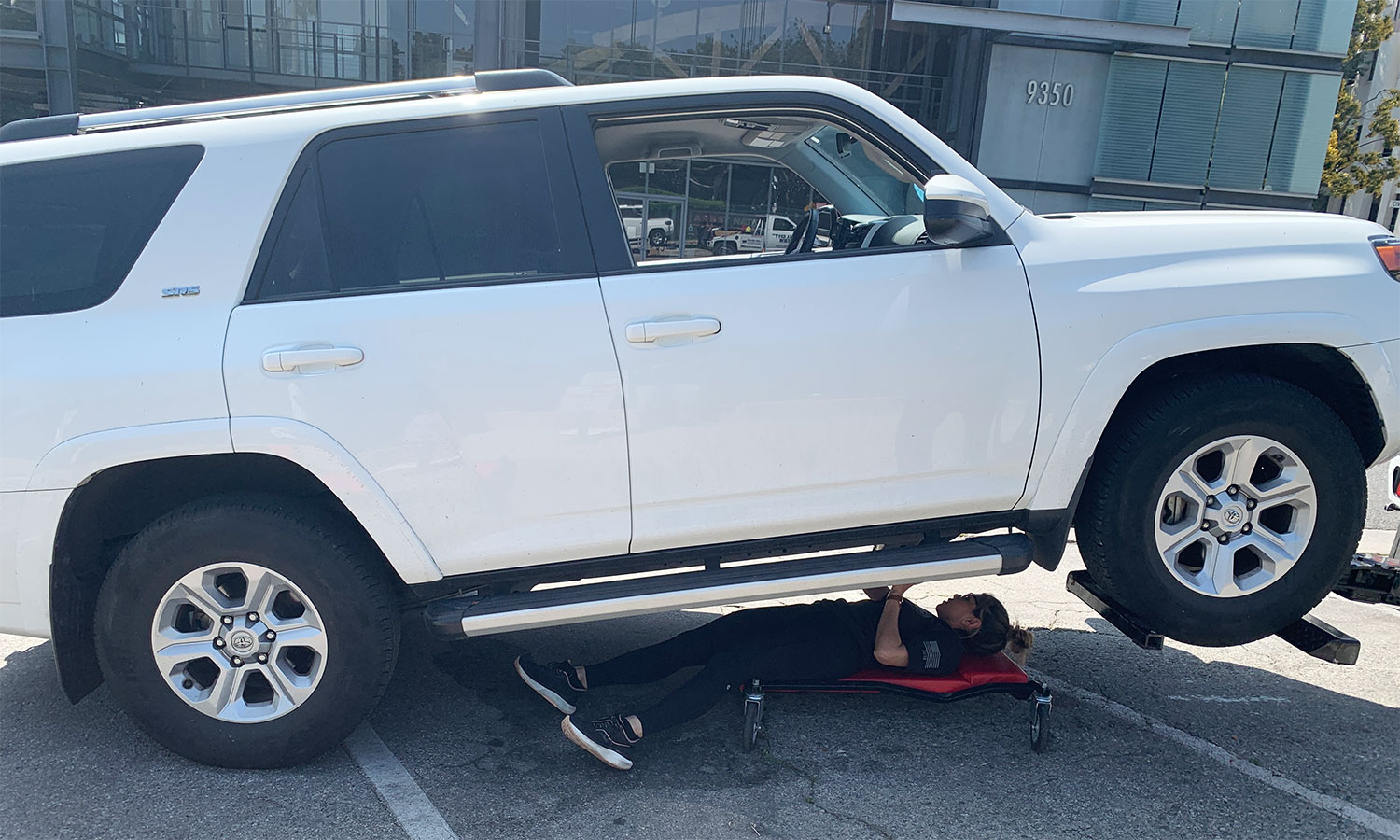 Using a portable saw, a thief can steal a "cat" in minutes. 
"You've heard of 'Gone in 60 Seconds?'" Newman said, referring to the Hollywood action film. "With catalytic converters, it's gone in about two minutes."
Vehicles commonly targeted for their catalytic converters include the Toyota Prius, Toyota Sequoia and Honda CR-V. Of course, electric vehicles don't have the device.
By 11:15 a.m. on the day of the event, several cars lined up on Civic Center Drive, with the drivers waiting to provide their VIN to Newman. After the driver gave the number, he or she was asked to exit their car so that it could be loaded on the rear of a tow truck. The vehicle's bottom was lifted in the air, allowing a crew member to slide underneath to laser the VIN onto the converter. 
The entire process took just a few minutes. 
Those who turned out included Sami Sharone, a resident of the community for more than four decades. Sharone, who works in advertising, had his VIN etched into his Toyota Tacoma.
"I think it's a great event for the community and a terrific service they're doing," Sharone told the Courier. "I decided to come and take advantage of that service."
Another resident, who declined to be identified, came with his Audi. His wife, who is involved with the city's neighborhood watch program, alerted him to the program. 
This was the first time BHPD held an "etching" event. The police department organized the program in partnership with the Taskforce for Regional Auto Theft Prevention (TRAP), a state-funded, multi-agency group created to promote a coordinated effort and encourage cooperation between law enforcement and prosecutorial agencies in LA County regarding auto theft. 
For those who couldn't be in attendance, BHPD plans to hold similar events in the future. 
And for DIYers, a high-temperature spray paint like the one used during the program can be purchased for cheap at any auto parts store, Newman said.