As construction on the Metro's Purple (D Line) Extension in Beverly Hills continues, weekend street closures in the area are expected all summer long at the intersection of Wilshire and La Cienega boulevards.
Wilshire/La Cienega intersection weekend closures began over the weekend of June 30, through July 3, and are continuing for 10 consecutive weekends, excluding the Labor Day holiday, as construction crews began removing the concrete deck panels on Wilshire Boulevard between Hamilton Drive and into the La Cienega intersection. Marking the second phase of deck removal, the work is taking place on Friday nights at 8 p.m. and continuing through 7 a.m. the following Monday.
Throughout this summer's weekends, Wilshire Boulevard will be fully closed between La Cienega and San Vicente boulevards; La Cienega Boulevard will be closed in both directions at the intersection of Wilshire Boulevard. Northbound traffic on La Cienega Boulevard will be detoured at Olympic Boulevard and southbound traffic at 3rd St. Local access to businesses on La Cienega between Burton Way and Olympic Boulevard will be maintained from Clifton Way and Gregory Way.
Local access to Wilshire Boulevard will be maintained at Hamilton Drive, Gale Drive and Tower Drive; access to the Landmark Center will be maintained from northbound Tower Drive; and access to the Cedars-Sinai Medical Center will be maintained from Le Doux Road. Hamilton Drive and Gale Drive may be closed at Wilshire beginning as early as 6 p.m. on Friday nights.
On July 2, this past Sunday morning, the work was on full display. A crew in white hardhats and bright orange vests were busy directing construction equipment outside the Saban Theatre. Deere vehicles, yellow caution tape, road signs and cones dotted the closed-down section of Wilshire. A crew member manning a backhoe scooped dirt out of the ground and into large piles on the street. Because of the extensive roadwork and Fourth of July holiday, there was little traffic in the surrounding area. The mid-Wilshire neighborhood, in fact, looked deserted.
As Metro gets closer to completing the first section of the Purple (D Line) Extension, similar work, including the removal of deck beams, backfilling, utility replacement and paving, will be occurring all summer long. As of June 30, seven weekends of deck removal work had been completed, and June 30-July 3 marked weekend-eight of decking removal.
Upon its completion, the Purple (D Line) extension rail project will provide a viable transportation alternative from downtown Los Angeles to Westwood, including two stops in Beverly Hills: Wilshire/La Cienega Station and Wilshire/Rodeo Station. The latter is located at the intersection of Wilshire and Reeves.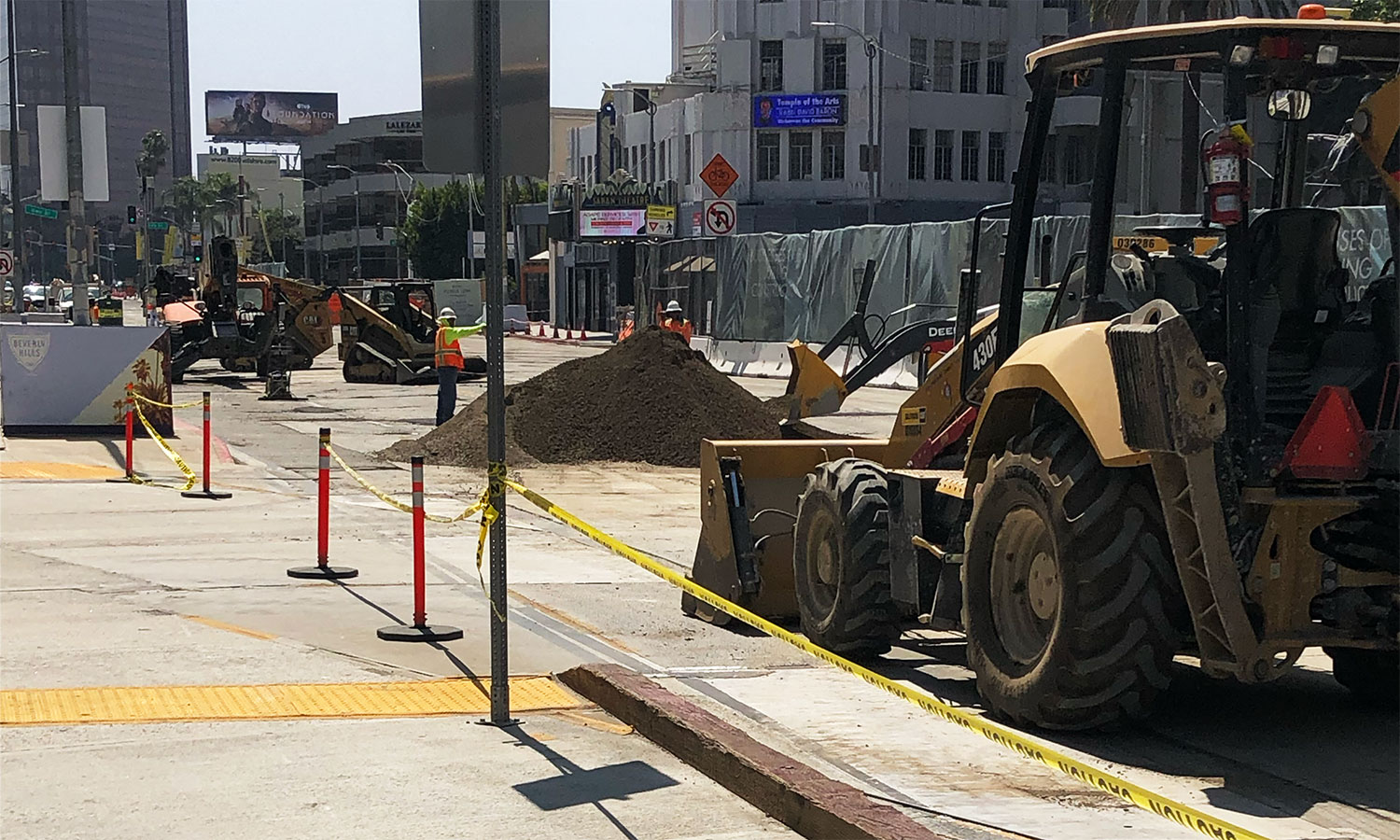 In contrast to commutes offered by traffic-heavy surface streets, travel time between downtown L.A. to Westwood on the Purple line is expected to be about 25 minutes.
The line's extension is being built in three sections, two of which are in Beverly Hills. The section of the Metro going from Wilshire/Western in Los Angeles to the Wilshire/La Cienega Station is scheduled for completion in late 2024. The section extending the subway from Wilshire/La Cienega to Century City—a stretch that includes the Wilshire/Rodeo Station—is scheduled for completion in late 2025.
As for current construction in Beverly Hills, the Metro website says all the work has received necessary permits and approvals, while access for pedestrians is being maintained outside of the construction zone. Access for emergency responders is also being maintained, and Metro has set up a Business Interruption Fund to provide financial assistance to qualifying "mom and pop" businesses directly impacted by construction.
Construction is a dynamic process, however, and information is subject to change. For the latest updates, community members are encouraged to contact the 24/7 hotline at (213) 922-6934.