In response to terrorist group Hamas' unprecedented attack on Israel, Wilshire Boulevard Temple (WBT) has provided support to purchase Magen David Adom ambulances for use in Israel.
American Friends of Magen David Adom (AFMDA), which raises funds and awareness for Israel's nonprofit emergency medical service, expressed gratitude for the gift.
"I am deeply touched by the way Wilshire Boulevard Temple mobilized so quickly and completely to save lives in Israel," AFMDA CEO Cathy Reed said. "The entire community came together in an astounding show of solidarity and support. Many wounds will be healed, and many lives saved due to this community's giving spirit."
WBT is a local and historic synagogue. Over the past several weeks, its congregants have donated amounts large and small to send life-support ambulances to Israel, according to Erinn Alcabes, director of institutional advancement at WBT. The congregation sponsored seven MDA ambulances, along with providing additional funding for ambulance maintenance and medical supplies, she said.
"The funds keep coming in, and we are continuing to send the money to MDA," Alcabes told the Courier.
As of Nov. 1, the congregation had raised $830,000 for AFMDA—funds "earmarked for seven life-support ambulances," Rob Rosenthal, chief marketing officer at AFMDA, said.
The organization recently announced it received a record-breaking $44 million matching gift from former New York City Mayor Michael Bloomberg. Part of the funds provided by WBT will be matched by Bloomberg's gift, paying for equipment including ballistic vests, blood bags, helmets, defibrillators and tourniquets as well as exam gloves, incubation tubes and hemostatic bandages.
"The needs are great," said Rosenthal.
"Wilshire Boulevard Temple mobilized its entire congregation," Dorin Esfahani, AFMDA's director of major gifts for Greater Los Angeles, told the Courier. "We've really seen the community come together. We are truly grateful for the incredible leadership of Wilshire Boulevard Temple and the generosity of its congregants, especially during this difficult time."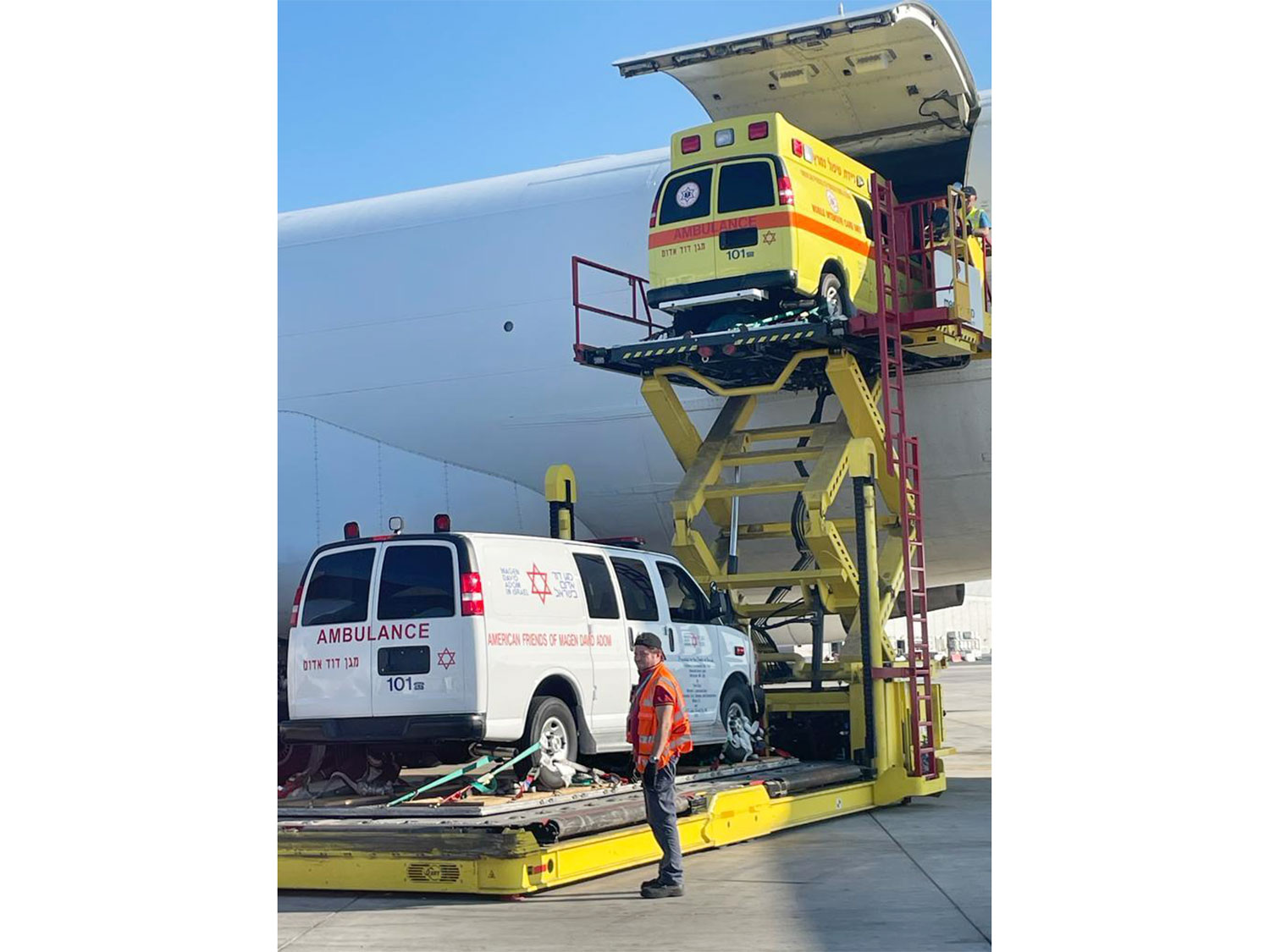 According to AFMDA, which raises funds and awareness for Magen David Adom, more than 435 WBT families and individuals donated over just one week. An initial goal of raising funds for the purchase of two ambulances soon doubled and multiplied further because of matching grant opportunities from Jaime and Andrew Schwartzberg, as well as the Karen and Russell Goldsmith Family Charitable Trust.
As soon as the severity of the crisis in Israel became apparent, synagogue leadership began appealing for contributions.
"There is no greater imperative than saving a life. We, as leaders in the Jewish community, cannot stand idly by. It is incumbent upon all of us to act, however we can," WBT Senior Rabbi Steve Leder said in a statement. "We are proud of and grateful to our members for funding these lifesaving ambulances and to American Friends of Magen David Adom for delivering them to the skilled paramedics, EMTs, and innocent victims that need them."
Magen David Adom is Israel's official representative to the International Red Cross. Each MDA ambulance costs $115,000. The ambulances are manufactured at General Motors facilities in Michigan and outfitted in Indiana. Since the start of the Israel-Hamas war, authorities have been airlifting the ambulances to Israel.
In the first hours of the war, which was prompted by Hamas' attack on Israel, MDA EMTs and paramedics responded to nearly 2,400 incidents directly related to the violence. More than 8,000 calls came into MDA's 101 emergency call centers across Israel.
According to Esfahani, a dozen MDA ambulances have been destroyed or hijacked by Hamas. As a result, Esfahani told the Courier, "Ambulance sponsorships are urgently needed."
Every day, MDA paramedics are facing rocket attacks from Gaza, Esfahani said.
"They're still out there, needing supplies and protective equipment," she said.
Israel is experiencing some of the direst circumstances in its 75-year history. More than 1,400 civilians and soldiers in Israel were killed—and more than 200 kidnapped— after Hamas militants broke through a border wall separating Israel from the Gaza Strip, on Oct. 7. The attack led Israel to declare war on Hamas.
Many synagogues have since stepped up to support Israel. Sinai Temple, a large and influential congregation, is hanging a large banner outside its Westwood campus, visible to those driving east on Wilshire Boulevard toward Beverly Hills. It reads, "Sinai Temple Stands with Israel." The display has a large QR code that passersby can scan on their phones for more information.
Additionally, in commemoration of the hostages being held by Hamas, the congregation recently sectioned off 17 rows of more than 220 seats in its sanctuary.
In Beverly Hills, meanwhile, there have been at least two recent instances of antisemitic graffiti, with authorities believing they're connected. Graffiti was discovered on the outside of an apartment building housing Jewish tenants as well as a Holocaust survivor. On the same day, antisemitic graffiti was found in a local alleyway. Beverly Hills police are investigating the incidents as a hate crime.