Spring is around the corner, life is getting back to normal and the road ahead looks promising. The Courier is welcoming luxury automotive expert Tim Lappen back on a monthly basis beginning this issue. 
The Courier's Fine Autos Contributor, Tim Lappen, also is the Fine Autos Editor for Haute Living, Haute Time, Haute Residence and Haute Auto magazines and online and a partner in a Century City law firm, where he chairs his firm's Family Office Group and the Luxury Home Group. He can be reached at TLappen@gmail.com and his website is www.LifeInTheFastLane.org.
Someone once said, "It's better to be lucky than smart." That may not have been the most intelligent phrase ever uttered but it came to mind when the Fates smiled on me and I had the chance to drive two of McLaren's wonderful creations, about a week apart, So, like a good Angeleno, I decided to ask McLaren if I also could cover a third McLaren, which wasn't yet in production, but which did exist as a full-fledged rolling exhibit.  
To take a step back–McLaren is a supercar company founded by a famous New Zealander, Bruce McLaren, who was an accomplished racer in the 1960s. He won his first Formula One race at the age of 22, the youngest winner ever at that time. He founded the car company soon thereafter. From 1992 – 1998 the company built 106 cars called an "F1," which was the fastest production car of its time (over 240 mph) and was sold for a then unheard-of price of over $800,000. They have now obtained legendary (even cult) status as one variant sold for close to $20,000,000.
Fast forward to 2010, when McLaren became a car manufacturing company in its own right. Over the winding, high-speed and banked road of the past ten years, McLaren has created some of the most desired cars on the planet. 
This piece is about two of those successes (and the third one not out yet, but with pre-orders predicting success). Luckily, I recently had the pleasure of experiencing all three – driving two (the GT and the 720S Spider) for a week each in the area around my home and, of course, through Beverly Hills. I attended the press launch of the third (the Elva) at a luxury home which had just hit the market in . . . Beverly Hills.  I see a pattern developing here.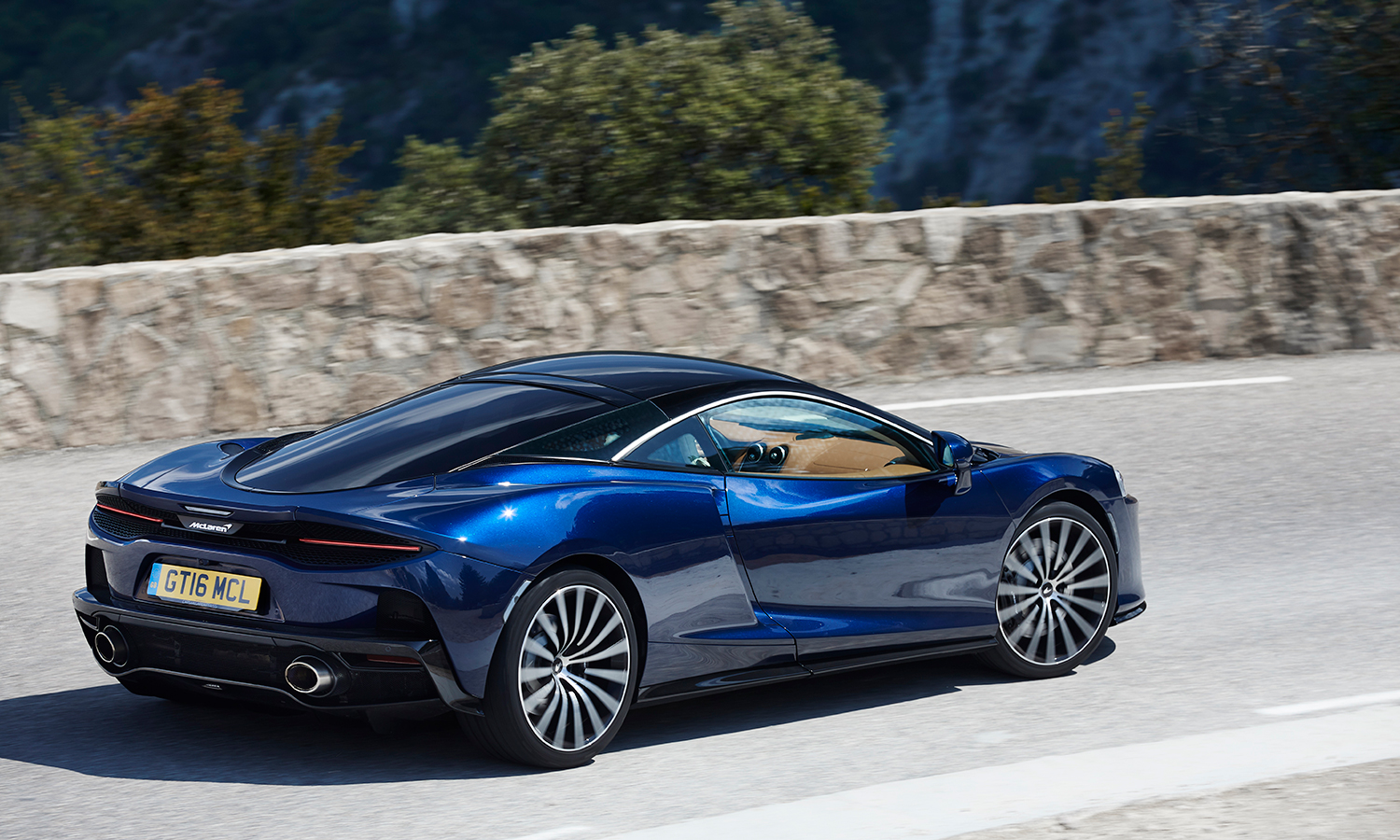 The McLaren GT
The first of the cars we'll discuss today is the GT, the most "usable" of the McLarens in that it is designed to accommodate passengers and luggage for grand-touring ride out of town and even across the country. The concept was to reimagine what had mostly been a rather heavy car used for touring, a two-door of some length and heft which helped it smooth out the road's imperfections. McLaren's guiding principle was to create a commodious supercar (as "oxymoronic" as that may sound), with the power and agility to hang with the best of them and yet allow the driver and passenger to arrive after a long drive feeling fairly refreshed and happier for the experience. How did they do that?
Well, first off, McLaren knew that the suspension would be key and, given that McLaren built a solid reputation on suspension engineering, they were up to the task. The McLaren "Proactive Damping Control" suspension analyzes the road conditions and adapts rapidly so as to provide the GT with the ride which this car requires. Secondly, like all recent McLarens, the center cockpit is a "MonoCell II T" carbon-fiber tub (chassis), which results in a huge weight savings and provides exceptional rigidity (non-flexing) to the center of the car. Add to that the increased ride height, to allow better ground clearance and more room for the suspension to travel and thereby absorb whatever the road throws at it.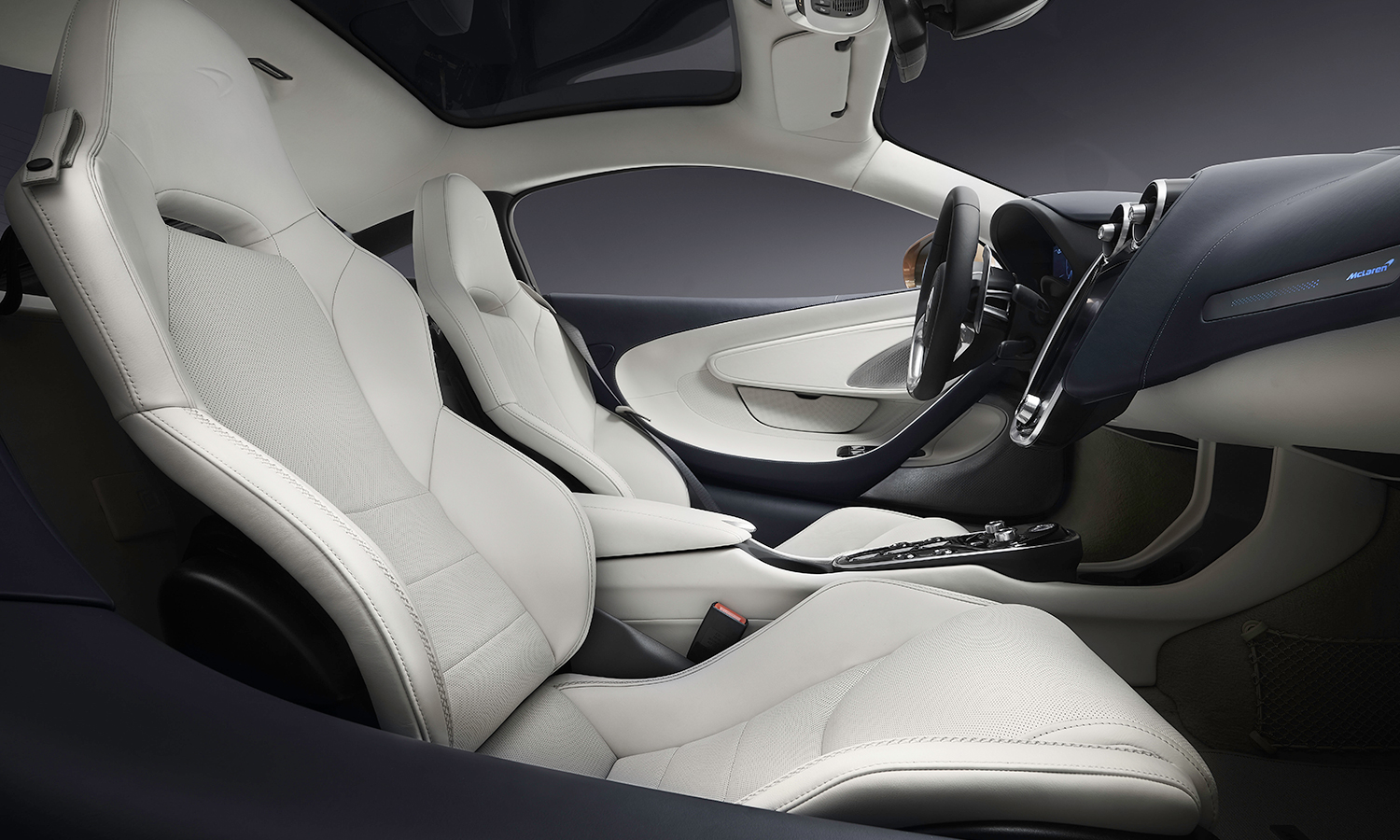 At under 3,400 pounds the GT is well below the weight of most grand touring cars, yet it doesn't scrimp on power. Its twin-turbo V8 pumps out about 620 HP and does it with 465 lb. ft. of torque so that's good enough to hit the top speed of over 200 MPH after running 0-60 MPH in about 3.2 seconds. Yes, this is a car that can turn in blistering performance while coddling the occupants . . . and their luggage.  
Pity that my time with the car didn't allow a jaunt from L.A. to S.F. or a road trip of epic proportions in a blast to New York. However, I truly enjoyed my time behind the wheel of the GT and I have no doubt that either of those experiences would have been great fun and allowed me to prove McLaren's marketing tag line about the GT: "Time for what you love, space for what you need."  While not as radical as some of the other McLarens I've driven (I am looking at you, Napier Green 675LT), it wasn't designed to be. This is a touring car, as noted, so it's meant to provide a comfortable ride with a sound that is pleasant but not disruptive, yet the McLaren DNA was ever-present, and I mean that in a good way.  Pricing starts at about $210,000.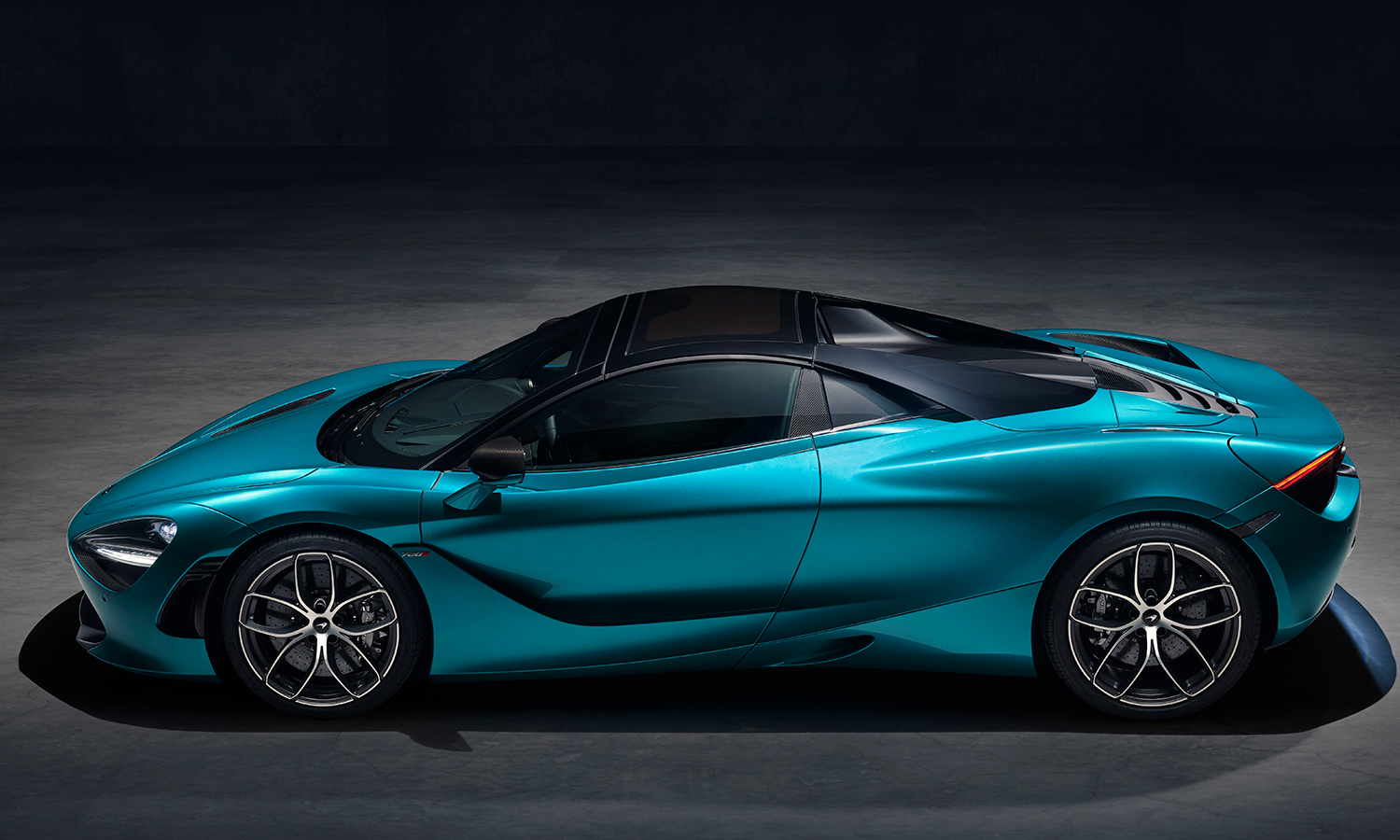 The McLaren 720S Spider
Aside from the GT, McLaren creates cars under three other main banners – the "Sports Series", the "Super Series" and the "Ultimate Series". The 720S coupe and Spider and the 765LT (for "long tail") are the only models in the Super Series. More powerful than the GT and the Sports Series of cars, the 720S Spider relies on a V8 twin-turbo motor boasting 720 HP and 568 lb. ft. of torque, which motivates this fast drop-top to a 2.9 second 0-60 launch on the way to a 212 MPH top speed (slightly slower with the top down).
With a dry weight of under 3,000 pounds, this truly is a svelte car, which is apparent when pushed through the canyons and up through the twisties. And that is what this car is all about–great comfort and fun with the top down on a sunny day, when out for a cruise, then startling quickness which seems to come out of nowhere to propel the car faster and faster, which then can be reined in on demand with excellent brakes.
Not sure you want the top up or down during the drive?  It needs only eleven seconds to go from up to down or vice-versa, it also can be done while underway (up to about 30 MPH) so changing your mind often is allowed. 
Also, the car is a stunner with the top up or down, especially as the roof cantrails (the length of metal supporting the outer edge of the roof) are visible whether the top is up or town, and they're now even glazed so you can see through them.  There's no lack of visibility when driving this car in either configuration.
Driving impressions?  WOW!  This car is English but it's a plate full of Huevos Rancheros. The speed is one thing, but the feeling of that speed can be quite another and, as with other super-quick McLarens I've driven, it feels even faster than it is (not that 0-60 in under three seconds isn't quite rapid, in and of itself). This car felt like I was wearing it, so amazingly responsive with just the right soundtrack coming from the tail.  It was a wonderful experience, my favorite McLaren yet (I've driven most of the other models, other than the F1, P1 and Senna). What's not to like? Pricing starts at about $315,000.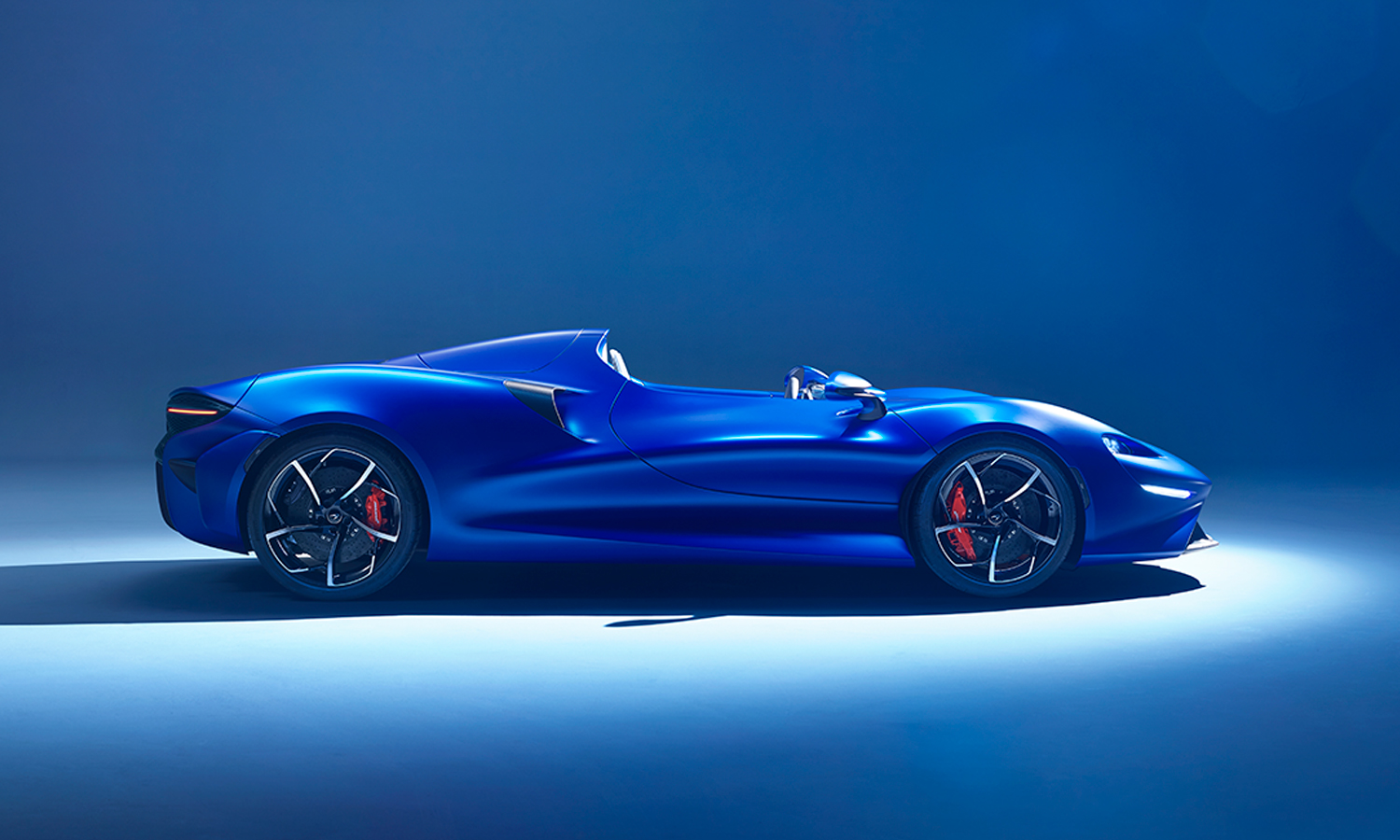 The McLaren Elva
Finally, but certainly not least, is the Elva, a beautifully designed car born of the wind and, along with the McLaren Speedtail and the Senna, a member of the elite McLaren "Ultimate Series". ("Elva" means "she goes" in French and was the name of the company which made Bruce McLaren's open-top racers in the 1960s.) The Elva uses the wind for interesting purposes, even channeling it through and below the hood and then back up in front of the cockpit to create an air dam of sorts, obviating the need for a windshield. It's about as close as you can get to the feeling of riding a high-performance motorcycle while seated next to a passenger.   
Utilizing the newly anointed Active Air Management System ("AAMS"), the airflow is directed up and over the cabin to provide an unusually un-turbulent calm for the driver and passenger. McLaren describes it as providing all of the adrenaline without any of the distraction. Unfortunately, the car shown at the launch was not available to drive, but  I will take their word for it as everything I've read about McLaren's promises have come to fruition.
I haven't even heard the motor yet –a V8 with 804HP and over 590 lb. ft. of torque–but it boasts a new exhaust system, utilizing four pipes (two pointing higher than the other two), with each pair given a different tuning to provide a harmonious symphony compared to other McLarens. I hope that they release it as part of a mixtape. When fitted into the Elva, the lightest road-going McLaren yet (not formally announced but said to be less than the McLaren Senna, which weighs about 2,650 pounds!), the Elva is reported to hit 125MPH in about 6.7 seconds (which used to be a rare performance time for 0-60MPH!).  
I hope to update this article with driving impressions but until then, I will have to dream about the Elva like the rest of you.  And, did I mention, production is limited to only 249 units and the pricing in the range of $1,700,000.
There's a certain trait which I think is woven into the DNA of McLarens–they all feel faster to me than they are, and as they are very quick in their own rights, that feeling is highly addictive. If the "thrill of high-performance motoring" is something that you likewise crave, I commend you to try out one of their models, which run from the lower $200,000s on up into the multiple millions (for the cars currently being made–some older McLarens can be way more expensive than that).  To me, the nicest thing about McLarens is that I never want to give them back at the end of my allotted time. "Yes, I know that I promised but that's before I had so much fun." Besides, my trips through Beverly Hills were so limited by quarantine-related regulations, mostly picking up take-out food and a few in-person meetings, I think that they should let me have the GT and 720S back for do-overs, plus give me the Elva, once the quarantine is over and I can make proper use of the cars.  Until then, you and I will have to make do with what we have. I hope that you've enjoyed reading about these machines as much as I enjoyed driving and then writing about them.