BOLD Summer is underway in full force this week, garnering rave reviews from Beverly Hills residents and visitors alike. The initiative, which is designed to showcase the vibrant shopping, dining and excitement of summer in Beverly Hills, is a collaboration among the city, the Beverly Hills Conference & Visitors Bureau, Rodeo Drive Committee and the Beverly Hills Chamber of Commerce.
Programming throughout the city includes pop-ups, social media activations, music, exhibits and more. If this week is any indication, BOLD Summer 2022 is already a record-setter.
On July 25, some 350 people lined up to take part in the Rodeo Drive BOLD Summer Red Carpet Experience. The social media installations on the 200, 300 and 400 blocks of Rodeo Drive and at Two Rodeo Drive offer five different photo experiences. Visitors can pose on a red carpet and even star on a magazine cover.
But the biggest draw by far is the opportunity to pose four-legged companions in their very own red-carpet shots.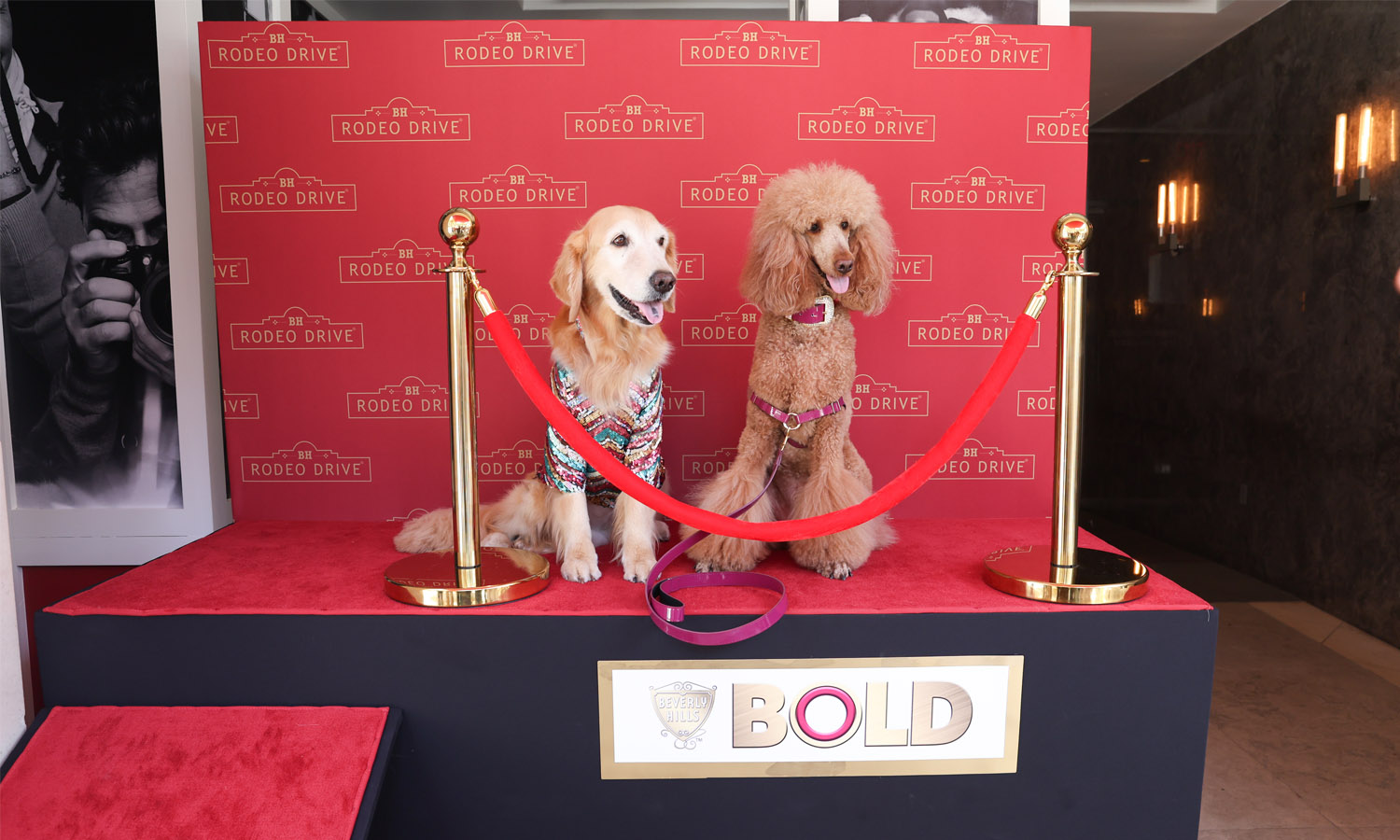 "I can't believe how many people and the beautiful dogs showed up on the first day. The 300-block installation is manned with a staff that helps people take photos with their phones. It was such a feel-good experience and a great way for us to begin," Rodeo Drive Committee President Kathy Gohari told the Courier. 
The social media installations will be up from 12-7 p.m. daily through Aug. 21. 
Rodeo Drive is synonymous with high-end luxury, and notable BOLD Summer events befit its status on the world stage. The Dior Men Winter 2022 Pop-Up is taking place at 362 North Rodeo Drive. And Louis Vuitton's "200 Trunks, 200 Visionaries: The Exhibition" opened at 468 North Rodeo Drive on July 28. 
The exhibit celebrates the bicentenary of the brand's founder, paying tribute to him through the eyes of 200 modern-day visionaries from a realm of disciplines. Those providing their own unique take on the iconic Louis Vuitton trunk include BTS, Gaetano Pesce, Gloria Steinem, Hans Ulrich Obrist, Lego, Nigo, and Peter Marino. Reservations are required to attend the exhibition, which is in place through Sept. 6. For more information, visit the exhibition website, louis200.com.
"We are grateful to LVMH for always supporting Rodeo Drive and the community with the most amazing opportunities at such a high level," said Gohari. 
From high fashion to high concept, this weekend will bring a quirky addition to the BOLD Summer lineup. "The Golden Girls Kitchen Pop-Up Restaurant," opens on National "Golden Girls Day," on July 30. Located at 369 N. Bedford Drive, the dining experience for fans of the television series is inspired by memorable moments from the show. Guests will be immersed in the world of the "Golden Girls," with a full menu of casual fare plus merchandise available for purchase. 
Additionally, the Concerts on Canon series continues on Thursdays at Beverly Canon Gardens. And the City of Beverly Hills Art Tour is taking place on Aug. 7 at 11 a.m. For full details about dates, time and reservation requirements for all of the events of BOLD Summer in Beverly Hills, visit beverlyhills.org/boldsummerbh.