Joseph Bologne, aka Chevalier de Saint-Georges, the subject of "Chevalier," was a historical figure of almost mythical stature so impressive that Napoleon went to great lengths to erase him from history when he reinstated slavery in the French colonies in 1802 after it had been abolished in 1794. The story that Stefani Robinson, the writer, and Stephen Williams, the director, had to tell was astonishing. Even with embellishments and creatively fictionalized incidents, it's still amazing and much of it was true.
Bologne, the illegitimate son of a white plantation owner in Guadeloupe and his teenage slave, was, by all contemporary accounts, extraordinarily gifted. We first meet him as a child when he's dropped off by his father at a prestigious Parisian academy. Scoffing at the very idea that they would ever accept such a child, Joseph's father has him demonstrate his prowess on the violin. Problem solved; Joseph is enrolled, even if his presence is an irritant to the other students who let their fists demonstrate their displeasure. But Joseph's skills are not just musical, they are also physical and he is soon a master of fencing, eventually defeating all the champions of France.
Content to put down his epée, Joseph embarks on a plan to gain acknowledgement for his musical endeavors. Known by a few, he steps onto the national stage in a big way. Mozart, in all his young, egotistical glory, is giving a concert in Paris. Asking for requests from the audience, a voice is heard asking for one of his violin concertos. "Of course," Mozart replies. But just as he's about to put bow to string, the audience member, a handsome, well-dressed young Black man, bounds to the stage and asks that he be allowed to play with the master. Taken aback, but sure of himself, Mozart agrees and what follows is the equivalent of a game of the dozens between two dueling violinists that ends when Mozart storms off. This scene alone is almost worth the price of admission. Certainly it never happened, certainly the Chevalier, as he is now known after being dubbed so by no less than Marie Antoinette, never played with Mozart, although years later they inhabited the same home in Paris. Never mind that Mozart was more than 10 years younger than Joseph and would have been 9 years old at the time. This is a variation on the adage, when the story is better than the truth, play the story, but might have been even better if the Mozart portrayed on stage was 9, giving much more credence to his storming off. But then Boulogne would have been seen as a bully, something that would not serve the story. And so the Chevalier becomes the toast of Paris. If acceptance is based on trying hard, doing better, and pushing through, then he will do that. And he does.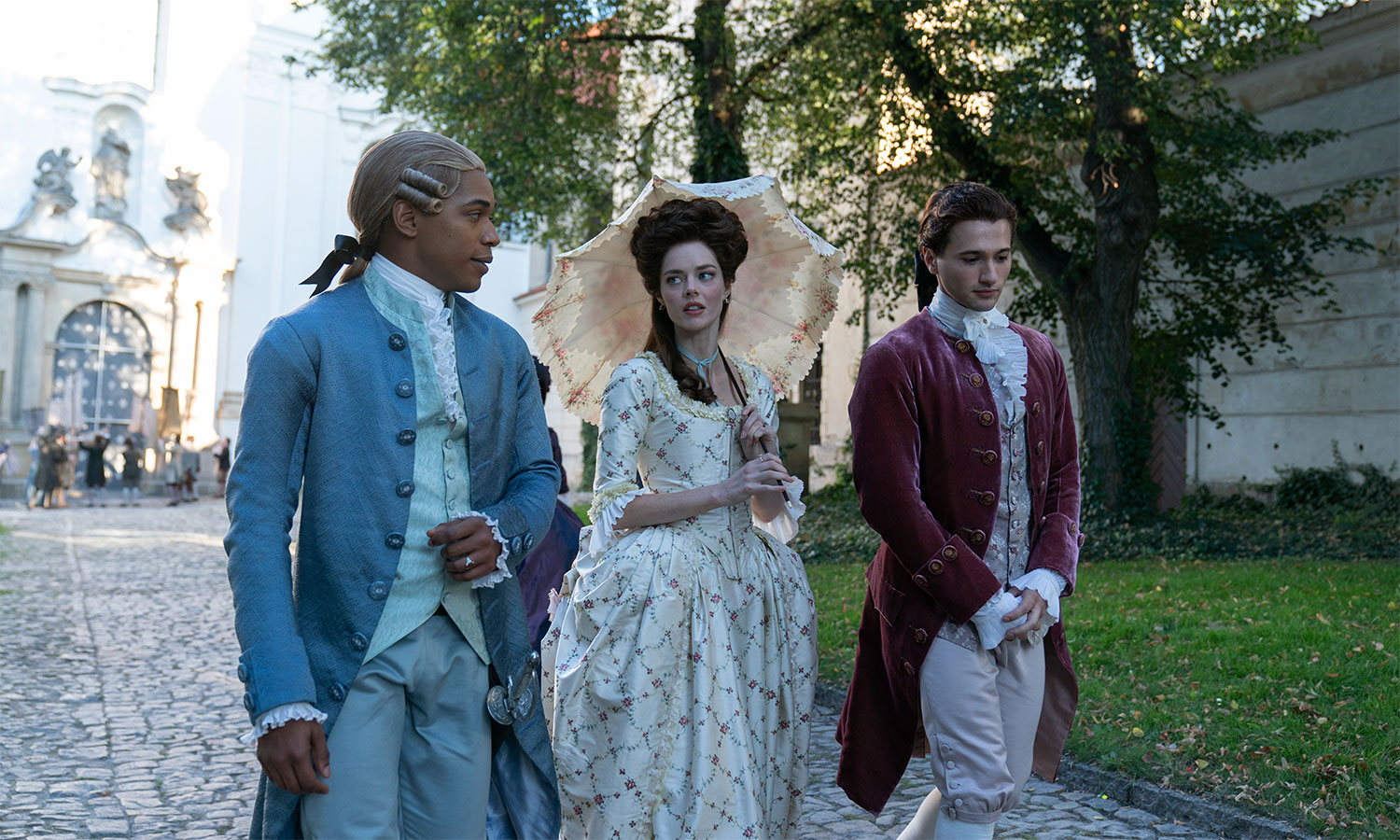 The exoticism of his birth and skin color is like bees to honey for Parisian women. He becomes a pet to Marie Antoinette who, at the time this film takes place, would have been a teenager and not yet queen of France. Bologne's life without the imaginative reworking was interesting enough. Nevertheless, many of the incidents depicted in "Chevalier" did happen; embellishments were not necessary.
The Chevalier de Saint-Georges was prolific in his compositions; he was one of the leading violinists of his day; he wrote operas; he had an affair with one of his leads, endangering his life and hers when her very powerful husband, the Marquis de Montalembert discovered the liaison, including a pregnancy.
Despite the remarkable facts of this extraordinary young man's life, the film itself is flat. So where on earth did Robinson and Williams go wrong? Williams, recognizing that only a rough outline of the life of this fascinating man existed, apparently decided to write a modern take on his achievements, difficulties and the prejudice he faced as a Black man in a country where slavery was still legal in their West Indies colonies. Yes, there are parallels but rather than draw them out, her sophomoric script employed anachronistic language, simplistic dialogue and relied too heavily on exposition. There are times you will positively wince at the conversations between characters. Both she and Williams squandered the goodwill generated by Kelvin Harrison Jr., their lead. I sincerely doubt whether any of the characters would have used the f-word. I often cringed when the characters spoke, going back and forth between time period-appropriate expressions and modern-day vernacular. It's almost as if Williams decided to channel the Bridgerton universe created by Shonda Rhimes in her Netflix series, diminishing the power of a true story.
It seems at times that Robinson and Williams were entranced with making "Chevalier" a bodice-ripping historical romance and other times a serious study of the racism faced by the main character. I doubt you can have it both ways, or at least not satisfactorily. Both Robinson and Williams have had successful television careers and therein lies the rub, perhaps. Superficial when it should have been deep, the character development of everyone save Boulogne has been sacrificed for plot.
Casting was also a problem. If the script is unconvincing, it helps to have actors who can elevate the material. With a few notable exceptions, this cast did not deliver.
Minnie Driver as La Guimard, an artist scorned by the Chevalier, was quite good. When discarded, she vows vengeance and effectively, without a word, she gets it. Driver knows how to make the maximum of the minimum and is a pleasure to watch in her few scenes. Sian Clifford, Madame de Genlis, is a supporter and confidante of the Chevalier in his opera endeavors. More could have been made of her role in finding the librettist for "Ernestine," the opera that figured in a competition. That librettist was none other than Pierre Choderlos de Laclos who would go on to write "Les Liaisons Dangereuses." In real life, "Ernestine" was a flop; his next opera, however, would be a major success. Clifford, like Driver, knows how to deliver a performance with a twitch of the mouth, a line of dialogue and sad eyes. And finally there is Marton Csokas, the evil Marquis de Montalembert, husband of Bologne's lover Marie Josephine. In his few scenes, Csokas conveys his power, position and ability to wreak havoc. Like the others, he makes the most of his few lines and a daunting physical presence. As an editorial note, the name Montalembert is extremely difficult to pronounce and even though there were several dialogue coaches employed, no one pronounced it correctly. It's easy to stumble over and everyone did.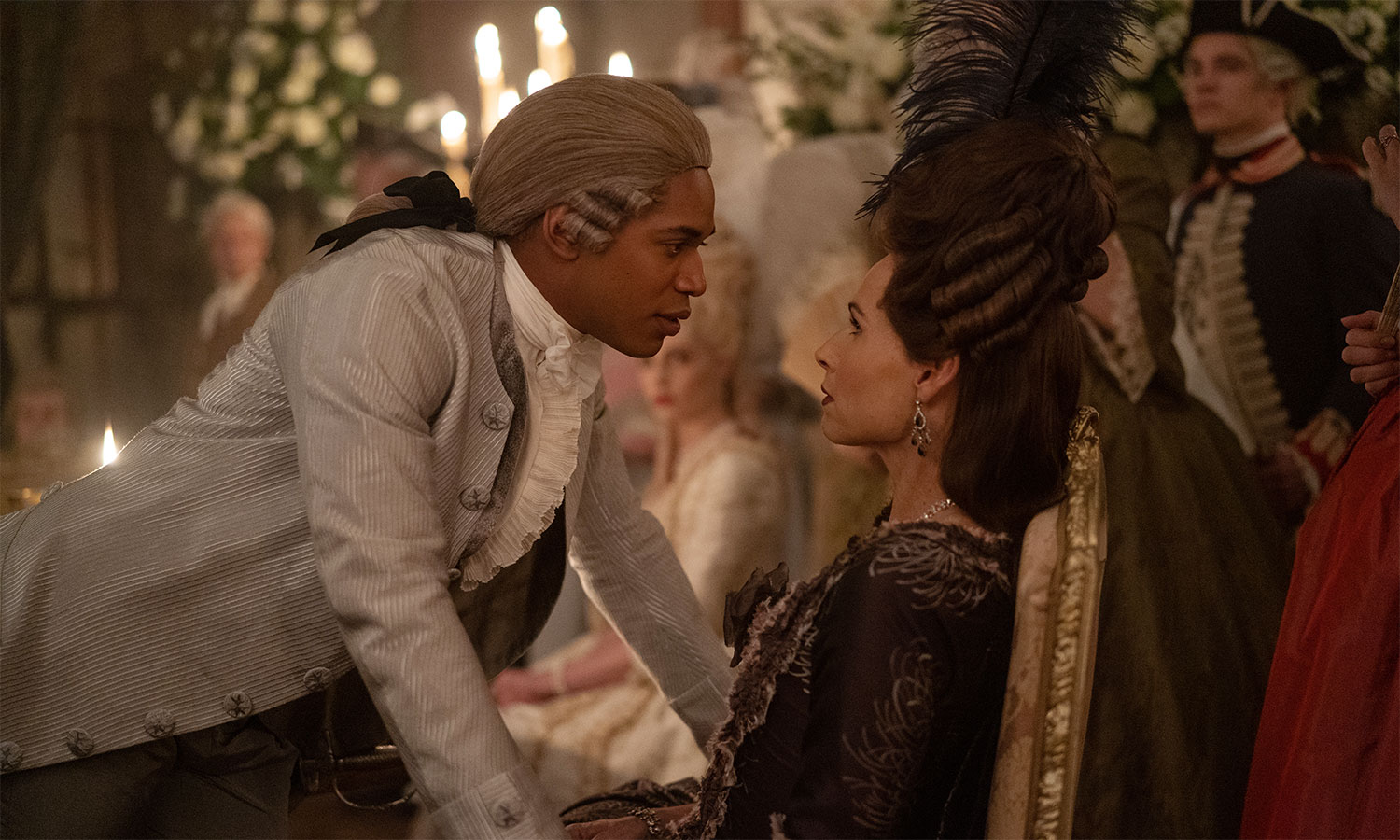 Samara Weaving plays the unhappy wife of Montalembert, Marie Josephine. Forbidden by her husband to sing at the opera, she disobeys his wishes and triumphs, both in song and in love with the Chevalier. For most of her time on screen, she brings little of substance. She has one dramatic moment when she returns to her husband, but that doesn't do enough to erase the simper in most of her performance.
Lucy Boynton plays Marie Antoinette. Yes, Marie Antoinette was known to be a silly little thing and Boynton has that down pat. But Boynton's Marie is insipid, lacking any undercurrent of authority making her transformation into the evil queen unconvincing. It actually takes a while to figure out that she is the queen.
And then there's Alex Fitzalan who was given the unenviable expositional role of Philippe d'Orleans, a cousin of Louis XVI and soon to be known as Philippe Egalité, a supporter of the people and the revolution. Almost used as a narrator to explain what was happening in those pre-revolutionary days, his delivery is bland and his tone is thin. It does not help that he has so much of the tiresome dialogue to recite. In short, he does not have enough presence to rise above the vapidity of the script.
Kelvin Harrison Jr. There are not enough words to extol his virtues and the primary reason to see this film. Single-handedly he almost succeeds in rescuing the movie. He has enormous presence on screen and his quiet authority elevates the dialogue, brings credence to the action, and is a veritable rooting interest. Handsome, compelling and convincing, Harrison is able to deliver bland and anachronistic language as though he were reciting Shakespeare. This is not the platform he deserved and yet he made a five-course banquet of it. I will definitely look for him in the future and so should you.
Unlike the writing and directing, the production values are outstanding. Costume design by Oliver Garcia is sumptuous. Period pieces are a costume designer's bread and butter and he created a feast. The production design by Karen Murphy, a graduate of the Baz Luhrman school of excess, is outstanding. Her interiors scream 18th century in the best way and are well complemented by Jess Hall's excellent cinematography and lighting. As a petty side note, a bit more money should have been spent on the crowd scenes. Not as claustrophobic and threatening as they should have been, it's hard to envision the danger that they were supposed to represent.
It's hard not to be annoyed at the misfire that is this movie because the story that Robinson, the writer, and Williams, the director, had to tell was astonishing. Not a terrible movie, it's just not a very good one. The biggest disappointments are the opportunities missed. But see for yourself.
Opening April 21 at the AMC Century City 15 and AMC The Grove 14, as well as other AMCs in the South Bay and at CityWalk Hollywood. 
Neely Swanson spent most of her professional career in the television industry, almost all of it working for David E. Kelley. In her last full-time position as Executive Vice President of Development, she reviewed writer submissions and targeted content for adaptation. As she has often said, she did book reports for a living. For several years she was a freelance writer for "Written By," the magazine of the WGA West and was adjunct faculty at USC in the writing division of the School of Cinematic Arts. Neely has been writing film and television reviews for the "Easy Reader" for more than 10 years. Her past reviews can be read on Rotten Tomatoes where she is a tomato-approved critic.