City of Beverly Hills | Community News | News
Plans in the Works for 'Rodeo Drive Celebrates'
Rodeo Drive is considered by many to be the jewel of Beverly Hills and plans are currently in the works for two special promotional weeks that will allow it to shine even brighter.
BY Clara Harter April 27, 2023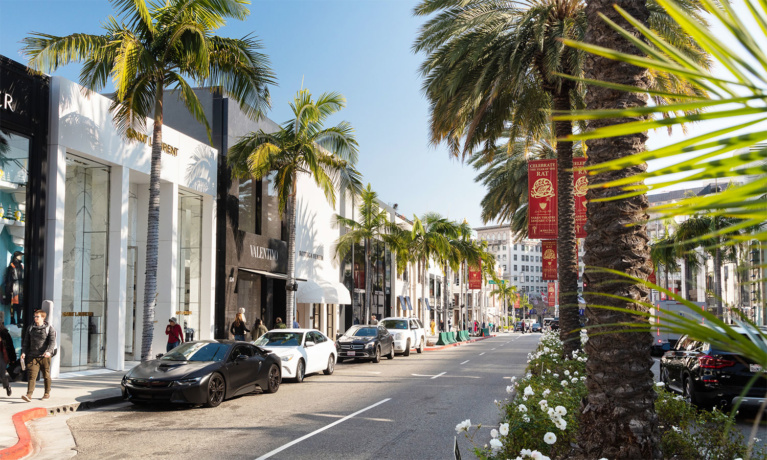 Reading Time:
3
minutes
Rodeo Drive is considered by many to be the jewel of Beverly Hills and plans are currently in the works for two special promotional weeks that will allow it to shine even brighter.
The initiative, dubbed "Rodeo Drive Celebrates," is the brainchild of the Rodeo Drive Committee and calls for seven days of business sponsored events on the street centered around a retail theme.
The program is still in the approval phase and will require the sign off of the City Council before it can go ahead. However, Vice Mayor Lester Friedman and Councilmember Lili Bosse were both very supportive of the program when it was presented to them at a recent Rodeo Drive-Special Events-Holiday Committee Council Liaison meeting.
"I love this idea. I think it's truly fantastic," said Bosse. "I do believe… the businesses will really shine in terms of their brand and create activations and bring more people into their stores."
The first week is tentatively scheduled for Aug. 7 to 13 with a theme of fashion, and a second week in the fall will feature a theme of time pieces and fine jewelry.
"The concept is every year over two dedicated weeks in the summer and fall, a series of intimate in-store celebratory happenings will raise a glass to the best in fashion and luxury on the world's leading fashion thoroughfare," said Rodeo Drive Committee President Kathy Gohari in the April 24 meeting.
The Rodeo Drive Committee is comprised of approximately 70 retailers, hotels and property owners. Members came up with the idea of the Rodeo Drive Celebrates program to bring greater local and international awareness to the incredible products and business community present on the street.
"We will have special banners and special programming within all the stores on Rodeo that is curated for their own immediate clientele and everyone who comes in and visits," said Gohari. Every brand is able to use their creativity to come up with a specific option (to participate in the week)."
Some of the ideas for potential Rodeo Drive Celebrates activations include cocktail receptions, meet the designer events, a gift with purchase, special trunk shows, stylist panels, wine tastings, book signings, in-store fashion shows, raffles, charity events, photo booths and more.
Once brands decide on their events a round-up will be published on the Rodeo Drive website and will be accompanied by a robust visual marketing and communications campaign targeted at local visitors, international audiences, regular customers and influencers. Brands will also advertise their events through their own promotional channels.
"This is the first time in many, many, years I have seen this interest level of the vendors of different brands about participating. They're all super excited about this," said Gohari.
Businesses would oversee their own events, so the main cost to the city will be for specially designed banners that will be installed for the duration of the Rodeo Drive Celebrates weeks.
The Committee is requesting $26,000 for the printing and installation of 56 banners, which will be divided into two sets of 28 for each of the weeks.
"I think it's important to add into the staff report that the goal is that this program will be very successful and will continue so the banners can be used for multiple years, so the cost would be much less in the years afterwards," said Bosse, referring to the upcoming presentation of the program before council.
In addition, the committee will be asking the council to once again provide an annual funding of $184,998 to continue its digital marketing, social media management and website maintenance.
Over the past year, the committee's marketing efforts have proven very fruitful. Website users have increased by 30%, while TikTok followers have increased by 57%, Instagram followers by 13% and Facebook followers by 1.3%, according to a presentation from Yvonne Busch, who is the president of BOLD LA PR firm and leads promotional efforts for the committee.
"You have done an extraordinary job," said Friedman, addressing Busch and the rest of the committee representatives. "I have been on this liaison for all the years that I've been on the council and I really truly believe that the Rodeo Drive Committee with your partnership has taken it (digital promotion) to a whole new level these last number of years."