Let's face it, no one is getting any younger. And since antiquity, we've been searching for the fountain of youth. These days the search is aided by machines.
Decades ago, lasers were something out of the sci-fi realm, wielded by Jedi's using the Force. Now, they're a common part of the beauty arsenal, and they are constantly upgraded with new and improved versions, doing more with less downtime, fewer repeat treatments and offering more efficacy.
We've expanded well beyond lasers; now sound waves like radio and ultrasound frequencies are used to melt fat deposits or mold them to restructure the contours of the face like Silly Putty. Plasma is harnessed from atmospheric disturbances in the air to smooth and even skin. Wrinkles, skin laxity, scars, dark spots and a multitude of other tell-tale signs of aging can be reversed without going under the knife.
There's a constant stream of breakthrough technologies and cutting-edge devices appearing in dermatologists' offices all the time, it's hard to know where to start. So, we spoke to some of the leading beauty experts in Beverly Hills to uncover the latest and greatest in beauty tech for turning back the hands of time.
Dr. Ava Shamban is a board-certified dermatologist with practices in Santa Monica and Beverly Hills. She's the go-to beauty source for publications such as Glamour, InStyle and New York Magazine and for television programs, including CBS's "The Doctors" and ABC's "Extreme Makeover" and "Good Morning America." Shamban is also a frequent expert on CBS News, CNN, Extra and Fox News. 
She says her Beverly Hills clients come to her, generally speaking, to address three basic beauty concerns: signs of aging on the face (wrinkles, fine lines, brown spots); neck laxity; and excess body fat.
In the case of the first, she recommends CoolPeel (not to be confused with CoolSculpting, the body contouring treatment). CoolPeel is the first FDA-approved, non-invasive, painless treatment that targets age spots, acne scars, fine lines and wrinkles. It works by delivering short pulses to the skin's surface, creating microchannels in the skin. Unlike traditional laser resurfacing treatments, CoolPeel uses a unique system that keeps the skin cool and protects it from thermal damage, allowing the laser to penetrate deeper into the skin's layers. It can be used on the face, neck, chest and other areas of the body.
Years ago, if you wanted to erase sun damage, smooth wrinkles and even skin tone, you had one option: the chemical peel, which involves applying a topical acid solution to the face that causes the top layers of the skin to peel away. The treatment can be painful (depending on how deep you go), and the downtime can be lengthy. At a minimum, you'll walk around looking like a roasted tomato for a couple of weeks. But blurring fine lines and wrinkles requires a deeper peel with up to 20 days of recovery, and you'll spend a portion of that time in face bandages looking like a horror movie ghoul. While chemical peels are still an option, it's no longer your only choice. Lasers changed the game, and the tech is constantly changing and improving. CoolPeel is part of the next generation of resurfacing lasers, and according to Dr. Shamban, it's one of the best.
"The CoolPeel is a very superficial laser resurfacing treatment that has very little downtime and no discomfort, which is why it's called a 'cool' laser," said Dr. Shamban. "The advantage it has over a chemical peel, which people have been doing for a long time, is that you get more tissue stimulation because you're using a laser. So not only will you get a nice exfoliation of the skin and improvement in fine lines and wrinkles and removal of brown spots, but you're also going to stimulate more cell turnover and more collagen production. We have people do a series of treatments, we suggest three, with the device. The other thing that's nice about it is that it can be done in the summer, as long as you're committed to wearing a hat and routinely applying a sunscreen layer."
Prep for CoolPeel is simple: the target area is cleansed, and a numbing cream is applied (you'll have to wait an hour for it to fully take effect before the treatment begins). During the procedure, you will feel the slight sensation of short bursts as the laser is moved along the skin, but its cooling mechanism keeps discomfort to a minimum. Typically, the treatment takes 15 to 30 minutes. The downtime is typically just a few hours to a day of slight redness and minor peeling over time, akin to a mild sunburn. "But it's not going to be terrible," Dr. Shamban added, "It's not like your skin will be coming off in sheets."
Within a few days to a week, you'll see an improvement in the texture and tone of your skin, which will continue over the next several weeks as your body responds to the laser by producing collagen and elastin.
When it comes to tackling neck laxity (the crepiness and sagging of the skin around the jawline and neck), Dr. Shamban says the most effective non-invasive treatment is Softwave, a skin-tightening device that utilizes breakthrough ultrasound technology.
"I think it's best in class for tissue tightening," she said of the device. "We use it on the neck, jowls, face and chest, but it also works great in other areas and is effective in treating cellulite."
Softwave sends heat to a depth of exactly 1.5 mm into the dermis, the area of the skin responsible for keeping your skin smooth. The device employs a new delivery method called "synchronous ultrasound parallel beam technology" (SUPERBTM) to apply the heat, which causes your body to ramp up collagen production at the target site. This influx of collagen gives structural support and increases volume to combat fine lines, sagging skin and wrinkles. Softwave has also been proven to show results in combating the appearance of cellulite on the buttocks, with study participants showing post-treatment improvement using the Cellulite Severity Scale. 
For your first session, typically a maximum of 45 minutes, expect a warm or mild tingling sensation during the treatment. And the best part? There is zero downtime, and results are visible after a single session. Though, the entire collagen regeneration process can take up to 12 weeks, and patients will continue to see improvements over the course of the next three months following the treatment.
As for stubborn fat, Dr. Shamban says nothing compares to the Ultimate Contour, the only low-frequency, ultrasound device approved by the FDA that is painless, safe and provides immediate results.
"Ultimate Contour is the ultimate safe fat-removal device. And it works by a different kind of technology than we've had before," said Dr. Shamban. "It works by a special type of focused ultrasound, which creates turbulence in the fat cells. It literally pops open and destroys fat cells more effectively than any other thing that we have right now. Ultimate Contour uses sound waves, which sounds incredible, but it works more completely. So even after one treatment, you see really phenomenal results."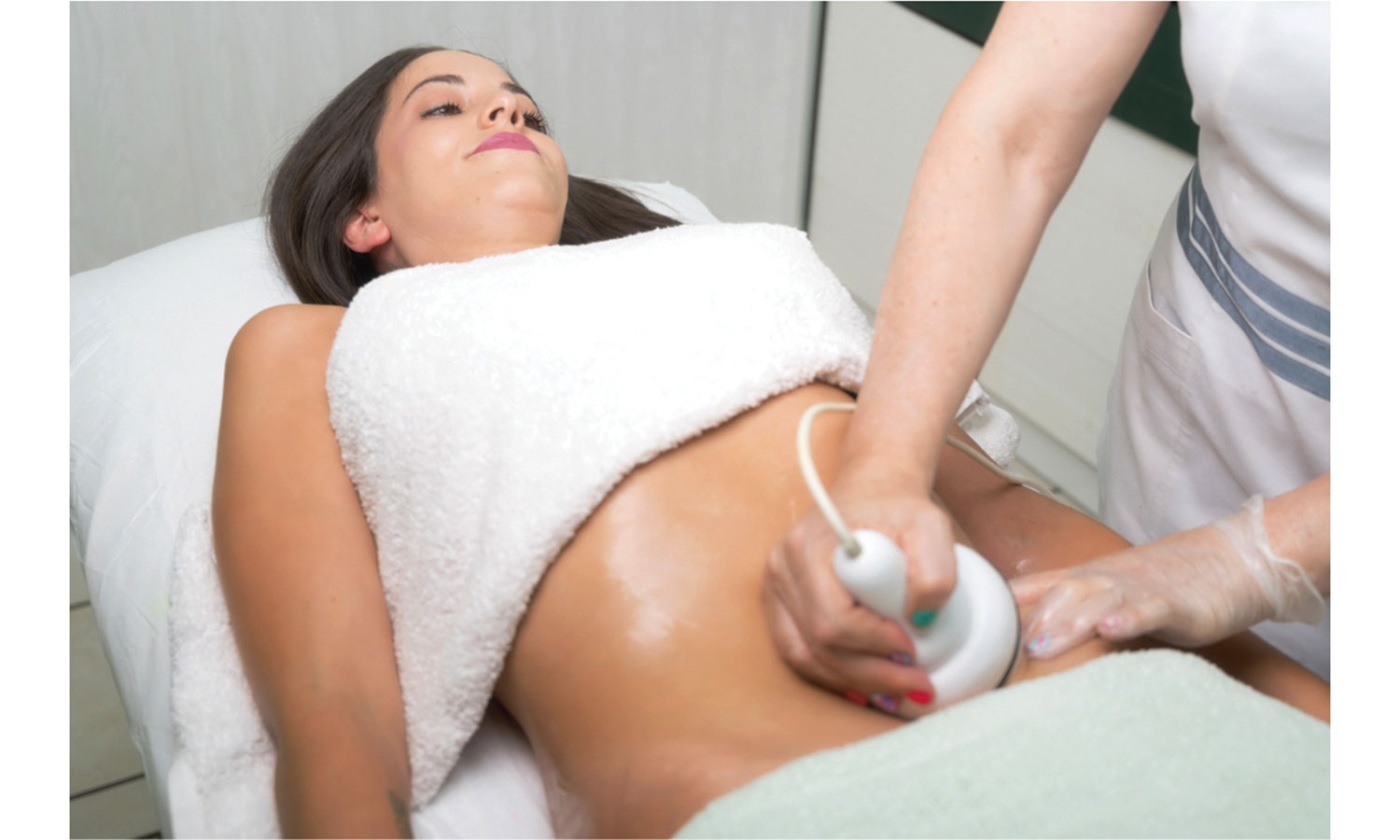 It's also a relatively quick procedure with treatment time lasting an average of 10 to 45 minutes, depending on the size of the target area.
The speedy metamorphosis is due, in part, to the device's two handpieces; one, the ultrasound handpiece used for fat reduction and the second, which emits radio frequency (RF) energy for stimulating collagen production. The dual technology allows you to treat several different issues in a single treatment area so you can reduce your waistline by 1 inch in a single treatment and smooth and tighten your skin. Though Dr. Shamban says the most requested target area is the abdomen, it can be used to great effect to slim arms, thighs, calves, saddlebags and love handles. 
And, depending on the patient, repeat treatments (to the same area) are usually unnecessary because the device actually destroys fat cells. "So, as long as you don't go out and eat like three Big Macs and a bag of Doritos every day, you can maintain it. For all of the people who have a little resistant fat, this is their get-out-of-jail-free card," she said.
"We don't want to make anybody feel bad, so when I say 'fat' I am talking about fat cells. We used to call it 'fat removal,' but now we call it 'body contouring,' so that's the umbrella term," Dr. Shamban explained. "And body contouring can be done at different levels. You can tighten up the muscle, which devices like EmSculpt accomplish. It works by stimulating your muscles, so you get maximum muscle contraction and tightening. We have the device here, and I love it. We all hop on it whenever we can. That's technically 'body contouring,' but the next level is fat removal, and there are different ways to remove fat—you can have liposuction, or you can freeze the fat, which is called cryolipolysis, and CoolSculpting is the brand name for that method. But now you can completely destroy the fat in a completely different way like with Ultimate Contour. CoolSculpting can take a long time, and sometimes not all the fat cells are destroyed by the cold. Ultimate Contour is a much more complete destruction, which is why I think it's the best in its class."
But when it comes to a treatment that gives you the biggest bang for your buck, Dr. Shamban says there isn't one singular treatment that fits everyone. "It's just so individual," she said. "A treatment program has to be based on your facial structures, skin type and skin changes. So, it would be nice if I could offer some kind of magic wand treatment, but we don't have it yet."  
There are so many advancements in beauty technology being introduced all the time that many turn to social media to keep up. But for Dr. Shamban, this isn't a bad thing; in fact, it's quite the opposite. "Social media has made all of these procedures acceptable," she said. "And now, people can talk about them openly like you would about getting your hair curled or highlighted or your teeth done. All of these procedures are in that realm now, which is very cool. The truth is that most people do these procedures, not for other people, but for themselves so that when they look in the mirror, they feel better. And that's backed up by research. It's something called the facial feedback hypothesis, which is when you look at yourself, and you look good, you feel better. It's just hardwired into our brain."
Dr. Harold Lancer is a world-renowned, board-certified dermatologist with a long list of A-list clients, including Beyoncé, Margot Robbie, Kim Kardashian, Jennifer Lopez and Ryan Seacrest (who co-founded the men's skin-care line, Polished, with Dr. Lancer in 2017). The Lancer Dermatology clinic on Rodeo Drive is practically a Beverly Hills landmark. And though Dr. Lancer has built his decades-long career largely on his "from practice-to-product" concept with his ever-evolving skincare line, his dermatology clinic offers more than two dozen cutting-edge tech devices designed for a multitude of highly individualized treatments.
 According to Dr. Lancer, the majority of his Beverly Hills clients seek him out because they're unhappy with their uneven skin tone.  "The number one concern [for patients] is always uniformity with complexion—consistent color. Blotchy color correction is key," he said. "Lifting non-surgically is concern number two. Scar visibility reduction is number three."  
And "subtle" is the word most often used by his patients. "Subtle is the key to today's consultation and procedural plan. The days of obvious alteration are over because the public is generally returning to a simplistic approach to skin appearance maintenance," Dr. Lancer said.
For him, tackling any problem areas starts first and foremost with skincare. "A high-quality, full-body, therapeutic skin care program for home use is always number one because if skincare is done properly, the results of any minimally invasive procedure will be significantly better," he said.
In terms of the latest devices, his approach is always multipronged, preferring to use what he calls composite treatments.  "Composite is a group of instruments simultaneously used in a single visit. It's a big mistake to visit a facility with only one or two machines. Multifunctional clinical work is needed," he said.
Typically, this means Dr. Lancer will employ three or four different multidimensional, energy-based devices in a single treatment session. "This generally includes lasers, high intensity focused ultrasound, electromagnetic current, fractioned variable radio frequency heating—all during one visit to create skin self-restoration," he said.
For the specific issue of uneven skin, he prefers the Picoway Resolve, a dual wavelength laser that targets excess pigment on the face and body, whether it's naturally occurring in the form of hyperpigmentation or melasma, or from black and green ink tattoos. It's an ultra-fast laser that transmits energy into the skin's tissue, triggering the body's own natural healing process, something that aligns with Dr. Lancer's extensive research into the benefits of inflammation on the anti-aging process. Available exclusively in Beverly Hills at Lancer Dermatology, this powerful laser is suitable for all skin types and requires little downtime, with full healing achieved in five to seven days.
To achieve lift without surgery, Dr. Lancer utilizes Accent Prime, a device that offers a combination of proprietary ultrasound and radio frequency technologies, allowing practitioners to selectively target fat cells, while the RF enables focused treatment at multiple tissue depths for a customized treatment. "Lifting of tissue without surgical cutting is highly demanded because of surgical failures," he said. "[Accent Prime] increases the bounce and elasticity of tissue so that tissue is visually and physically lifted without removing skin. This is generally best for individuals in their 30s to 50s who have been well-maintained and want further maintenance without surgical invasion. Depending on the composite procedures, downtime can be one or two days [and up to] seven to 10 days, and it can cost anywhere from $1,500 to $6,500," he said.
Also, among his devices is the Opus Plasma from Alma. It has a variety of interchangeable tips that are super-charged with high-frequency, unipolar, radiofrequency energy. This energy reacts to atmospheric pressure in the air to create plasma that, in turn, creates microthermal zones, which deliver fractional injuries to target areas, provoking the skin's natural regenerative cycle. Plasma intensity can be adjusted based on the patient's desired outcome to light, moderate or aggressive resurfacing, and the results are the same as the most aggressive CO2 lasers with a significant reduction in downtime and discomfort during the treatment, which takes about 10 to 15 minutes. Afterward, stretch marks, and deep and fine lines will significantly be reduced, skin tone and texture improved, and elasticity restored after just one treatment (with optimal results after a completed series of two to three).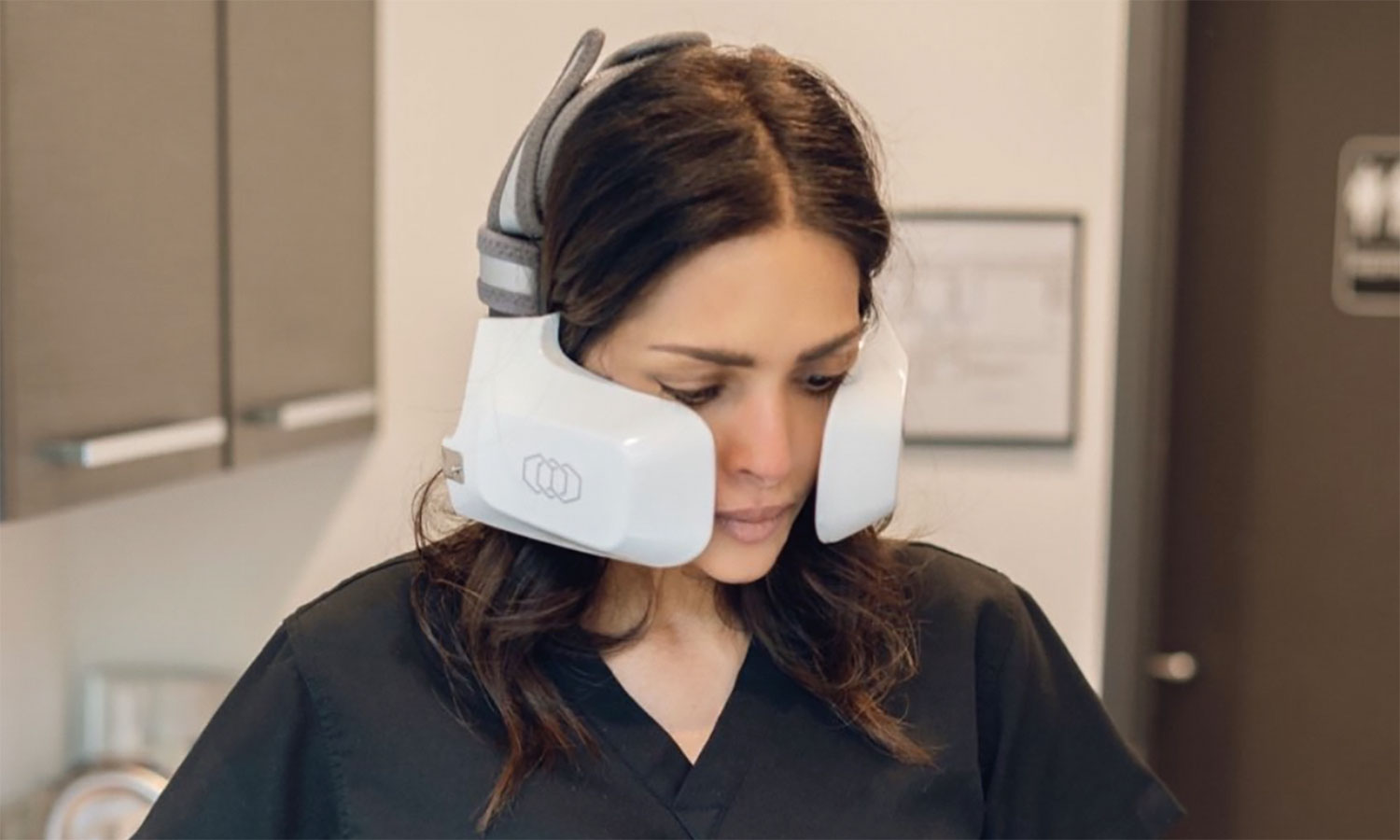 While we all feel the pressure to maintain a youthful appearance, made worse by the proliferation of highly altered images shared on social media platforms, Dr. Lancer says his patients have a more realistic response. "[Social media] has had a huge impact on the entire landscape as self-perception has changed. Even if someone is not privy to social media surveillance, someone around them who is privy will usually be an influence. The patients that come [into my clinic] already recognize that things online are often filtered and unrealistic. They come to me to get a healthy appearance without the magic of filtration," he said.
Unfortunately, even the best results won't last forever, says Dr. Lancer. "In appearance maintenance, 'one and done' does not exist," he said. "Maintenance is always required, either three to four months, six months, or one year down the line."
Dr. Madhuri Chadha, known as Dr. Madh to clients at her popular Beverly Hills practice, is also a firm believer in combination therapies. "I think that when you combine resurfacing with collagen-stimulating treatments, you're getting the best of everything. My absolute favorite is radiofrequency microneedling. And to be specific, a device called Secret RF," she shared. "It's unlike anything else out there."
What sets it apart, according to Dr. Madh, is the device's ability to deliver thermal heat at a consistent temperature directly to target areas. "RF microneedling relies on thermal heat at a very specific temperature in order to stimulate fibroblasts (the cells that produce collagen), and some devices may say that they are delivering it at a certain level, but it's not by the time it gets to the tissue. And this device is very true to what it says. Also, the needle head size is much bigger. It's a 64-pin versus the average 25-pin, so you're more than doubling the delivery of heat and targeted wound injury to the skin. I'm very fond of this device, and I consistently see really nice results with it."
Secret RF works on all skin types and colors to improve dermal elasticity and helps with fine lines, wrinkles, pigmentation, traumatic and surgical scarring, and deep acne scarring as well. Often, Dr. Madh will use the device with a CO2 laser for a holistic approach to more youthful skin. "By using both devices, you're not only stimulating the deep tissue and addressing crepiness with RF, but you're also resurfacing the skin with the CO2," she said.
Downtime is limited; any post-treatment redness subsides in about 24 hours (the neck can take up to 72 hours). "If you do it on a Friday, you're ready to go by Monday. And oftentimes, patients will even go out that same night. It really depends on the intensity of your treatment and the skin tone of the patient," she said. "Older microneedling methods created a targeted wound injury with no thermal heat. And afterward, you were left looking like you got in a fight with a cat, with a lot of bloody redness and scratches. With thermal heat, the blood coagulates, and so it's very clean. If there's any bleeding, it's coagulated, so no one walks out looking bloody. Oftentimes, patients walk out with a glow."
It can take up to 12 weeks to see improvements with final results topping out around five months, and Dr. Madh recommends a series of three treatments anywhere from four to six weeks apart. After the last, you can maintain results with a repeat treatment every six months. "The more consistent you are, the better your result is going to be," she said. "If you liken it to your fitness routine, you don't just join the gym and workout for a month and say you're done for the rest of your life, right? It's all getting started and maintaining those results."
The Secret RF treatment starts at around $1,200 and goes up to $1,800 per session, depending on the area. But for Dr. Madh, it really is the best bang for your buck. "When talking about reversing the signs of aging, hands down, it's radiofrequency microneedling," she offered. "Because it is multitasking, it's going to help with texture, tone and pigmentation, and it's going to stimulate collagen and improve dermal elasticity. And the results are long-term because you're using your own body to stimulate collagen. But there's one thing to remember," she cautions. "We're not stopping the clock; we're slowing it down."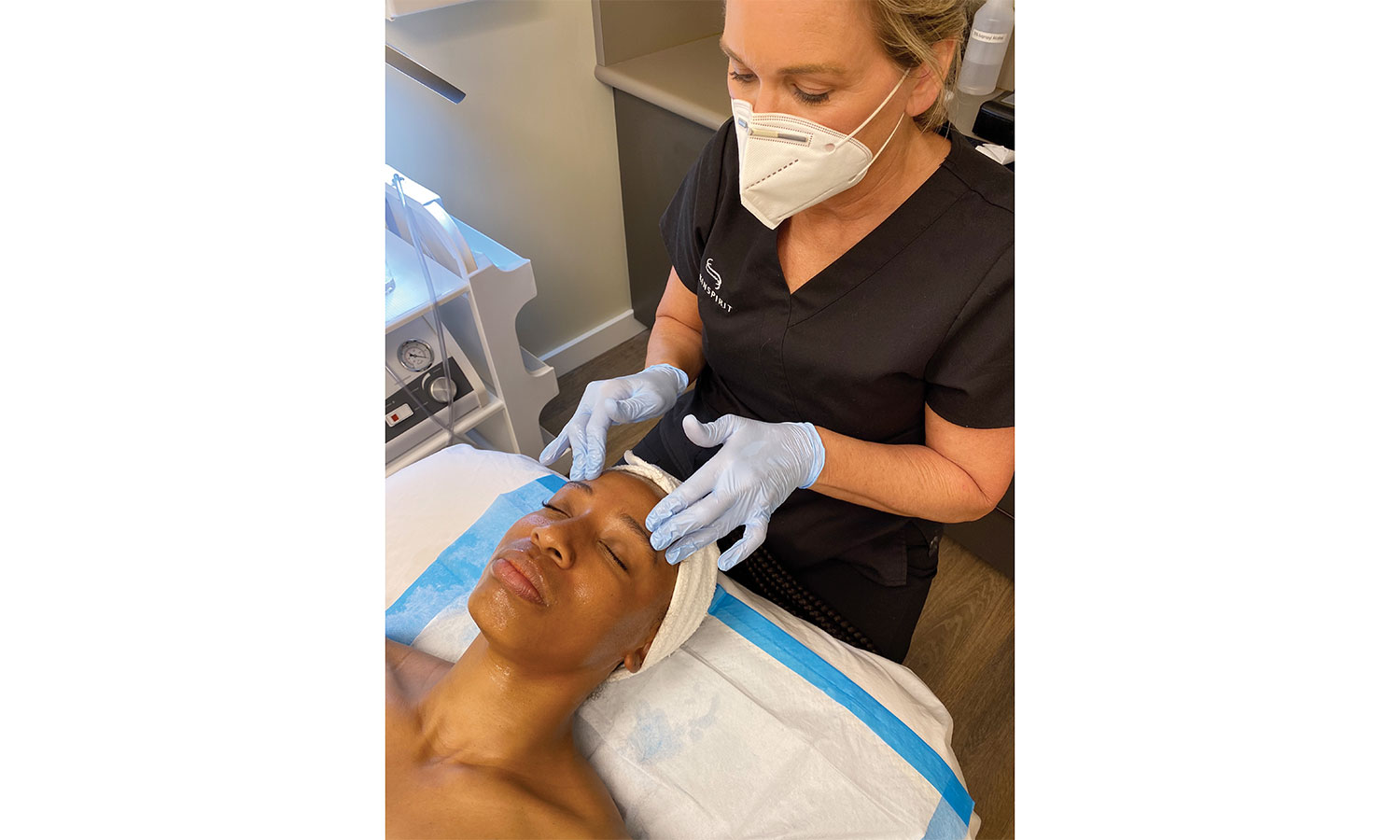 Shawna Jones began her career in orthopedic spine surgery before making the move to dermatology and medical aesthetics eight years ago. She's also a top trainer for Allergan Aesthetics, the maker of the holy grail injectable Botox, instructing aestheticians across the country in the latest advancements. Operating out of the SkinSpirit clinic's two locations—Newport Beach and Beverly Hills—she's in high demand for her expertise in the latest technological advancements.
According to Jones, she's seeing a movement toward natural results achieved by injectables used in conjunction with lasers and other collagen induction therapies. "We go to Botox for preventative reasons, for help with those dynamic lines that we make with movement, and there's a place for that. And then, there's a place for improving overall skin quality, which is where the [devices] come into play," she said.  
One of the most requested treatments at the Beverly Hills location is the Morpheus 8, a state-of-the-art device that utilizes both RF technology and microneedling. "It's minimally invasive unlike traditional microneedling, where a tiny pin is glided across the skin to create micro channels. [Morpheus 8] uses sound waves to create these channels, which in turn boosts collagen and elastin during the body's healing cascade [the stages in which the body repairs itself]," she explained. "The best part is that it's completely customizable so the device can be tailored for each patient, and you can actually recontour the face and remold the fat and underlying skin structures if needed."
The Morpheus 8 can be adjusted to target different depths so a facial map can be created allowing for specific areas to be tightened more, or less, and the heat delivered by the radio frequencies can break down fat deposits allowing for the fat to be repositioned. Jones says she's seen it work wonders for acne scarring as well. The device can be used on the face and neck, on the body, the abdomen specifically, or crepey skin on the upper arms or back of the thighs. Thanks to its twin handpieces—one for the face and one for the body—it can be used effectively anywhere.
The procedure takes about 30 minutes to an hour, depending on the size of the area being treated, and it begins with numbing the site to assuage any discomfort, and that can be done either topically or with Pro-Nox, an FDA-cleared medical nitrous oxide machine. "For a lot of people, what they most want to know is if it's going to be painful or if it will hurt, and we want it to be a pleasant experience. So that helps tremendously," said Jones of the fast-acting, pain-dulling nitrous.
Downtime for most patients is between five and six days. Immediately after the treatment, you will experience a little redness like a sunburn and some swelling, which will subside in about 72 hours. And you'll feel micro scabs on the site over the course of the next couple of weeks. They won't be visible and will flake off on their own. Jones stresses not to exfoliate or manually remove these scabs. "We tell patients to just leave those scabs alone. I also tell them not to do any heavy exercises, anything where you would be sweating, which attracts bacteria because we want to prevent any infection and to avoid wearing makeup for at least a week," she said. "You could go out in public, but you wouldn't want to have any big events scheduled for a minimum of a week post-treatment, but I usually tell people to aim for a couple of weeks."
Because the Morpheus 8 works by stimulating collagen production, results aren't instant. Changes develop over the course of three months, on average. And Jones recommends a series of three treatments, done at four or six-week intervals. A single facial area starts at $600 (full face is $1,200); body pricing begins at $750 per area; and full face, neck and chest costs $1,850. All treatments include Pro-Nox (nitrous oxide for pain management/numbing) and a medical-grade Sente Daily Repair Essentials kit for post-treatment, at-home recovery.
"Once you've done the series of three, you need to protect your investment," she said. "I highly recommend continuing with medical-grade skin care at home and keeping up with sunscreen, which you should be doing anyway. Skin is such a major part of how we perceive ourselves, and dermatologists and aestheticians can give so much confidence and make people feel so much better about themselves by helping improve even little things to make people feel a little bit younger."