At the northernmost edges of Beverly Hills lies an urban wilderness, an expansive landscape with chaparral-studded slopes and grassy meadows shaded by oaks, populated by all manner of woodland creatures. These are the real hills of Beverly Hills.
Far above the hustle and bustle, the sound of traffic fades away. You enter a pristine world of quiet and solitude. Unlike the hiking spots in Griffith Park, overrun with tourists looking for ways to get to the Hollywood sign, these sanctuaries feel remote.
Here, nature lovers can take the paths less traveled.
On 605 acres of protected land between the San Fernando Valley and Beverly Hills sits Franklin Canyon Park. In addition to miles of hiking trails, the idyllic setting boasts a three-acre lake, a pond and an abundance of picnic tables.
As part of the Pacific Flyaway, a north-south migration path extending from Alaska to Patagonia, Heavenly Pond is a bird watcher's paradise. Among the hawks and horned owls, you'll find many species of duck nesting in the reeds at the water's edge, including the rare Mandarin, which outside of the Far East and London, are only known to make a home in Franklin Canyon. The adjacent Heavenly Pond Trail is ADA-compliant, allowing those with mobility issues to enjoy the surroundings.
The three-acre Franklin Lake (Franklin Canyon Reservoir) is an important watershed for the canyon, providing habitat and sustenance to the wildlife that resides there. It sits in the middle of a trail called the Reservoir Loop. Flat, wide and level, it's perfect for pushing strollers while strolling. And the lake provides the ultimate serene backdrop for picnickers dining alfresco at its waterside benches.
Fun fact: The park itself has been the backdrop for many films and television shows, including doubling for Mayberry in "The Andy Griffith Show;" the Heavenly Pond is the pond in the Oscar-nominated film "On Golden Pond;" and Franklin Lake played the Amazon River in the 1954 monster movie, "Creature from the Black Lagoon."
For diehard hikers, the park's five miles of meandering trails, which afford fantastic sweeping vistas of West Hollywood and Downtown Los Angeles, are the real draw. There are less challenging loops like the Discovery Trail and more strenuous paths that take you up the slopes until the canopy of oak, walnut and sycamore gives way to native shrubs and wildflowers. At the top, you can cross the Santa Monica Mountains to Coldwater Canyon and Wilacre Park. At the southern end of the park, there are trails used for monthly, guided full-moon hikes and stunning nighttime views of Los Angeles.
Franklin Canyon's history begins at a time when Los Angeles was just a fledgling town, and the pursuit of oil and water were the powerful forces conspiring to build a city. In 1914, the year the city of Beverly Hills was incorporated, William Mulholland and the Department of Water and Power (DWP) began construction of a reservoir in upper Franklin Canyon. It was built to capture water, purchased in an infamous deal with Owens Valley, and transported to the location via Mulholland's legacy-making, engineering marvel, the Los Angeles Aqueduct.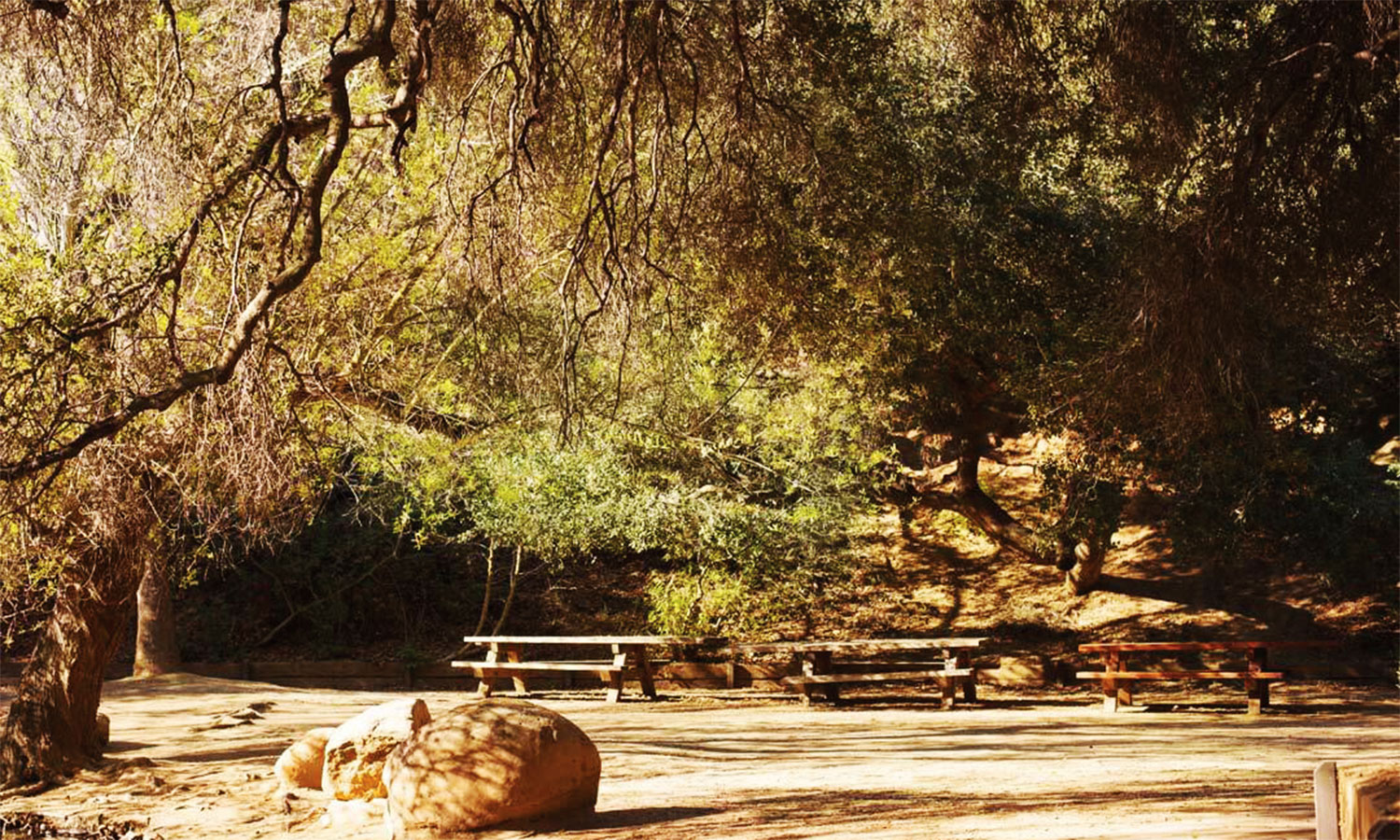 The area was previously owned by oil baron Edward L. Doheny, who mainly used it to graze and water his large herd of roaming cattle. Doheny sold large swaths of the land to the city of Los Angeles for the water project, reserving a portion in lower Franklin Canyon for a summer retreat. The Doheny family later built a Spanish-style home there in 1935.
Franklin Canyon remained unchanged for decades, until the Sylmar Earthquake in 1971. Measuring 6.7 on the Richter Scale, the quake caused extensive damage throughout the San Fernando Valley and near full collapse of the Lower Van Norman Dam. After the city and the DWP held a system-wide survey of its dams and reservoirs, the Franklin Canyon Reservoirs were deemed at high risk for failure. The lower reservoir was emptied completely, and the upper reservoir level was lowered by 15 feet. A modern reservoir and surge dam were constructed below the Doheny Ranch as a replacement. With the upper reservoirs decommissioned and the Doheny Ranch properties slated for sale, the once-protected Franklin Canyon was open for development.
However, conservationist Sooky Goldman and Congressman Howard Berman stepped in and encouraged the DWP and the National Park Service to instead turn the land into a park. And in 1981, The National Park Service purchased the Franklin Canyon Ranch, incorporating it as part of the Santa Monica Mountains National Recreation Area. That same year, the William O. Douglas Outdoor Classroom—named after the Supreme Court Justice and environmentalist known for his eloquent speeches urging the protection of America's wildlands—opened its doors and began offering educational programs to the public and local schools, which continue to this day. The non-profit's two-hour, docent-led discovery hikes and field trips introduce 10,0000 underserved youth to Los Angeles' natural resources each year.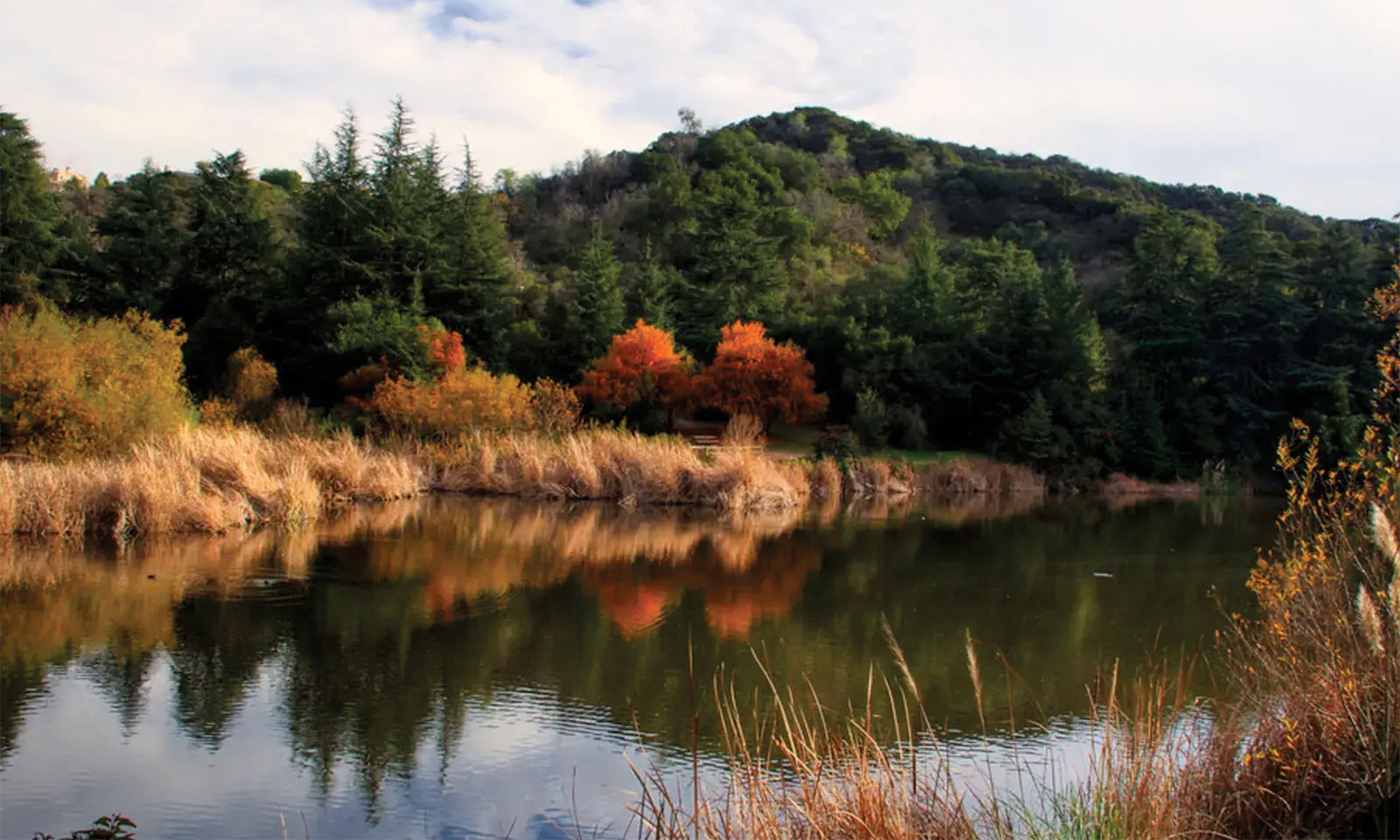 The Mountains Recreation and Conservation Authority manages daily operations today, including the park's Eugene and Michael Rosenfeld Auditorium, the Sam Goldman Amphitheater and the Sooky Goldman Nature Center, where you can grab a snack and check out exhibits on native plants and wildlife.
"The 605 acres of Franklin Canyon offer visitors a respite from the city," said Fernando Castrejon, Franklin Canyon's Park Manager. "It's a beautiful example of how a mostly undeveloped park in the middle of the largest metropolitan area can bring balance and harmony." For park updates, events and public programming, follow @mrcaparks or
@franklincanyonpark on Facebook or Instagram.
Adjacent to Franklin Canyon, on a ridgeline straddling Studio City and Beverly Hills below, lies Coldwater Canyon Park, a Certified Wildlife Habitat by the National Wildlife Federation. Sprawling 45 acres, the park's numerous trails, shaded by lush tree canopies, traverse sage-covered hillsides leading to sweeping panoramic views of the San Fernando Valley.
Not to be confused with the lovely, little, five-acre community park along Beverly Drive with the same name, this Coldwater Canyon Park is owned by the city of Los Angeles but maintained and operated by TreePeople, based in Beverly Hills. (Though if you want to split hairs, it's technically Beverly Hills Post Office.)
This year marks the 50th anniversary of TreePeople. A little more than half a century ago, 15-year-old camp counselor Andy Lipkis learned about the dire state of Southern California's trees from a visiting U.S. Forest Service ranger during an educational camp lesson. Back then, the Los Angeles basin sat under a threatening and permanent haze of smog, so thick it limited visibility and "stay indoors" warnings were a daily part of life. Lipkis was horrified to hear that this air pollution was killing local trees at such a rapid rate that all of the area's forests would be gone forever by the year 2000—unless smog-resistant trees were planted to replace those lost.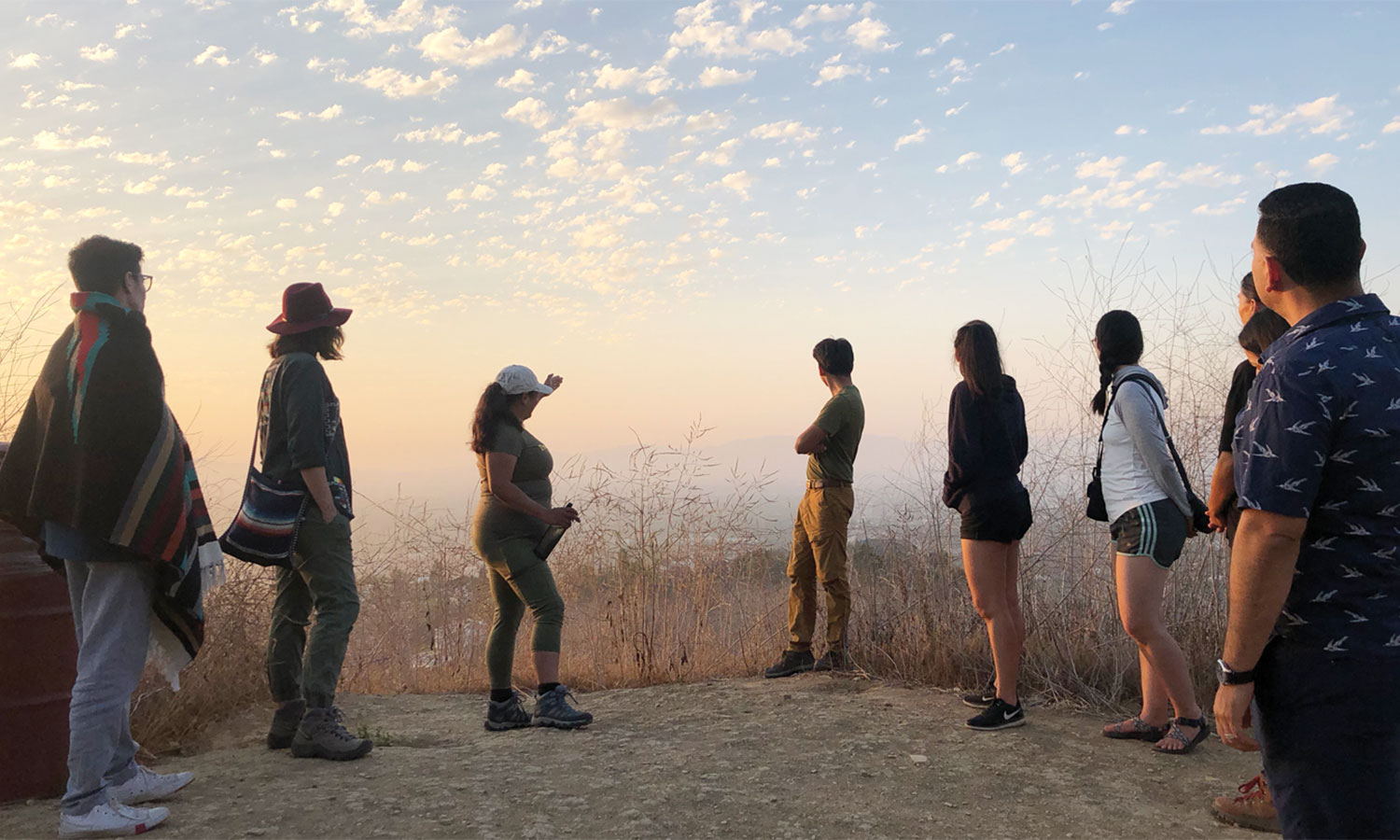 Lipkis quickly mobilized a group of like-minded teens, and together they raised thousands of dollars and spent the next summer planting 8,000 trees in the San Bernardino National Forest. Though the group became incorporated as the California Conservation Project in 1973, locals insisted on colloquially referring to them simply as "the tree people." The name stuck, and a year later they took on the moniker, officially renaming their organization TreePeople. 
In the decades since its inception, TreePeople has engaged and inspired millions of people to act on behalf of our native trees—planting millions of saplings, replanting after wildfires, turning concrete slab schoolyards into shaded green spaces and donating fruit-yielding varieties to food-scarce communities. 
From its base in Coldwater Canyon—which over the years has grown to include the S. Mark Taper Foundation Environmental Learning Center, S. Mark Taper Foundation Amphitheater, W.M. Keck Foundation Nursery and a Yurt Village—TreePeople continues its commitment to educating the public. Community outreach is done through a wide variety of programs such as hands-on workshops covering topics like composting and rainwater capture and volunteer-led educational hiking tours.
Through its partnerships with area schools, 10,000 students visit TreePeople each year to learn about nature and the importance of caring for it. "For many of them, it's the first time they're in nature, and the impact that experience has on them lasts for a lifetime," said TreePeople CEO Cindy Montañez. "And there are no special tricks; when you expose a child to nature, or even an open space in an urban setting, the connection automatically happens—you see them light up, their minds become more curious—[and] hopefully changes the way they understand the natural world."
While you're free to park in TreePeople's designated lot at the intersection of Coldwater Canyon and Mulholland Drive and explore on your own (trails are clearly marked with signage), the non-profit's guided hikes offer a next-level, immersive experience.
Every first Saturday of the month at 10 a.m., the free Story of TreePeople Tour makes its way around the facilities and park surroundings. It's guided by a volunteer who will point out various on-site conservation practices while regaling you with tales of the organization's history and sharing its plans for the future.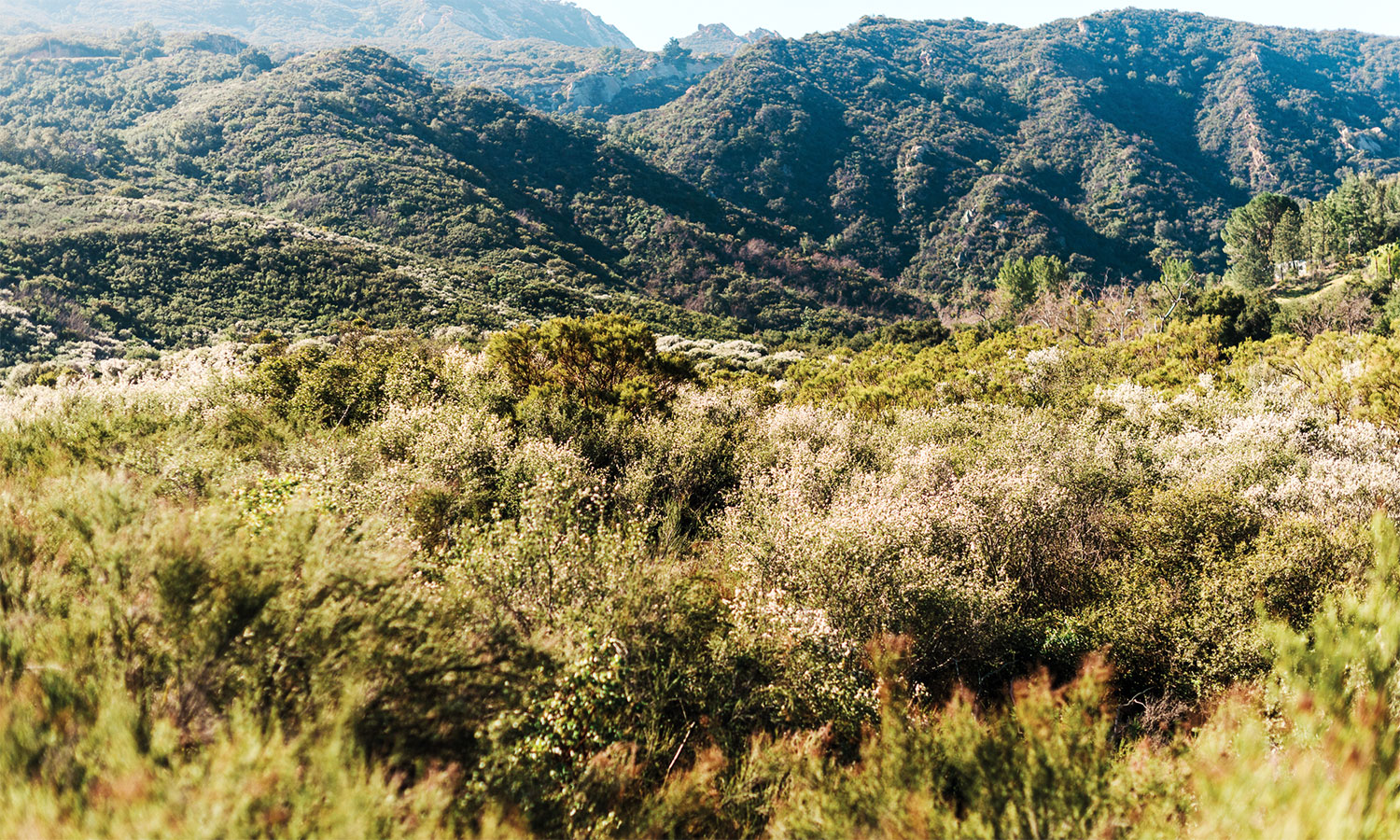 Looking to reconnoiter with your furry loved one? Sign up for the hour-long L.A. Lookout Adventure Tour and bring your pooch (must be leashed) along on a guided hike along the trails. You'll learn about the flora and fauna that surrounds you as you go. The tour is held on the second Saturday of every month at 10 a.m. and costs $5 per person.
For a truly unique experience, grab a flashlight and take the Moonlight Hike Tour to explore Coldwater Canyon (and neighboring Wilacre Park) after dark. Weather permitting, the hike takes place on the third Friday of every month, starting at 6:30 p.m. It's free for members (and up to three guests) and $5 per person for non-members. Hikers of all ages are welcome, and there are three different experience levels offered: "Relaxing Stroll," a slow-paced leisurely amble along even ground, perfect for young children; "Brisk Walk," which includes a hill challenge with city views at the top; and "Trek Hike," a two-mile power hike with elevation gains that will leave you breathless by the time you get to the stunning panorama revealed at the summit. During each, your guide will pepper you with fun facts about the park and its wild inhabitants, while you gaze at the stars above and take in the twinkling city lights below.
Sign the whole family up for the private, one-hour Family Tour and walk the trails with a TreePeople educator who will teach you how to identify native plants along the way. You'll also pop by the resident Dirt Doctor's laboratory, learn about the magic of mulch, be treated to live demonstrations and interactive displays on topics like rainwater flow at the urban watershed garden and plant a tree seed to take home. The cost is $10 per person (there's a 10-person minimum). The private tour, which must be booked in advance, is offered Monday through Saturday, with two separate sessions available, either 10 a.m. to 11 a.m. or 12:30 p.m. to 1:30 p.m. Bring a packed lunch and picnic on the grounds before or after the tour. You can also add on an optional 30-minute nature craft activity and make leaf rub journals or clay air fresheners for an additional $50 group fee.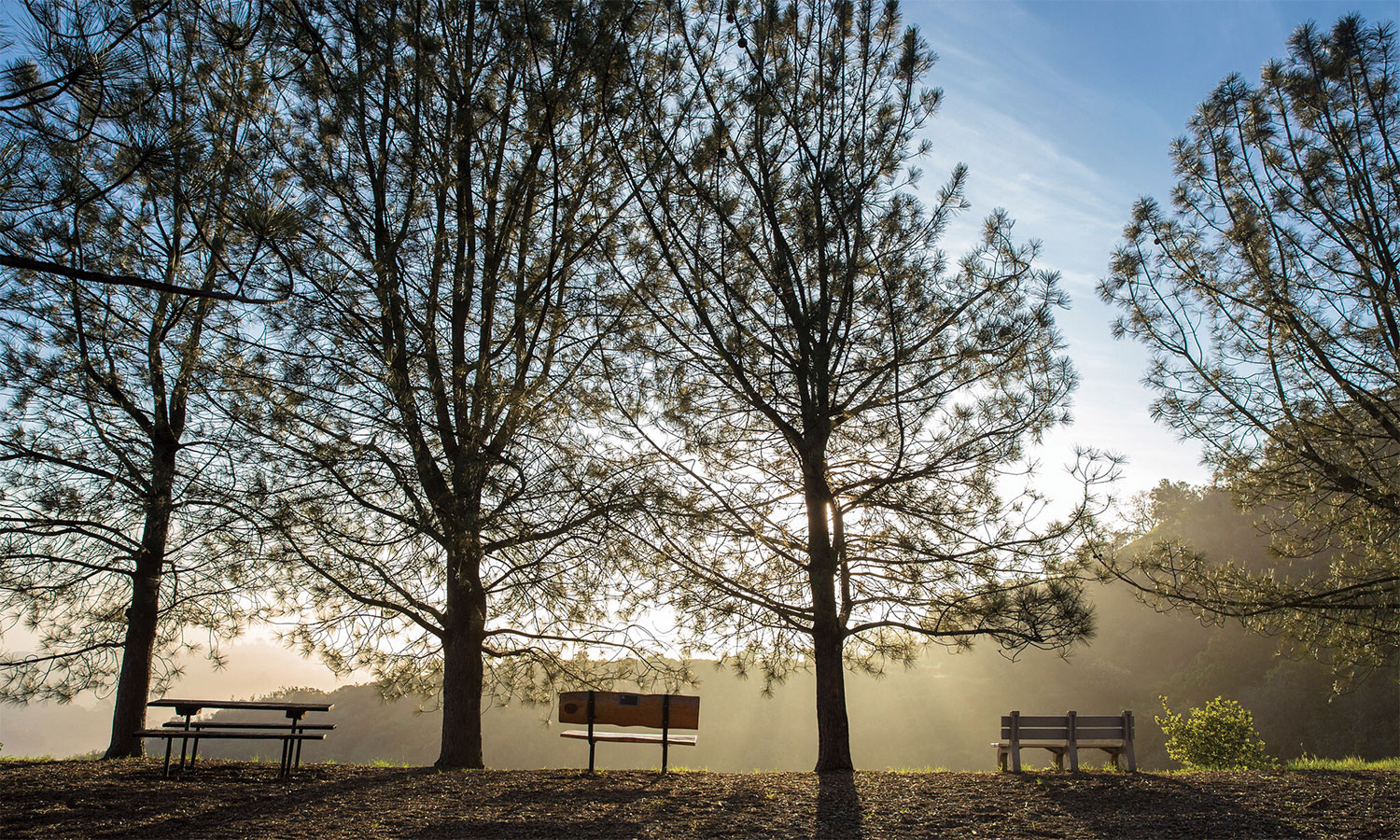 A public version of the Family Tour, minus the optional craft activity, is held every fourth Sunday of the month at 10 a.m. and is $5 per person (free for children 4 years old and under).
If hiking isn't your thing, you can still take in the beauty of the surroundings while you take in a summer concert at the S. Mark Taper Foundation Amphitheater. Follow @treepeople on Facebook for updates on programming.
All proceeds from these performances, as well as the guided tours, go to TreePeople's maintenance of the 45-acre park. This revenue is one of the organization's principal sources of funding, besides donations and memberships. For information on the non-profit's monthly membership program, visit treepeople.org/canopy. Membership comes with all kinds of perks, including exclusive access to future TreePeople experiences and events. To make a donation, visit treepeople.org/supportus.
One of the best ways you can support the organization, especially during the summer season when it's crucial to provide trees and plants with water to ensure they survive the heat, is by volunteering. Various volunteer-driven events are held every weekend. For more information, visit treepeople.org/volunteer. "People get to work together to make a tangible difference in the world in real time," said Montañez of the organization's volunteers. "Trees aren't political. In fact, [they're] a unifying force for communities…Where else can you work with a loved one and a complete stranger on the same day and plant a tree that will last for decades to come?"
With so many options to go into the wild nearby, you can hit the dusty trails —without ever leaving the city.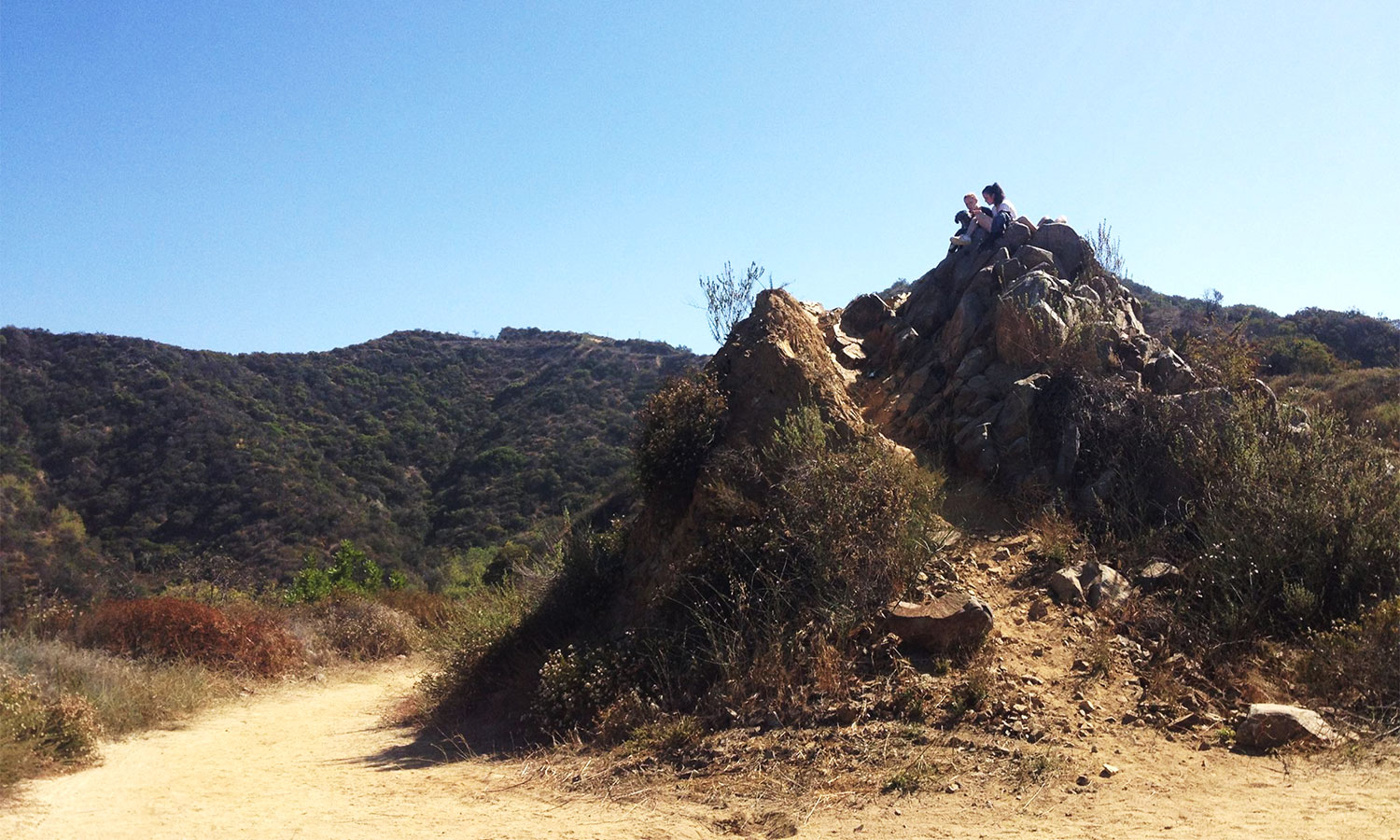 Franklin Canyon Park
2600 Franklin Canyon Drive
310-858-7272
NOTE: Franklin Canyon Park north entrance (Mulholland/Coldwater) is closed due to hazardous conditions from recent storms. South entrance (Beverly Drive) is open.
Popular Hikes:
Discovery Trail: An easy 0.3 mile stroll that loops through the black walnut woodland along the canyon bottom.
Hastain Trail: A moderate to strenuous 2.3-mile, round-trip hike. Rising steadily on a fire road through a chaparral-covered slope, you will arrive at an overlook offering views of the lower canyon, West Los Angeles and, on a clear day, the Pacific Ocean. From there, the trail drops down to a single-track trail to the lawn at the ranch area next to the old Doheny house.
Berman Trail: This 1-mile, moderate to strenuous hike to Mulholland Drive allows you to hike across the Santa Monica Mountains from Franklin Canyon to Coldwater Canyon Park and Wilacre Park.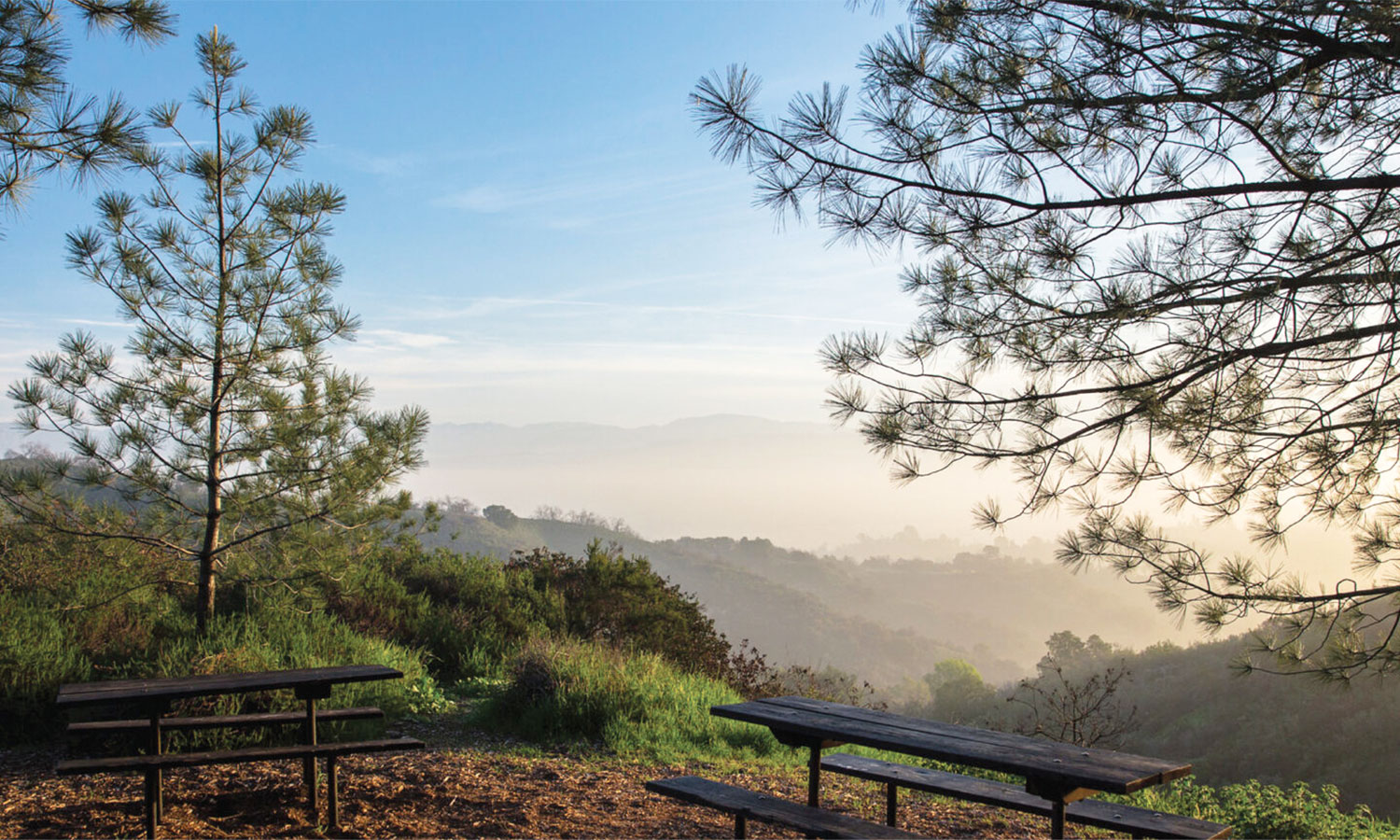 Coldwater Canyon Park
TreePeople
12601 N. Mulholland Drive
818-753-4600
Popular Hikes:
Oak Trail: A short trail for beginner to intermediate hikers who just want a nature stroll while at the park. Oak Trail ends where it intersects with Betty B. Dearing Trail, which will take more ambitious hikers into Fryman Canyon.
Betty B. Dearing Trail: A 5-mile, out-and-back hike. It gets pretty rugged and steep in places so be mindful of your shoe choice. Bring water.