A timely event five years in the making took place on Rodeo Drive July 5. The occasion was the groundbreaking and blessing of the space for the new Rolex and Patek Philippe Boutiques. The prime real estate at 312 North Rodeo has housed an illustrious array of tenants over the years, from facialist Georgette Klinger to fashionistas Dolce and Gabbana.
Thirteen months from now, it will house the largest Rolex and Patek Philippe boutiques in the country.
Thomas J. Blumenthal, President & CEO of Gearys Beverly Hills, welcomed family members and invited guests to the ceremony, including his parents, uncle Bruce Meyer, cousins Evan and Emily Meyer, Mayor Dr. Julian Gold, Vice Mayor Lester Friedman and members of the Gearys executive team.
In his remarks, Blumenthal noted that "Rolex and Patek Philippe both asked us to expand and do it in a very thoughtful and experiential way on the famous Rodeo Drive. When we started thinking about where that's going to happen, I discussed with my uncle and my cousin and my parents and asked when the Dolce and Gabbana lease was up. They told me June of 2023. That was five years ago."
Fortunately, time did not stand still.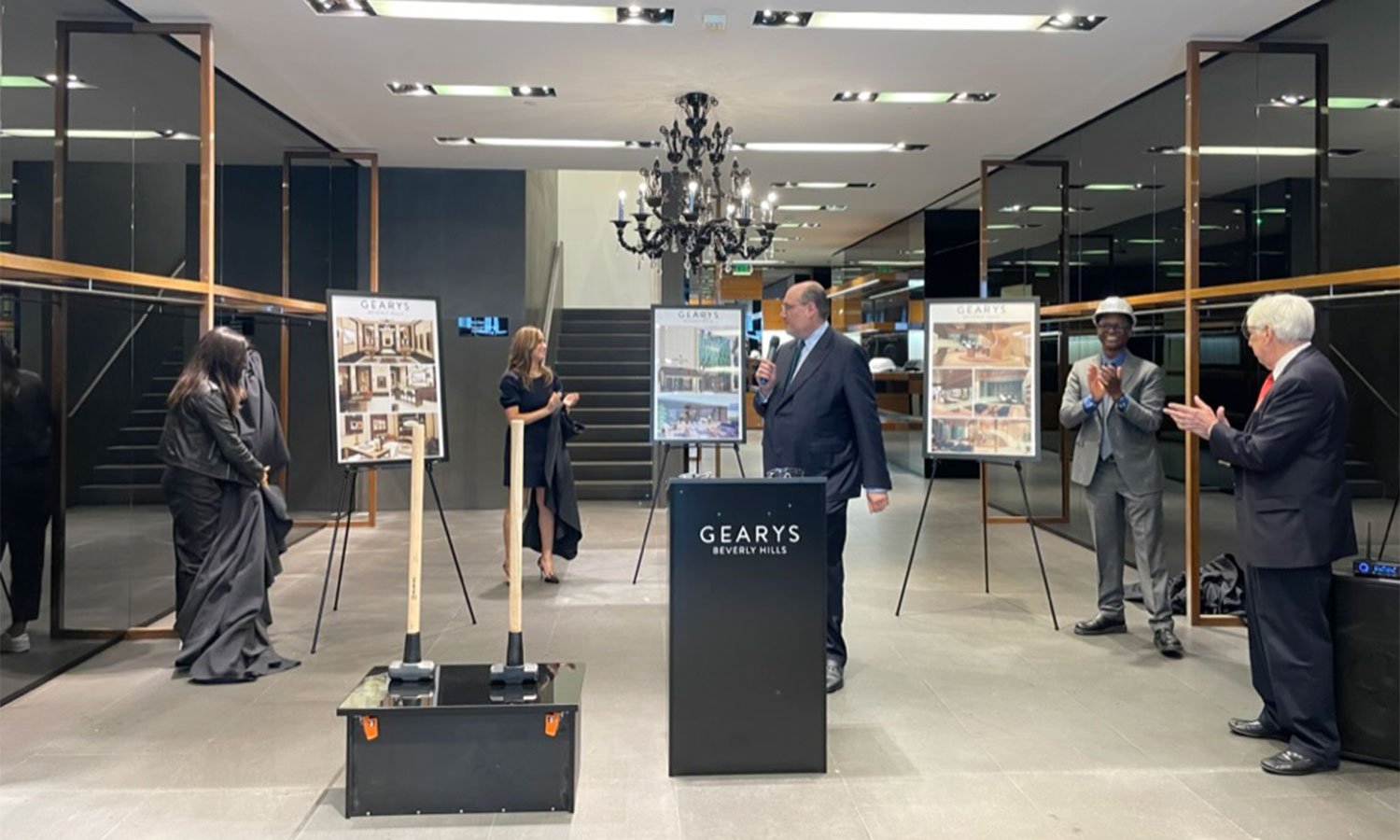 "We waited and this is a spectacular location. It is so fitting for the two brands that we represent in the US," he observed.
Blumenthal unveiled three sleek renderings of what the space will look like on the Rolex side, the front façade, terrace and the Patek Phillipe side. He then asked Father Ed Benioff, Pastor of the Church of the Good Shepherd in Beverly Hills, to provide a blessing.
Benioff obliged by sprinkling holy water around the space, asking for "blessings and success" for the planned endeavor.
Then, in recognition of the ceremony as demolition day one, Blumenthal took a sledgehammer to some remaining fixtures.
A Champagne toast followed, along with dessert bites from The Farm of Beverly Hills. When it came time to add remarks of his own, Gold described Blumenthal and his family as "Beverly Hills royalty."
"You have done so much for this street and city. This is the next chapter. I'm sure it's going to be beyond spectacular. On behalf of our community, we thank you," said Gold. And then it was time for one more toast to the successful venture to come.