Beverly Hills Chamber of Commerce Board Chair David Mirharooni looks forward to leading the organization in its 100th anniversary year and into the next century of business prosperity. In an interview with the Courier, the newly installed Mirharooni spoke of a desire to give back to the community that has given so much to his family.
"I live in Beverly Hills, I work in Beverly Hills and I continue to run in the streets just as I did when I was a little kid," he said. "I want to make sure that the same great life that was given to me is there for my kids the rest of my family and everyone else in Beverly Hills."
Mirharooni's family came to Los Angeles in 1978 after fleeing the Islamic Revolution in Iran. As a child he watched his dad work hard to rebuild their lives from scratch in Beverly Hills, laying the groundwork for Mirharooni to launch his own career.
"I remember how much blood, sweat and tears he put into getting his family to where we are today by working hard and planting his flag in Beverly Hills," said Mirharooni. "We owe lots to Beverly Hills because it was the start of how we became successful in real estate."
Mirharooni is now a principal of the real estate company, Brickstar Capital LLC.
He first became involved in the Chamber as a young entrepreneur straight out of USC's Marshall School of Business. In 2015 he moved the business back to the city of Beverly Hills and began attending meetings of the Government Affairs Committee.
"I enjoyed listening to how the Chamber was advocating for certain policies, whether it was national, whether it was state, whether it was LA County or even hyperlocal Beverly Hills policies," he said.
Mirharooni's enterprising and inquisitive spirit quickly caught the attention of more senior Chamber members who encouraged him to become chair of the Government Affairs Committee. In that role, Mirharooni worked with legislators and advocated for the needs of the local business community, while also developing strong relationships with Chamber staff.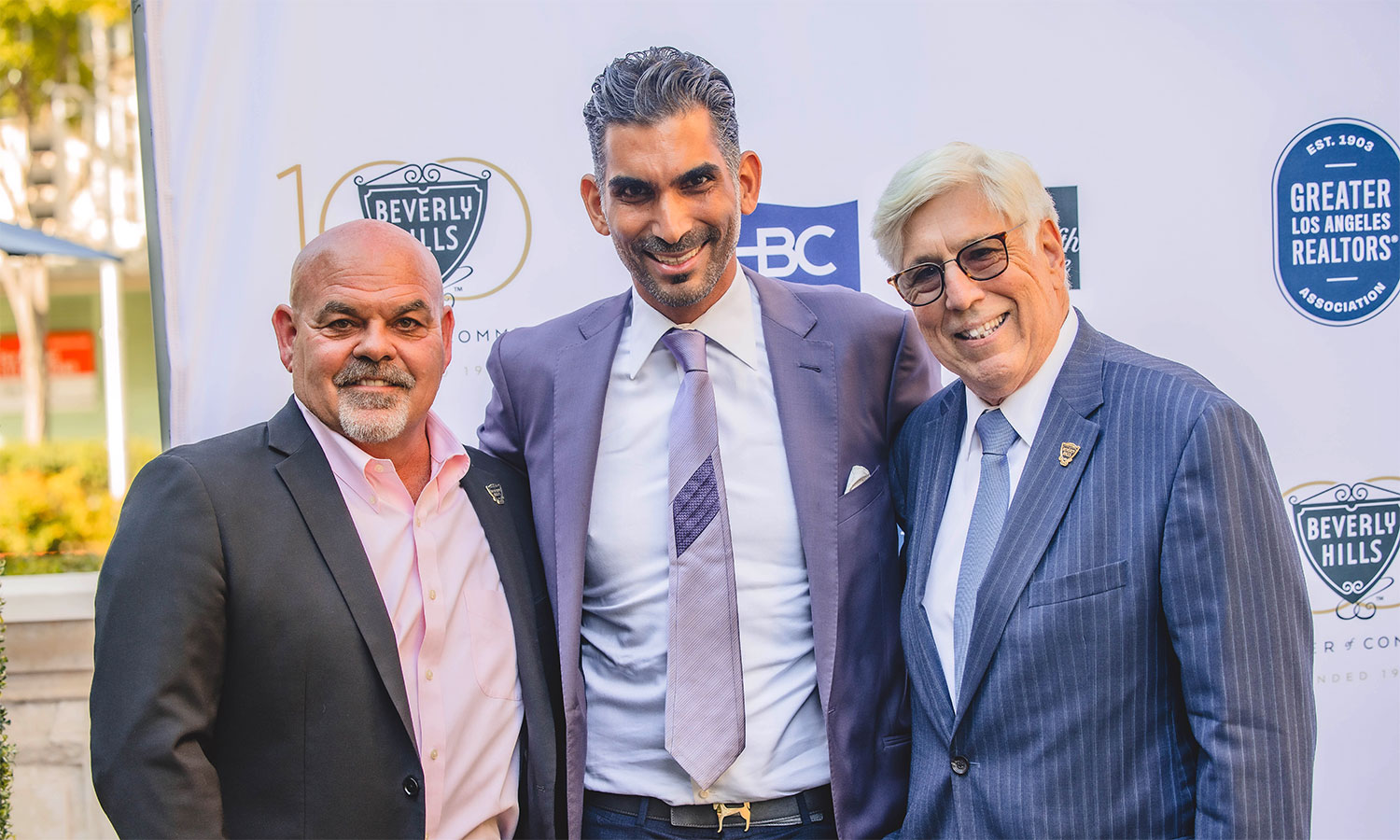 He went on to become a member of the Executive Committee and the Board of Directors before recently being selected to replace outgoing Chair Kathleen Chapman. Mirharooni is also a member of the Rotary Club of Beverly Hills, Team Beverly Hills Class of 2013, and City Council's Property Owners Task Force.
He was formally installed in his new position with the Chamber at that organization's Summer Garden Party on June 28.
"I'm very fortunate that I'm the Chair of the Chamber this year, but I'm even more fortunate that this is the 100th year of the Chamber, so that puts an extra emphasis on thinking about what the next 100 years are going to be like," he said.
Mirharooni believes that the business community is currently in a fantastic place thanks to the leadership of the City Council, which he says has done an admirable job of paying attention to the needs of both businesses and residents.
Nevertheless, he sees many challenges on the horizon.
These include the worsening homelessness crisis in LA, uncertainty around how AI and virtual reality will impact businesses, and regional policies that make it increasingly costly to do business in the county.
As chair, Mirharooni's goal is to proactively engage members of the community in conversations around these challenges and chart a collective vision for the future of the organization.
"It is about figuring out how we can be relevant to tomorrow's time today," he said. In the immediate future, Mirharooni is looking forward to attending the Chamber's Centennial Celebration on Nov. 7 as well as the Chamber's Evening With the Mayor on Oct. 11 when Mayor Dr. Julian Gold will give his annual State of the City address.
"We have an amazing city and the Chamber has amazing members who really care about our city," he said. "My goal is to increase our awareness throughout the community and ultimately make sure that Beverly Hills continues to go down that right path that it has been on for the last ten years."