On Aug. 27, the inaugural "Beverly Hills Reads!" featured Bonnie Garmus, author of the bestselling novel, "Lessons in Chemistry," in discussion with recently retired Beverly Hills High School educator Julie Goler.
"Lessons in Chemistry," Garmus' debut novel, is set in the early 1960s and follows a brilliant, uncompromising female chemist, Elizabeth Zott, who experiences rampant workplace sexism, loses the love of her life and is a single mom. When she becomes the host of a televised cooking show, she also becomes one of the most influential public personas of her time, inspiring women to go after their professional ambitions.
Since its publication earlier this year, the book has become a huge success, skyrocketing to the top of the New York Times Best Seller list. It's been translated into more than 40 languages. A forthcoming televised adaptation for Apple TV+, with actor Brie Larson appearing in the lead role as Zott, is on the way.
Goler conducted the interview with Garmus at the City Hall Municipal Gallery before an audience of approximately 250 in-person attendees. Garmus appeared live via Zoom from her home in London, speaking to Goler about what went into creating her book's central protagonist.
"I was writing my role model, basically," Garmus, who was working as a professional copywriter when she began writing the novel, said.
Garmus said she had experienced sexism in the workplace, where, like Zott, male coworkers showed little respect for her work but managed to accept credit for it.
During the hourlong "Beverly Hills Reads!" discussion, which also was accessible to view online, Goler asked her questions while also taking questions from the audience, including Beverly Hills Unified School District (BHUSD) students in attendance.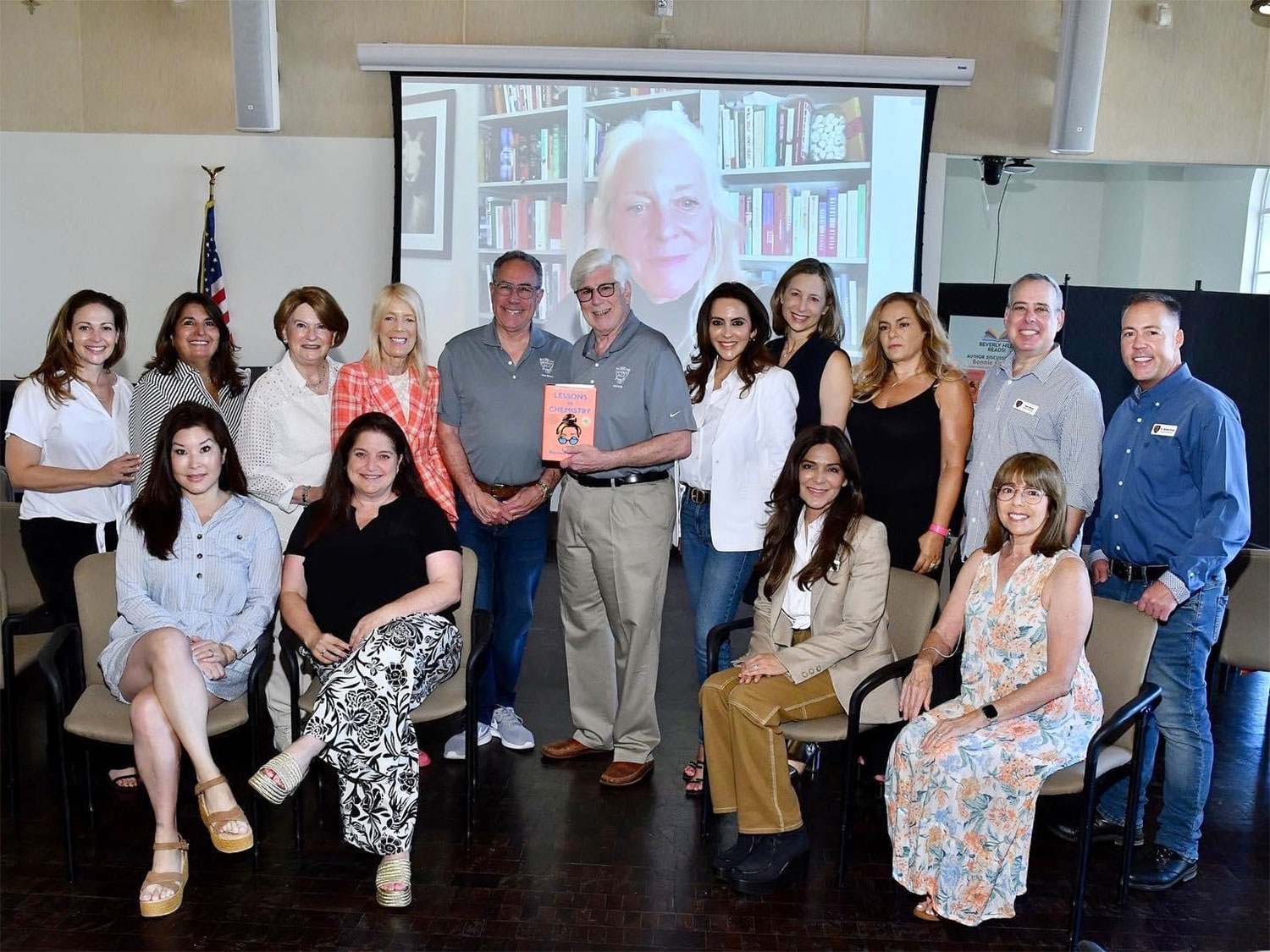 Students asked about the plot choices, including why a central character dies so early in the book, as well as about Garmus' writing process. For her part, the author was more than happy to share why she made certain decisions and explained that she is highly self-critical when it comes to editing her work. Her editors, too, forced her to leave out beloved passages from the final product.
"I'm pretty good at being ruthless, but it turns out my editors are even more ruthless," Garmus said.
She also discussed one of the book's many themes—science versus faith. Her character, Zott, is the daughter of a religious figure who misled people for personal financial gain, and Zott conveys a skepticism of religion that Garmus appears to share. However, Garmus said the feedback from religious friends has been positive. After reading "Lessons in Chemistry," an Episcopalian priest told Garmus her book wrestled with many of the questions facing those in his community.
Of course, people in the audience were curious about Garmus' involvement with the upcoming "Lessons in Chemistry" streaming series, which premieres on Oct. 13. Garmus said she was not involved in writing or creating it. She was permitted to give notes on the script, and those involved with making the show were free to incorporate her sug- gestions as much or as little as desired. At the time of the interview, she'd only seen rough cuts of the series and was excited to see the final product.
She has, however, spent time getting to know the series' star, Larson, and had only positive words to say about her.
"She's charming and she's smart, and I think she's a wonderful person," Garmus said of Larson, whom she met on Zoom and spent an evening with over dinner.
The City Hall event was organized by Goler, who taught English at BHHS from 1993 until the end of the 2022-2023 academic school year, and Laura Margo, vice chair of the city's Human Relations Commission. Speaking to renowned authors is far from foreign territory for Goler, who, as the founder of Julie's Book Groups, is a leading private book group leader and facilitator. Goler told the Courier that part of what drew her to "Lessons in Chemistry" was its universal appeal—it works for adults and is accessible to kids—along with its pro-STEM (Science, Technology, Engineering and Math) message.
According to Margo, an anonymous donor contributed financial support for the event while many different city groups sought to help organize and promote the program.
"When we brought this up to the Human Relations Commission, everyone was super excited about it," Margo said. "Then the city became excited about it. We decided to partner with BHUSD and the Beverly Hills Public Library, and then once we publicized it, the Beverly Hills Education Foundation called and said, 'We want to be involved.' It grew from there."
The event marked the first time the city was involved in a communal reading experience since BHUSD and the Human Relations Commission partnered on "One Book, One City," a community reading project. For that program, the book was "Boys in the Boat" by author Daniel James Brown.
In the future, Goler and Margo are excited about holding additional in-person events for the city's bookworms, young and old.
"We just want to foster the camaraderie," Goler said. "Let's get back from all Zoom events and try to be in person."