Fire leapt from the engine bay of a car that had slammed into a tree on Santa Monica Boulevard moments before Beverly Hills Police Sgt. Jeffrey Newman pulled out of an alley between Rexford and Crescent drives. He rushed over to the driver's side and found a man passed out behind the wheel.
"People don't actually realize how hot a fire really is as you're leaning into that car and feeling just a fraction of what those flames could be," Newman told the Courier.
Newman tried to yank the driver out of the vehicle as heat and smoke filled its cabin. But the unconscious man's leg was trapped beneath a mangled steering column and dashboard. So, Newman raced back to his patrol car to get a fire extinguisher and used it to prevent flames from sweeping through the rest of the wreck and devouring its occupant.
After firefighters put out the blaze, they had to use the jaws of life to methodically free the driver. The man was taken to a hospital with broken bones and other serious injuries.
"Well, that was my job," Newman said. "I know every officer would have done the same."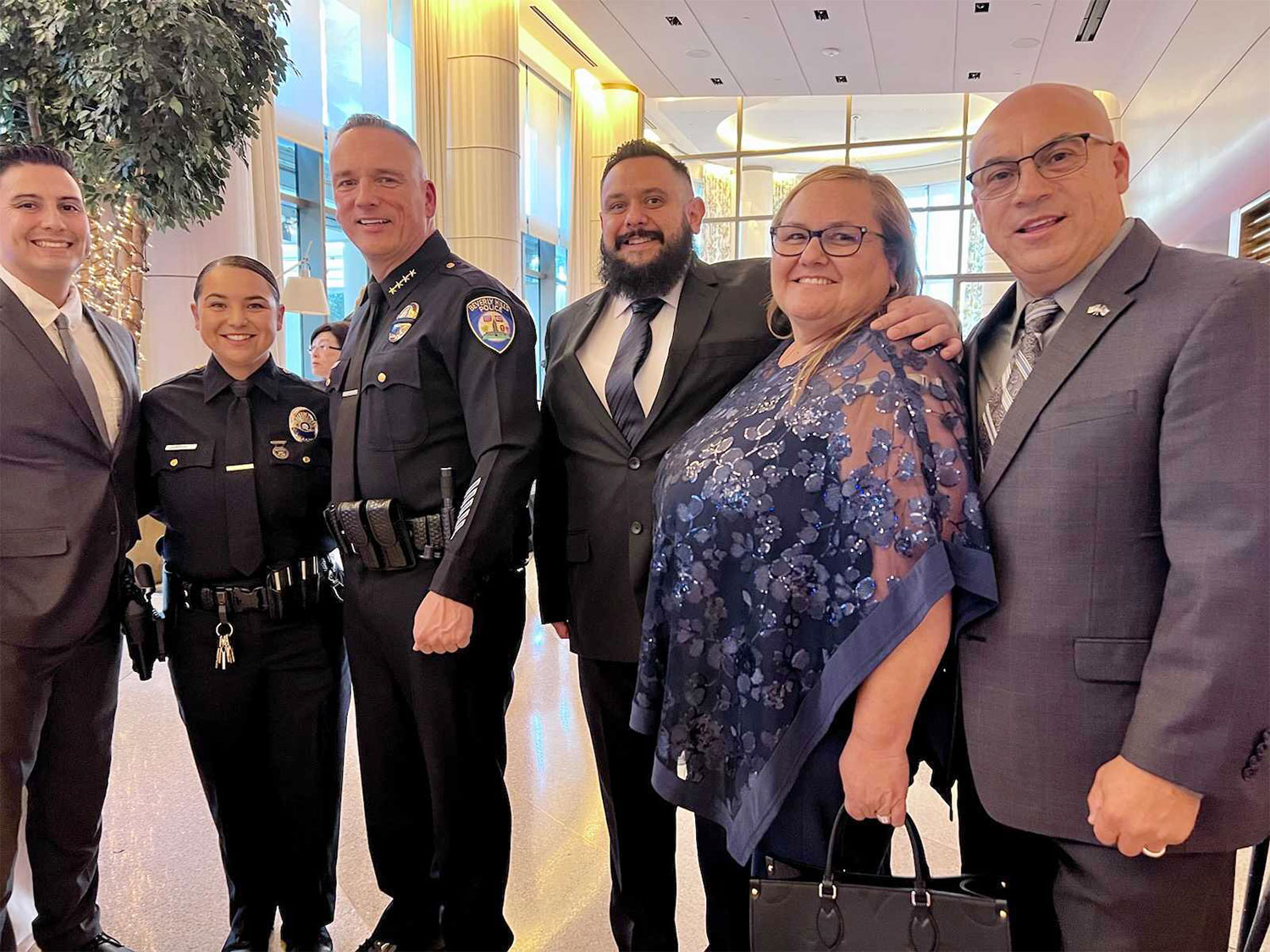 Newman's heroic actions were publicly lauded on the evening of Sept. 27. He was among 15 officers, two civilian employees and one community member honored during the Beverly Hills Police Gala at the Waldorf Astoria Beverly Hills. All were recognized for their life-saving actions in the line of duty or ongoing commitment to serving the public.
Mayor Dr. Julian Gold, Vice Mayor Lester Friedman, Councilmembers Lili Bosse and Sharona Nazarian as well as City Manager Nancy Hunt-Coffey were among those attending the fundraising event. They were joined by Fire Chief Greg Barton and Deputy Chief Alfred Poirier. And Beverly Hills Parent Teacher Association Council Co-President Rose Kaiserman (a member of the Courier's Advisory Board) was also on hand as the recipient of this year's Gabriel A. Coyoca award for her support of the police department. 
The crowd of several hundred mingled while enjoying signature bites from the Espelette restaurant in an indoor-outdoor setting. Everyone gathered inside when it was time for the program to begin.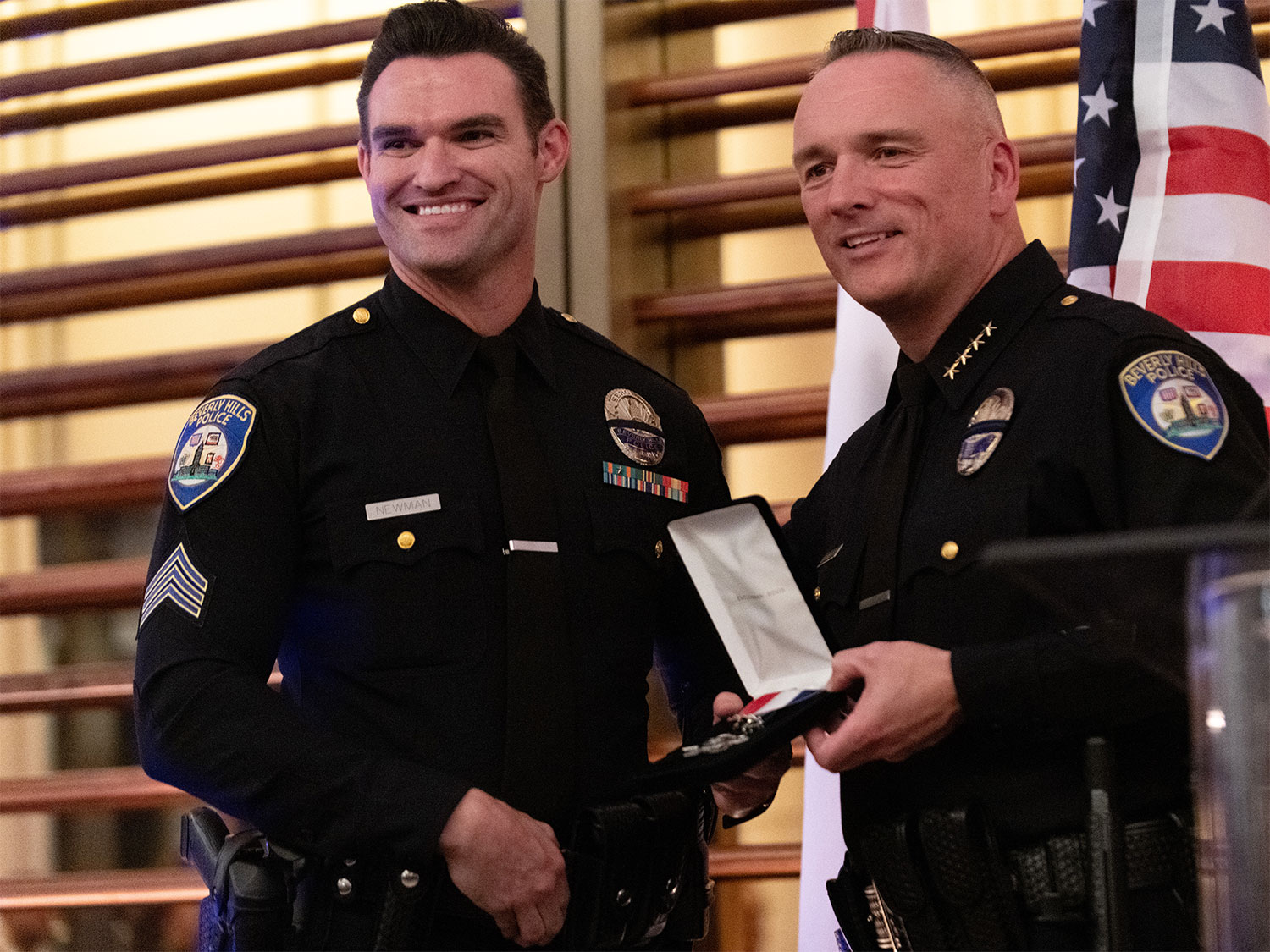 "I want to thank the City Council," BHPD Chief Mark Stainbrook said in his opening remarks. "It starts with them, their policies and their funding of the department. And to our officers and professional staff, thank you. I'm so proud of you. My whole job is to support you and you have my commitment to do that every day."
The Lifesaving Medal was awarded to Sgt. Newman and 12 other recipients. The commendation recognizes actions that directly prevented the loss of life. 
Additional honorees included Officer Billy Blair and Detective Marcus Moloznik. They were part of a SWAT team that had been tasked with finding someone who had broken into a home in the flats and barricaded himself inside in 2021. 
The officers heard glass and porcelain breaking, then found the man bleeding on the floor of a bathroom after apparently cutting his own arms and neck. The two of them applied a tourniquet and packed the man's wounds, stabilizing him until paramedics arrived.
Blair, as well as officers Andrew Bromley, Jesse Lyga, Joshua Serranon and Sgt. Ryan Dolan, also worked together to prevent an attempted suicide from turning fatal in 2022. They responded to a home where a man was found hanging from a rope around his neck. Officers immediately cut the man loose and performed emergency first-aid before paramedics arrived to take him to a hospital.
"Frankly, if we had opened that door 60 seconds later, it would have been a different outcome that day," Blair, a trained medic, said.
Dispatcher Selina Agunoy helped a mother save the life of a two-year-old who had stopped breathing in 2021. She coached the distressed parent as she administered CPR, successfully returning her child to consciousness.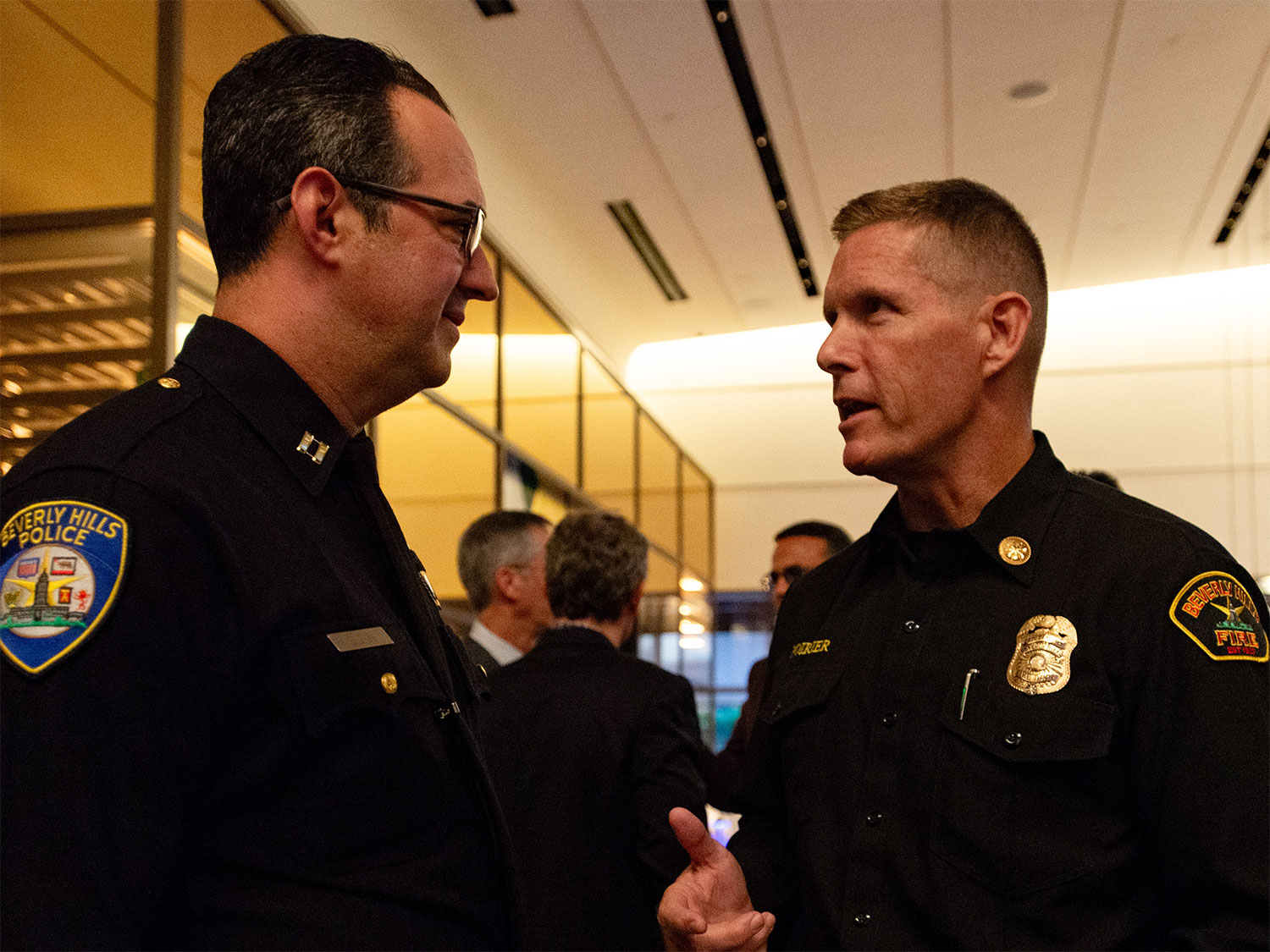 The friend of a woman who had overdosed after ingesting methamphetamine and fentanyl was shaking and appeared to be on the verge of tears when officers Berlynn Duran and Joseph Carrott responded to his apartment late one evening two years ago.
"She was in the living room, on the couch," Duran said. "She was completely pale, blue lips, obviously not breathing."
Duran and Carrott used two doses of the overdose reversal drug Narcan and CPR to pull the patient back from the brink of death. The woman made a "complete 180," and was alert enough to speak with paramedics as they took her to a hospital, Duran said.
Gold capped off the evening with a sentiment no doubt felt by everyone in the room. 
"For everything you do, for every day you serve, for every time you're out there making the hard decisions, protecting our residents, we are grateful," he said. "Thank you."