A recipe that is passed down from generation to generation becomes what might be the most overlooked yet precious family heirloom. It gives those who prepare it–and those who enjoy it–a chance to remember the loved one who created it. We reached out to some of the city's top chefs to gather their favorite summer family recipes and remembrances. The result is this mini cookbook filled with delicious dishes that can be prepared all year round. Whether cooking for family or hosting a feast, we hope they become part of your own family traditions.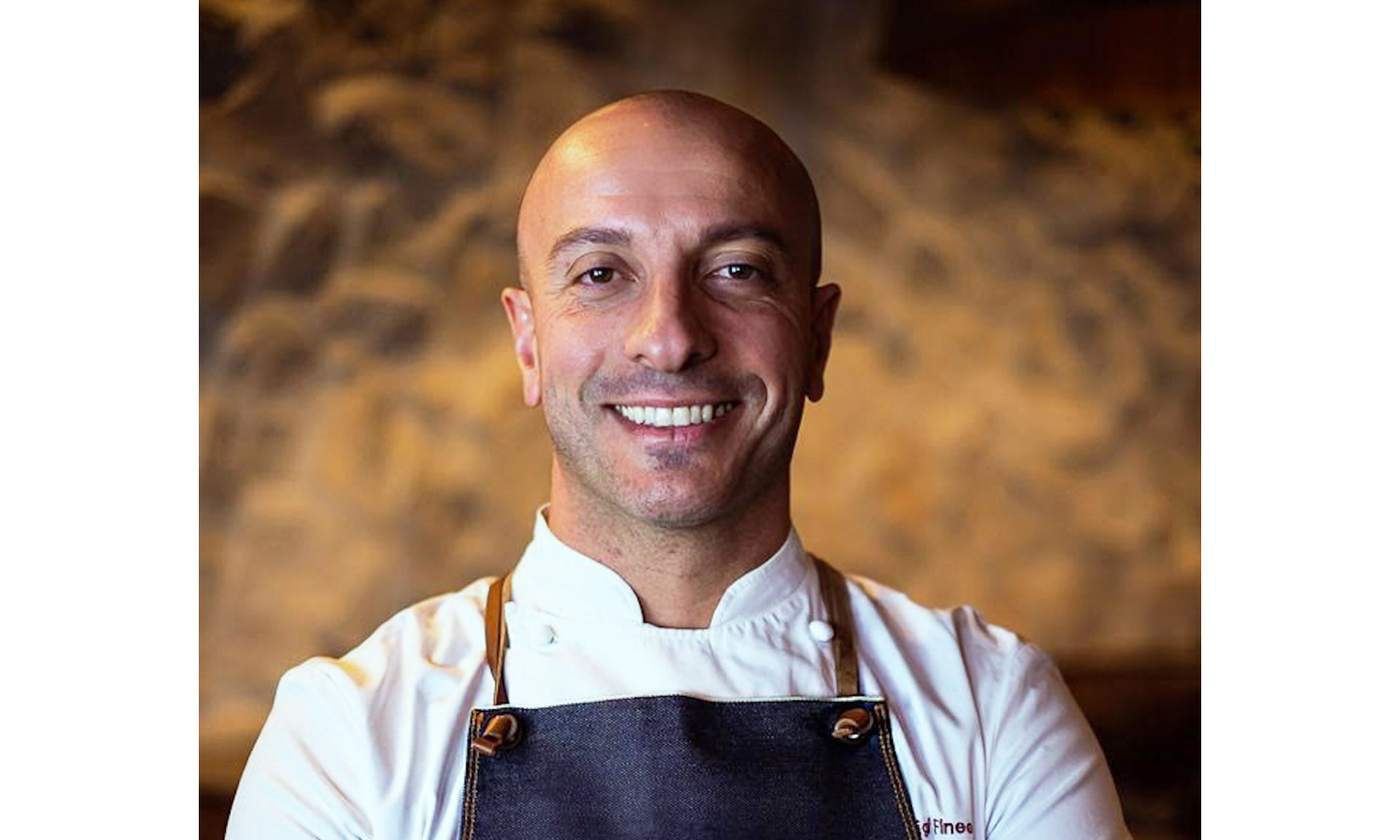 crosswise
5 ounces red grape tomatoes (150 grams)
¼ yellow onion, finely chopped
2 garlic cloves, finely chopped
½ bunch parsley leaves
2 ounces grated Pecorino cheese (50 grams)
Extra-virgin olive oil
1 cup mussel broth (250 grams) or fish stock (chicken and vegetable 
stock may be used as a substitute)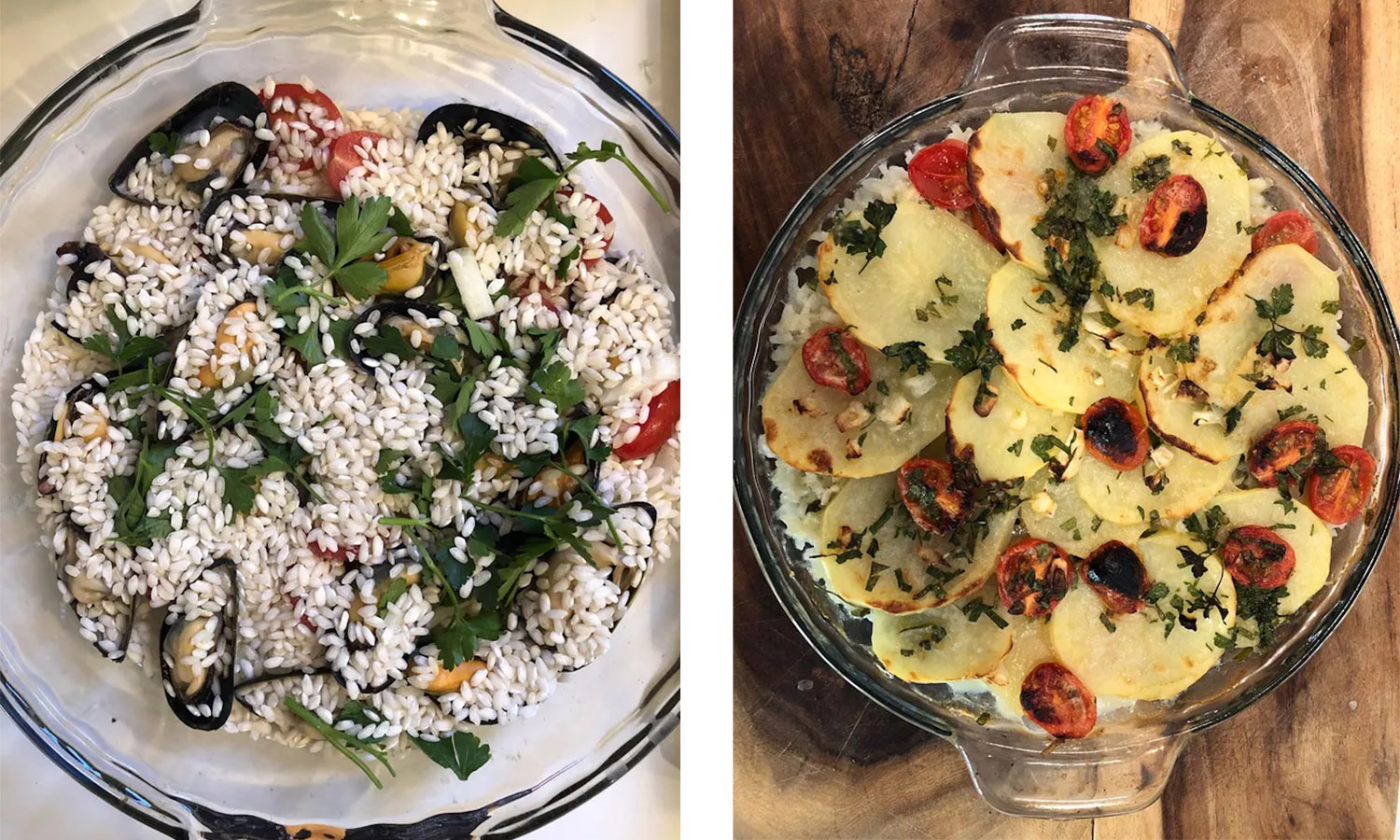 Directions:
1. Preheat the oven to 380°F.
2. Lightly rinse the rice to remove part of the starch surface.
3. Clean the mussels externally with steel wool and wash them under running water.
4. Open the raw mussels by pressing one of the two valves forward until it cracks open. Insert a small knife and slide it until it opens all the way. Keep the seafood inside one shell only and discard the empty shell.
5. Drizzle a 12-inch round ovenproof pan (with lid, or Dutch oven) with olive oil, and then add half of the onions and garlic. 
6. Add some of the tomatoes and one third of the parsley.
7. Place all the mussels (in half shell) in the pan with the mussels facing upwards, forming a layer. 
8. Sprinkle with the rice, but don't let it enter any of the open shells.
9. Add one layer of tomatoes along with half of the remaining parsley and half of the Pecorino. Drizzle with a little bit of olive oil. 
10. Make another layer of potatoes, tomatoes, the remaining onions, and garlic.
11. Sprinkle the remaining parsley and Pecorino over the top, then drizzle a generous amount of olive oil. 
12. Pour the broth gently, starting from the side then going in a circle until the juice lightly touches the potatoes.
13. Place in the oven for around 40 minutes, covered for the first 15 minutes, then uncovered.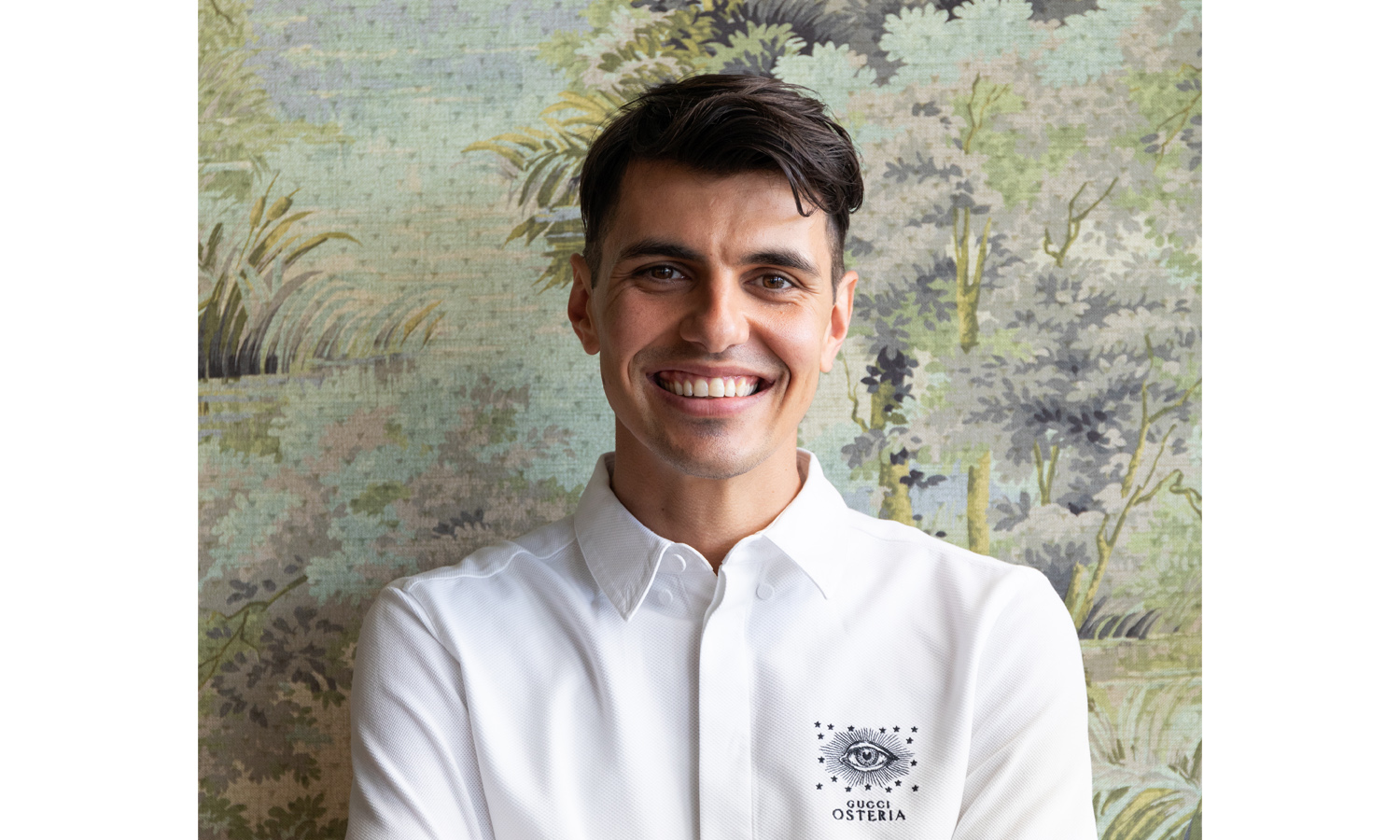 Focaccia Ingredients:
1 1/3 tablespoons water 
2 tablespoons cream 
1 whole medium egg 
1 tablespoon extra-virgin olive oil 
1 1/3 teaspoons salt 
1 teaspoon instant dry yeast 
1 ¾ cups '00' flour or all-purpose flour 
1/3 cup whole wheat flour 
2 teaspoons honey 
Wash:
1 tablespoon water 
2 ½ tablespoons extra-virgin olive oil 
Maldon salt for garnish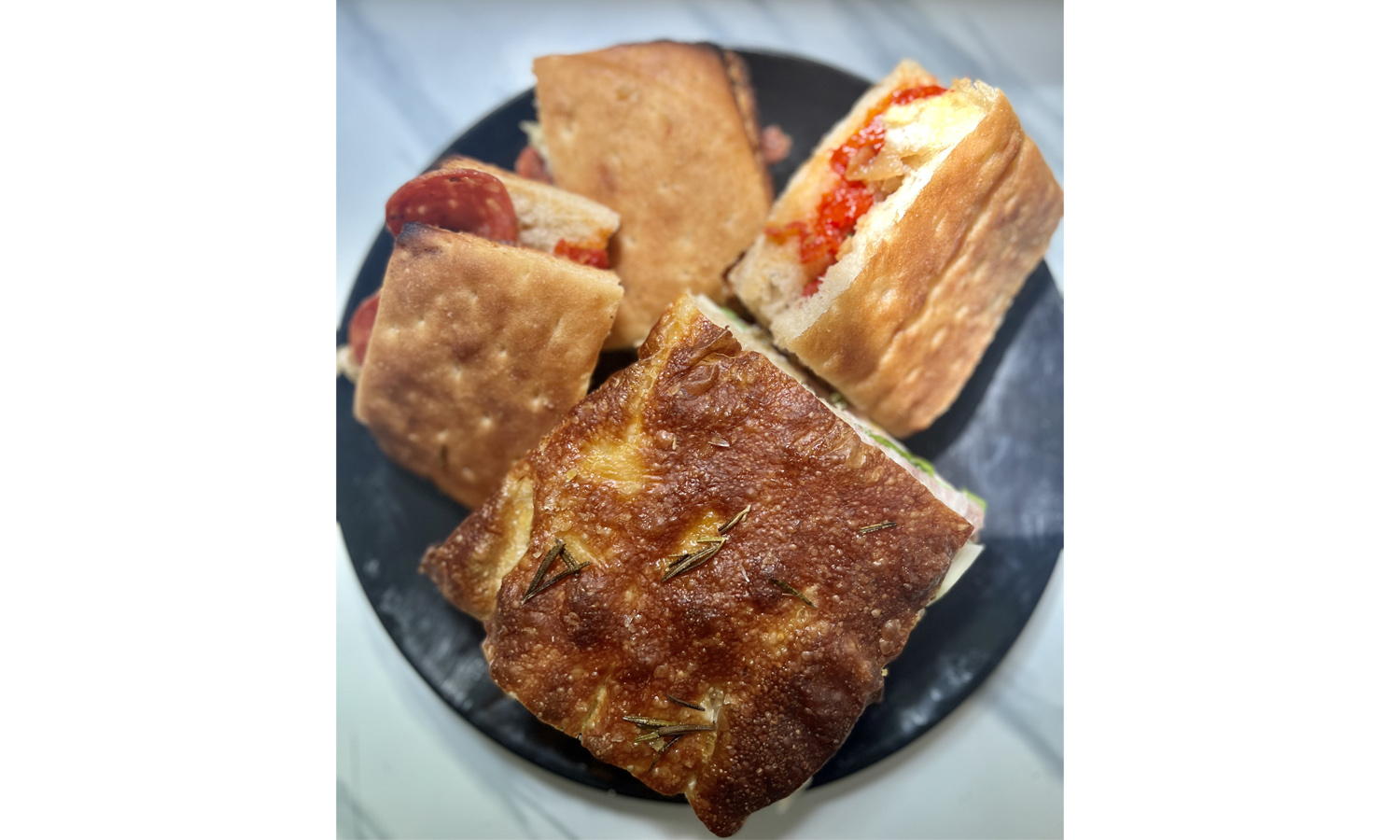 Directions:
1. In a medium bowl combine yeast and water together. In another smaller bowl combine and mix the honey, cream and eggs together with the salt.
2. In a large bowl combine and mix '00' flour and whole wheat flour, then stir in all wet ingredient mixtures to make a dough that pulls away from the sides of the bowl. Turn dough out onto a lightly floured surface. Knead in only enough flour to make a soft dough that is smooth and elastic (knead dough between 3 and 5 minutes). Place dough in a lightly greased bowl, cover and let rise in a warm place until double in size (about 30 minutes at about 80°F – room temperature).
3. Grease two large baking sheets; set aside. Punching down dough, divide dough into six equal pieces using oiled hands, if needed. Place three dough pieces on each baking sheet. Press each piece of dough into a 5-inch circle, making sure there are 2 to 3 inches of space between each dough circle. Cover with plastic wrap and let stand in a warm place for 15 minutes. Preheat oven to 400°F.
4. Vigorously whisk the extra-virgin olive oil and water until it emulsifies. Spoon emulsion over the dough evenly. Using the tips of your fingers make ½ inch deep indents over the surface of the dough, then finish with Malson salt.
5. Bake for about 15 minutes or until lightly browned on the bottom, checking after 8 minutes and popping any large air bubbles with a sharp knife. Cool for 15 minutes on wire racks. Serve warm or at room temperature.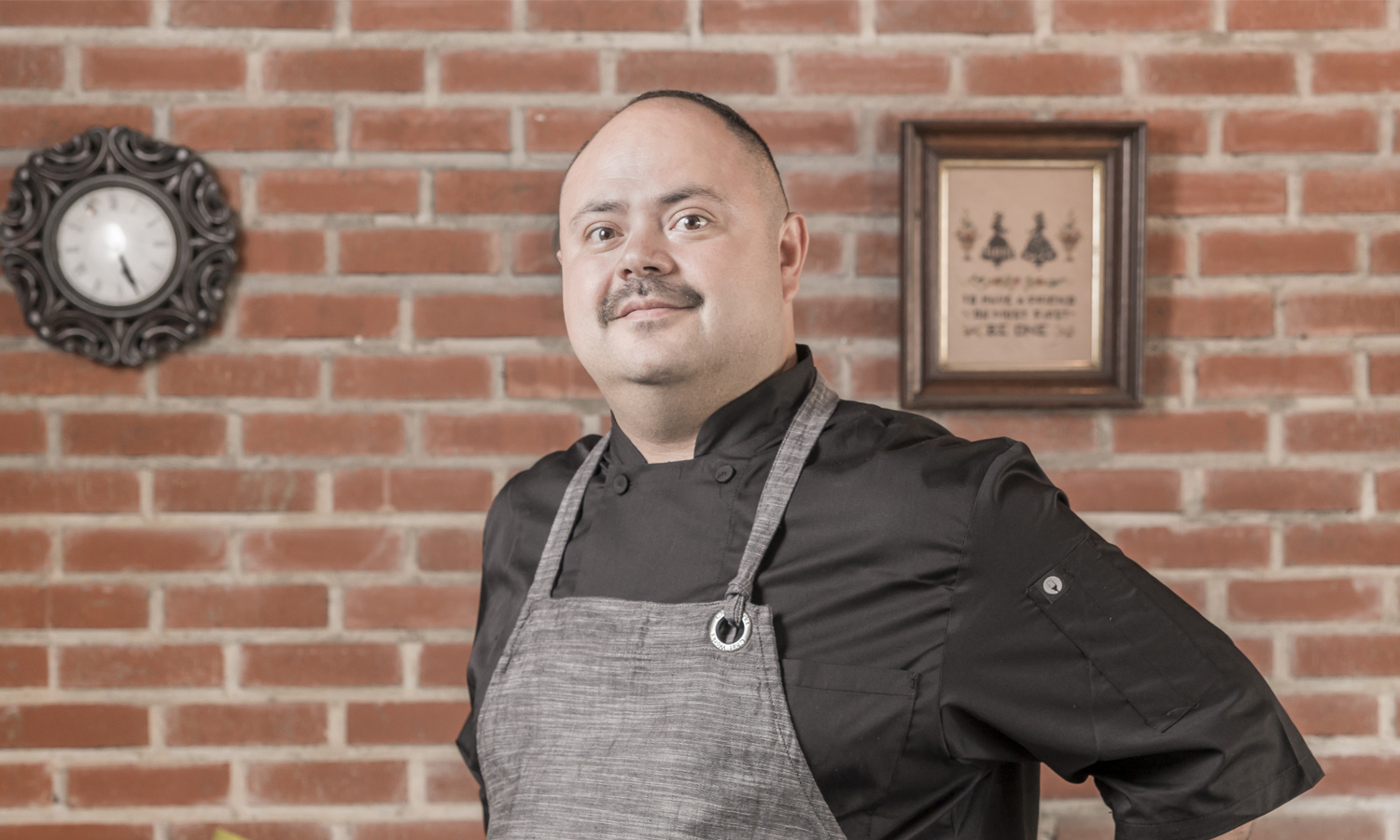 Chef Isaac Gamboa, Prospect Gourmand
Tri-Tip Marinade
Pinquito Chili Beans
Grandma Libby's Potato Salad
 "I was born and raised in Santa Maria, California where there's a large BBQ community. My mom was born there also. My grandparents were born in New Mexico and Colorado and migrated to that area and started grilling in that Central Coast way [a hand crank grill over open flame] but with New Mexico influences. My grandmother always had chiles shipped from New Mexico for her beans, and she added black olives to her potato salad which gave it a distinctive Central California twist (my mother and my aunts still do this). The marinade my grandfather made for the tri-tip had a little Asian influence, borrowed from the large Filipino community there, so you'll see soy sauce listed as an ingredient. My grandparents had 10 kids, so there are about 50 grandkids, and when they had a party everyone got together–spouses, kids, in-laws, friends. I remember I'd be out playing with my cousins, my grandmother would be in the kitchen making the side dishes and my grandfather would be out in the strawberry fields cooking on the grill. The night before he would marinate the beef and chicken in giant metal trash cans lined with bags. The next morning he'd wake up at 5 a.m. and light up the wood fire grill. As far back as I can remember my family has made these recipes. They mean a lot to me, and whenever I go back home to visit, my brothers and I make them the same way all over again."
Tri-Tip Marinade Ingredients:
½ cup water
1 cup soy sauce
1 ½ cups canola or vegetable oil 
8 cloves garlic, peeled
½ tablespoon ground black pepper
1 whole tri-tip beef, slightly trimmed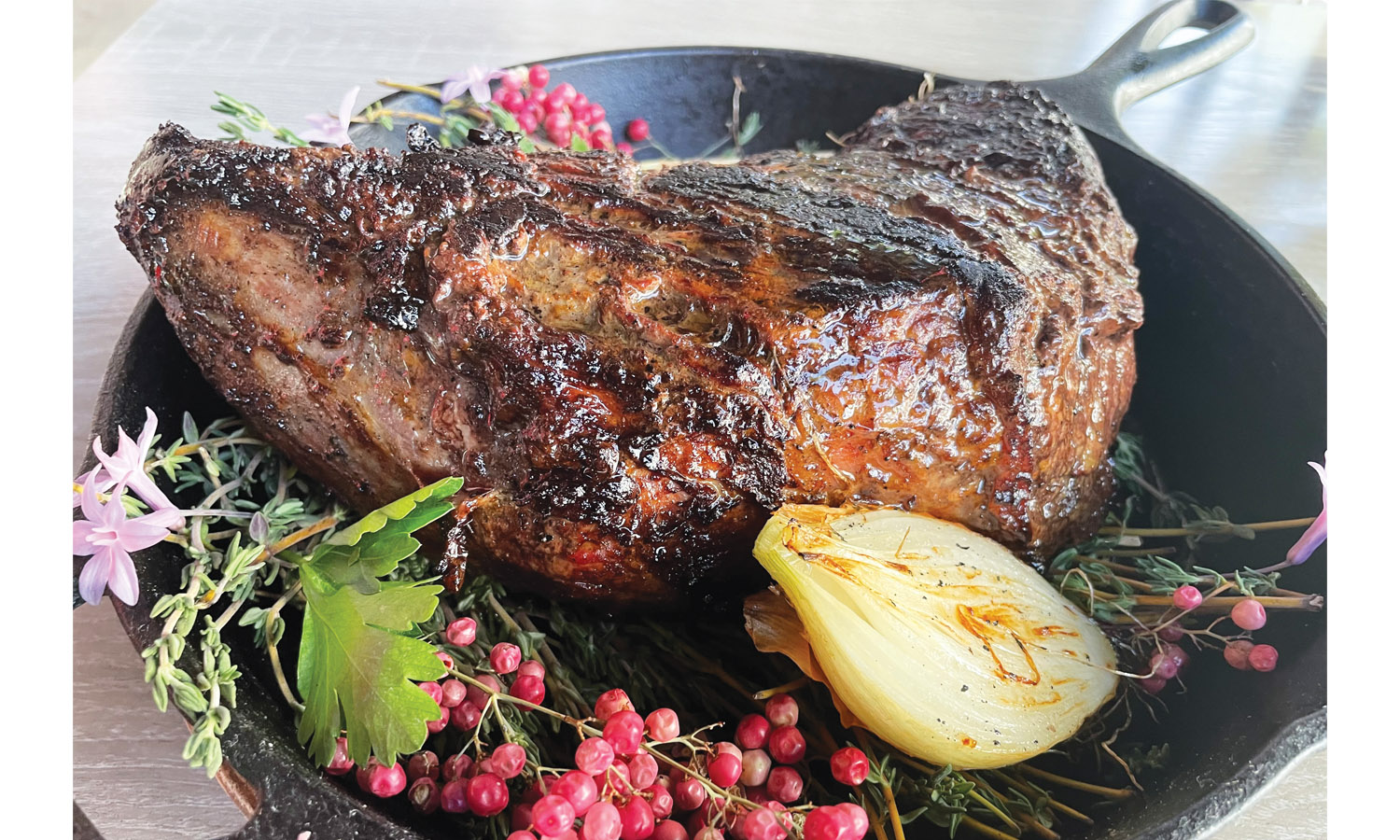 Directions:
1. Puree all ingredients in blender and marinate beef for 10 hours or overnight in fridge.
2. Next day, grill over wood, charcoal, or gas grill until cooked to medium (tri-tip lends better to a medium cook), about 25 to 30 minutes total (15 to 20 minutes on each side).
Pinquito Chili Beans Ingredients:
2 pounds dry Pinquito beans
1 pound ground beef
2 tablespoons chopped garlic
1 Spanish onion, diced small
12 ounces fire roasted green chile (Anaheim or Hatch)
1 can (16 ounces) whole peeled plum tomato
1 can (10 ounces) Las Palmas red chile sauce
Salt and pepper to taste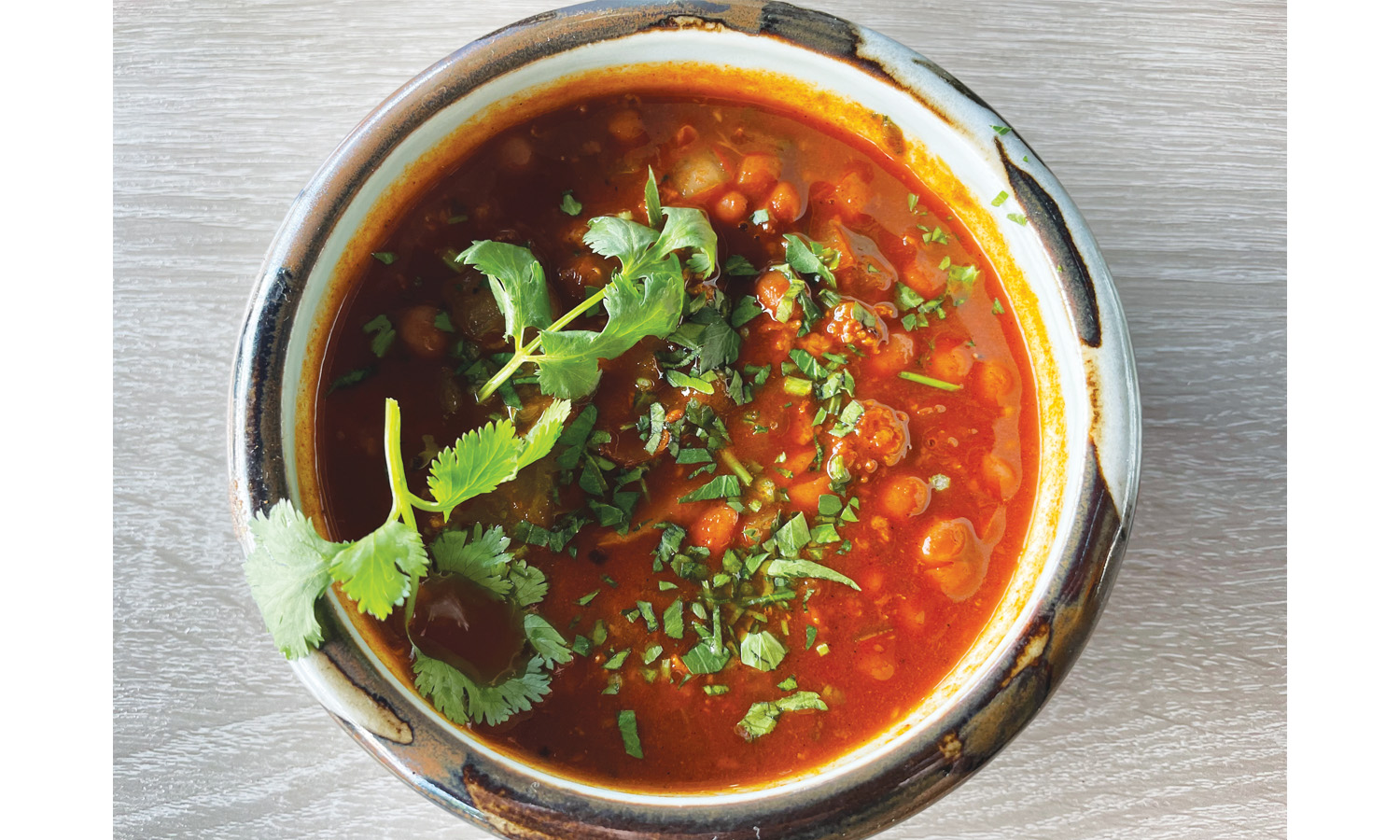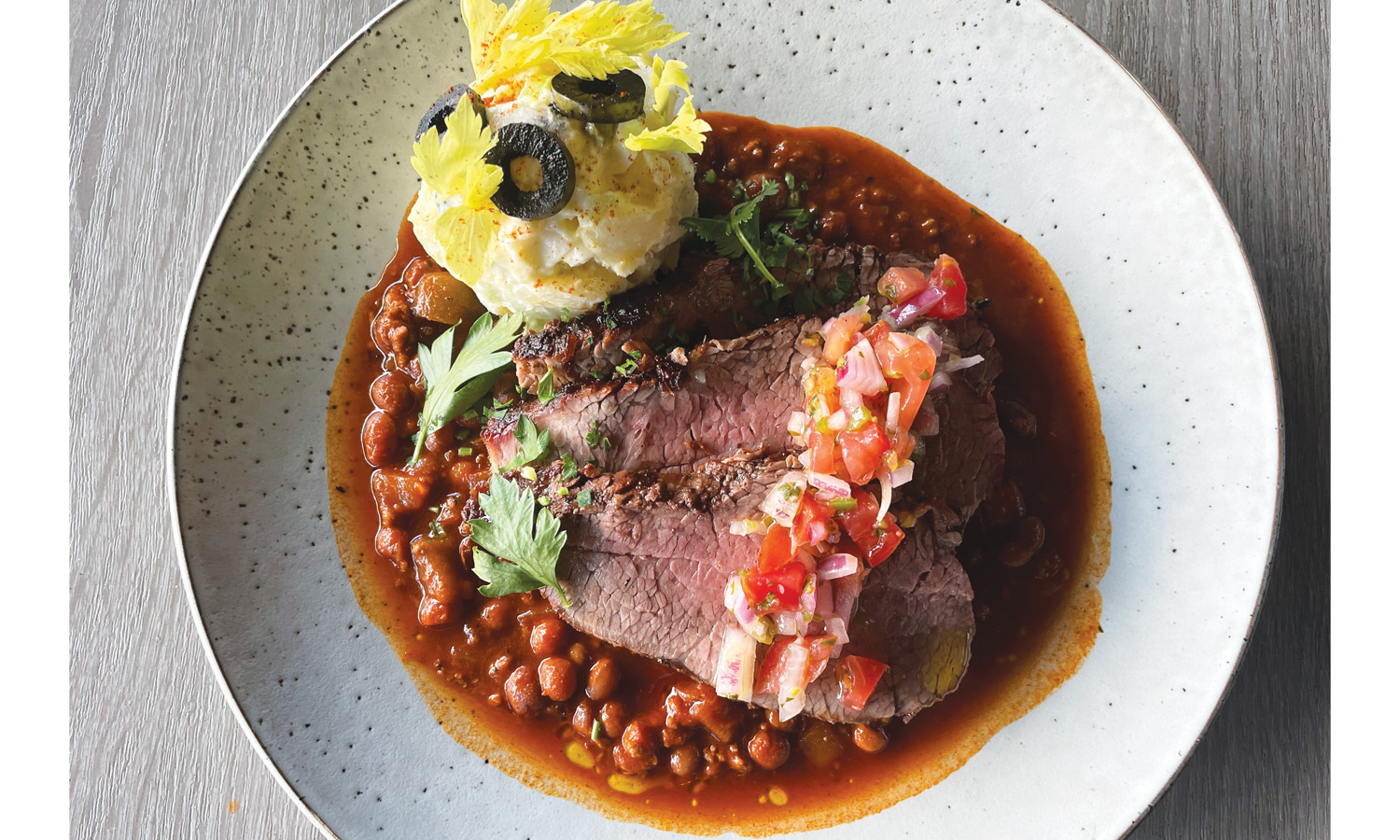 Tri-tip with pinquito chili beans and Grandma Libby's potato salad
Directions:
1. Boil the potatoes until fork tender, drain, and allow to cool to room temperature.
2. Combine all ingredients in a large bowl while potatoes cool.
3. Mix potatoes into the bowl, garnish with celery leaves, egg slices, and sprinkle with a pinch of cayenne pepper, if desired.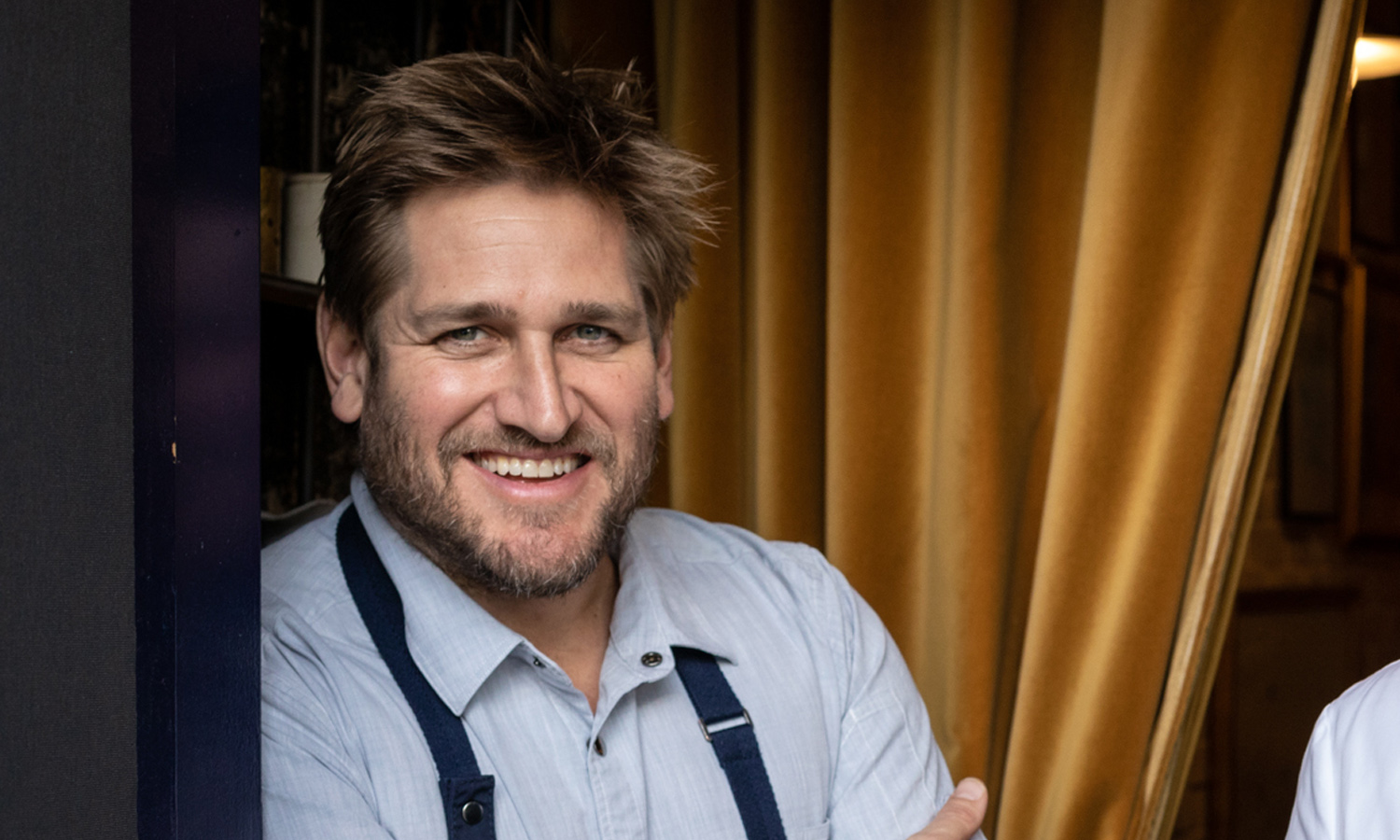 Chef Curtis Stone, Maude
Spice-Rubbed Lamb Rack with Vinegar-Mint Sauce and Zucchini-Feta Fritters
Cherry-Amaretto Lattice Pie 
"My mum Lozza was the cook in the family, preparing meals for my older brother Luke and me. She was a single mum so she was incredibly busy, but on Sundays we always had a big dinner, either a pork roast or lamb. Aussies enjoy their lamb much more than Americans do; it's a very prevalent and important staple. We have such diverse cuisine, taking influences from Southeast Asia and our British cousins, but I'd venture to say that lamb might be our national dish. I've been making lamb since I can remember. And summer is my favorite season for fruit, and I look forward to the appearance of stone fruit every year. Cherry pie is just perfect (and nobody says you can't have a slice for breakfast). Grilling and stone fruit just scream summer to me. Cooking for people is the best way to say "I love you" without words. I love being outside at the grill, keeping an eye on the boys in the pool and gathering around the table for dinner with long summer days and warm nights. And pie? I always say pie is just like a big hug and a great way to end a meal."
Spice-Rubbed Lamb Rack with Vinegar-Mint Sauce and Zucchini-Feta Fritters Ingredients:
Vinegar-Mint Sauce:
1 cup (not packed) fresh mint leaves
½ cup good-quality red wine vinegar
2 tablespoons sugar
1 teaspoon sea salt
Lamb:
2 tablespoons black peppercorns
2 tablespoons coriander seeds
2 ½ teaspoons fennel seeds
 ¾ teaspoon cumin seeds
2 tablespoons smoked paprika
1 teaspoon cayenne pepper
2 lamb racks (about 2 ½ pounds total), rib bones frenched
2 tablespoons olive oil
Fritters:
1 ½ pounds zucchini, coarsely grated
8 ounces feta, crumbled
¼ cup chopped green onions
¼ cup chopped dill
¼ cup chopped mint
¼ cup chopped flat-leaf parsley
2 large eggs, beaten to blend
1 cup (2 ½ ounces) panko breadcrumbs 
1 tablespoon cornstarch
Grapeseed oil (for deep frying)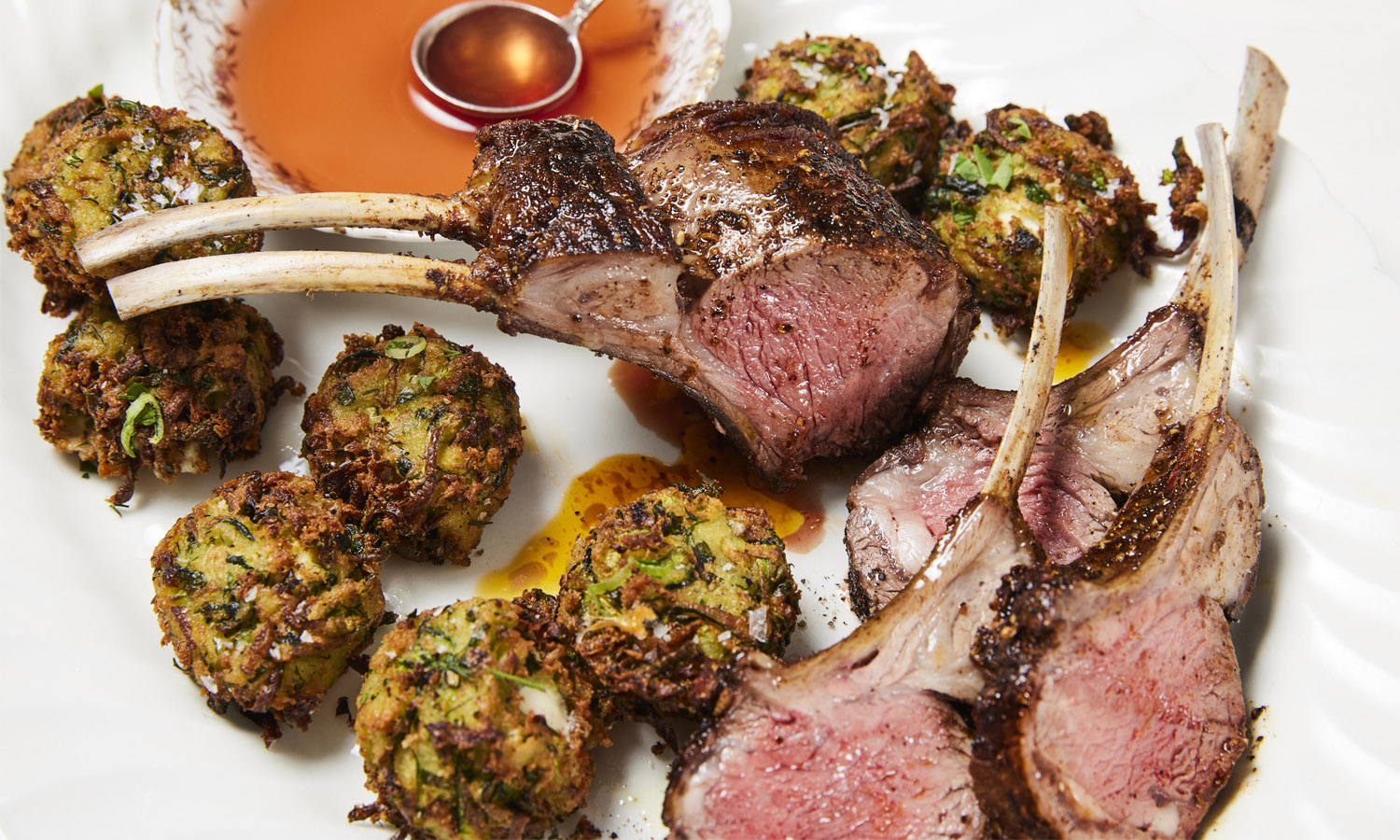 Directions:
To make vinegar-mint sauce:
Place mint in medium bowl. In small saucepan, bring vinegar, sugar, and 1/2 cup of water to a boil over medium-high heat, stirring until sugar dissolves. Pour vinegar mixture over mint and steep for 30 minutes. Mix in sea salt and strain sauce.
To make spice rub:
In small frying pan over medium-high heat, stir peppercorns, coriander seeds, fennel seeds, and cumin seeds for about 2 minutes, or until spices are toasted. Transfer to mini food processor and grind to fine powder. Pulse in 2 teaspoons kosher salt. In small bowl, mix freshly ground spices with paprika and cayenne. 
To cook lamb:
1. Prepare covered grill for indirect medium-high heat. For charcoal grill: Just before grilling lamb, bank all hot coals to one side of grill and leave other half empty. For gas grill: Preheat all burners to medium-high heat. Just before grilling lamb, turn burners on one half of grill off and keep other burners on medium-high heat. 
2. Coat lamb with oil and sprinkle spice mixture all over lamb. Grill lamb uncovered over direct heat, turning as needed, for about 8 minutes, or until brown all over. Transfer lamb to indirect heat, cover grill, and cook 20 to 24 minutes or until instant-read thermometer inserted into center of lamb registers 125°F for medium-rare doneness. The internal temperature of the grill will rise from 300°F to 400°F as the lamb cooks. Rest lamb on cutting board 8 minutes.
Meanwhile, to prepare fritters:
1. In medium bowl, toss zucchini with 1 teaspoon salt. Set aside for 10 minutes. Transfer zucchini to center of clean tea towel. Gather corners of towel together to enclose, then squeeze excess moisture from zucchini. Return zucchini to bowl. 
2. Stir feta, green onions, dill, mint, parsley, eggs, breadcrumbs, cornstarch, ¾ teaspoon salt and ½ teaspoon freshly ground black pepper into zucchini. Divide mixture into 16 even portions.
3. Add enough oil to 5-quart casserole pot to reach depth of 2 inches and heat oil to 350°F. Working in batches, deep fry fritters for 5 minutes, or until crispy and golden brown. 
4. Transfer to large plate lined with paper towel. Season with salt and pepper. 
To serve:
Carve lamb racks into chops. Divide chops evenly among plates and serve with mint-vinegar sauce and fritters.
Cherry-Amaretto Lattice Pie 
Ingredients:
¾ cup plus 2 teaspoons sugar 
3 tablespoons cornstarch 
¼ teaspoon salt 
5 cups pitted fresh dark sweet cherries (about 2 pounds unpitted 
cherries) 
¼ cup amaretto 
2 tablespoons fresh lemon juice 
1 cinnamon stick 
Buttery Pastry Dough (recipe follows), shaped into 2 disks and 
chilled 
1 tablespoon unsalted butter, cut into 1/2-inch cubes 
1 ½ teaspoons whole milk 
Vanilla ice cream, for serving 
Directions:
1. Position one rack in the lower third of the oven and a second rack just above it. Set a baking sheet on the bottom rack. (Being near the heat source will help the bottom crust bake and brown properly. The baking sheet will catch any bubbled-over juices.) Preheat the oven to 425°F. 
2. In a medium bowl, combine 3?4 cup of the sugar, the cornstarch, and the salt. Stir in the cherries, amaretto, lemon juice, and cinnamon stick; set aside. 
3. Unwrap the larger disk of dough, set it on a floured surface, and lightly dust top of dough. Roll out dough into a 13-inch round, occasionally rotating dough and dusting it with flour to prevent sticking. Brush away the excess flour and transfer dough to a 9 1/2-inch glass pie plate, centering it in the pie plate and letting the excess dough hang over the edges. Lightly press dough into the dish. Refrigerate the pie shell. 
4. On the floured surface, roll out the other disk of dough into a 12-inch round. Using a large knife, cut 10 1-inch-wide strips from dough round. 
5. Transfer the cherry filling to the pie shell, then scatter the butter on top. Arrange dough strips over the filling, forming a lattice (see tips below). Trim dough overhang to 3/4 inch. Pinch the bottom crust and strips together and fold the overhang under. Crimp the edges to seal. Lightly brush the lattice with the milk, and sprinkle the remaining 2 teaspoons sugar over it. 
6. Bake the pie on the rack above the baking sheet for 20 minutes. Reduce the oven temperature to 350°F, and bake the pie for about 1 hour longer or until the crust is deep golden and the filling is bubbling. If the crust begins to brown too quickly, tent the pie with foil. Let the pie cool on a wire rack until warm, about 1 hour. 
7. Cut the pie into wedges and serve warm with ice cream. 
Buttery Pastry Dough:
The secret to homemade pastry dough is to avoid blitzing your butter to smithereens in the food processor. Leaving pea-size pieces of butter in the dough is key, because they will melt in the oven and release water, which will become steam. The steam helps to puff up the dough and contributes to that melt-in-your-mouth texture. The dough can be made up to 1 day ahead, covered, and refrigerated. Alternatively, it can be frozen for up to 1 month. 
Ingredients:
2 ½  cups all-purpose flour
1 tablespoon sugar
½ teaspoon fine sea salt or table salt
½ pound (2 sticks) cold unsalted butter, cut into 1/2-inch cubes 
About 1/3 cup ice water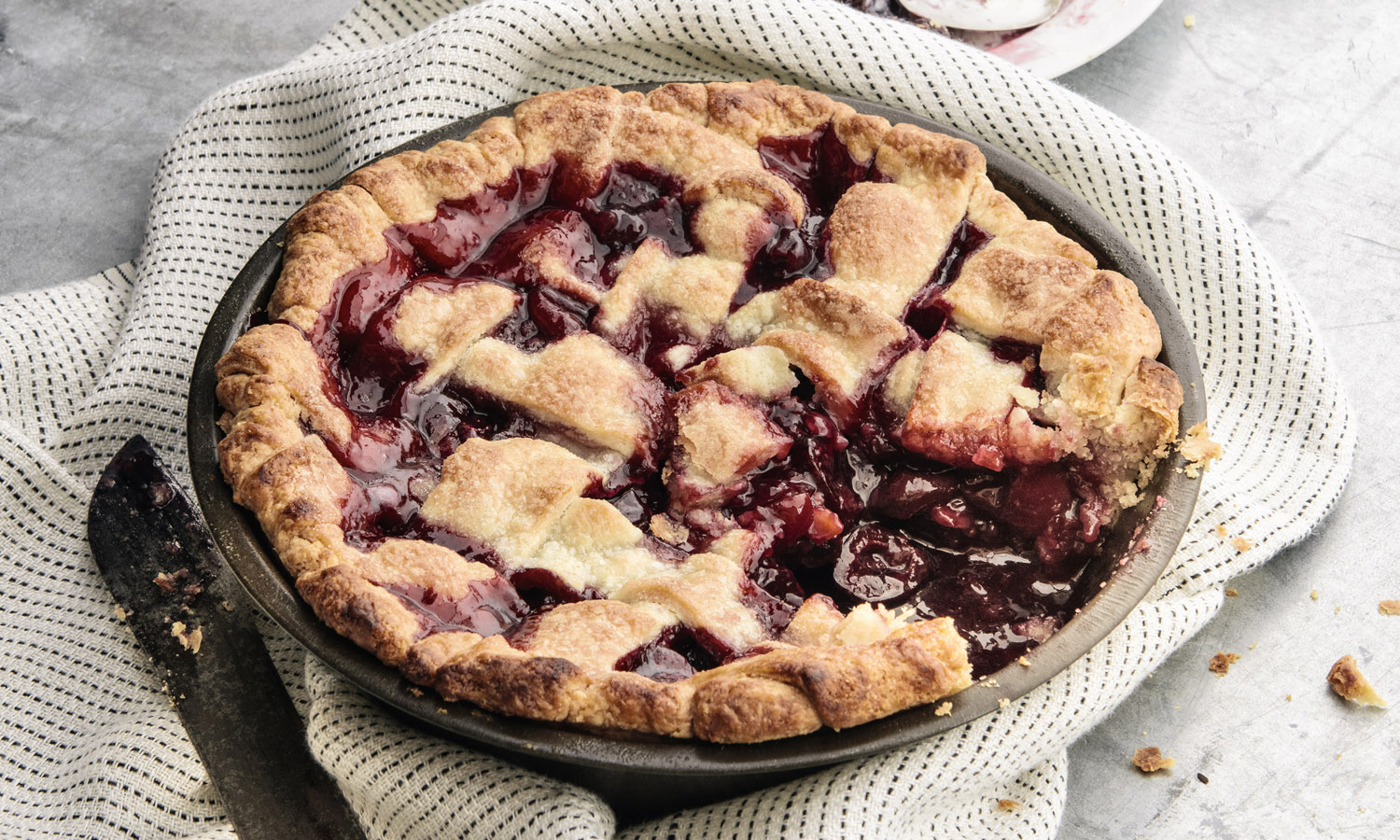 Directions:
1. In a food processor, combine the flour, sugar, and salt and pulse to blend. Add the butter and pulse about 10 times, or until the butter is in pea-size pieces; do not overprocess. While pulsing the processor, add
1/3 cup of the ice water, then pulse just until moist clumps of dough form, adding more water 1 tablespoon at a time if necessary. 
2. Transfer dough to a work surface and divide it in half (make one half slightly larger) and shape each piece into a thick disk. Wrap each disk individually in plastic wrap and refrigerate for at least 30 minutes before rolling out. 
How to Lattice:
Lay half of the strips across the filling, spacing them evenly. Fold back every other strip; then place another strip perpendicular at the folded edge of the strips. Unfold the folded strips so they lie over the perpendicular strip. Fold back the other set of strips. Stopping about 1 inch from the first perpendicular strip, place a second perpendicular strip at the folds, and unfold the folded strips. Repeat with the remaining 3 pastry strips to cover the pie with the lattice. 
 If weaving feels a bit intimidating, just lay half of the strips across the pie parallel to each other, then lay the remaining strips across them, perpendicular to the bottom strips. Don't worry if your strips aren't perfect– all the more handmade charm.