Neely Swanson spent most of her professional career in the television industry, almost all of it working for David E. Kelley. In her last full-time position as Executive Vice President of Development, she reviewed writer submissions and targeted content for adaptation. As she has often said, she did book reports for a living. For several years she was a freelance writer for "Written By," the magazine of the WGA West, and was adjunct faculty at USC in the writing division of the School of Cinematic Arts. Neely has been writing film and television reviews for the "Easy Reader" for more than ten years. Her past reviews can be read on Rotten Tomatoes where she is a tomato-approved critic. 
Today's reviews are as different as they are alike. What do a nature documentary and a series about adolescence have in common? Both are terrific family viewing, although each stands alone across multiple demographics. Each lends itself to discussion and learning, although it may be more of a learning experience for parents than their kids. Kudos to Disney+ for opening the conversation.
"Epic Adventures with Bertie Gregory" – Larger than Life
This new Disney+ original series from National Geographic is a foray into the David Attenborough wildlife documentary territory and it's a stunner. With a crew of experienced cinematographers, sailors, riggers, and multi-talented jacks of all trades, Bertie takes us on his journeys around the world and lets us look through his lens at animal life normally inaccessible to humans.
I watched three of the five episodes in Season One and was thoroughly surprised by how entranced and involved I was. The first, entitled "Eagles Reign," tracks the hunting habits of the Crown Eagle in Zambia. With rear talons larger than a lion's tooth, the crown eagle is the top predator of the sky. Jerry-rigging a camera into a tree, Bertie and his crew zero in on a nest with a baby chick. They watch as the mama eagle feeds her baby fresh prey. Using a drone, they track the eagle on its hunt for food. Aided enormously by intelligent and thrilling narration and unbelievable film footage, you feel as if you are on the quest with Bertie and his crew. An advisory is warranted for very young children because this is nature in action and Bertie's goal is to film an eagle pursuing prey and swooping down for the kill. As they say, there will be blood. There will also be almost unearthly beauty and incredibly vivid sound effects.
"Shark Island" (episode four) takes Bertie and his crew down to Cocos Island, Costa Rica, the sharkiest place on earth where there are more than 14 different species. Filmed primarily underwater with state-of-the-art cameras, they are on the lookout for what they call the Hammerhead highway.
Episode Five takes us to Antarctica where there is a clock on the number of days they are allowed to stay. But first, their masted schooner must navigate the deadly waters between Ushuaia, Argentina and Antarctica, the dreaded Drake Passage. Landing on Elephant Island, their goal was to find Fin Whales, one of the largest mammals on earth, second only to the blue whale. But it's not just a few fin whales he wants, it's a rumored aggregation of whales. Close to extinction a few years ago, they have steadily increased in numbers since hunting was banned. Releasing his drone camera, he gets his first shots of this torpedo-shaped mammal that weighs 80 tons, exceeds 80 feet, and can live for 90 years. Bertie was determined to be the first to record this remarkable recovery.
With only days left to film before their permit runs out, they hit pay dirt. His mission to find a feeding aggregation of fin whales succeeds and he is able to record hundreds feasting on krill, their streamlined shape altered by the expansion of their baleen plates that blow up like balloons as they suck in the krill. You, the viewer, are witness to the largest gathering ever filmed.
This is an outstanding series, perfect for family viewing and discussion. The camera work alone makes the series worth it. The very appealing Bertie Gregory is a worthy successor to David Attenborough and his various BBC nature documentaries.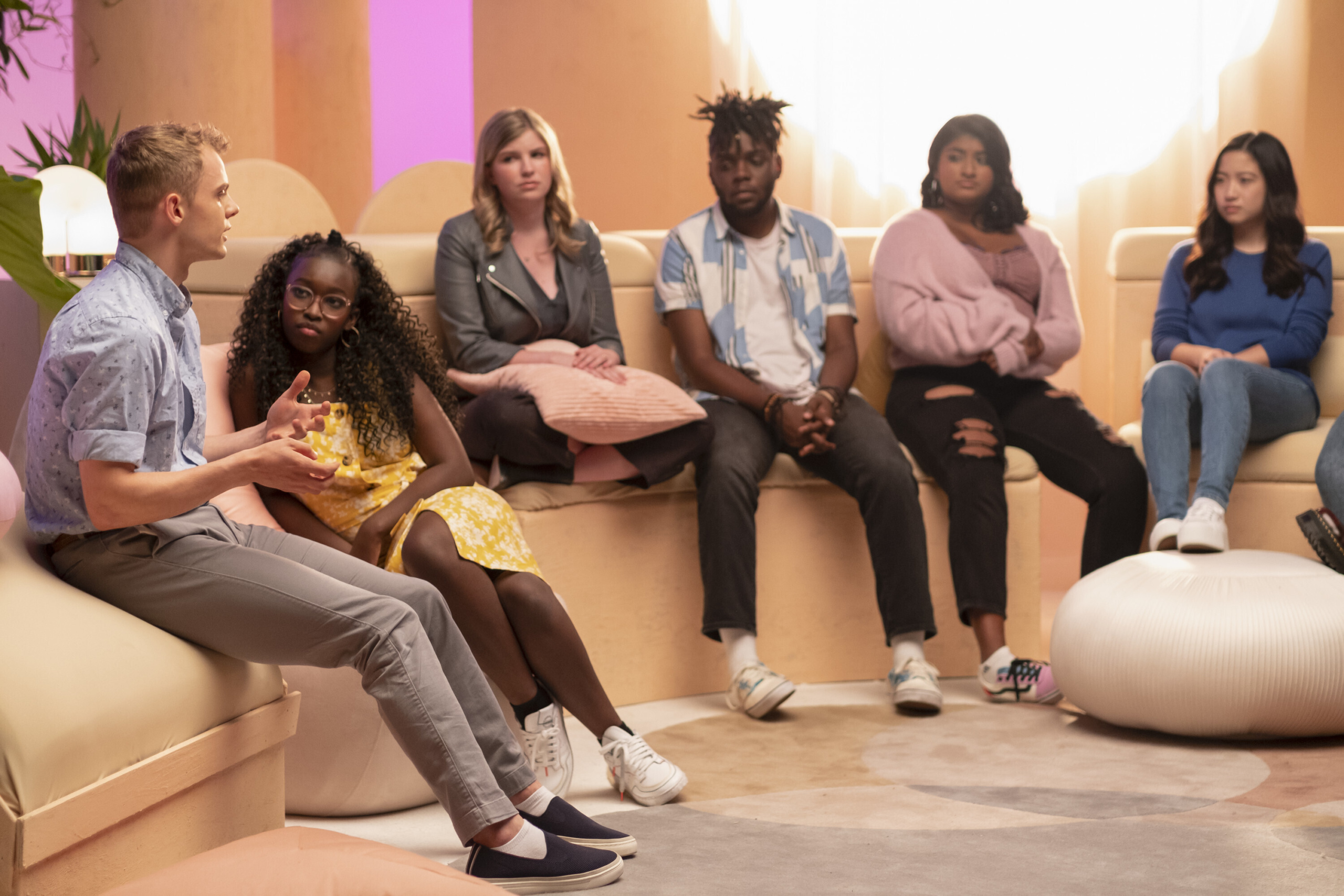 "Growing Up" – For all ages
Disney + has hit another bull's eye with this ten-episode docu-series centered on a diverse group of young people recounting their journey through adolescence. Calling this production inspirational is giving it short shrift.
Too often, coming of age shows highlight the pot of gold at the end of the rainbow. The pot of gold at the end of "Growing Up" is all about survival and finding one's true self. And it is a treasure not to be undervalued.
Of the ten episodes available for viewing, I randomly selected five. But within those five, there were a number of factors they had in common. All these young people, now between the ages of 19 and 22, felt themselves as outsiders with nowhere to turn and no one to "see" them. None saw themselves represented in mainstream media and all suffered from varying degrees of self-loathing.
Positioned as a group therapy session, the ten youths featured in this series sit in a semicircle, supportive of one another, occasionally asking questions but always attentive. Each individual tells his or her own story through a combination of reenactment footage, voice over narration, and interview. Although all the episodes have a great deal to say about the trials of adolescence and the depression that often accompanies it, the story of Alex is perhaps the most important because it deals with clinical depression, a mental illness that is still too little known and still too stigmatized.
White, middle-class Alex, self-described as happy in childhood, lost her anchor in middle school when it seemed as though everyone moved on without her. Previously with a posse of friends, she found herself alone. She wanted to connect but couldn't. Her distance from her peers grew and she felt unable to talk to her parents. Even changing schools was just a band aid on the larger problem of the depression she felt. She didn't see a future for herself as her thoughts became darker and darker. Afraid of dismissal or judgment, but no longer able to function and feeling numb inside, she finally went to her mother. Her parents listened, and took immediate action, finding her a therapist with whom she could share her thoughts and feelings. There would be no quick fix but talking therapy and medication would help her to find a way through her pain. A poster in her therapist's office says: "The reason we struggle with insecurity is because we compare ourselves with everyone else's highlight reel."
At the heart of all of these stories is a need to be able to see yourself, believe in yourself, and not judge yourself by the criteria of others. All of these stories have something fundamental in common and that is supportive parents; parents who see, and listen, and act. Rather than view these parents as anomalies, it is better to look to them as examples because in each case, parents listened to their kids and found a path, with them, to help make bad situations better. In the case of Alex, depression is not a simple self-esteem issue. It is a medical issue that can be ameliorated but maybe not cured. In the cases of all the kids who told their survival stories, self-acceptance is not obtained from others; finding it is an often-painful journey.
All episodes of both series stream on Disney+ beginning September 8.