Some readers may not know that many of the earliest cars in America were electric. They were very crude by today's standards–slow to charge, very little range, not too fast–but they were quiet. In fact, I owned a home built in 1924 that had a place to plug in the car charger, and the local oldsters who had grown up there talked about "Old Man Morgan" who scared the bejesus out of the kids by driving up behind them when they were playing on the street and activating the "Klaxon," which become more commonly known as the "Ahooga" horn. 
A century later, today's electrics literally can run circles around many of today's gas-fired sportsters while others have longer ranges and different tricks not possible with "normal" cars.  This article explores three recent entries into the e-world.
A short fiscal note – most electric cars qualify for federal and even some state rebates or tax credits, most notably the federal $7,500 tax credit.  However, different companies' abilities to offer those credits, and different cars qualifying for different credits and different owners qualifying the certain credits mean that you should confirm with the dealer and your CPA which tax breaks you will get with an electric car.  Also, be sure to check if your intended vehicle qualifies for HOV (carpool) lane passes as those rules have changed and for sure will change again.
2021 KARMA GS-6
The Karma GS-6 may look familiar to you. Henrik Fisker started his eponymous car company in 2007 and called his flagship vehicle the Karma. Some were sold, but the car had problems and also suffered from too-slow adoption by the market. Not long afterwards, the perhaps prophetic Hurricane Sandy took out about 320 of the Karmas on standby in a storage lot, causing a loss of about $30 million. Then the battery supplier, A123 Systems, filed bankruptcy. Fisker closed and then also filed for bankruptcy. In 2014, China's Wanxiang Group purchased the remaining cars, the plant, tooling and designs and, in 2016, rebranded the company as "Karma" and came out with their new iteration, the Rivero. Priced in the $150,000 range, it didn't sell all that well, either. So, with Karma 2.0 (or is it 3.0?), the new Karma is (finally) a winner. And, to the surprise of some, it's assembled right here in Southern California.
Karma offers two basic models: an all-electric (called the GSE-6); and a hybrid, called the GS-6.  Of those hybrids, they also offer a luxury model (GS-6L) and a sport model (GS-6S).  All of the hybrid versions have been upgraded with a range-extender using what basically is the same engine as in the BMW i8 (3-cylinder, twin turbo).  I was lucky enough to have the luxury GS-6L for a week this summer.  
Like some other hybrids, the car can be driven some distance in "stealth" (electric-only) mode (for 60-80 miles) and the amount of regeneration (using the motor to both slow the car down while charging the battery) can be adjusted using the paddle shifters. I like heavy regen so those driver options were great for me. With the range-extender operating, the batteries are charged on the fly (and also can be charged via a plug-in charger). The fully charged batteries and the range extender together can move the car over 360 miles before needing to be refueled (gas for the motor) and/or recharged at a charging station or at home (electricity for the batteries). Note that the gas motor only charges the batteries as the car only moves with electric power – the three-cylinder turbo is a battery charger, pure and simple.
"My" luxury-edition Karma had a base price of $93,900 (the standard GS-6 stars at under $86,000) and options of about $20,000, like special grey paint ($2,000), carbon fiber trim ($2,200), special 22″ custom wheels (a must-have option, at $9,900), cross-drilled brake rotors ($1,200) and yellow brake calipers ($1,200).  All in all, I thought it was a great-looking package (though I am partial to grey cars).  
How was it to drive?
I loved my time with this car.  It was fast, comfortable, much quieter than most gas-powered cars and it was unique (which I also like). It has a very long wheelbase so the car really did smooth out the road.  With the hybrid powerplant, which creates 536 horses and an impressive 550-ft. lbs. of torque (there's even more with the GS-6S sport version), this 5,000-pound car can accelerate from 0-60 in 4.5 seconds and run on up to a top speed of 125 MPH (it's electronically limited).  And when the accelerator is floored, the gas motor comes on to provide more torque and there's a satisfying roar that accompanies the acceleration.  It's on sale now.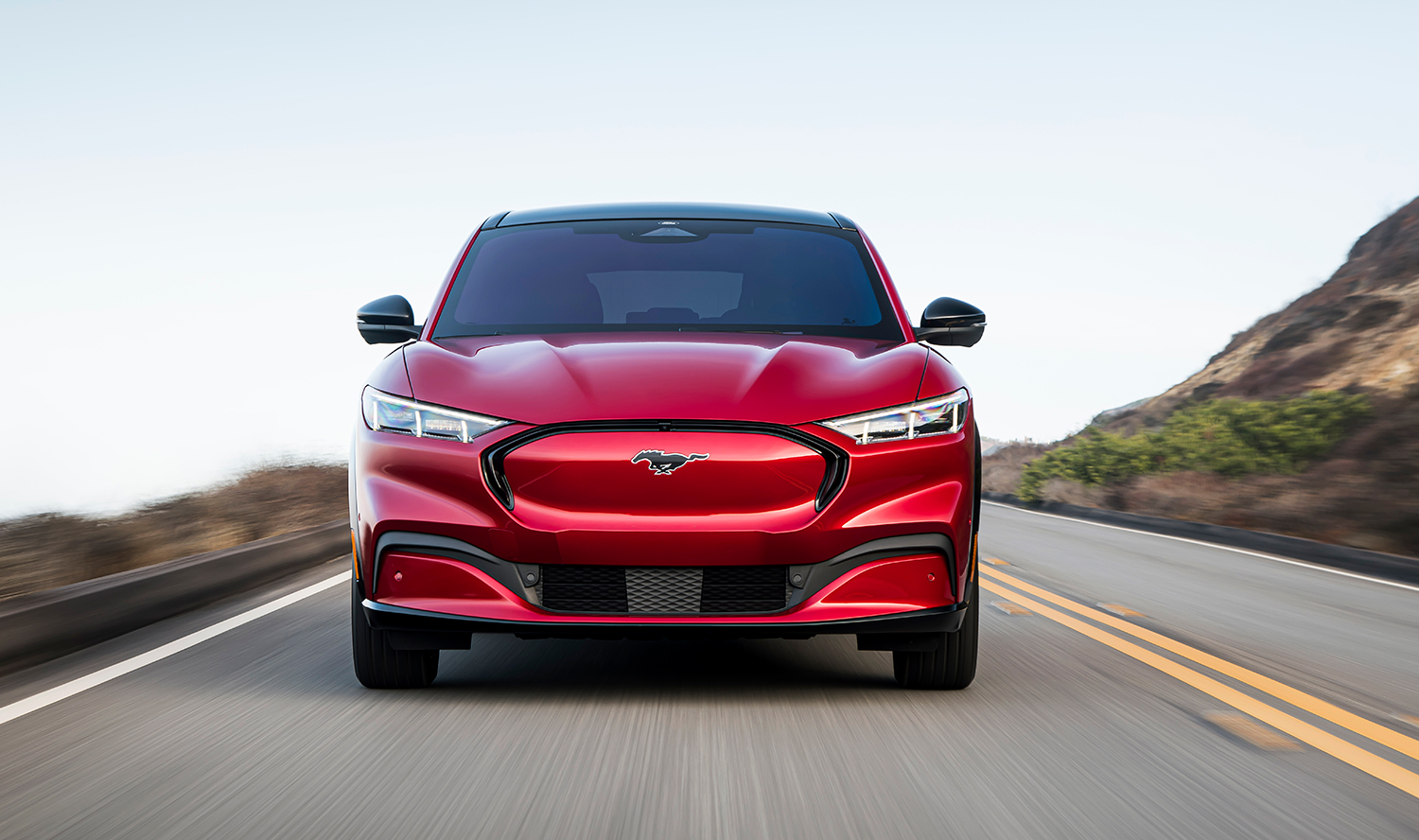 2021 MUSTANG MACH-E
Next up: the Mustang Mach-E. No, it doesn't really look like any Mustang before it, but the nameplate was too popular for Ford to resist using it for their latest and greatest. The Mach-E is Ford's all-electric crossover and it does look more like a station wagon-meets-SUV than a sedan. No worries, though, as its looks belie the performance that this car has to offer.
"Mine" (for a week) was the "California Route 1" version. Other available models are the "Select," "Premium" and the "GT" (Personally, I want the one-off tricked-out version that was in an early Mach-E ad – the "Mach-E 1400" with [you guessed it] 1,400 horsepower and an incredible 2,300 pounds of downforce at 160 MPH. Talk about the quick trip to the store!). The bases prices run from $42,895 for the Select up to $59,900 for the GT. The differences?  Different batteries (which can increase both range and performance) as well as rear-wheel or all-wheel drive.
My California Route 1 had a base of $50,400 but, as it was a pre-production model, the options were not priced out on the window sticker. It came standard with an extended-range battery (with an EPA projected range of 305 miles) and rear-wheel drive. It had "Star White" paint and gloss black 18″ wheels and trim with a black interior and I really liked the looks. 
I also liked the way it drove, especially the acceleration (0-60 in 6.1 seconds), thanks to 290 horsepower and 317 ft.-lbs. of torque. For comparison's sake, the fastest Mach-E is the GT and it does 0-60 in 3.5 seconds, has all-wheel drive but the range drops by about 35 miles. It was quiet, like you would expect, with a good ride and great creature comforts and an excellent interface with the infotainment system.
As a charter member of the Analogue Racing Club (where, as Jay Leno would say, anything that rolls, explodes or catches fire is fine with us), I do miss the V-8 roar of my Mustang in the 1970s. But the Ford people were nice enough to add a "soundtrack," which the driver can switch on or off, where those inside can hear a rough approximation of a performance motor accelerating when you quickly push down the right pedal on the Mach-E.  Sophistry?  Of course.  But for those times when you really must have some aural feedback, at least it's an option . . . and there's no major fuel-use surcharge for the joy.
This five-passenger hauler can handle most any chore, from commutes, shopping and even lumber and other household and work supplies.  The acceleration is nice and the interior very comfortable and well laid-out.  And perhaps the coolest feature of all (no pun intended)?  The front trunk ("frunk") is made with a plastic lining and a drain plug so the tub can be filled with ice for a great tailgate (frunk-gate?) party center.  The Mach-E is on sale now.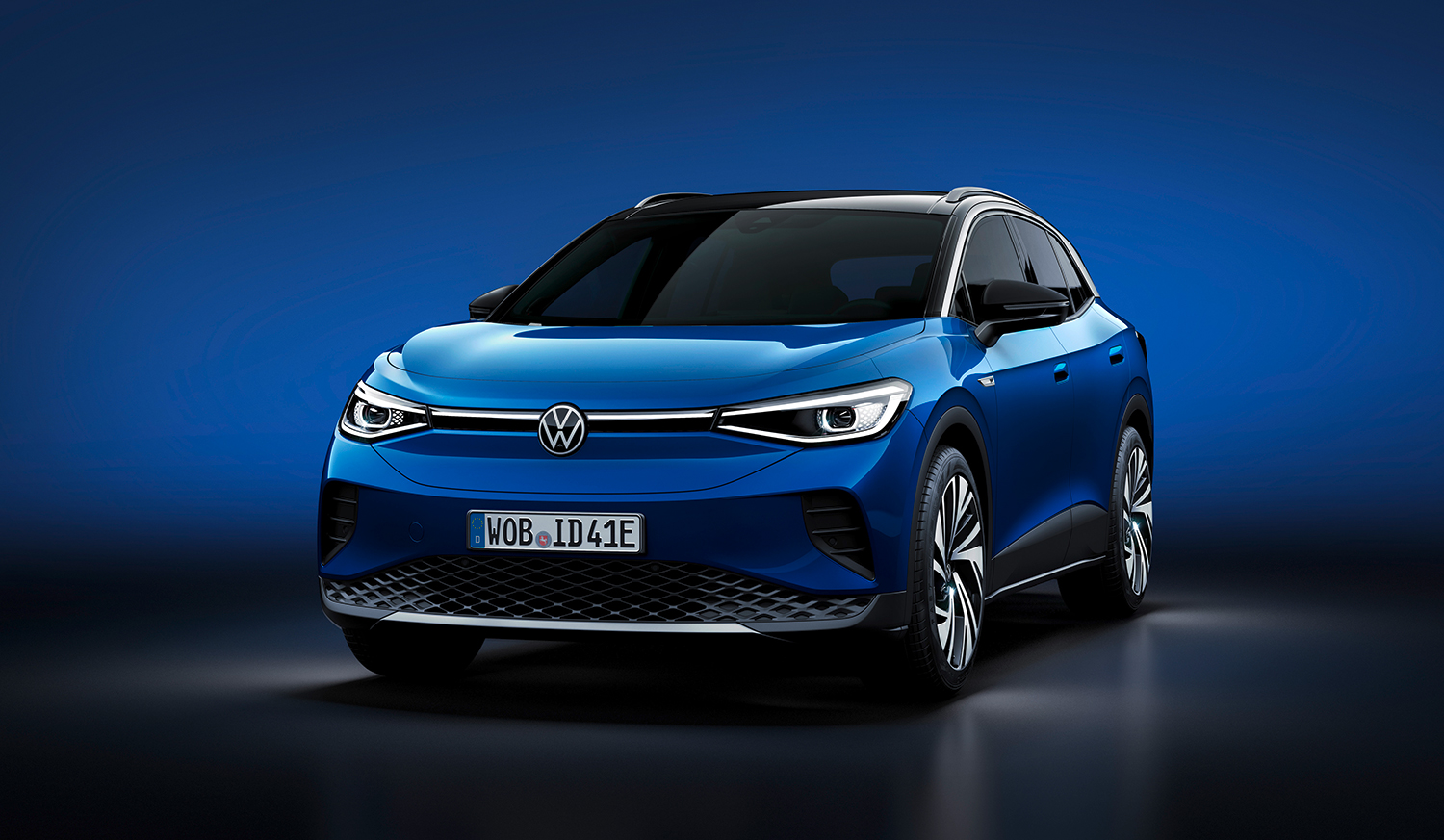 2021 VOLKSWAGEN ID.4
Now let's take a look at the Volkswagen ID.4. The name comes from their Intelligent Design factory, and it's VW's take on the state-of-the-art, all-electric, smaller car. But VW is no Jürgen-come-lately to the electric car world, as they built some concepts (like the 1972 Elektro Bus) and a limited number of prototype vehicles (like the Golf and Jetta CitySTROMers in the 1970s, 1980s and 1990s) but their first high-production all-electric car was the e-Golf in 2013.
The "ID" moniker came more recently and may be familiar to you due to the Volkswagen ID.R smashing the performance record at the Pike's Peak Hillclimb in 2018, knocking a full minute off of the previous record (that's a lot of time since most record-breakers turn in times which are seconds faster than the prior winner).  Considering that VW basically got its start with the plain Beetle in the late 1930s, they really have come a long, long way. The Beatle started with about 25 horsepower and a top speed of just over 60 MPH but the ID. R showed the world that VW could create its first all-electric motorsport vehicle with some 670 horsepower and in a package weighing a bare 2,400 pounds, it could break records wherever it went (Goodwood Hill Climb, Nürburgring, China's "Heaven's Gate" – need I say more?)  So, proof of concept, an all-electric VW vehicle that could perform?  Done!  
The ID.4 is the brand's first big foray into the ID sub-brand's commitment to offer a number of models, all of which will be fully electrified (not hybrids– no gas needed).  The ID.4, which VW terms a "Compact SUV", eventually will have three basic options – "Base", "Pro" and "1st Edition," with base prices starting at about $35,000. Only the Pro is out now (the two others are slated for 2022) and that's what I had for a fun week's use.
The Pro's base price is just under $40,000. "Mine" was a beautiful "Dusk Blue" but, as it was a pre-production model, the pricing of the options was not available. The dark blue color was a perfect offset against the front light, which wrapped all around the nose of the car and was a terrific accent line, as were the black 19″ wheels and black roof rails.  While not the top-of-the-line ID.4, the Pro is good looking and very pleasant to drive. The performance was less than the above two cars (0-60 is about 7.5 seconds), which felt darn right frisky compared to some hybrids of the recent past. With 201 horsepower (the dual-motor all-wheel-drive version has 302 horsepower) and a pretty heavy car (about 4,600 pounds, depending on number of motors, batteries, etc.), it still can tow about 2,700 pounds but you won't be winning many (any?) stop-light grands prix.
Bigger than the early Golf sorties into electric-land, the car looks like it's aimed to compete with BMW's i3, and with four doors, seating for five and a hatch-back, it succeeds.  I liked the styling and the details so I'd say that VW really hit the mark.  It's on sale now. 
The Courier's Fine Autos Contributor, Tim Lappen, also is the Fine Autos Editor for Haute Living, Haute Time, Haute Residence and Haute Auto magazines and online and a partner in a Century City law firm, where he chairs his firm's Family Office Group and the Luxury Home Group. He can be reached at TLappen@gmail.com and his website is www.LifeInTheFastLane.org.