City of Beverly Hills | Community News | News
BHPD Makes Several Arrests This Week
Officers took suspects into custody for two separate robberies that occurred on Jan. 21 as well as an auto theft on Jan. 23. BHPD also arrested two suspects on a stolen vehicle charge on Jan. 24.
BY Ryan Torok January 26, 2023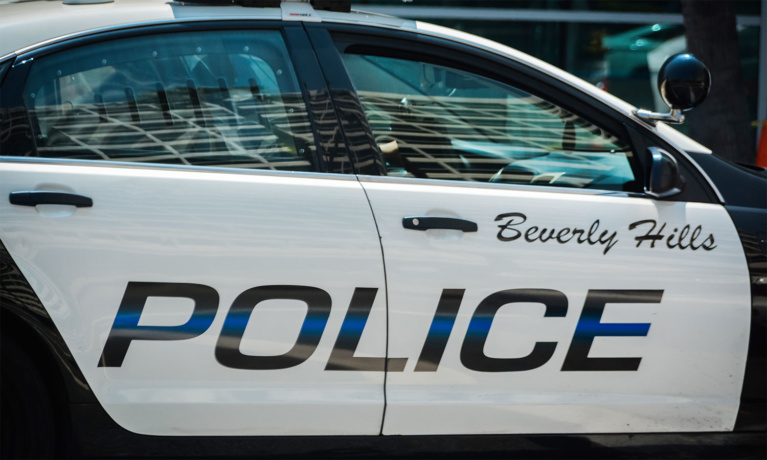 Reading Time:
3
minutes
The Beverly Hills Police Department (BHPD) made a flurry of arrests in connection with several incidents in the city this week. Officers took suspects into custody for two separate robberies that occurred on Jan. 21 as well as an auto theft on Jan. 23. BHPD also arrested two suspects on a stolen vehicle charge on Jan. 24.
The incidents were documented in a series of alerts from the BHPD that began on Jan. 21. That evening, at approximately 7 p.m., an armed suspect entered a business at the 200 block of S. Robertson Blvd., confronting the victim with a handgun and demanding an iPad, according to BHPD Spokesperson Lt. Giovanni Trejo. The suspect was seen fleeing the area and possibly getting into a black sedan.
In a phone interview, Trejo declined to identify the victimized store.
The search for the suspect continued until late on Jan. 24. At 10:49 p.m., BHPD officers patrolling the area near Peck Drive and Gregory Way observed a car that matched the description of the vehicle that police believed was used in the Jan. 21 robbery. Officers detained the vehicle and identified one of the four men inside as the robbery suspect. That individual was taken into custody. Meanwhile, two females were also in the vehicle. They were identified but had not been arrested as of press time.
"This was a team effort between the Watch Commander and some of our detectives who had identified a vehicle connected to the robbery on Robertson," Trejo said. "The Watch Commander remembered the vehicle that our detectives identified, saw a vehicle matching that description, and that led to the arrest of the male in the vehicle. Preliminary, he was connected to the robbery on Robertson."
As of press time, charges against the suspect had not been formally filed with the District Attorney's office.
A separate robbery occurred on Jan. 21, at approximately 7:30 p.m., in the 300 block of N. Beverly Drive. According to an alert sent by the BHPD that evening, the "uncooperative" suspect was safely taken into custody at approximately 7:45 p.m.
Another arrest was made on Jan. 23. On that date at around 5 p.m., an automated license plate reader at the corner of S. Santa Monica Blvd. and Beverly Drive identified a stolen vehicle. Officers attempted to stop the vehicle, a gray Dodge Charger, prompting the driver to exit and flee. Officers chased the suspect in a "short foot pursuit" for one block before taking him into custody, Trejo said.
The suspect was charged with driving a stolen vehicle and resisting arrest.
On Jan. 24, in a separate incident occurring around Pico Blvd. and Prosser Ave., BHPD and Los Angeles Police Department officers located and arrested two suspects evading police in a stolen vehicle, according to a BHPD alert.
Last week, the BHPD made an arrest after a string of trespassing cases took place on Laurel Way. As reported in the Courier's Jan. 20 issue, police arrested Christopher Turner on Jan. 18 after locating him outside a home on that street. The suspect had initially hidden by camouflaging in a foliage-adorned ghillie suit.
In a statement after the trespassing arrest, BHPD Chief Mark Stainbrook noted, "Crime of any kind will never be tolerated in Beverly Hills."
Trejo, for his part, credited the recent arrests to the efficiency of law enforcement technology and the unflagging dedication of BHPD officers.
"A lot of it is attributed to the amount of technology we have in our city that allows these vehicles that have a hit on them to be picked up and for officers to be alerted to the presence of the vehicles in our city," he said. "Of course, partnered and alongside the technology, we have the human factor — our officers — who are always ready.
"So, it's a combination of things," he said. "Our technology and the hard work of our police officers and detectives here."