New television series, limited or otherwise, are constantly being released. Just when I thought there'd be a breather, the various streaming platforms dropped a new batch. Several of the series I'll review for you, the good, the bad and the ugly, have been out for weeks, so can no longer be considered brand-spanking new, but others will have just been showing for a matter of days. In any case, I'm betting that all or almost all will be new to you.
Gone, or almost gone, are the days of universal appeal as the streamers and networks try targeting their content to specific audiences. Unfortunately, the executives who make those decisions get younger and younger, with less understanding of the genre's history and the graying of the audience, so I begin to lose confidence and sigh at the lack of originality. This isn't entirely the case with the following new series, but that element of sameness and lack of originality comes through in some.
On with the show, as I lead off with one of the best new series to launch in quite some time.
"The Diplomat"
There aren't enough words to extoll the virtues of this excellent entry into contemporary political drama that channels "Madame Secretary," "Scandal" and "Borgen" with a bit of "House of Cards" thrown in and yet is still fresh and original.
Kate Wyler is a career diplomat about to begin a stint in Afghanistan, a job she has sought for years. Married to Hal, another professional diplomat, his career is at a standstill after calling the Secretary of State something to the effect of a bloodthirsty warmonger. Like his wife, he is an expert on the Middle East and is eager to lend support. But a monkey wrench arrives in the guise of the President of the United States and a major pivot is about to begin. She has been reassigned at the last minute to the United Kingdom where she will be the new Ambassador. You would think such a plum, high-profile position would excite her. You would be wrong. Such ambassadorships are reserved for high-rolling donors to presidential campaigns, rarely to career diplomats. Kate hates high profile; Kate hates cushy; Kate hates flouncy dresses and photo shoots; and most of all Kate wants to go where her skills are most needed–the Middle East.
What she doesn't know, and her husband does, is that this is a trial by fire to see how she performs on the larger, more public stage. The current Vice President of the United States is about to be engulfed in a scandal of her husband's making and she will soon be forced to resign. The aged President needs someone vibrant in that office and needs her, emphasis on female, soon; especially someone who will not be interested in challenging him for his office in the next election. Kate is but one of four potential candidates and will be watched carefully, both inside the embassy and out.
Complicating matters enormously are Hal, the husband from whom she is secretly estranged, may soon divorce, and is not one to stand in the shadows; and the UK Prime Minister, a cross between Boris Johnson and someone even worse. She's being spied on by the CIA, the president's people, and her British counterparts. Worse, a British ship has just been blown up and the Prime Minister is convinced it was done by Iran. He wants nothing short of immediate retaliation without confirmation that the Iranians were actually responsible and he wants the full military support of the U.S. Not renowned for his intellectual capacity, he sees this as a golden opportunity to shore up his flagging numbers. Kate, an expert on Iran, smells something fishy and cannot let this happen.
The writing by creator Debora Cahn is as pitch perfect as the acting. Leading the cast is Keri Russell who is commanding, serious and flat-out wonderful in the role of Kate. Every bit her equal is Rufus Sewell, as Hal, always excellent and here scene stealing without lifting an eyebrow. The supporting staff includes Michael McKean as the President, Rory Kinnear, positively unhinged, as the Prime Minister, Ato Essandoh as Kate's major domo (and spy for the administration), David Gyasi as British Minister of State, and a devilish Ali Ahn as the embedded CIA agent.
I rarely watch all the episodes of a series in previews, but I gobbled this one up and I think you will too.
All episodes now streaming on Netflix.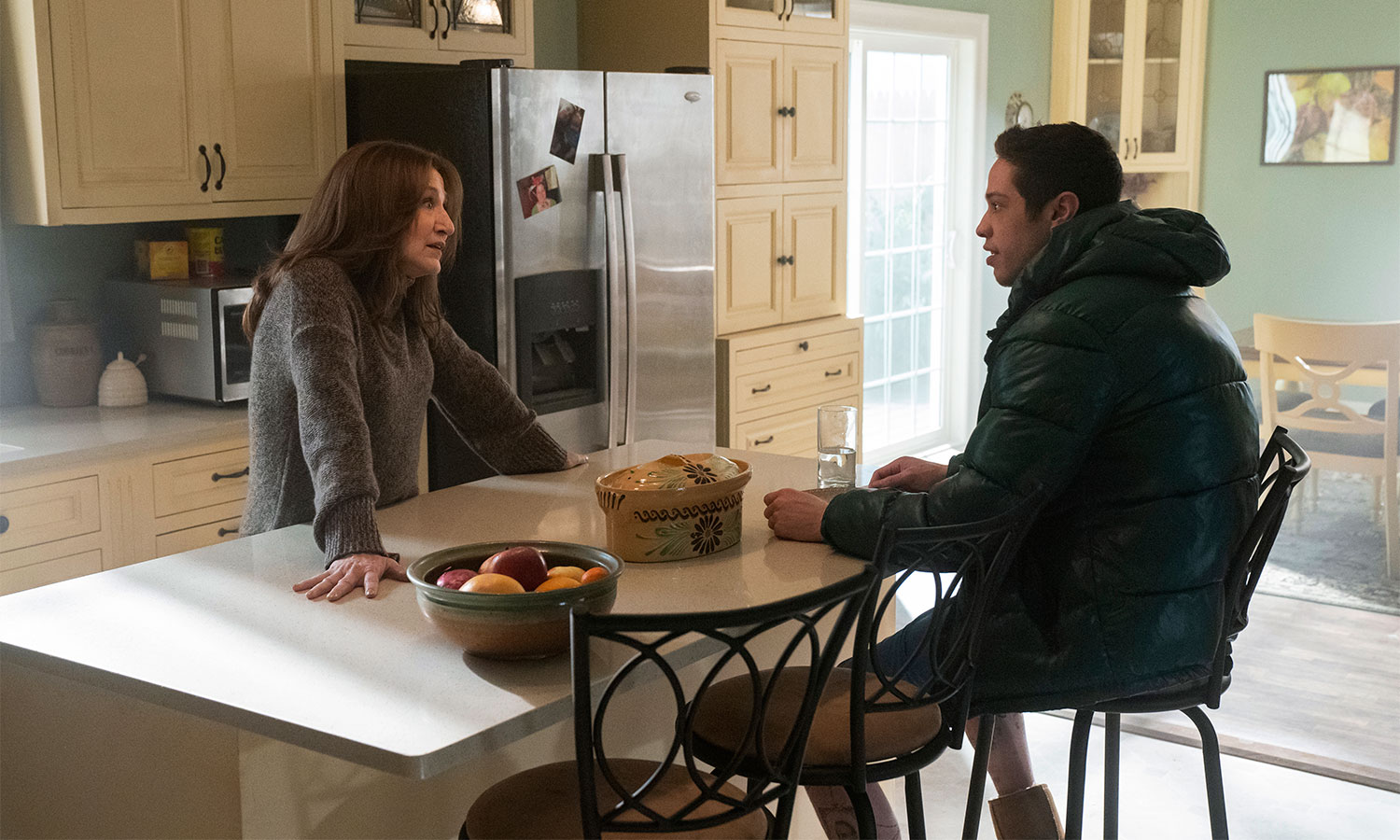 "Bupkis"
"Bupkis" is a Pete Davidson-created comedy series loosely based on his own life. I was vaguely aware of Pete Davidson, a constant presence in the trades with his SNL antics and ever-changing love life, but not a fan. I was, quite frankly, turned off by the first episode as the self-indulgent Pete is navigating a video reality game and checking out its possibilities. But then again this may have been a demographic problem, much like my reaction to "History of the World Part II." I persevered and was glad that I did because each ensuing episode got better.
Davidson, playing a variation of himself, is tattooed, inappropriate, rude and sweet at the same time. He, like his character, lost his father, a firefighter, in 9/11. The sadness at the root of the character is ever present but so is his devotion to family. Flashbacks show the young Pete as a feisty child attempting to understand his new circumstances, encouraged to act out by his loving, and equally inappropriate relatives. The wedding scene is a masterful example of tasteless behavior. But this is Davidson's show and he gets to be whoever he wants and mine past behaviors however he chooses. And even more fun for him is choosing who he envisions as his relatives with Edie Falco as his mother, Brad Garrett as his uncle, Jane Curtin as his grandmother, and Joe Pesci, in a hilarious turn, as his grandfather. Lots of familiar faces drop by like Bobby Canavale, Al Gore, John Mulaney, Kenan Thompson and Ray Romano, among others. How many of us get to replay our lives with the relatives of our choosing?
Contrary to my initial impression, this is a comedy that has more depth than meets the eye. Even I'm surprised that I was won over. So give this one a chance. Yes, some of it is incredibly crude, a nod to that generation I suppose, but there's warmth and humor and vulnerability too.
Premiering May 4 on Peacock.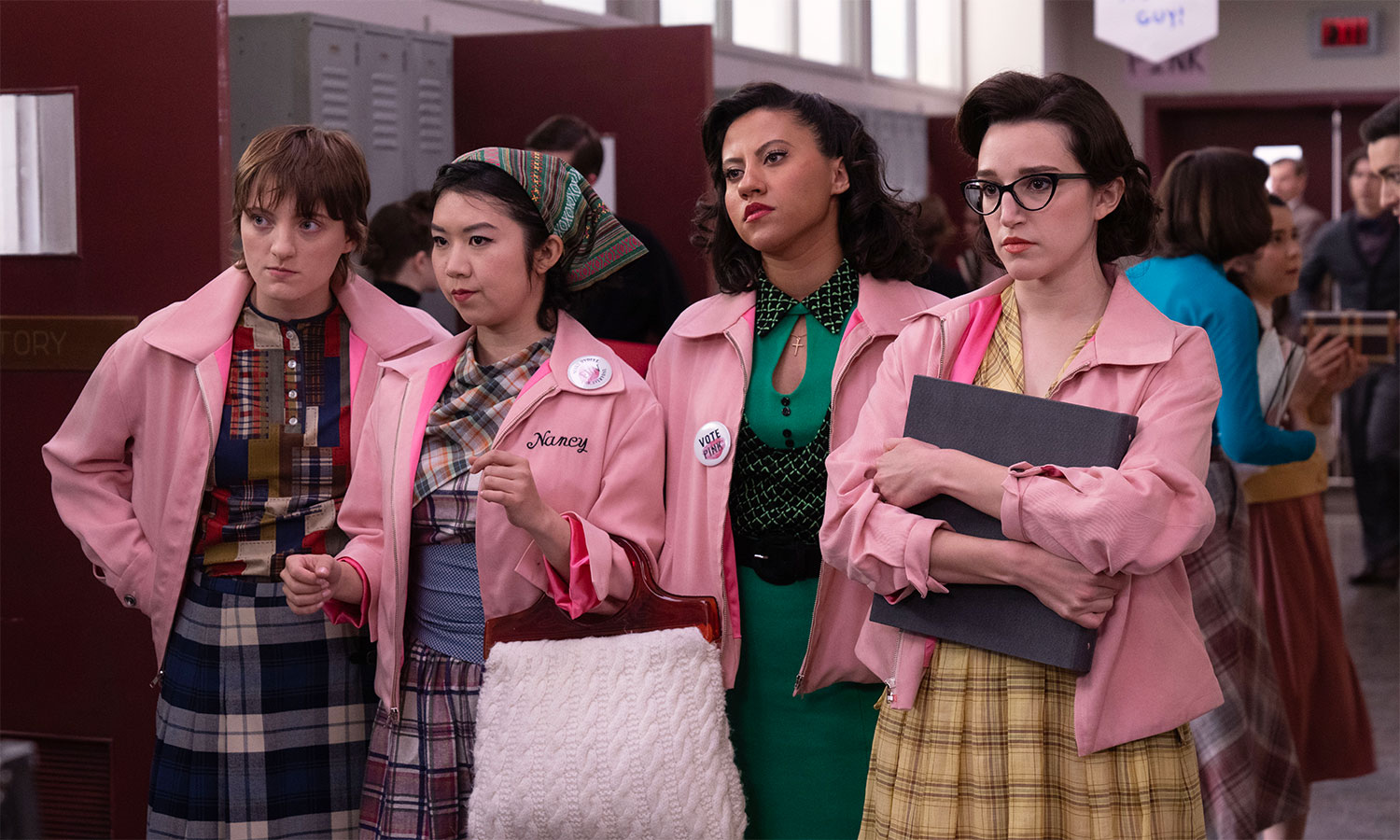 "Grease: Pink Ladies"
Prequels seem to be all the rage. Imagining how the Pink Ladies of Rydell High School ("Grease") came about is a backstory fulfilled. It's 1954 and the popular kids rule. Pretty Jane, new in town, has hooked up with Buddy, the most popular boy in school. Convinced it's true love, she lets him go far, but not all the way. Buddy's ex-girlfriend is jealous of her replacement so she is delighted when the rumor goes around that Jane did go "all the way." Not true, but true enough, Jane finds herself on the outs once again. She and Buddy had planned to run for student council together as a dream team but now he feels forced to distance himself from her, despite the fact that he was the source of the rumor. But this is the 50s and double standards ruled the hierarchy.
Jane, unable to scratch back her reputation, finds her acceptance limited to the pariahs of the school, including Olivia, ruined by rumors of a liaison with a teacher, Cynthia, the girl who wants more than anything to be a member of the all boy biker gang led by Richie, and Nancy and Hazel, the odd girls out.
Each episode will shift the balance of the haves and have nots watched over by the ever present and ineffectual Assistant Principal McGee. The casting is good, with stand outs Marisa Davila as Jane, Jonathan Nieves as Richie, Jason Schmidt as Buddy, and the breakout star Cheyenne Isabel Wells as Olivia. It's always a pleasure to see Jackie Hoffman, Assistant Principal McGee, in whatever role she plays. She's always funny without having to do anything.
On Paramount+, the first two episodes launched on April 6 with subsequent episodes released weekly.
"Tiny Beautiful Things"
Based on a collection of essays by Cheryl Strayed, "Tiny Beautiful Things" follows the adventures of Clare, a hot mess of a writer barely getting by in the jobs she can find. When we first meet her, she's been thrown out by her husband for having "borrowed" their daughter's college fund to pull her addict brother Lucas out of his latest scrape. Clare and Lucas, orphaned in their teens, carry the burden of dysfunction into adulthood. Clare is offered the opportunity of taking over a popular self-help advice column, "Dear Sugar," by a friend. She is not unaware that she's the last person to be giving advice. Like so many shows these days, the episodes go back and forth between incidents earliest, earlier and present day in Clare's life. It can be hard to keep track.
Overly dramatic, the show is very much like the main character–without an anchor. No one is particularly sympathetic; the overall feeling is one of sadness and self-importance. More's the pity because the lead is played by Kathryn Hahn, a very accomplished comedic actress, who is given nothing to play to her strength.
Now streaming on Hulu.
"Saint X"
I don't even know where to begin with this one. A teen goes missing on a family vacation to a Caribbean island resort where everyone, especially the teen, Alison, is over sexed, conniving or both. You've seen this one before whether on the news or in film and nothing original is excavated in this trope. The first episode introduces the main characters, or suspects as we like to call them. Later episodes go back and forth in time, from the present to the past, as the surviving younger sister is still haunted by that day. Now living in New York, she thinks she sees the man accused of Alison's murder and pursues him to get answers.
No one is sympathetic, everyone is overwrought, racism seems to be at the base of all assumptions although the Black characters are no more sympathetic than the white ones. Somewhat tedious in its portentousness, it follows the cliché that it's not who you think it is. But then it never is, is it?
Now streaming on Hulu.
"Sam – A Saxon"
Beginning in the late 1980s as protests against the East German Communist regime were escalating, Sam Meffire, born to a white, alcoholic mother and a father from the Cameroons who died under suspicious circumstances, is caught in the middle. He is looking for a place in a society that categorically rejects him for his skin color and presumed immigrant status. The episodes trace Sam's progression from amateur Soccer player to the first Black member of the East German police to the face of the "new Germany." But the reunification of the two Germanys does little to improve his situation. It is a rise and fall story as he threads his way through the prejudice and brutality he faces on a day-to-day basis, going from model citizen to part of a criminal gang. Based on the memoirs of Samuel Meffire, this German language series starring an excellent and charismatic Malick Bauer, Sam, is definitely watchable although it is at least one episode too long. There is no doubt of the abuse he took but the relentless and constant incidents of race-based brutality eventually dulls the senses, ultimately diminishing the effect. In German with English subtitles.
Now streaming on Hulu. 
Neely Swanson spent most of her professional career in the television industry, almost all of it working for David E. Kelley. In her last full-time position as Executive Vice President of Development, she reviewed writer submissions and targeted content for adaptation. As she has often said, she did book reports for a living. For several years she was a freelance writer for "Written By," the magazine of the WGA West and was adjunct faculty at USC in the writing division of the School of Cinematic Arts. Neely has been writing film and television reviews for the "Easy Reader" for more than 10 years. Her past reviews can be read on Rotten Tomatoes where she is a tomato-approved critic.